BREAKING: Newest nominee for Darwin Awards announced!
---
(For those of you who aren't a million years old like me, the Darwin Awards are an internet thing for people who do wildly stupid, counter-to-basic-common-sense things that result in a brush with death. So this is basically a dad joke, and you're welcome.)
It is a truth universally acknowledged that gasoline is explosive, and hence gasoline and fire don't mix, because when mixed, it gets explosive. Sia wrote a song about it and everything. Gas plus fire go boom. It's a thing we've all learned.
Except for this one Australian guy! Aaron Packer of Australia's Brisbane, Australia, stopped by his mom Debbie's house to cook his family up a barbecue. Aww! And then promptly set his mom's entire back yard on fire trying to light said barbecue with actual high-octane gasoline for, like, an actual car.
Now look. We all make mistakes. I did this once while camping with my Dad and uncles. Like most children I was enamored of fire and had seen my uncle squeeze lighter fluid onto the embers to, well, make them go boom. My Dad told me I could get the fire going for our lunch cookery the way he taught me, but the gas can for our cabin lawn mower was right there, and so I went for it and my Dad and uncles all did that dad-and-uncle thing where they were so frantic they couldn't think of actual words and just ran across the camp yelling, "BUPBUPBUPUHUHUHUHHHOOHOHOHOHOHO!!!!"
So, you know, fair enough and we all make mistakes but also I was LITERALLY NINE and this person is, like, GROWN AND HAS CHILDREN IN THE YARD WITH HIM.
Oh also it's worth noting that the FIRE IS ALREADY GOING VERY NICELY TO BEGIN WITH. I just...
Anyway here's the video, the best part is when the gas can turns into an actual fire bomb and he just hurls it into a palm tree and then nearly falls into the fire, which is basically the whole video so I guess the whole thing is the best part:
Man Accidentally Sets Fire To Garden Trying To Kill Bugyoutu.be
As Bugs Bunny would say, what a maroon. (Outdated cultural references are my brand.)
On social media, people were pretty much like, "Really?"

Facebook

Facebook

Facebook

Facebook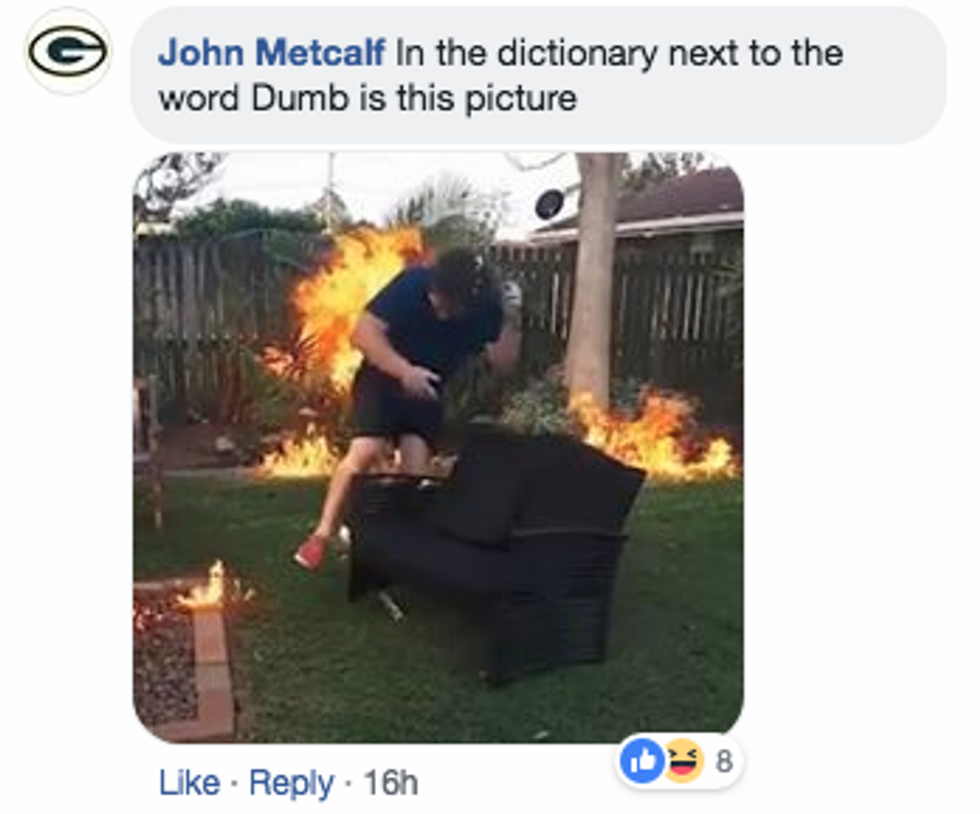 Facebook

Facebook
(See, youngs, I'm not the only one who still makes this joke. Vindicated!)

Facebook
While others couldn't help but point out the right way to splash combustibles onto a campfire:

Facebook

Facebook
And others had helpful hints for healing:

Facebook
No word on how the barbecue turned out, or whether the backyard and house still exist or, like, whether this guy is still alive. Watch this space.