Activist Fred Guttenberg sent a message to Kid Rock loud and clear, complete with a powerful two-word sign-off.
Guttenberg—whose daughter Jamie was among the 17 killed in the Parkland school shooting in 2018—did not take the rocker's recent violent video rant lightly.
Earlier this week, a MAGA-capped Rock expressed his disgust with Bud Light's new partnership with trans influencer Dylan Mulvaney and documented his tantrum in a video.
He started by saying:
"Grandpa's feeling a little frisky today."
"Let me say something to all you and let me be as clear and concise as possible."
Rock then unloaded an assault rifle on cases of Bud Light before shouting:
"F**k Bud Light and f**k Anheuser-Busch."
WARNING: NSFW language
Upon seeing the video, Guttenberg had his own message to send.
The activist against gun violence displayed an image of the scene after the Parkland shooting and used Rock's words to drive his point home.
He wrote:
"Hey @KidRock, this dad is 'feeling a little frisky today.'"
"Let me be 'as clear and concise' as I can with you."
"This is my daughter Jaime (under the black oval) and these are the students running over her for safety to avoid getting shot by the AR 15 that killed her."
Guttenberg finished with an all-caps:
"F**K YOU!!!"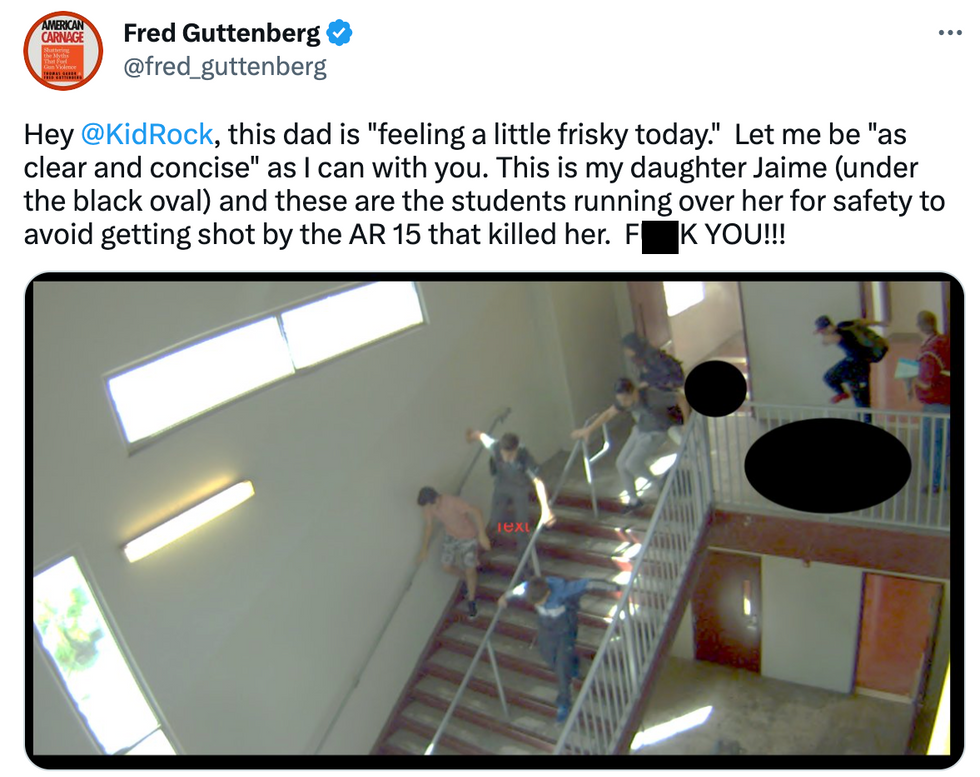 @fred_guttenberg/Twitter
Many responded to Guttenberg's tweet acknowledging the difficulty and heartbreak he must endure when he sees videos such as Rock's.

Others argued with gun enthusiasts, expressing there is absolutely no need for a civilian to own an assault rifle.
This isn't the first time Guttenberg pubically called out gun enthusiasts on social media, either.
After the Nashville school shooting that killed six people last month, he also blasted Republican Tennessee Congressman Andy Ogles over his family's Christmas card which featured an image of he and his family members posing with guns.
Keep fighting the good fight. Something has to change...