President Donald Trump routinely attacks the free press as the "fake news media" and the "enemy of the people."
Occasionally he even targets a network that constantly takes his side: Fox News.
---
Such was the case on Sunday afternoon when Trump tweeted that Fox News host Chris Wallace was "obnoxious" and beneath the legacy of his father.
The comment came after Wallace interviewed Republican Congressman from Louisiana Steve Scalise, in which he grilled the Congressman about the ongoing impeachment inquiry against the President.
Now, Wallace's colleague at Fox News—Neil Cavuto—is clapping back, reminding Trump that journalists aren't required to praise him, but to hold him accountable.

Watch below.
Neil Cavuto Fires Back at Trump: Mr. President, Fox News Doesn't Work for Youwww.youtube.com
Cavuto didn't flinch in using the President's phrase of "fake news" to call him out:

"What makes something fake news? I would assume if the news being reported is fake or wrong and the person presenting that news knows it is fake or wrong, that is bad."
"But what if the news being reported is accurate, the facts are good, they just sound bad?" he said. "My colleague Chris Wallace has discovered again the president doesn't distinguish."
He then pointed out to Trump some of journalism's most basic tenets:
"We can't please all. The best we can do as journalists is be fair to all, including you, Mr. President."
"That's not fake doing that, what is fake is not doing that, what is fake is saying Fox never used to do that. Mr. President, we have always done that."
Fox News is by no means known for its credibility, but people applauded Cavuto's willingness to call out the President.
@thedailybeast Fair dues, he's spot on there.

— Nelson A. (@Nelson A.) 1574123506.0
@thedailybeast That's him explaining the Fox News I grew up on . Even the old Fox News would be trashing this ridic… https://t.co/BgOCa2tsPP

— Just Call Me Amey (@Just Call Me Amey) 1574171028.0
This isn't the first time Cavuto called out Trump for his attacks on the press.
He reminded Trump this past August that journalists "don't work for" the President. He's highlighted Trump's "swamp" of corruption as well.
If you believe in the Freedom of the Press and that news that doesn't flatter the President it not "fake news," this shirt is available here.
"Our liberty cannot be guarded but by the freedom of the press, nor that [free press] be limited without danger of losing it." ~ Thomas Jefferson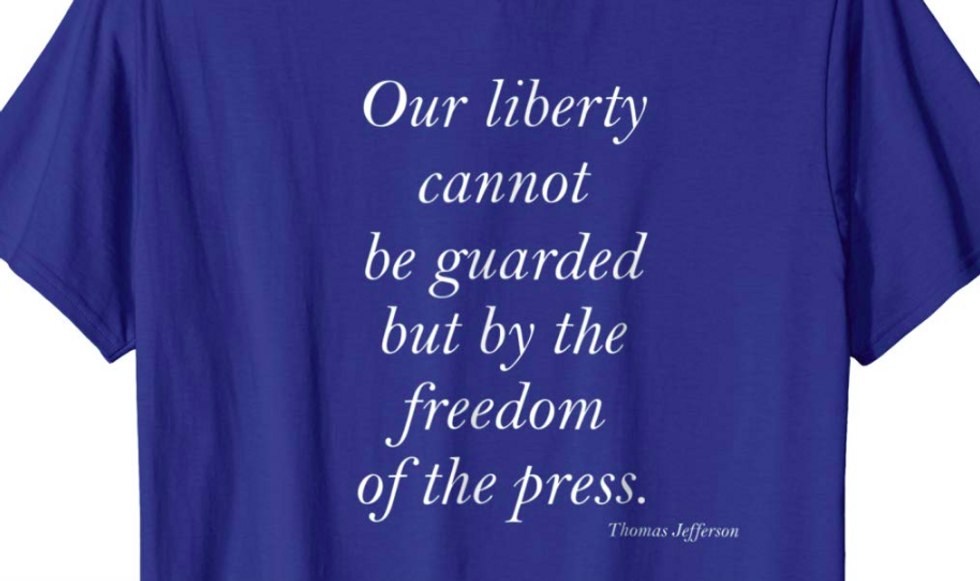 Amazon