Actor Florence Pugh cited a new doppelgänger in an Instagram video after recently getting a major new hairdo.
The English actress—who recently appeared in the hit film Oppenheimer—revealed a spiky pink buzzcut at the Valentino Haute Couture show early last month.
Now that her shorn locks have grown a bit since debuting her new look, Pugh said her lookalike could be none other than a popular Food Network star.
"Sometimes when I get out of the shower I look like Guy Fieri and I love it," she said of the restaurateur and Emmy-winning TV host.
Sounds about right.

Here is a screenshot from her Instagram story.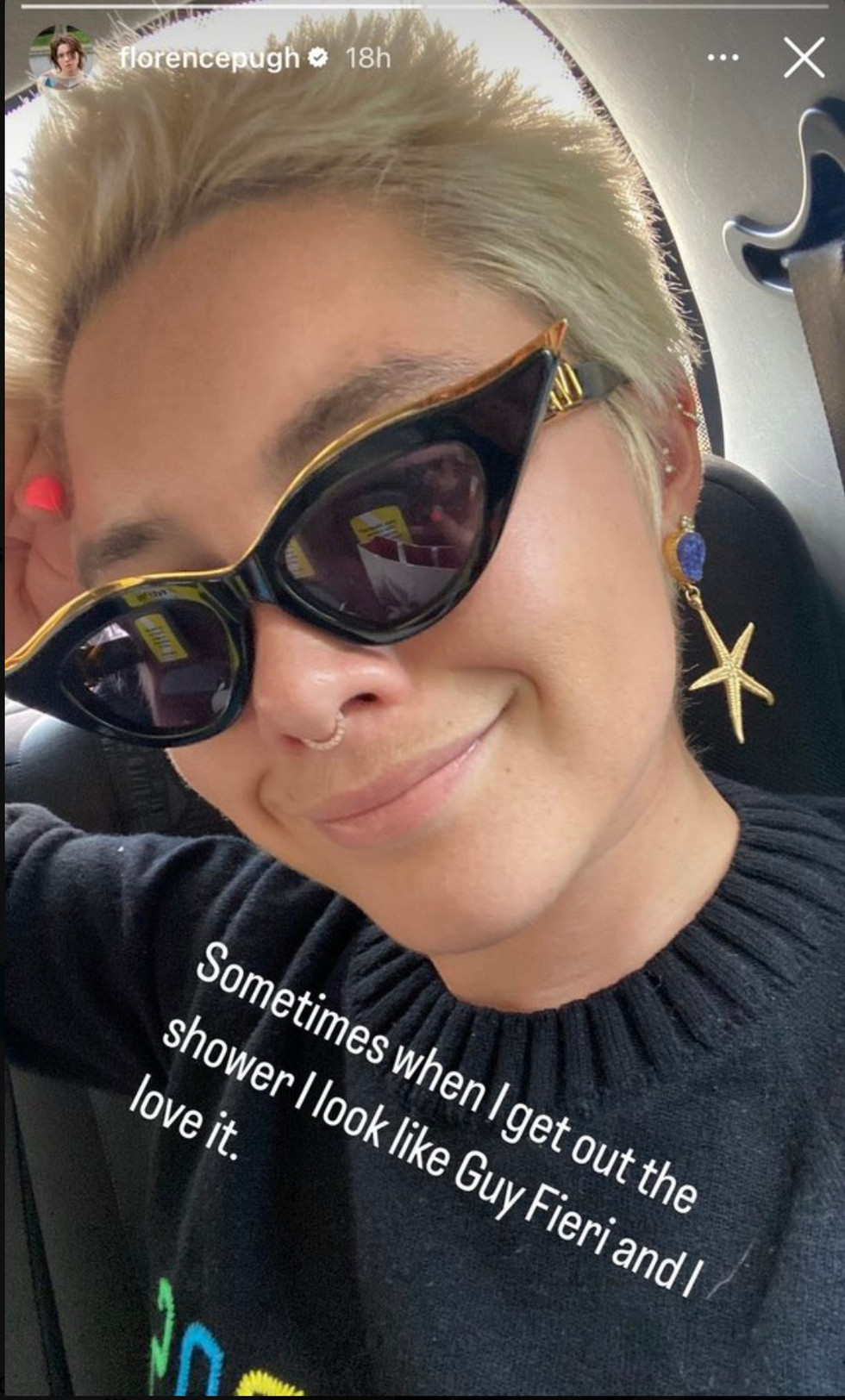 @florencepugh/Instagram
Fans agreed.
In a follow-up video, Pugh commented:

"Just saying ... could be the new mayor of flavour town."
"Or should I say... 'Flo'ver town."
According to the Daily Mail, Pugh recently explained to Radio Times why she went for the drastic hair makeover, and it had a lot to do with taking agency to avoid the pressures Hollywood places on women.

The 27-year-old said:
"I purposefully chose to look like that. I wanted vanity out of the picture."
"Hollywood is very glamorous—especially for women—and it's hard for an audience to see past that."
She continued:
"Whenever I've not needed to be glam or have a full face of make-up, I fight to keep it that way. It helps the audience."
"Vanity is gone. The only thing that people can look at then is your raw face."
"Even at the beginning of my career, I was always fighting to control my image."
Pugh added:
"It helps me when I'm wearing less make-up, because then I'm less of a sparkly thing on screen."
"I feel like I'm allowed to do ugly faces, like it's more acceptable."
Whatever the inspiration, we're loving the look and the vibe.