Public exchanges between Elon Musk and Chechen Republic head Ramzan Kadyrov prompted a new display name on the billionaire tycoon's official Twitter page: Elona Musk.
Kadyrov, a close ally of Russian dictator Vladimir Putin, sent Musk a detailed and threatening message on the Telegram app. In it, he wrote, "you'll need to pump up those muscles in order to change from the gentle (effeminate) Elona into the brutal Elon you need to be."
When he heard about Kadyrov's message, Musk posted it online saying:

"Telegram post by Ramzan Kadyrov, head of Chechen Republic!"
Kadyrov currently leads the Chechen Republic near southwestern Russia.
A peace agreement left Chechnya a de facto independent state, but Chechnya remains officially part of Russia. Kadyrov has been accused of committing multiple human rights abuses, notably the brutal persecution of gay men.
You can see Kadyrov's full translated message to Musk below: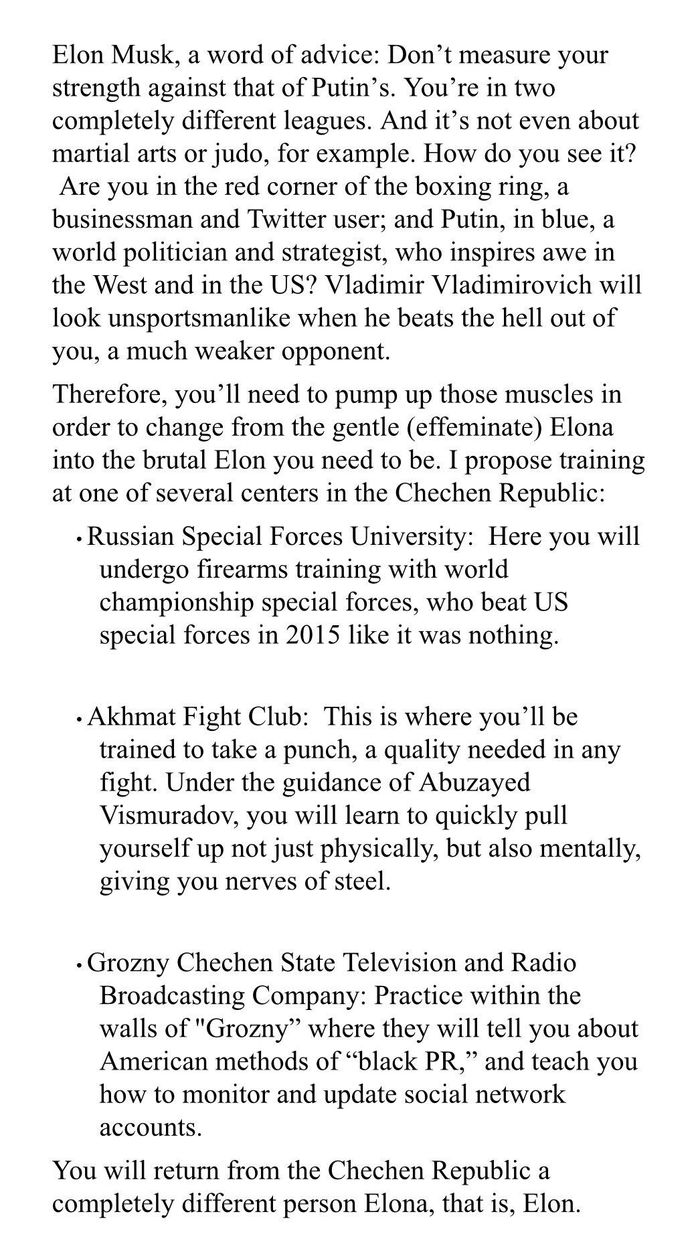 @elonmusk/Twitter
After offering Musk training, Kadyrov ended his post with:
"You will return from the Chechen Republic a completely different person Elona, that is Elona."
The back and forth began after Musk publicly challenged Putin to a duel by combat on Twitter.

"I hereby challenge Владимир Путин (Vladimir Putin) to single combat ... Stakes are Україна (Ukraine)."
Musk's support of Ukraine is well known after he provided the country with free internet access by activating his Starlink satelite internet service in the vulnerable region which suffers from major power outages and communication interference from Russia's invasion.
His assistance made a global statement about his stance while his viral attacks on Putin further solidified his position.
Musk said of the Russian leader in his response to Kadyrov's message:
"If he is afraid to fight, I will agree to use only my left hand and I am not even left-handed."
Then, he changed his Twitter handle to Elona.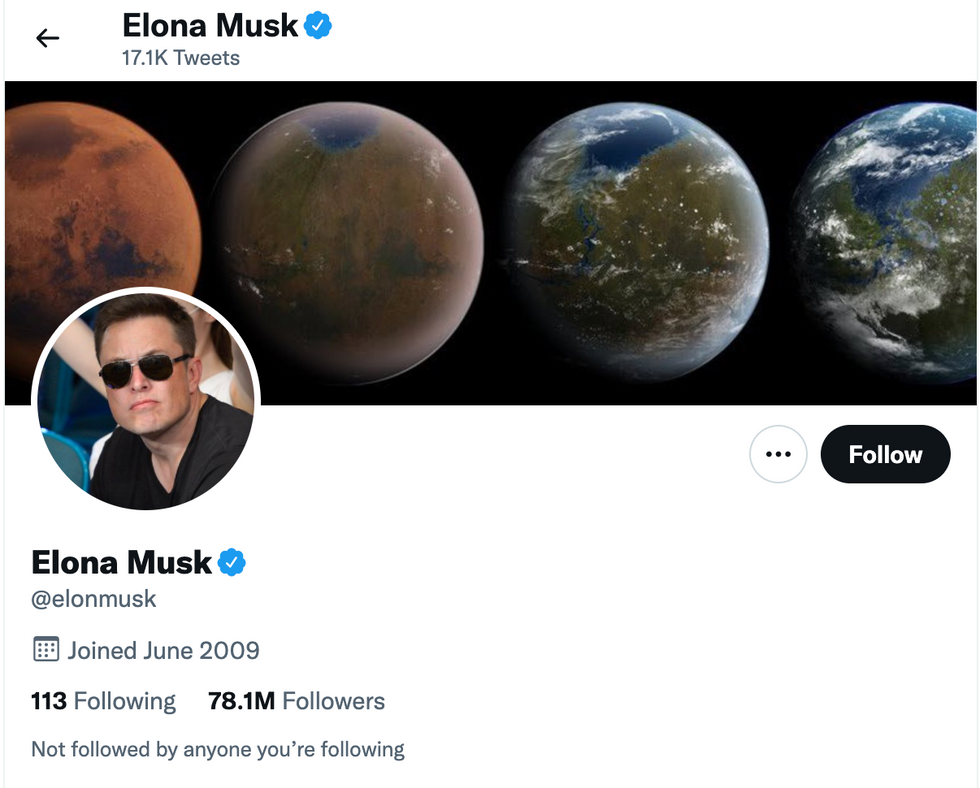 @elonmusk/Twitter
Many are pleased with Musk's public stance against Putin's invasion.
When Kadyrov's message was unveiled, some found humor in Musk's response calling his display name change "hilarious," and "comedy at its finest."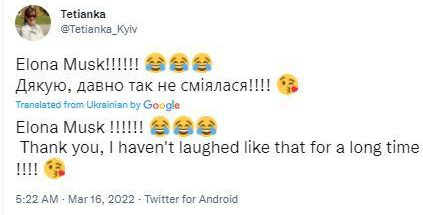 @Tetianka_Kyiv/Twitter
But some found his conduct to be inappropriate amid the chaos ensuing in Ukraine.
"Mr Elona Musk. People are dying, losing their homes and families in Ukraine. I am glad you still have time for joking around about it."
Others aired their frustrations with Kadyrov using femininity as an insult against Musk.

They praised Musk's adoption of the name without shame.

"Kadyrov wanted to humiliate Elon by calling him the female name Elona (common in Russia), but Musk was not offended ..."
However, the name change has also been viewed as being insensitive to the trans community.
Some are even calling his actions transphobic.
While many are laughing, others feel mocking trans people is not a joke.
" ... Mr. Musk is, yes, mocking trans people. He thinks being trans is a game."
The Russian invasion of Ukraine continues to cost lives on both sides.
Negotiations for an end to the conflict are ongoing.