On Thursday, President Donald Trump signed an executive order rolling back some restrictions on Obamacare that many of its proponents believe could harm individual insurance marketplaces.
---
But Trump believes that millions of Americans will benefit from the new order, which would allow small businesses to purchase health insurance through nationwide association health plans collectively.
WASHINGTON, DC - OCTOBER 12: U.S. President Donald Trump speaks as Sen. Rand Paul (R-KY) (L), Secretary of Labor Alexander Acosta (3rd R) and Secretary of the Treasury Steven Mnuchin (2nd R) look on during an event in the Roosevelt Room of the White House October 12, 2017 in Washington, DC. President Trump signed the executive order to loosen restrictions on Affordable Care Act "to promote healthcare choice and competition." (Photo by Alex Wong/Getty Images)
Trump professed his pride for the changes on Twitter.
He also gloated about plummeting health insurance stocks after he moved to end Obamacare insurance subsidies.
According to a CNBC report, Tenet Healthcare's stocks experienced an almost 5 percent drop. Molina Healthcare also dipped 4 percent.
GOP Senator Rand Paul (R-KY) advocated for the new proposal, noting that smaller businesses banding together to purchase association plans would now benefit from the same level of protection offered by large group plans.
"If you get group insurance under this proposal or any group insurance in this country, they can't discriminate," Paul told MSNBC. "If you have a pre-existing condition, you can still get any group insurance in our country. The insurance that we're talking about through health associations is exactly the same insurance that big corporations like Coca-Cola, Pepsi, Amazon, Microsoft - this is what they have for their employees."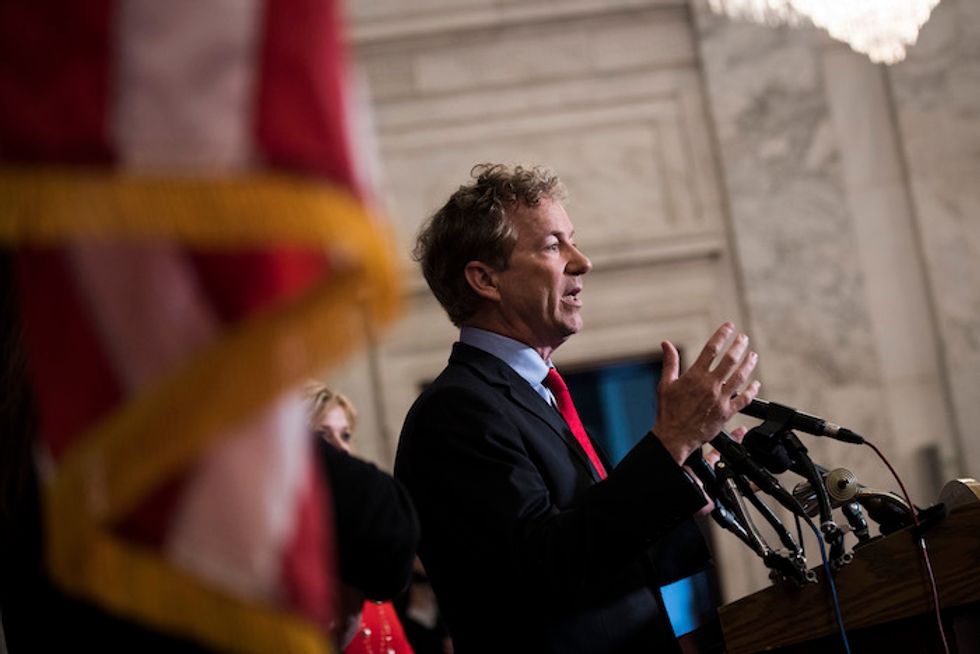 WASHINGTON, DC - OCTOBER 12: Sen. Rand Paul (R-KY) speaks during a press conference regarding the executive order President Donald Trump signed earlier on Thursday, on Capitol Hill, October 12, 2017 in Washington, DC. The executive order is intended for small businesses, and potentially individuals to be able to band together to get insurance in smaller groups, possibly across state lines. (Photo by Drew Angerer/Getty Images)But healthcare experts like JoAnn Volk, the project director at Georgetown's Center on Health Insurance Reforms, disagrees, saying that the new executive order allows for association plans to avoid following Obamacare rules.
CNN reported:
"Currently, the rates employers pay when they purchase coverage through the health reform law's small business marketplace aren't based on the health of their workers. They differ only by geographic location and the age of the employees."
Large employers are not responsible for adhering to the Affordable Care Act's rules. CNN added that "they don't have to provide comprehensive policies that cover prescription drugs, substance abuse and maternity benefits."
Trump also experienced backlash for dropping Obamacare's cost-sharing reduction payments which primarily benefit low-income families.
Senate Minority Leader Charles Schumer and House Minority Leader Nancy Pelosi called Trump's move a "spiteful act of vast, pointless sabotage."
Twitter couldn't agree more.
Please SHARE this with your friends and family.
H/T - twitter, thehill, washingtonexaminer, cnbc, cnn