A TikTok is going viral after one TikToker published a video showing her doctor referring to YouTube to figure out how to treat her cyst.
The impromptu medical school lesson left her and the rest of TikTok balking and at a loss for words.

The 10-second video was posted by TikToker isi_lynott (@isi_lynott).

@isi_lynott

got their MD at YouTube university #MakeItCinematic #fyp #GameTok
The clip garnered over 5 million views, nearly 718,000 likes, and 8,000 comments.
Many of the comments left on the brief video were split down the middle in terms of reaction.
Some admonished the TikToker for expecting her doctor to be a "walking encyclopedia" of medical knowledge.

@theodorasdr/TikTok
Isi took to the comment section, too, to clarify any misconceptions about the reasons why the video was made and posted.
She assured viewers the TikTok was made in jest and there was no malice behind it.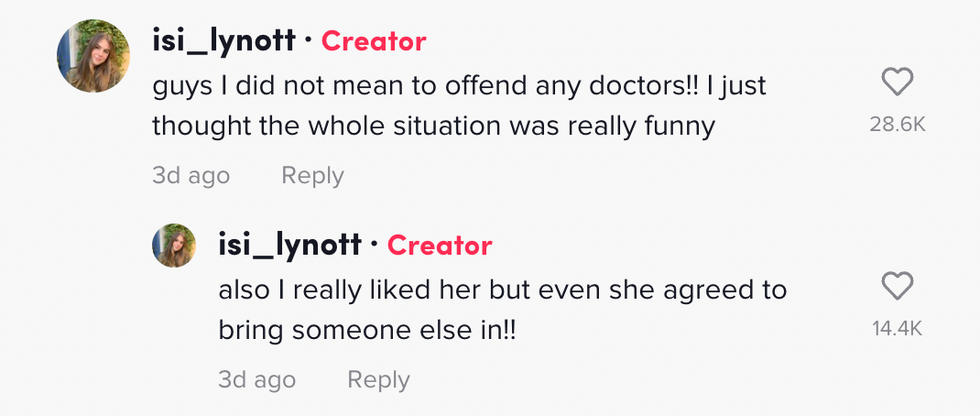 @isi_lynott/TikTok

@isi_lynott/TikTok

@isi_lynott/TikTok
The 10-second video shows who we assume to be Isi's doctor and another practitioner standing by a computer.
Both practitioners are watching what appears to be a how-to video that explains how to perform the procedure Isi needs in order to remove her cyst. The camera then cuts to Isi, who's lying in the hospital bed looking somewhat concerned and miffed at the fact her doctor needed to look at a tutorial to refresh her memory on the procedure.
As the video plays, text stitched into the TikTok read "not the doctor looking at a YouTube video on how to heal my cyst." The caption of the video read "Got their MD at YouTube university."
Pharrell's "Just a Cloud Away" provides viewers with a musical element as it plays in the background.
While many came to the defense of the doctor, citing practitioners can't be expected to remember all procedures at the drop of a hat, other commenters provided anecdotal evidence to help calm any fears people may have had.

@mamadoctorjones/TikTok

@pinkdoink/TikTok

@joelbervell/TikTok

@jessica_bil/TikTok
Other TikTokers took a more comedic approach when responding.

@malllory420/TikTok

@kchmn3/TikTok

@coolfunnygirl123/TikTok
No amount of Grey's Anatomy could prepare anyone for this plot twist.