Florida Republican Governor Ron DeSantis and former President Donald Trump have been sparring over the impending indictment of the latter, with DeSantis suggesting he wouldn't know how to pay hush money to a porn star.
Trump responded with allegations DeSantis drank with underage girls while teaching at a Georgia boarding school.
Trump's indictment is expected to relate to a $130,000 payment made to porn star Stormy Daniels in the final days of Trump's 2016 presidential campaign.
It is one of several potential criminal cases facing Trump, with investigations into his handling of classified documents and his role in the Capitol riot also underway.
DeSantis faced pressure from Trump allies to criticize the looming indictment.
He suggested Trump's prosecution is politically motivated and pointed out liberal financier George Soros backed Manhattan District Attorney Alvin Bragg, who is leading the investigation.
You can hear what DeSantis said in the video below.
DeSantis said:
"I have no interest in getting involved in some manufactured circus by some Soros-DA. He's trying to do a political spectacle. He's trying to virtue signal for his base. I've got real issues I got to deal with here in the state of Florida."
"I don't know what's going to happen but I do know this: the Manhattan district attorney is a Soros-funded prosecutor."
"I don't know what goes into paying hush money to a porn star to secure silence over some type of alleged affair, I just, I can't speak to that."
"That's an example of pursuing a political agenda."
Not long afterward, Trump took to his social media site, TruthSocial, to fire back at DeSantis with a screenshot of a tweet from the liberal outlet MeidasTouch with the following text:
"Ron DeSantis partied with underage girls at drinking party while teaching at Georgia school."
Trump wrote:

"Ron DeSanctimonious will probably find out about FALSE ACCUSATIONS & FAKE STORIES sometime in the future, as he gets older, wiser, and better known, when he's unfairly and illegally attacked by a woman, even classmates that are 'underage' (or possibly a man!)."
"I'm sure he will want to fight these misfits just like I do!"
You can see Trump's message below.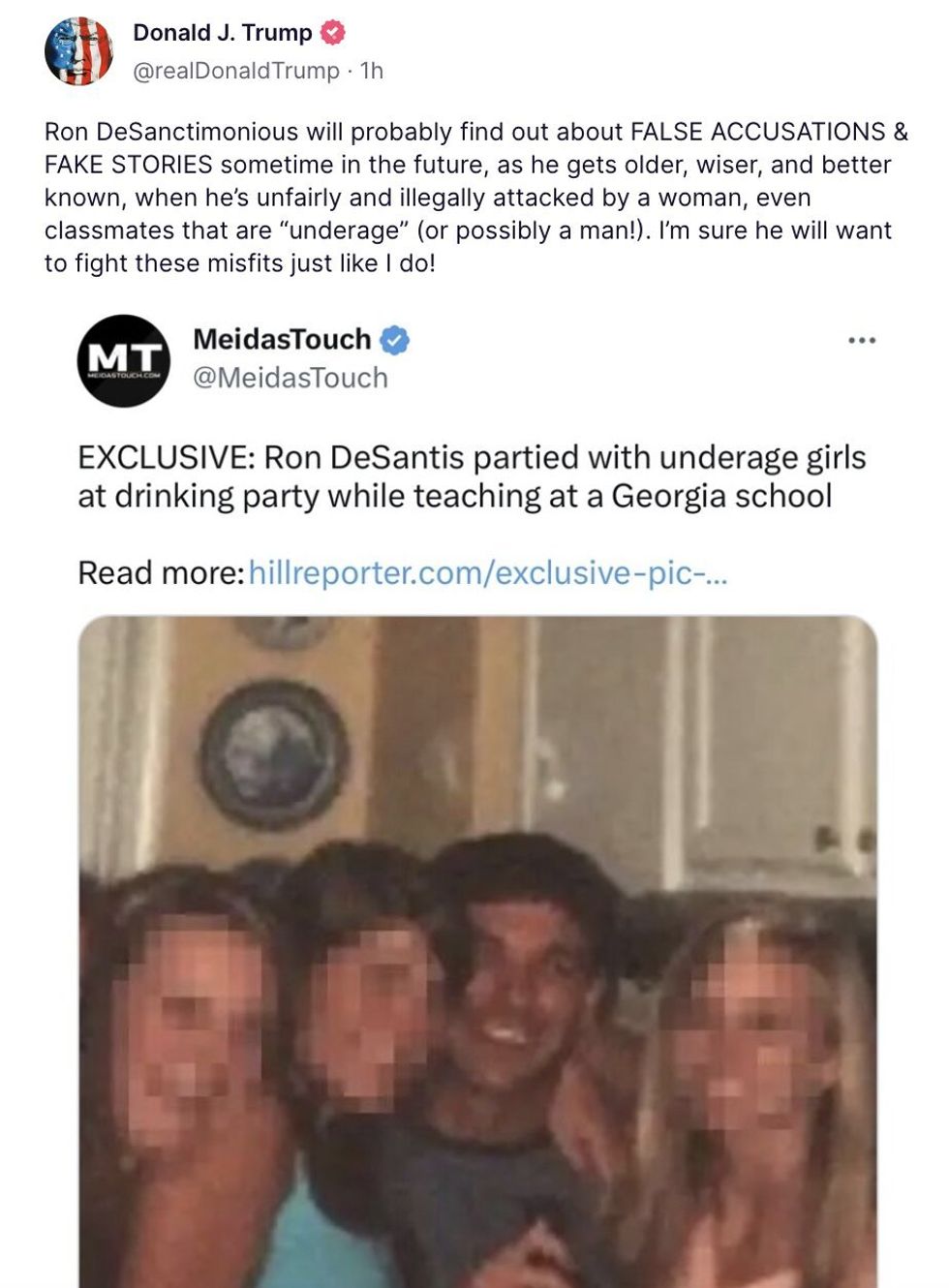 @realDonaldTrump/Truth Social
Trump has in the past reposted the meme of DeSantis "grooming high school girls with alcohol" on his Truth Social platform.
The photo Trump shared originated on Hill Reporter, a blog run by a Democratic Super PAC. The story behind the image is from The New York Times which reported in November, citing anonymous former students, DeSantis partied with seniors, attending at least two parties where alcohol was served.
The exchange exposed both to heavy criticism online.

The sparring between DeSantis and Trump is likely to continue as the former president faces mounting legal challenges.

Republican contenders for the 2024 presidential nomination have thus far attempted to distance themselves from Trump, who has proven both divisive and damaging to the party. The midterm election results showed that much of the American electorate rebuked Trumpist politics at the ballot box.

Fox News anchor Bret Baier later read Trump's attack against DeSantis on the air and remarked that the country is "in a surreal place right now."