While the bride wore a flowing veil and the groom sported a dapper bow tie, a professional couple told how they completed their wedding outfits with nothing but their birthday suits.
---
Tying the knot beside the turquoise ocean on the Italian island of Sardinia, on July 18 this year, dentist Anca Arsene, 29, and her software developer husband, Valentine, 34, were even pronounced husband and wife by a naked celebrant.
Traditional wedding attire would never have suited the Romanian naturists, with Anca insisting: "It was so wonderful standing there, in such an idyllic setting with my husband, naked."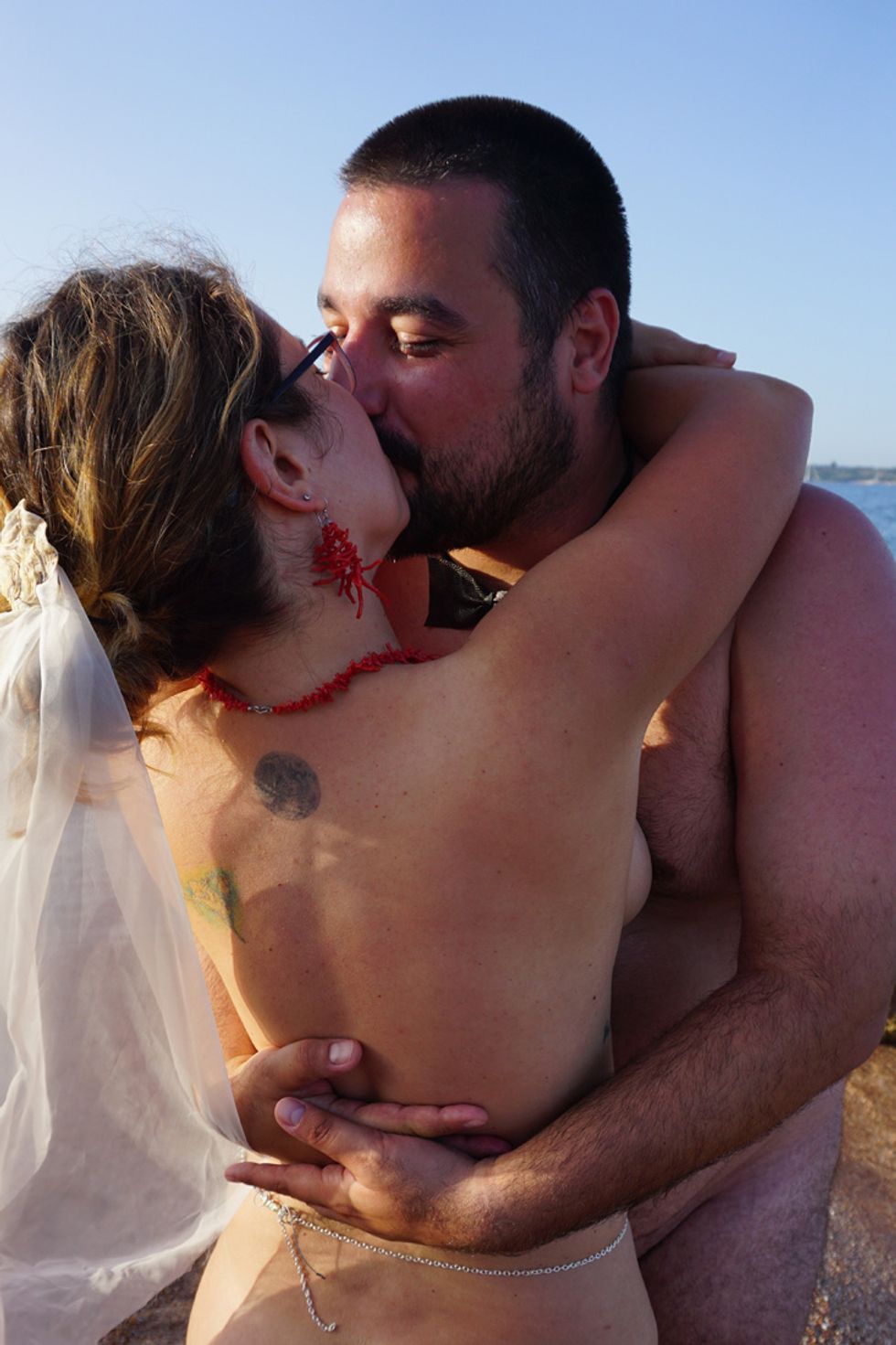 Anca and Valentine tied the knot on a beach in Sardinia (Collect/PA Real Life)
She continued: "Everything felt very pure and very intimate, because it was as though we were taking each other as we truly are, with nothing covering us up."
An intimate affair, with just two naked friends invited to the ceremony – one, Vlad, was ordained online specifically so he could marry them and the other, Andrea, was a bridesmaid.
"Our other friends and family wouldn't have felt comfortable about nudity, so we'll have another, legally binding marriage ceremony later in the year, with clothes on, so that my parents can come," said Anca.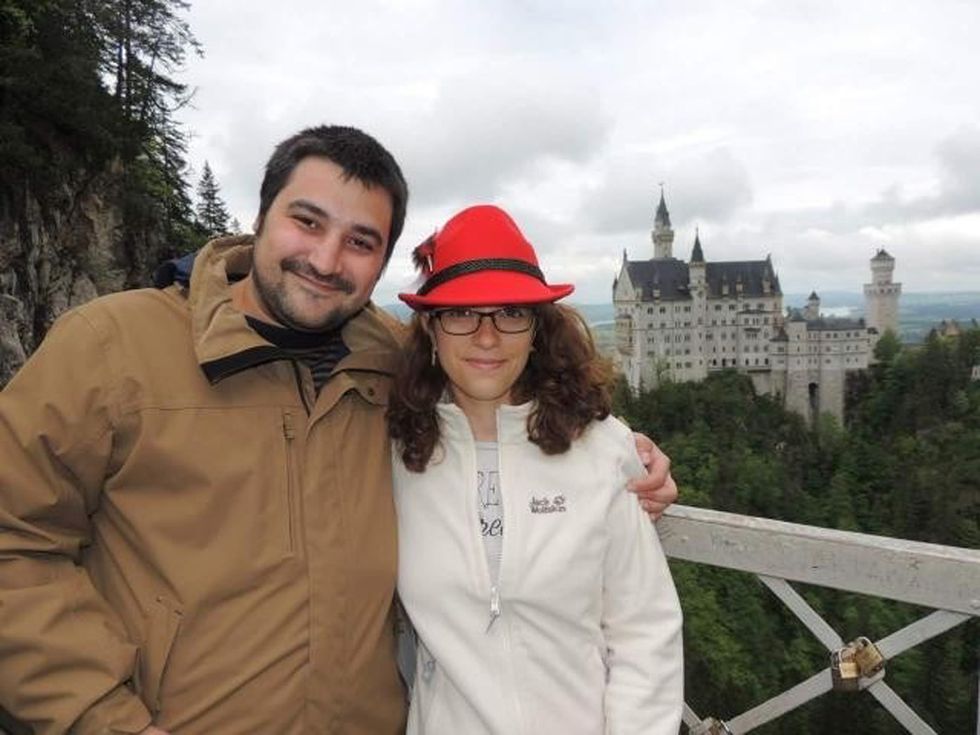 Anca and Valentine in Germany, 2015 (Collect/PA Real Life)
"But first we wanted to have a wedding that reflected who we are and how we like to behave," she added:
Introduced to naturism when she met Valentine, who was already a fan, on a blind date organized by a medical school friend, in their home city of Bucharest in 2008, Anca now spends as much of her day as possible in the buff.
"In those days, when we met, we had Myspace and my friend showed me quite a grainy picture of Valentine on there," she recalled.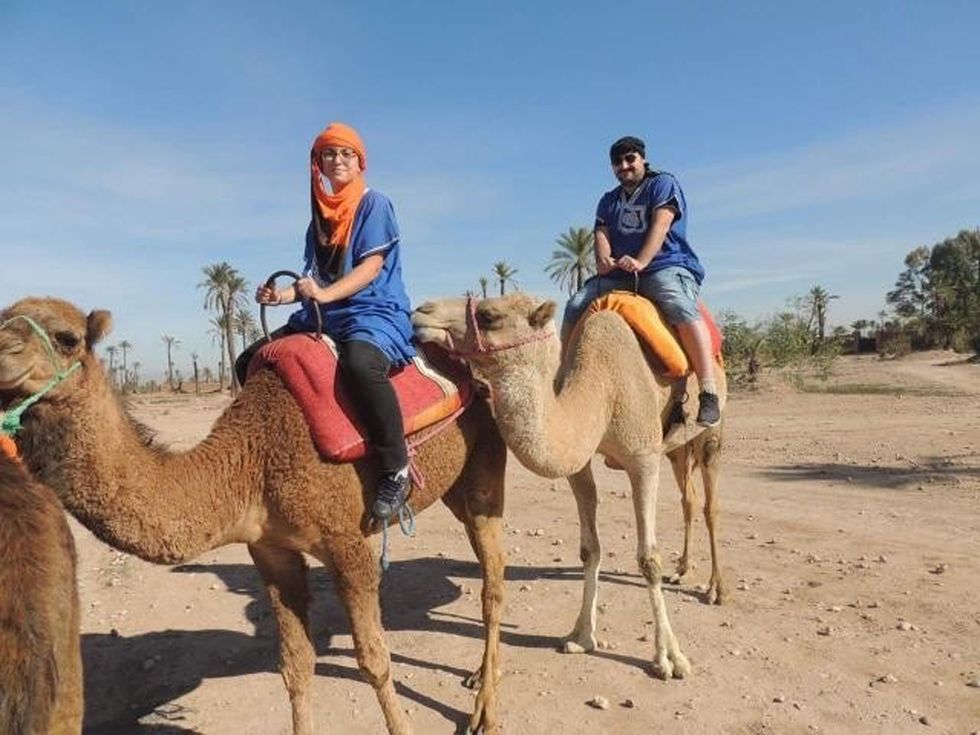 Anca and Valentine in Morocco, 2016 (Collect/PA Real Life)
She continued: "I didn't like the look of him, so turned down the date but, three days later, I was out at a bowling alley and recognized him from his picture. We got talking – and that was that."
Soon Valentine introduced Anca to the pleasures of naturism, which he had discovered as a young man – enjoying swimming in the rivers and lakes near his home.
Frequently naked inside their house, they soon found nudist beaches to go to each weekend, enjoying the sand and the sun against their bare flesh.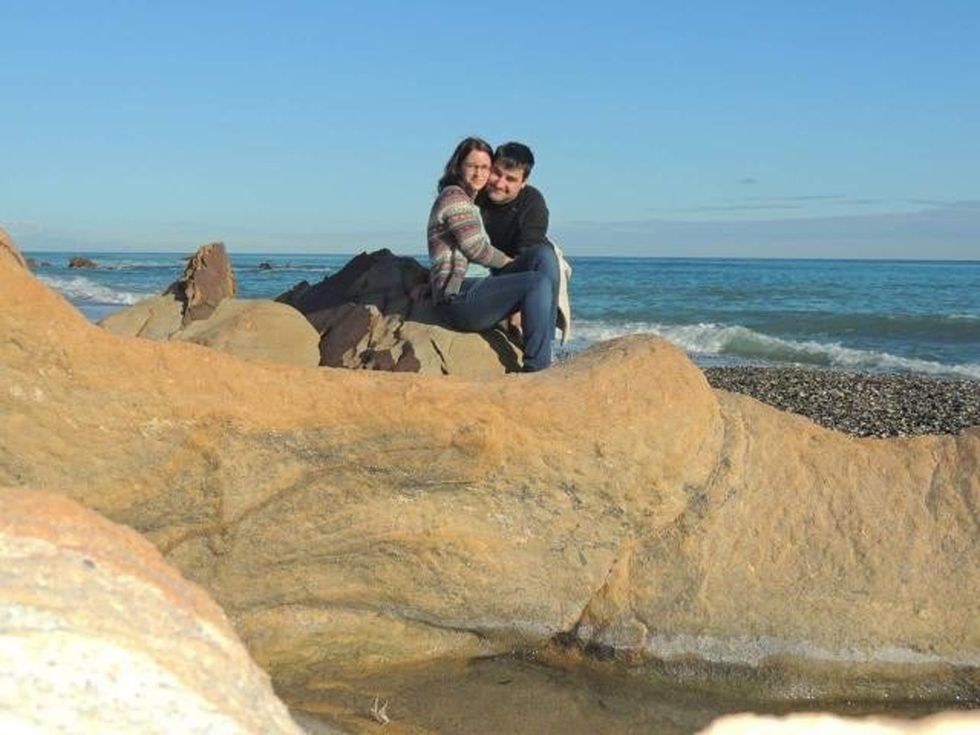 Anca and Valentine in Spain, 2013 (Collect/PA Real Life)
"At first, I wasn't entirely OK with the idea of going naked in public, but soon I grew to love it, although I've always been careful to protect myself from burning in the sun," said Anca, who now lives in the French capital, Paris.
"Valentine and I now travel all over Europe looking for the best nudist beaches. France is very good, as are Italy and Spain, but the UK and Ireland are less so."
When in 2017 Valentine landed a job in Brussels, Belgium, and Anca found work in Paris – forcing them to live apart – he finally proposed as they chatted late at night on Facebook.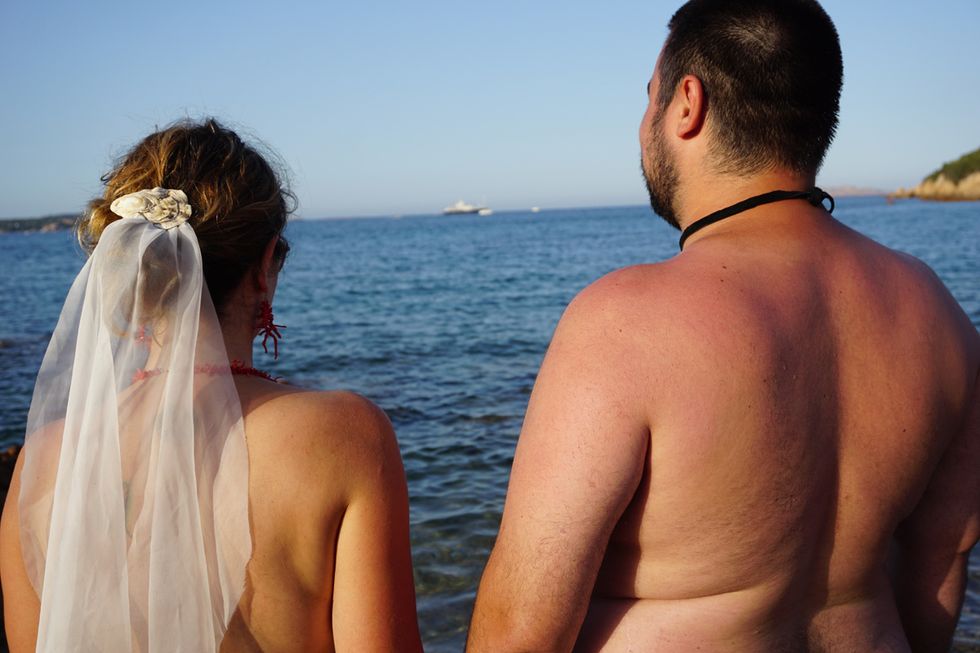 Valentine just wore a bow tie(Collect/PA Real Life)
"As we are now living in different cities, we thought it would be a really nice to do something special for our relationship," said Anca, who keenly accepted his proposal.
Knowing immediately that they wanted a nudist wedding, Anca and Valentine quickly started scouting out beach locations, where they would be able to bare all for the ceremony.
They picked Sardinia, for its warmth and beauty, despite it being their first visit – choosing secluded golden-sand beach for their betrothal.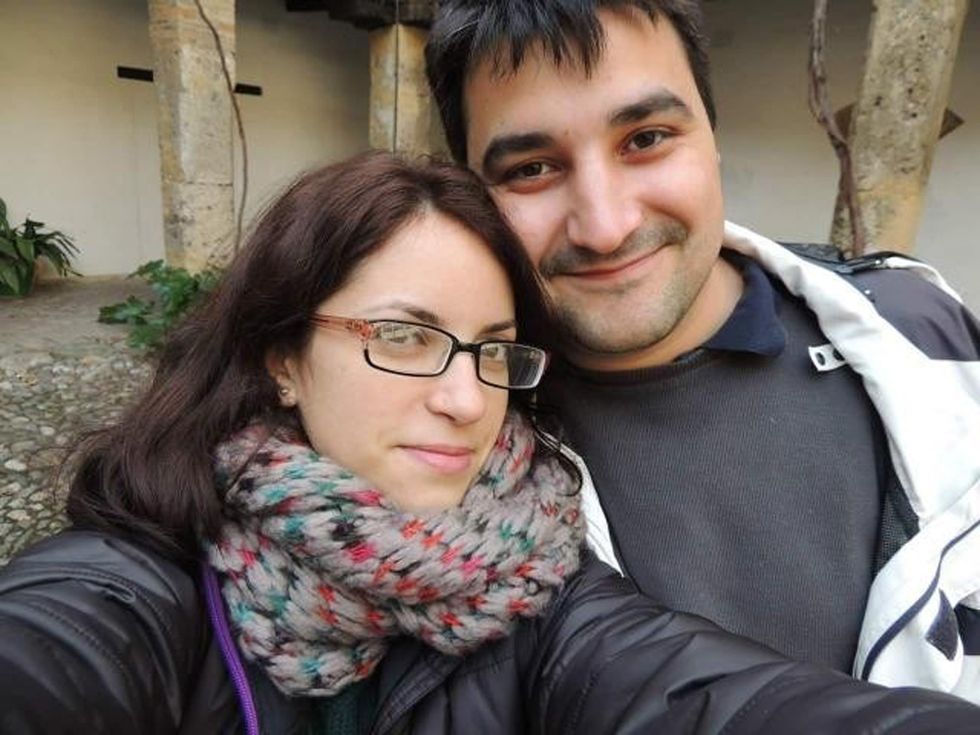 Anca and Valentine in Spain, 2013 (Collect/PA Real Life)
Anca wore a silk veil, decorated with seashells, and he wore a bow tie.
"We set off down to the beach at sunset," recalled Anca. "But, because we wanted somewhere where we could be alone, we had to clamber through some bushes to get there.
"Valentine waited by the shore with Vlad and, instead of walking up the aisle, I was driven by Andrea up the beach in a car." - Anca Arsene
She continued: "The whole ceremony only lasted around 15 minutes, but it was very intimate and extremely special.
"Vlad and Andrea were a little uncomfortable about being naked at first, because it isn't something they do often, but seeing how natural we were, they very quickly began to enjoy it."
The newlyweds and their guests then danced the night away to the sound of Andrea's harmonica playing, with garlands in their hair, beneath the setting sun.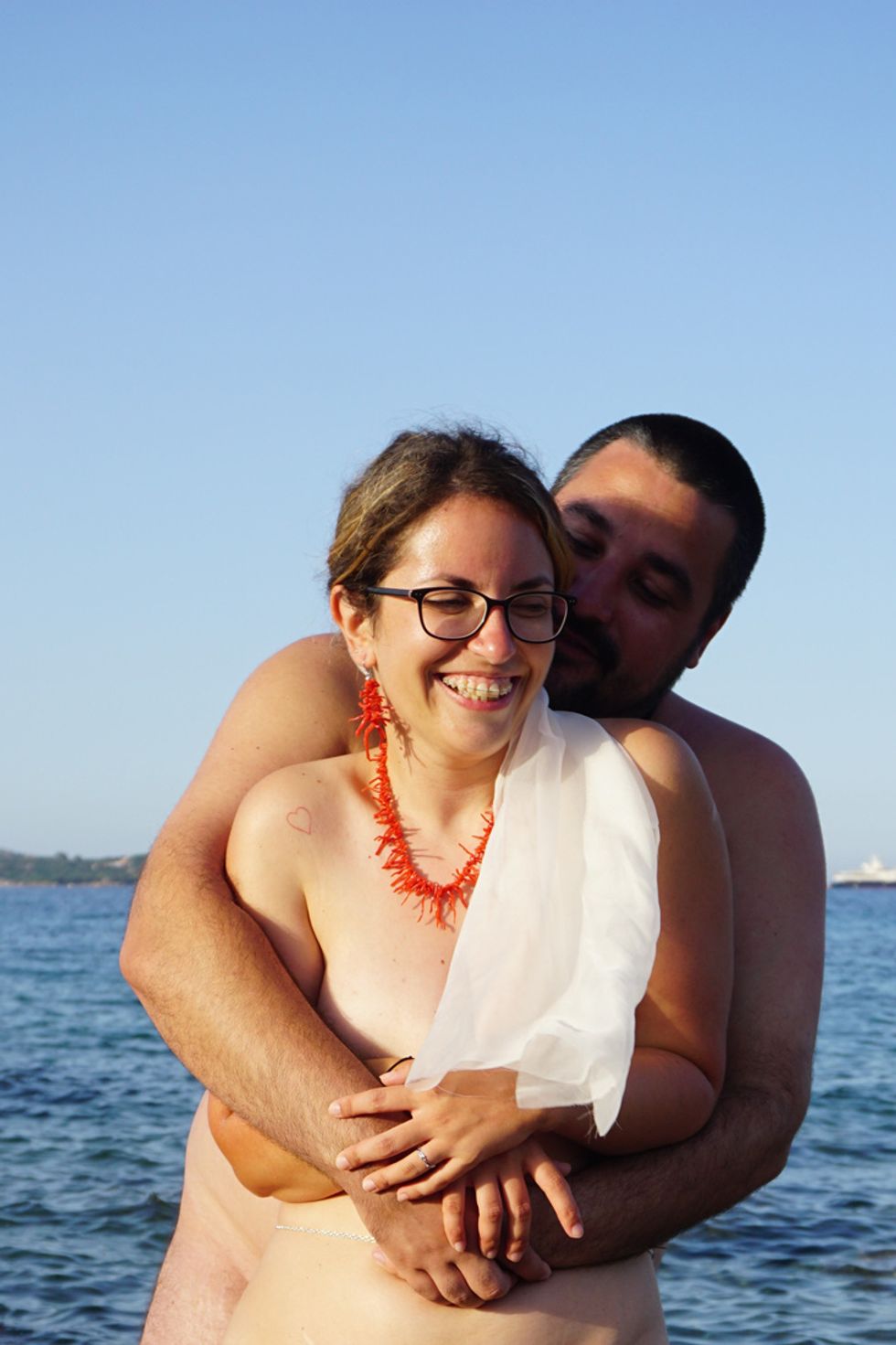 Anca wore nothing but a bridal veil and some jewelry (Collect/PA Real Life)
Although not legally binding, Anca – who plans to find a home in the same city as Valentine within six months – said their nudist wedding was the purest expression of their love.
"We will have a proper wedding in Bucharest, with all our family and friends, but it won't be as special.
"We would have loved to have had a nude wedding with everyone we love there, but most people are not comfortable with the idea of being naked in front of other people. You have to really love yourself and embrace your insecurities – and once you manage that, you can have a totally unforgettable naturist wedding."