Conservatives lashed out at Lizzo after the singer twerked while playing a 200-year-old French crystal flute that once belonged to James Madison, the nation's fourth President.
Lizzo is currently on tour promoting her latest album, Special, which was released during the summer. The flute was on loan from the instrument collection at the Library of Congress (LOC). A curator from the LoC was on hand to present it to Lizzo ahead of her performance.
Librarian of Congress Carla Hayden tweeted an invitation to Lizzo—a classically trained flutist—to visit the library's extensive flute collection while she was in Washington D.C. for her concert.
The LOC later shared video of Lizzo's visit.
It included an impromptu concert with the crystal flute.
You can see a video of Lizzo's brief Tuesday performance below.
The flute is made of sheer crystal and was gifted to Madison by Claude Laurent, a Parisian watchmaker and mechanic who invented the technology to produce glass flutes that became a novelty of the early 19th century.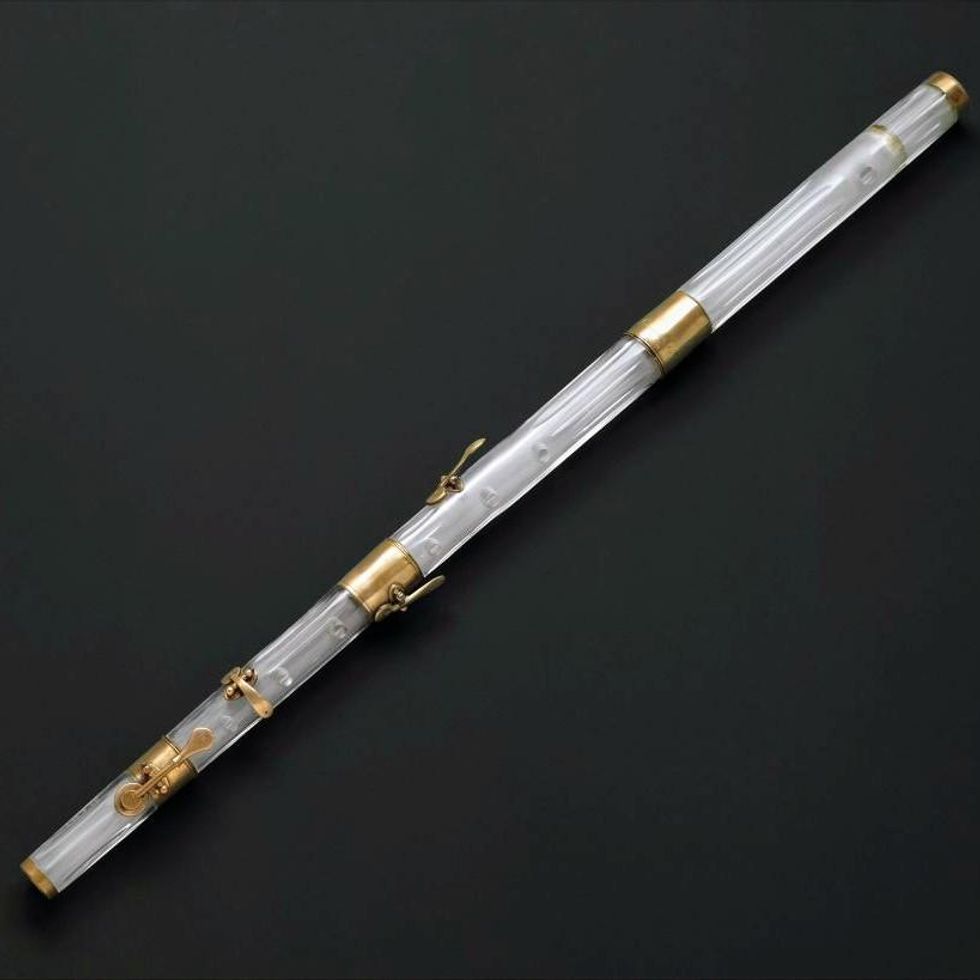 Claude Laurent glass flute, an early 19th century novelty.Sepia Times/Universal Images Group via Getty Images
It is rumored the flute was among the valuable items rescued during the Burning of Washington—a British invasion during the Chesapeake Campaign of the War of 1812.
The obvious joy the musician felt playing the instrument was something to celebrate.
For most people.
But conservatives—many of whom likely did not know the item existed before this week—decried the performance calling it disrespectful to the country's history as well as one of its most prized artifacts.

Right-wing provocateur Ben Shapiro said Lizzo did something "deliberately controversial."
He also attempted to slut-shame her for not wearing a "semi-modest outfit."
California Republican Senate candidate James Bradley suggested Lizzo had "taken a dump on the American flag."
Conservative commentator Nick Adams said Lizzo's performance showed the Biden administration "is making a mockery of the country."
Matt Walsh, another prominent conservative commentator, suggested the performance "was a form of racial retribution" orchestrated by "the woke left."
But many others said there was nothing wrong with the performance.

Others mocked the performative outrage of conservatives.
Lizzo has been playing flute since the fifth grade.

At one point, she considered studying at the Paris Conservatory before pursuing her rapping and singing career.
Her own flute—which she named Sasha Flute—even has its own Instagram page.
She said the experience of playing Madison's highly delicate artifact felt "like playing out of a wine glass" but that "history is freaking cool."