Anti-trans right-wingers are calling for a boycot of Kellogg's because Frosted Flakes mascot Tony the Tiger took a photo with trans influencer and activist Dylan Mulvaney.

Tony is a cartoon tiger occasionally played by an actor in a tiger suit for public appearances.

The right boycotted Bud Light for having Mulvaney post a 49-second Instagram ad for the company earlier this year. This time there is no collaboration taking place.
The offending photo took place at last weekend's Tony Awards when Mulvaney almost ran into Tony the Tiger on the red carpet.
The two then posed for photos together, as seen below.
Truly awful stuff, isn't it?
Imagine, Dylan Mulvaney existing in the same astral plane as a cereal mascot and the two daring to take a photo together. Really diabolical stuff.
Anyway, soon after Mulvaney posted the photo and footage to her Instagram account, conservatives jumped on the outrage bandwagon. Right-wing political strategist Joey Mannarino wrote a novel-length tweet full of slurs and what can only be his personal fantasies about how this incident—Tony the Tiger consorting with Dylan Mulvaney—is specifically the line in the sand for him.
You can see his unhinged semen-obsessed rant here: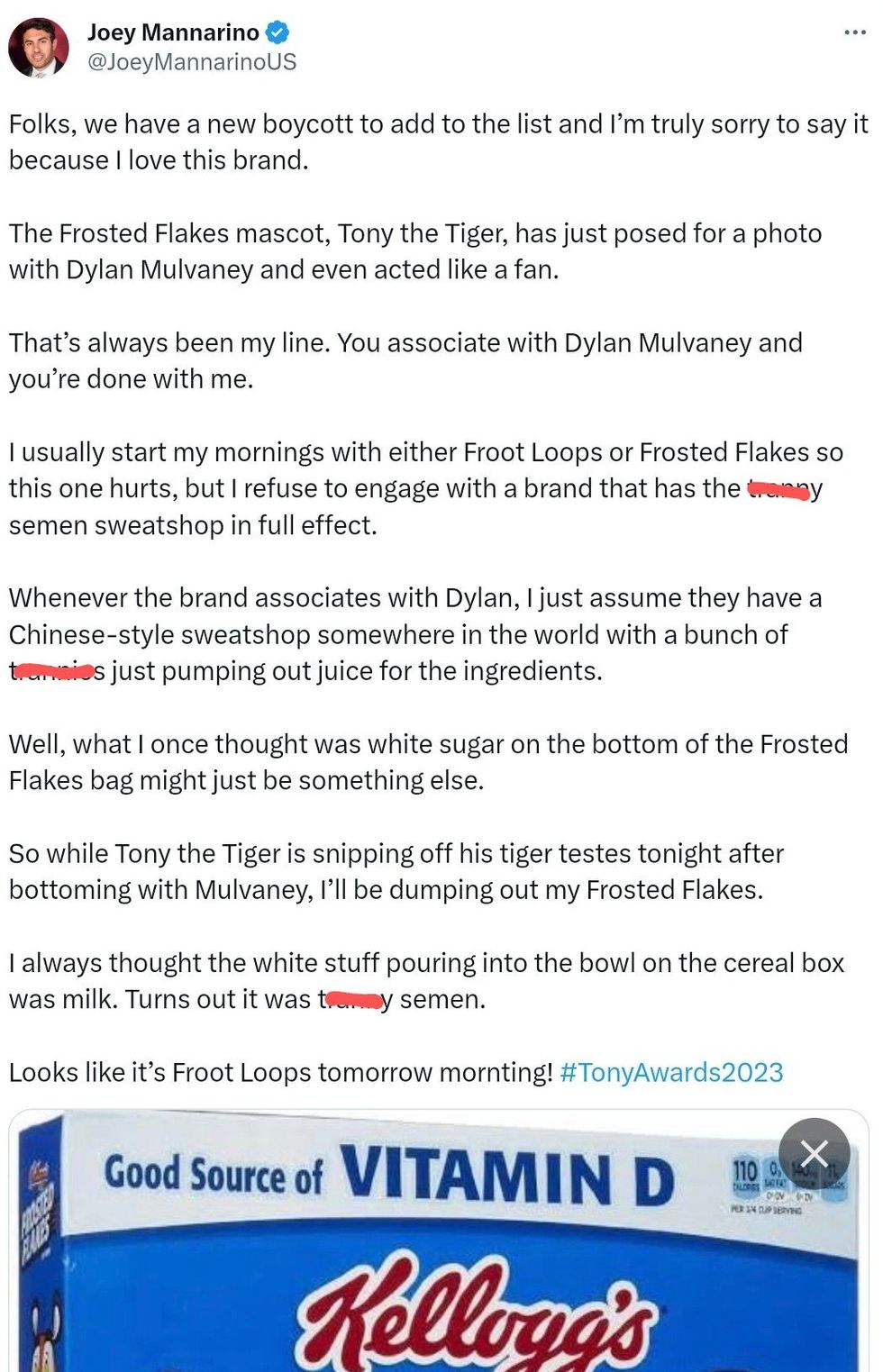 @JoeyMannarinoUS/Twitter
Mannarino tweeted:
"That's always been my line. You associate with Dylan Mulvaney and you're done with me."
Dylan Mulvaney has only been a household name for about a year.
Anyway, like clockwork other right-wing pundits and influencers jumped on the bandwagon with various "Go woke, go broke" tweets and others spewing the right's latest anti-LGBTQ+ groomer rhetoric.
Right-wing newspapers like the Washington Examiner and the New York Post quickly followed suit too, the latter of which queried in a headline, "Is Kellogg's next?" referring to the damage the right-wing boycott of Bud Light has done to Anheuser-Busch.
Twitter had other things to say about Tony and Dylan's red carpet moment, focusing on Mulvaney's Christian Siriano gown and new blond look.
Others mocked conservatives' absurd outrage.
Maybe someday a conservative will actually be outraged about something that matters like livable wages, childhood poverty and the unhoused.

That'd be grrrreat!