A Colorado Sheriff's Office left people outraged after posting a photo depicting Santa Claus obtaining a concealed carry handgun permit.
The El Paso County Sheriff shared the photo, in which a portly Santa Claus was registering for a concealed carry authorization, along with statistics about gun ownership in the county that struck many gun control advocates as excessive.
Given the post's timing, just days after a deadly school shooting left four teenagers dead in Oxford, Michigan, it inspired a tidal wave of angry reactions.
See the post below.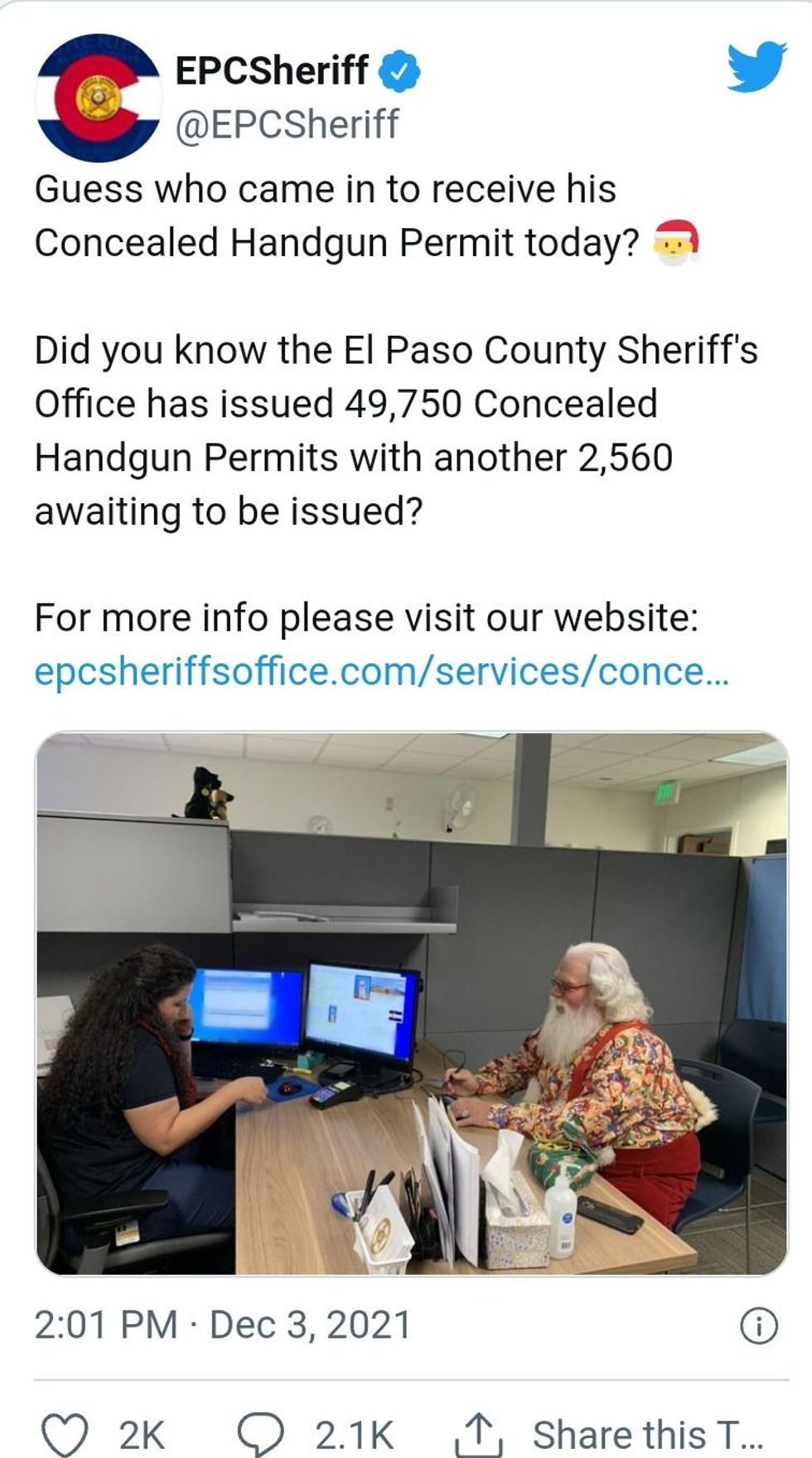 @EPCSheriff/Twitter
The El Paso County Sheriff's tweet read:
"Guess who came in to receive his Concealed Handgun Permit today? 🎅"
"Did you know the El Paso County Sheriff's Office has issued 49,750 Concealed Handgun Permits with another 2,560 awaiting to be issued?"
Nothing says Christmas cheer like Santa Claus joining the ranks of the nearly 50,000 people in El Paso County Colorado walking around with a loaded gun on their hips!
Many felt the post was bizarre and inappropriate, while others found it downright dystopian. And several questioned why Santa Claus would even need a gun in the first place.
Are excited children holding him at gunpoint as he comes out of the fireplace or something?
Perhaps most heavily on the minds of people angered by the tweet was the school shooting just last week in Oxford, Michigan. Given the timing, the post struck many as tone-deaf and ill-timed.
A fiery backlash to the tweet immediately ensued, which the El Paso Country Sheriff's Department responded to with a follow-up tweet.
The Department clarified it did not intend to be "insensitive," explaining:

"Santa correlates to the month of December and we thought he would help to recognize our hard working staff."
But it's hard to deny using a beloved children's figure like Santa Claus as a concealed handgun permit mascot is a macabre choice, particularly given recent events.
The Department's follow-up did little to assuage people's anger.
Others pointed out how indicative the tweet was of America's obsession with guns.
The El Paso County Sheriff's Department has since responded to the backlash by closing the tweet to further responses.