Haley Davis is a recent graduate from the University of Louisville, and she decided to make a statement with her graduation photo.
---
Davis' photo shows her standing on her college campus wearing her graduation cap and wielding a .... well, just check it out.
Now that I've graduated from the University of Louisville, I can finally arm myself on campus! 🤪 Come and take it!!… https://t.co/8wWSrlvPeZ

— Johnny Tomato Seed✨ (@Johnny Tomato Seed✨)1533579934.0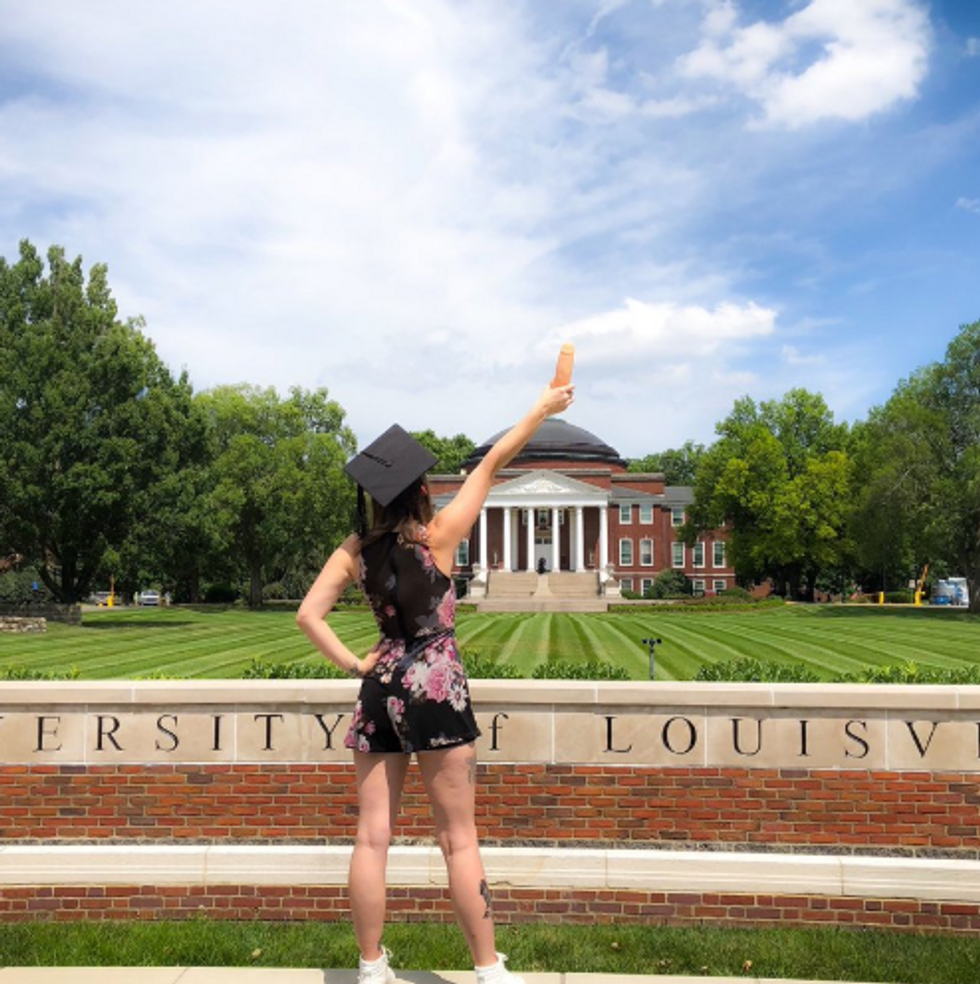 Twitter
Yes, that is a dildo in her hand.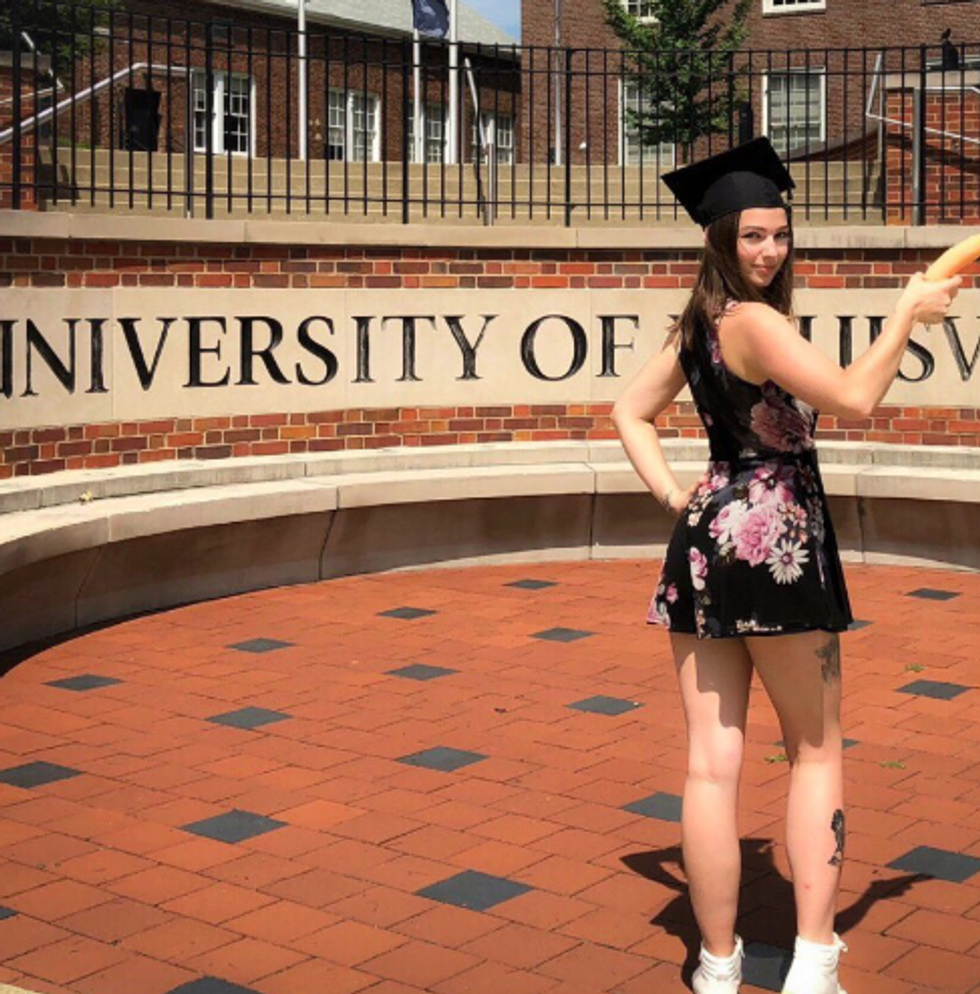 Twitter
The photo alone is hilarious, but Haley actually modeled her photo after this one:

Now that I graduated from @KentState, I can finally arm myself on campus. I should have been able to do so as a stu… https://t.co/GxuuyJg87O

— Kaitlin Bennett (@Kaitlin Bennett)1526228352.0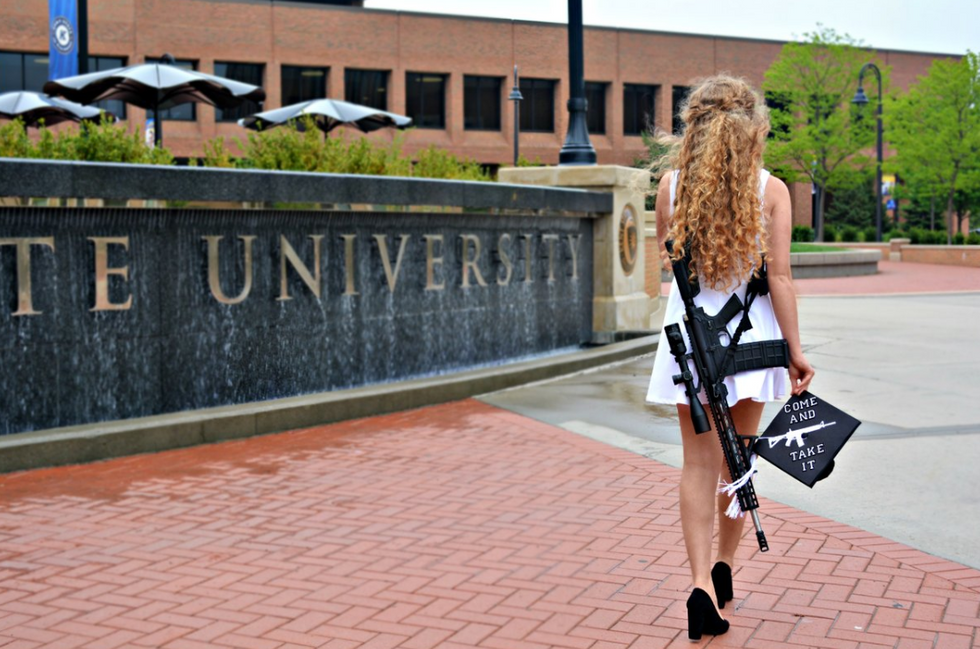 Twitter
Kaitlin Bennett recently graduated from Kent State and took the opportunity to photograph herself wielding an automatic rifle along with her mortarboard that read, "Come and take it."

Her photo was used to call attention to her belief that she should have the right to carry a gun onto her campus. She claims the Kent State shooting, when the Ohio National Guard shot and killed 4 unarmed student protesters back in 1970, is enough reason to justify her demand.

Haley Davis isn't sure where she stands on gun control, but she knows she wouldn't feel comfortable wielding a gun herself, and she doesn't think the general public needs assault rifles.

Davis explained her photo and "weapon" of choice by saying,

"Knowing I would be graduating soon, I wanted to make satire out of [Bennett's] very bold photos just to lighten it up a little bit. I think comedic relief is very valuable and can ease pain people may be feeling.

"As a feminist, I value sexual liberation and acceptance of sexuality. That, combined with my desire to provide comedic relief, is why I chose to pose with a dildo."
The internet is loving her take on the photo.

@IsARealGal A REAL Queen https://t.co/48LRWOOAfx

— Christian 🦄 (@Christian 🦄)1533662657.0
@IsARealGal This tweet made me miss my train stop https://t.co/Gq0PlnhfU8

— stanley on pretzel day (@stanley on pretzel day)1533727919.0
@IsARealGal A true American hero

— gideon 🌈 (@gideon 🌈)1533604881.0
@IsARealGal omfg 😂😭

— Ankyloglossia Guy (@Ankyloglossia Guy)1533654066.0
@IsARealGal this right here is valid

— its my birthday 🤠 (@its my birthday 🤠)1533665145.0
@IsARealGal @TheEmmaBelle I fucking love this tweet. This is a good tweet

— harley 💷💶💵 (@harley 💷💶💵)1533659973.0
@IsARealGal https://t.co/80EwiJxvR4

— Mitty Cent (@Mitty Cent)1533687295.0
@IsARealGal she's unstoppable

— miaaaaa (@miaaaaa)1533580070.0
@IsARealGal @MessyJessyM @CocksNotGlocks

— Jiwon Min (@Jiwon Min)1533649203.0
And for some, she's an inspiration.

@IsARealGal I just want you to know my sis @shelbyeezus and I are going to have a dildo in our hands when we graduate to honor you!! 💕💙💛

— patricklorenzo (@patricklorenzo)1533681905.0
Just check out this sweet message:
Getting some random negative comments from people who are bothered for no reason, but the positivity by far is outw… https://t.co/Hfpp68zFaF

— Johnny Tomato Seed✨ (@Johnny Tomato Seed✨)1533727935.0


"I was in the army, don't carry a gun, but have one. I've been through a lot fo pain in my life, and you are absolutely correct, comedy has gotten me through all of it. It said your mind could be changed away from family law, how about activism for a bit, you would be great at it. Bye Ben"
Well, that certainly made us smile. Who knew dildos could bring people together so successfully?