Danielle Bregoli earned a claim to fame from an appearance on Dr. Phil in 2016.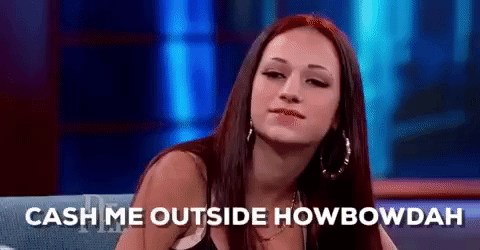 Giphy
Since then, she has gone into the music industry and become an award-nominated rapper called Bhad Bhabie. Now, she is delving into the world of television once again and this time, she is getting her own reality show called Bringing Up Bhabie on Snap Originals by Snapchat.

"Y'all want to know what really goes on? I'm here to f—-g tell you."
Bregoli has capitalized off of and made a career out of the clip (and catchphrase) from Dr. Phil:

What May Be Driving A 13-Year-Old's "Out-Of-Control" Behavior www.youtube.com
The 15-year-old has since released 10 singles, six remixes, three gold records, and a mixtape called 15. She is headlining her first tour called Bhanned in the USA in April, and she has been nominated for several awards, including the MTV Movie & TV Awards, Billboard Music Awards, and iHeart Radio Music Awards.
Oh, and if all of that weren't enough, Bregoli has landed an endorsement deal worth a whopping $900,000 with the controversial makeup brand CopyCat Beauty.
She gives viewers a glimpse into this unorthodox rags-to-riches tale in the trailer for Bringing Up Bhabie:

"I went from sleeping on the floor of a trailer to having a gold record in six months."
The Gucci Flip Flops rapper also explains that now she has two managers and a bodyguard, and claims no one is allowing her to grow up:
"They don't wanna let me grow up, but f**k it, it's time."
Watch the full trailer:
Bringing Up Bhabie Trailer | BHAD BHABIE's New Show is Only on Snapchat February 4th www.youtube.com
Bregoli is promoting the docuseries on an interactive billboard on Sunset Strip in Los Angeles. People can open Snapchat, scan the code on the bottom of the billboard, and she'll come to life on their screen.
Fans are thrilled to watch the new docuseries:
@EW @BhadBhabie I low key want to watch .... #grabpopcorn

— Y U Ri (@Y U Ri)1548504835.0
@XXL @BhadBhabie I can't wait to see what this is about. I hope people start to see her for more than a troubled kid. I think she's cool

— IG:CookiiessMonstaa (@IG:CookiiessMonstaa)1539302312.0
@BhadBhabie I downloaded snapchat again jus for this

— ▪bastian (@▪bastian)1548448703.0
@XXL @BhadBhabie I know this is gunna be good!!🙌💯🖤🖤🖤

— Jess (@Jess)1539602927.0
@BhadBhabie I can't wait

— 𝒥𝒶𝓃𝑒 🧜🏼‍♀️ (@𝒥𝒶𝓃𝑒 🧜🏼‍♀️)1548520115.0
And commend the teen for continuing to build an impressive net worth:
Bregoli has an estimated net worth of $3 million.
@XXL @BhadBhabie Just keep getting that bag @BhadBhabie 💯👌💪

— TheTinyQueen 👑🦄🇨🇦 (@TheTinyQueen 👑🦄🇨🇦)1539210589.0
@EW @BhadBhabie Securing that bag forever

— jojo and the nuns (@jojo and the nuns)1548440320.0
@XXL @BhadBhabie Just Keep winning and getting them 6 figure checks 🔥 🔥 🔥

— Lamonta griffin (@Lamonta griffin)1539228355.0
Others aren't as enthused:

@EW @BhadBhabie I hate this world

— Six-2o (@Six-2o)1548428382.0
@Numbskull430 @people https://t.co/f3XTm83k4P

— shellokitty (@shellokitty)1548460868.0
@EW @BhadBhabie https://t.co/A1Zh1Swsgx

— Jeffrey Royer (@Jeffrey Royer)1548425351.0
@people This is just a bhad shughestion for ehntertainment.

— SWillis-Koontz (@SWillis-Koontz)1548460963.0
@people Cash me outside not watching dat.

— All Booked Up Podcast (@All Booked Up Podcast)1548461187.0
Bringing Up Bhabie premieres on the Snapchat Discover Page on February 4th.