Artist Brian Michael Weaver recently revealed his "Insurrection Maze."
It's a "Where's Waldo?"-style maze which includes hundreds of real participants from the January 6 insurrection—the day a mob of former Republican President Donald Trump's supporters attacked the nation's seat of government on the false premise the 2020 general election was stolen.
Weaver told The Daily Dot he wanted to create something that captured both the horror and "buffoonery" of that day, adding he "wanted to get everything that really disturbed [him] in one place."
He said he spent "an embarrassing amount of time" researching the event and studying hundreds of hours of footage, images and descriptions to create the illustration. The maze comes with a "Seditionist Scumbag Checklist" of 100 of the riot's most infamous participants, a list that includes "Stop the Steal" organizer Ali Alexander and prominent GOP political consultant Roger Stone.
The illustration mocks the Proud Boys and Oath Keepers, violent hate groups that are reduced to "butt buddies" in the descriptions. It also uses irony to mock insurrectionists such as people seen assaulting reporters while carrying a banner that says "Protect the First Amendment."
You can see the illustration below.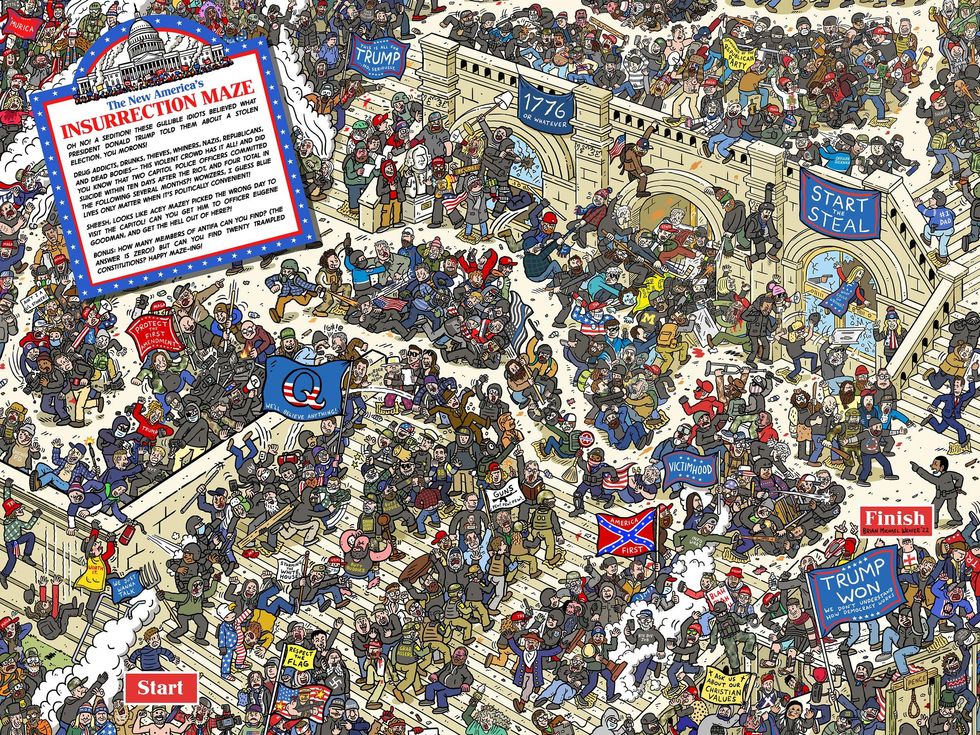 Brian Michael Weaver
Perhaps controversially, Weaver's illustration also depicts the deaths of the insurrectionist Ashli Babbitt, who was shot and killed by a federal officer after ignoring warnings while attempting to enter the House chamber. Also included is Rosanne Boyland, whose death was attributed to a drug overdose after she lost consciousness and died in the middle of the human crush on the Capitol steps.
Weaver said he was "very affected" by Babbitt's death because she was essentially "murdered by the politicians who filled her head with nonsense"—a nod to her strident belief in QAnon conspiracy theories.
Of including both insurrectionists in his illustration, Weaver said:
"If someone gets mad that I put people who died there that day, then I can't blame them, but I would also say to them, but they did die."
And, remarking on controversy in general, Weaver said "the greatest moment of being an artist is being controversial and not just a cheap controversy," adding that if his work "gets [him] in hot water, it's done its job."

Weaver's illustration went viral after it was shared on Twitter by NBC reporter Ryan J. Reilly who called it "impressive."
Others also remarked on the boldness of the piece.
Weaver has created both a poster and a jigsaw puzzle version of the "Insurrection Maze" to coincide with the two-year anniversary of the attack.
He says he is not particularly worried this piece will have negative ramifications for his career, much of which has involved illustrating children's magazines and books.