A bookstore in Palmyra, New York called The Dog Eared Book has a surprising amount of followers on TikTok. Recently, they posted a video that has more than one million likes and 4.3 million views.
The video that starts with, "More weird things that happen in book shops," is apart of a series of videos explaining the bizarre things that go on in the small town bookstore.
In the video, the owner, Carrie Deming, walked around the store flipping books back so the cover was facing out. Unfortunately, customers come in and turn books around that they don't agree with.
Deming filmed herself walking around the store, flipping books about LGBTQ+ stories:
"People don't always agree with all of the books we have on display."
"So we have to run around whenever the store is in-between customers, and make sure that people haven't taken books that they don't agree with and turn them around so that the back is facing the front instead of the cover."
@thedogearedbook

Bookstores are for everyone!!! #booktok #lgbtqbooks #bookstore #queerbook #censorship #bookseller #bookworm #book
Some of the books included in the video were Cat Sebastian's The Queer Principles of Kit Webb, a historical novel, Julie Murphy's Pumpkin, the story if a fat, openly gay boy stuck in the small West Texas town, Kacen Callender's Felix Ever After, which is about a Black, queer, and transgender student discovering the love he deserves, and Olivia Waite's The Hellion's Waltz: Feminine Pursuits, one book in a series of historical novels that feature lesbian romances.
The bookstore owner wrote in a comment:
"This doesn't happen every day, but it does happen shockingly often!"

However, it's not as shocking to other book store workers. Several comments said they too had to flip books at their stores.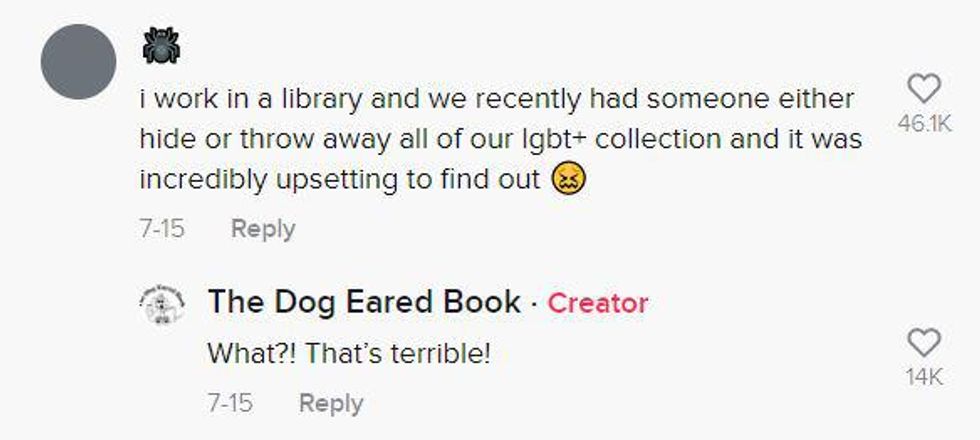 @libraryphantom/TikTok; @thedogearedbook/TikTok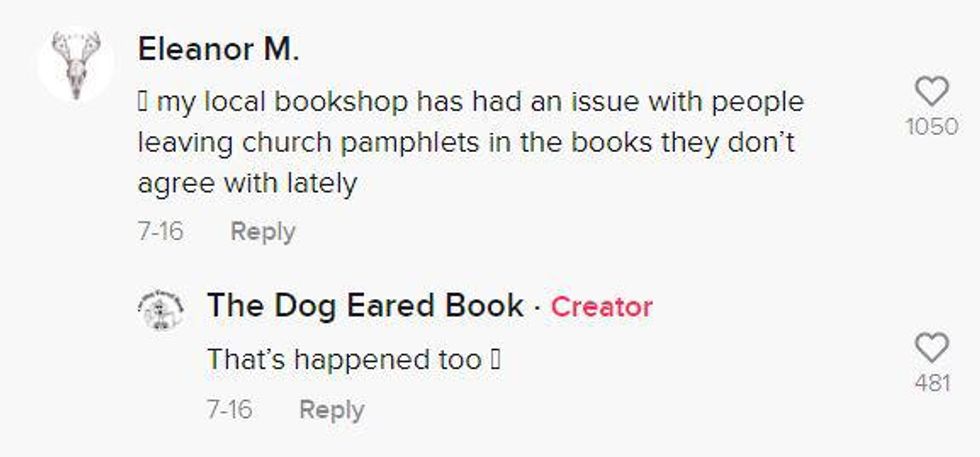 @thegreenathame/TikTok; @thedogearedbook/TikTok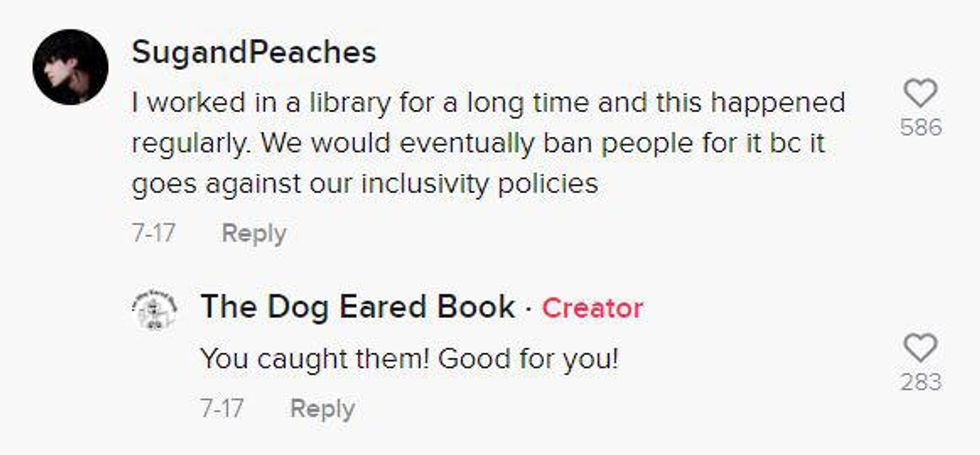 @sugarandpeaches/TikTok; @thedogearedbook/TikTok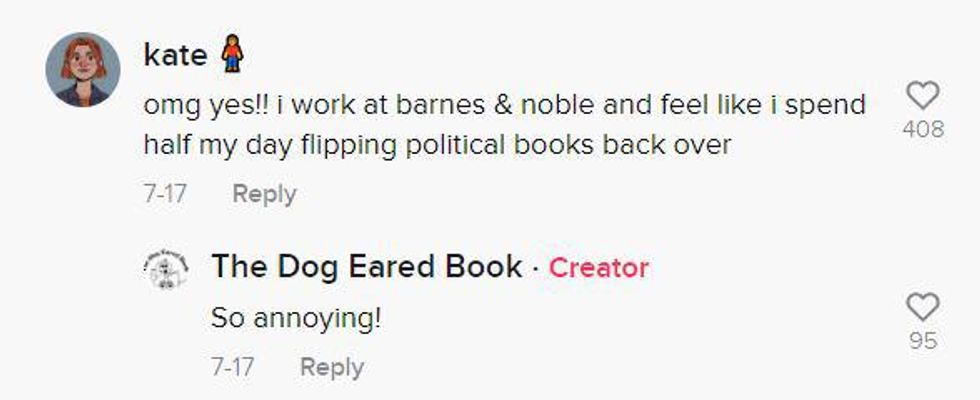 @campolka/TikTok; @thedogearedbook/TikTok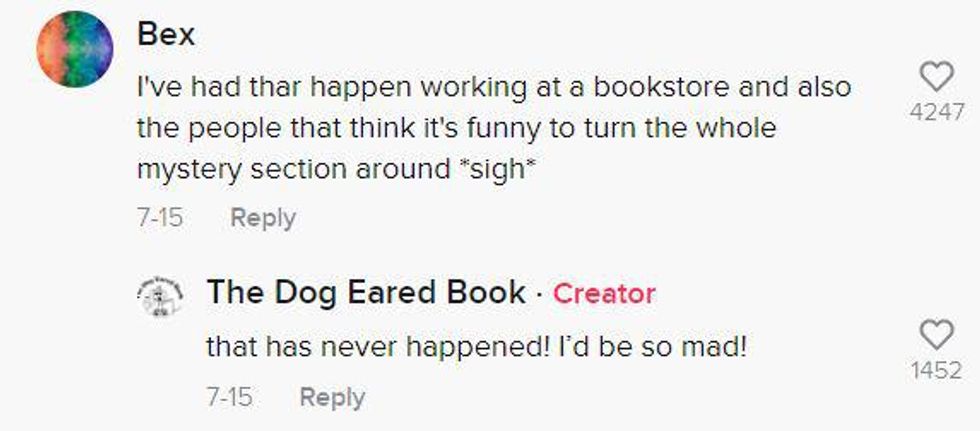 @queer.it.up/TikTok; @thedogearedbook/TikTok
Many people came for the assumed conservatives that would take the time and energy to do such an inconsequential action.

@anakesagie/TikTok

@spoopythehuman/TikTok

@innocu/TikTok

@thereadingroyalty/TikTok

@joshuanimal/TikTok

@lv.zai/TikTok

@gh0st.blr/TikTok; @thedogearedbook/TikTok

@michaelapoetry/TikTok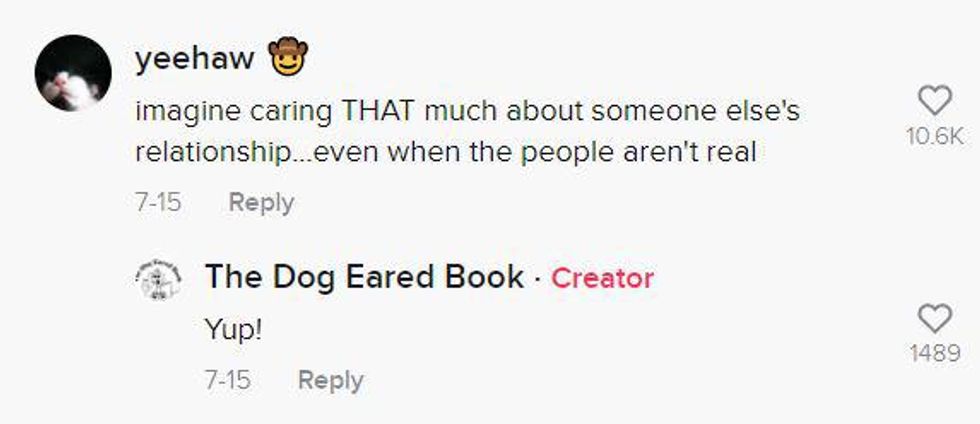 @beans1234321/TikTok; @thedogearedbook/TikTok
The folks who saw the video really showed up for the LGBTQ+ community and The Dog Eared Book store.
Deming posted an update video the following day about the overwhelming book orders the store received:
"Wow, I posted that video last night and I cannot believe how much it has resonated with everyone."
"But even more incredible, I cannot believe how much the community has put their money where their mouth is."
"The amount of orders that came in through our website last night for LGBTQ+ books is absolutely incredible."
She said it's been wild pulling the books for the orders:
"By the time I'm done I don't think there's gonna be a single BIPOC or LGBTQ book left in the store!"

Deming said she's stocking the sold-out books as fast as possible:
"I promise we stock them for a very important reason because bookstores are for everyone."
@thedogearedbook

#stitch with @thedogearedbook thank you for agreeing that bookstores are for everyone!! #booktok #lgbtqbooks #bookstore #bookseller #bipocbooks
Deming spoke with The Daily Dot and shared how the orders were three times the amount she normally gets.
She also shared another unintended side effect from the viral video:
"Some people who are within driving distance of our store learned about us through this video and have become customers."
It comes at no surprise that the books that people chose to turn around were LGBTQ+ themed. The American Library Association's list of most challenged books shows many books over the years are being censored, banned or even burned for lifting up stories of marginalized groups. Some of the top contenders in the last few years have been George by Alex Gino, A Day in the Life of Marlon Bundo by Jill Twiss, This Day in June by Gayle E. Pitman, among many others, for including LGBTQIA+ content.
In this case, the TikTok community has shown the stories of the LGBTQ+ community cannot be censored.