Colorado Republican Representative Lauren Boebert has cultivated a reputation as one of the more divisive and incendiary members of Congress since she took office in January. Boebert has backed insurrectionists who tried to overturn the results of a free and fair election, and made headlines for complaining about critical race theory, earning her place as one of the more prominent voices in the culture wars.
And when she isn't doing either of those things, she finds time to attack the LGBTQ+ community, as she did after she amplified a transphobic tweet alleging that a transgender Olympian transitioned just so she could win a medal.
Boebert retweeted a tweet written by Jesse Kelly, the host of "The Jesse Kelly Show" on KPRC 950 in Houston and a former congressional candidate in Arizona. Kelly, writing about New Zealand Olympic weightlifter Laurel Hubbard, wrote:

"Imagine switching genders to win a medal and then blowing it and now you're stuck being a woman for the rest of your life."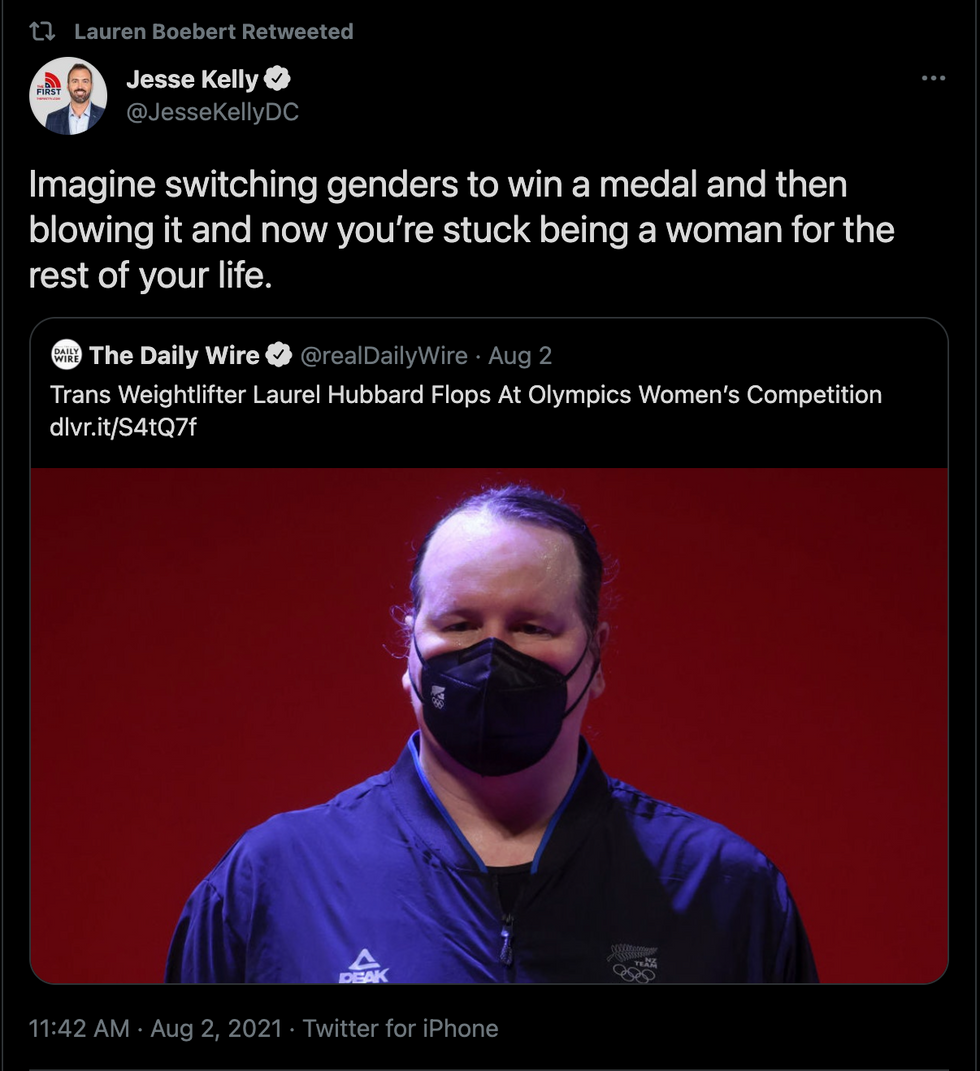 @JesseKellyDC/Twitter
Whoa.
But let's talk about Laurel Hubbard for a moment: When she was selected to compete at the 2020 Summer Olympics, she became the first openly transgender woman to compete in the Olympic Games. The International Olympic Committee (IOC) also found that Hubbard met all the requirements for transgender athletes to compete.
But critics like Boebert and Kelly have alleged that athletes like Hubbard have an unfair advantage due to biological advantages of going through puberty as a male. For what it's worth, the IOC's Medical and Scientific Director Richard Budgett and Joanna Harper, a Ph.D. researcher at Loughborough University who has worked on IOC policy, are supporters of more research into transgender participation in sports.
And for the record, Hubbard did not win a medal Monday in the women's over-87-kilogram division weightlifting event.
Boebert was largely criticized for amplifying Kelly's transphobic message. The fact that Hubbard did not win a medal at her first and only event was also used to shut down implications that she had a biological advantage in the competition.

@Rhona_Redtail/Twitter

@chadestmanalive/Twitter

@WickedReina617/Twitter

@ArtistryHathor/Twitter

@MunichPost/Twitter
Hubbard, for her part, has not responded to Boebert or Kelly. And now that her time in the Olympic spotlight is over, she'd like her privacy.
In an interview with The New York Times, she said:
"These types of situations are always difficult for me because, as some of you may know, I've never been involved in sport because I'm looking for publicity, profile or exposure. While I recognize that my involvement in sport is a topic of considerable interest to some, in some ways I'm looking forward to this being the end of my journey as an athlete and the attention that comes from it."
After undoubtedly inspiring plenty of LGBTQ+ youth—and dealing with plenty of media attention both positive and negative—we'd say Laurel Hubbard has deserved some time to herself. Bravo.