An old, White employee who worked at a Dillard's department store in Dallas, Texas, was fired after he allegedly called a Black customer the n-word.
The targeted customer–identified as Muhammad Karim–was shopping inside the upscale store located in the city's NorthPark Center shopping mall with his ten-year-old son and another adult accompanying him.
When he learned about the alleged bigotry his little boy experienced, Karim confronted the store employee in a calm and graceful manner in a viral video.

Instagrammer Aisha–a.k.a. @scarf.child–posted the clip of the interaction with Karim–who she said was her cousin.

The video's caption read, "DILLARDS TRIED TO GET THIS VIDEO REMOVED."
"An older male BY THE NAME OF HOMER, decided today would be the day that he expresses his lifelong #HATE for #BlackPeople," wrote the social media user.
In the clip, Karim told the employee:

"My 10-year-old son heard you call me 'a f'king [n-word]."
"I want you to know this is unacceptable."
Aisha said the employee, who was referred to as "Homer" in the video but could not be verified by his nametag, uttered racist language after he pointed Karim in the direction of the fitting rooms.
When Karim returned, he found his son in tears after hearing what the store clerk had said.
"A tear came out my baby's eye and he said, 'Dad, you didn't hear what that man just called me?'" Karim recounted later in an interview with CBS News.
In her Instagram post, Aisha continued:

"Unfortunately, a 10-year-old male was exposed to how cruel this world can be towards him BECAUSE OF THE COLOR OF HIS SKIN but his father showed him the right way to handle the situation, gracefully."
When Karim learned about what happened, he tried to find the store manager but was told they wouldn't be in until Tuesday.
So he decided to approach the employee in a dignified manner, which is when the video started.
Karim told the employee–an older, bald man wearing glasses and a white, buttoned-up shirt–that what he said was "unacceptable. You shouldn't do that. You're too old."
He continued:
"I carry myself with honor. I would never disrespect any human being by calling them outside of their name."
"You don't know the impact of what you've done to my son. But maybe you were unaware."
When the employee tried defending himself by saying he didn't know the boy was with his father, Karim told him:
"It doesn't matter. You shouldn't be speaking that way—period."
"I know that," responded the employee, to which Karim asked, "So, if you know that, why do that, man?"
The employee tried to justify his behavior by mentioning he had hurt his leg, but Karim was not buying it.
"You hurt your leg, so you said 'f'ing [n-word]?" Karim asked him.
When he told the shopper he had been a Dillard's employee for over 20 years, Karim said, "Twenty years and you're acting that way. You don't know what straw could break the camel's back."
"I know," said the employee.
"But you disrespected me… and my family," Karim continued. Other members of his group were seen standing behind Karim.
He continued:

"But I would never do that to your family or even you. …I would never treat anybody that way."
"But I want you to know man to man, that sh*t's not cool. It doesn't matter about the age. Treat human beings with respect, and morals, and values."
"Now I have to go home and explain to my 10-year-old not to be a damn idiot," he said, gesturing to the employee.
He said he would tell his son not to be a "Homer" because "Homer don't have respect for my kind or any human being."
Karim emphasized this was not a "Black or White issue" but more of an "idiot issue."
Before ending the conversation, he said he informed the supervisor about the employee.
As Karim walked away from the employee, who had remained silent for much of the remaining encounter aside from making excuses, Karim told him:
"May God bless you, and you keep moving forward, and I'll pray for you, Homer."
The clip cut out as the employee was heard yielding to Karim and muttering under his breath, "Thank you. Peace and bless you."
The video received over three million views and counting.

@scarf.child/Instagram

@scarf.child/Instagram

@scarf.child/Instagram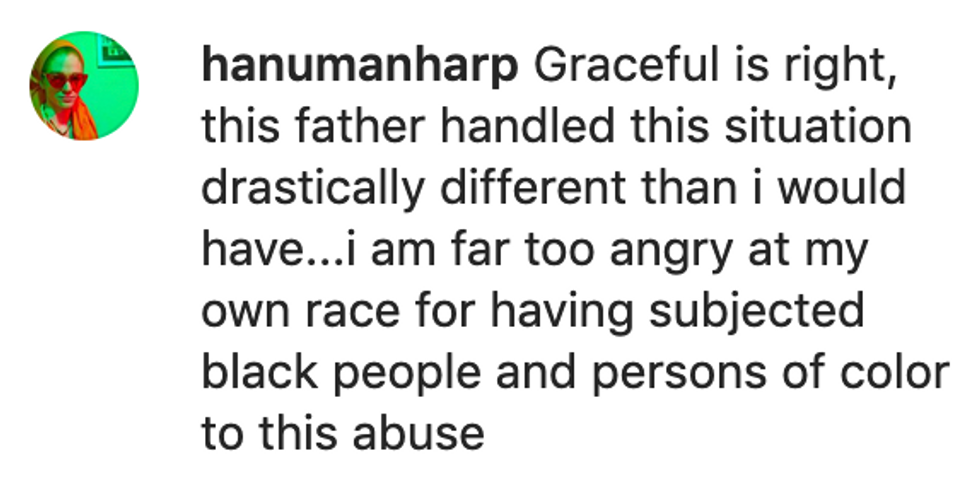 @scarf.child/Instagram

@scarf.child/Instagram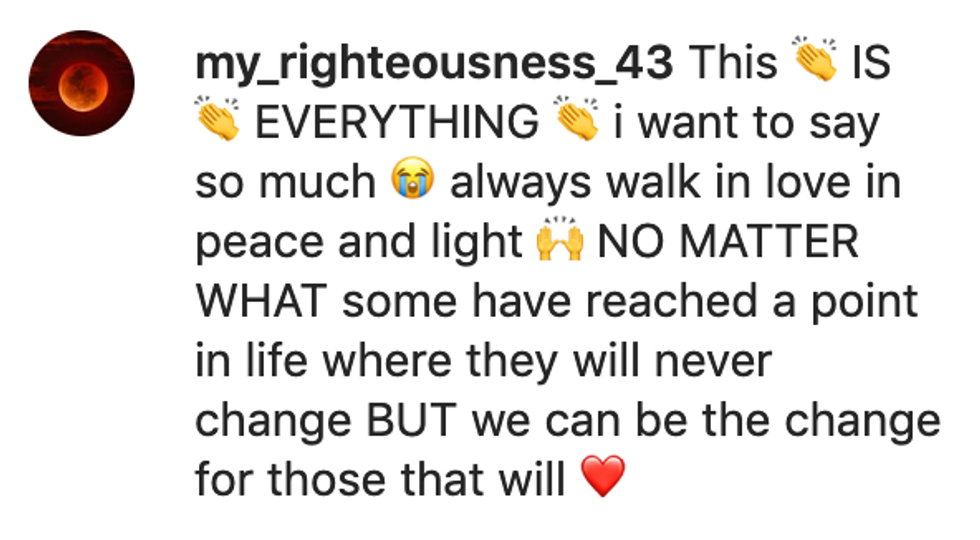 @scarf.child/Instagram
A Dillard's Facebook post revealed the employee in the video was fired.
The announcement was in response to a post advertising the department store's new handbags on which a customer referred to the incident and asked if racist employees get to keep their jobs.

Dillard's Facebook
Dillard's responded directly to the comment with the following statement.

"The allegations made against our former employee were promptly investigated, found to be in clear violation of our standards, and his employment with Dillard's was immediately terminated."

Dillard's Facebook
Regarding the uncomfortable encounter, Karim told CBS News it was a challenge trying to maintain decorum while inside the store.
He credited much of that to his faith.

"The Prophet Muhammad says 'don't be angry. Don't be angry. Don't be angry.'"

After taking a brief pause, he laughed:
"I'll be honest with you. I was angry. I was livid."
Karim–who lives in Johnson County and runs a small catering business and restaurant–added his son is still traumatized by the incident.
"I don't think Homer understands the impact of his words."
"My Honey [the family nickname for the child known for being so kind] is scared to come outside."

"He thinks that every white person is out to get him. How do you explain it?"
The news outlet said his siblings and relatives have shared with him messages on social media responding positively to Karim's effective handling of the situation.
If his family was still grappling over how things went down at Dillard's that day, he admitted he too, was struggling to keep it together.

Through teary eyes, Karim added:
"I can't allow for my emotions to overshadow them in this particular time. So, I'm doing the best that I can to protect them."