The boring BeYAWNcé took to Instagram earlier this week to announce her 2023 Renaissance World Tour, which will likely entail lackluster choreography and songs nobody even knows the lyrics to.
...at least according to some clever members of the Beyhive.
Fearing they may encounter the same distress suffered by Taylor Swift fans late last year, Bey's fans are taking any measures necessary to increase their odds of scoring tickets to see their queen.
We're even talking blasphemy here... and it's catching on.
In an effort to drive down online traffic in hopes of securing tickets, Beyoncé's fans have taken to social media to diss their idol.
Hilary Buff (Vampire Slayer)—@TheHilaryBuff—took to Twitter to leave their negative review of the "Crazy in Love"singer as well as to note the financial responsibility of refraining from purchasing tickets.

"Beyonce is not a good performer and her concerts are boring. Don't waste your time buying tickets, y'all."
"I'm definitely not gonna get them anymore. Moment of clarity."
"You should do the same. Let's be responsible this year."
Soon after, many followed suit, some even specifying which venues and dates should be avoided, as well.
Some even put fear of the "Single Ladies" singer's rumored affiliation with the Illuminati in potential concert goers.
And some just flat out lied.
Even though #boycottbeyonce is catching on, the diehards' efforts will likely make no difference.
As a result of the Taylor Swift ticket mess, Ticketmaster has implemented a process in hopes of weeding out bots buying bundles of tickets before humans even get a chance.
Fans will have to register before even attempting to purchase tickets. Additionally, seven concert dates have been added and tickets will be released as groups.
The process is also outlined on the Live Nation site promoting the tour, but in all honesty, it looks pretty complicated.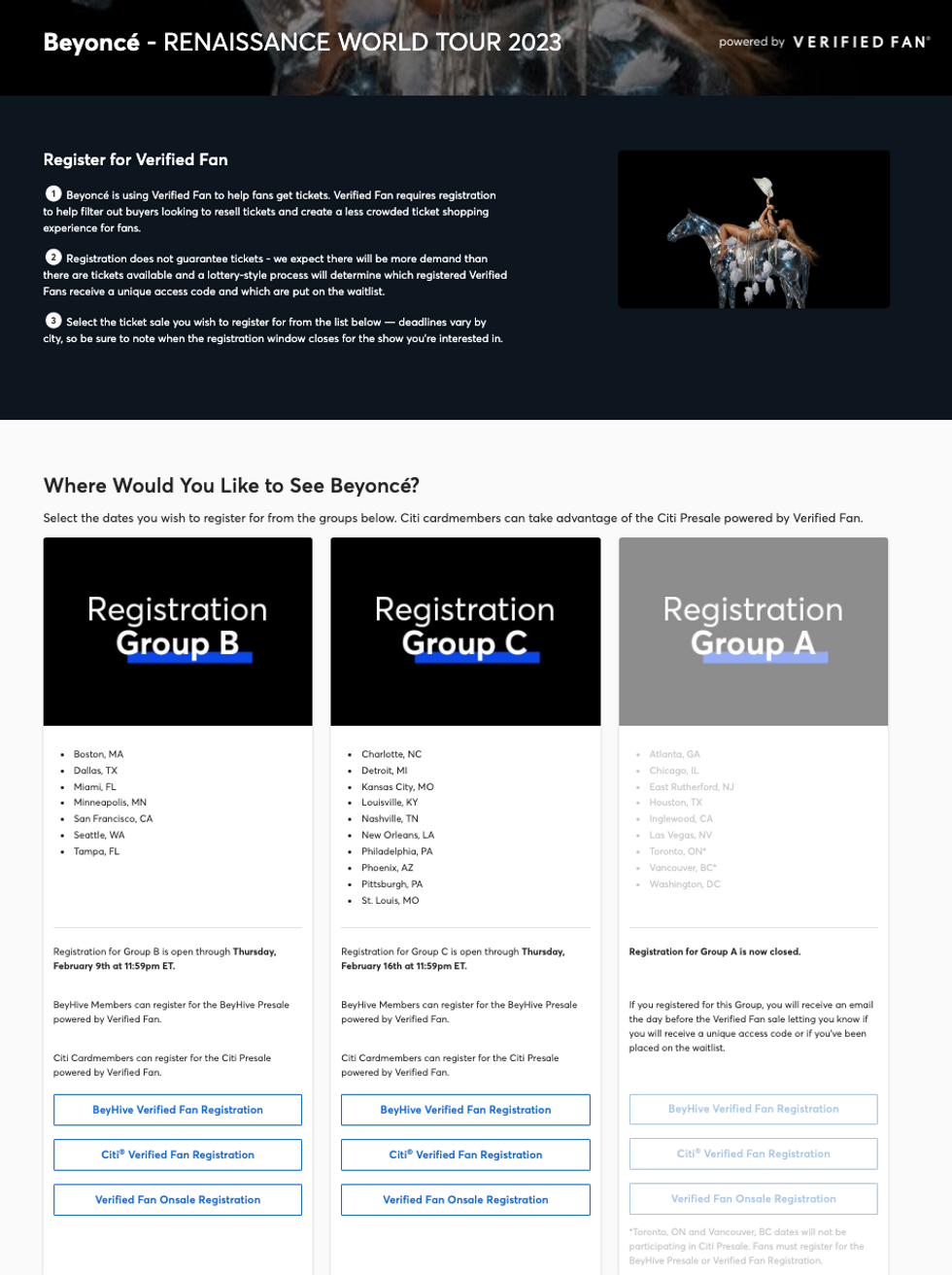 beyonce.livenation.com
Good luck to all of you braving the interwebs for tickets this week.
If you happen to get your hands on some, we hope it's not a total snoozefest for you. 😉