A primary school teacher has spoken about her crippling guilt after her baby boy – born with virtually no immune system – was forced to live in a bubble for months, so prone to infection she could not even kiss him.
Living in virtual isolation because of an ultra-rare immune system disorder, severe combined immunodeficiency (SCID), Milo Knight, now seven months, of Hull, East Yorkshire, received the shocking diagnosis after his worried parents sought advice over a persistent cough.
Saved thanks to a bone marrow donation from his electrician dad, James Knight, 28, he is now out of the bubble and hopes to be home for good with him and his mum, Tazmin, also 28, in time for Christmas.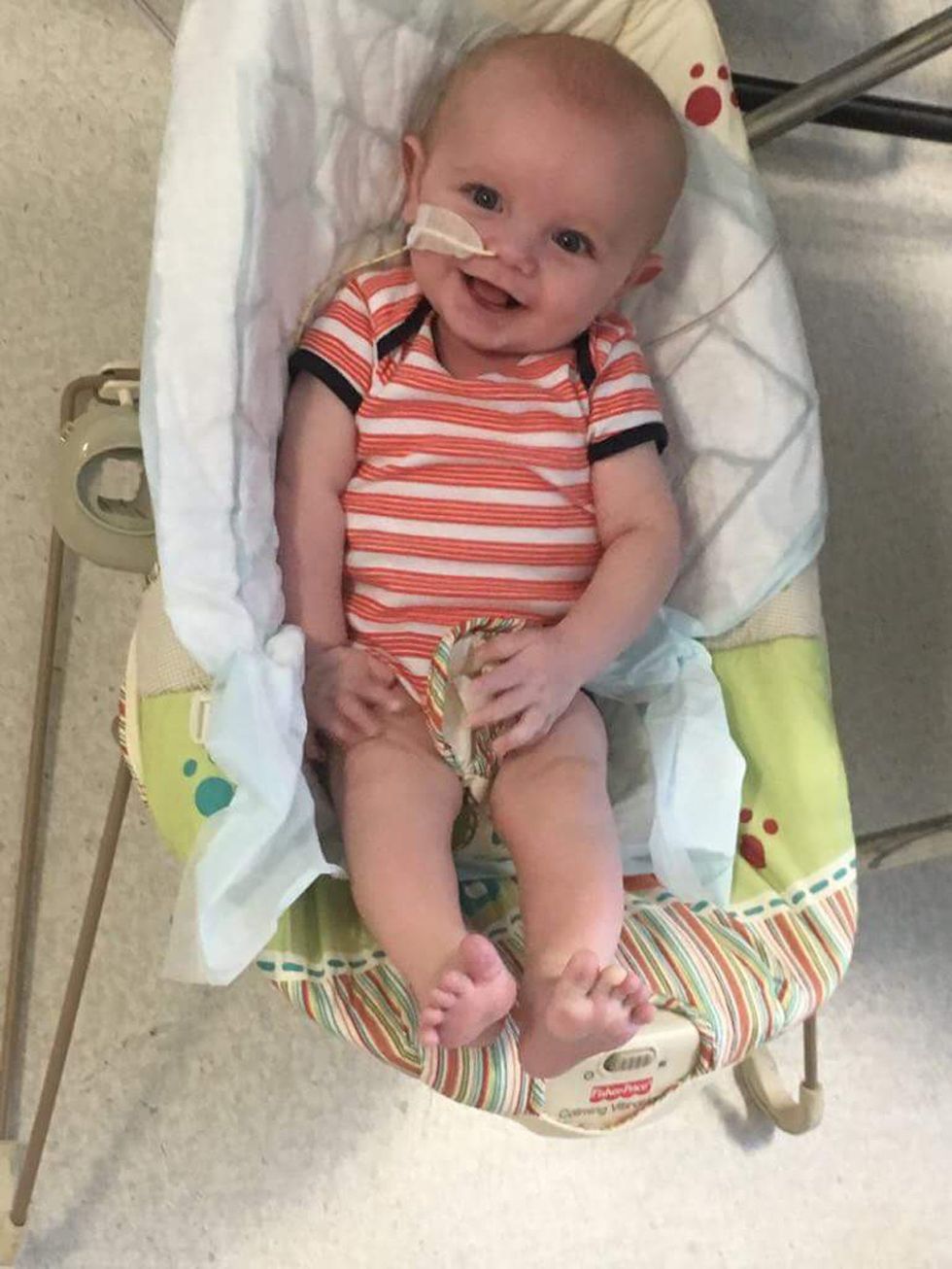 Milo spent three months in a sterile isolation unit (PA Real Life/Collect)
Speaking about Milo's ordeal, Tazmin said: "I felt incredibly guilty that family, who we're really close to, couldn't visit.
"There was a bell on the hospital ward we were on that children ring to signal the end of their treatment. I walked past it so many times, thinking, 'When's our turn?'
"Now, thanks to James saving Milo's life, we've rung it. It was so emotional. I'm very proud of my boys."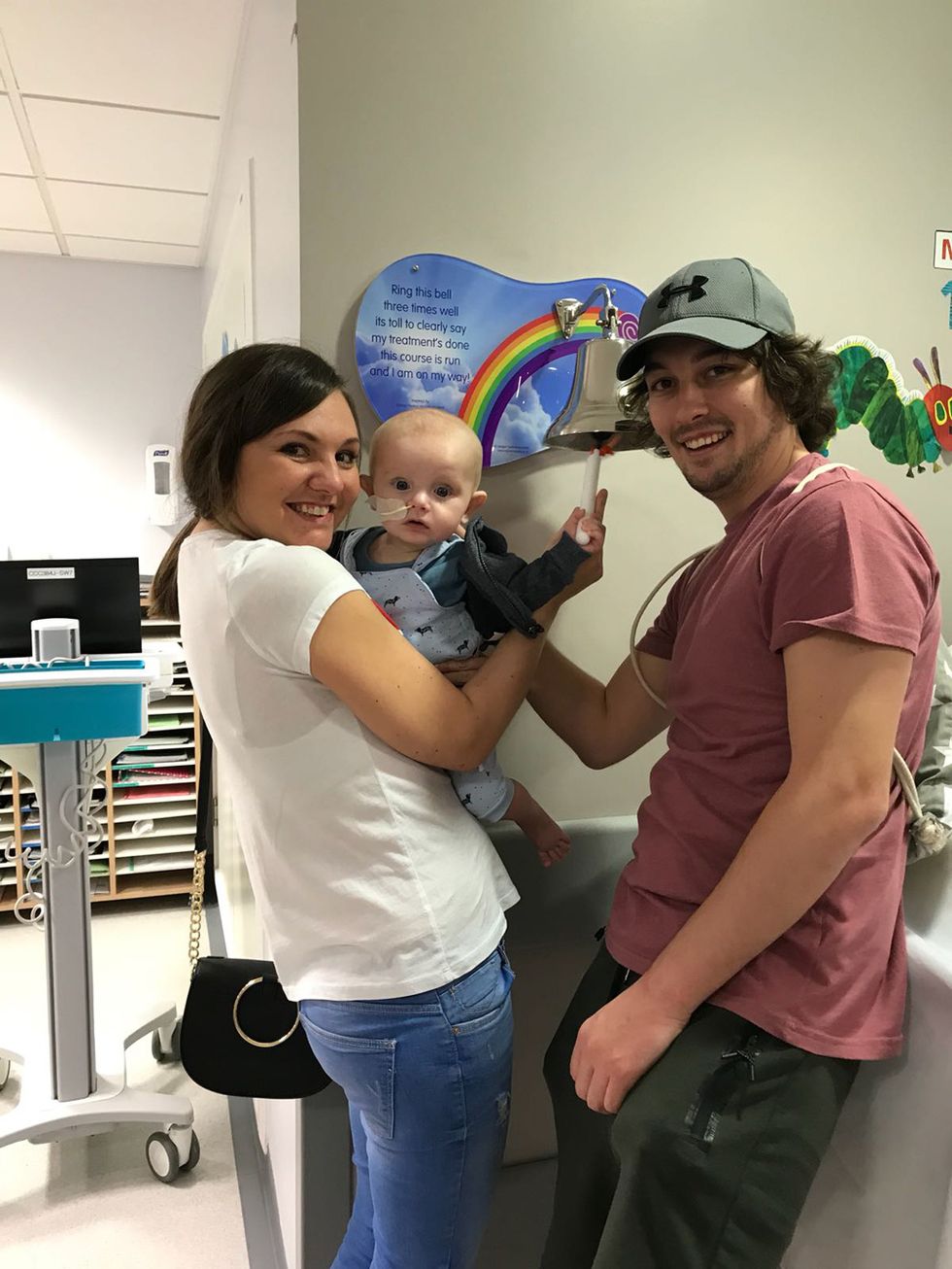 The family ringing the end of treatment bell (PA Real Life/Collect)
At first, after his birth on 20 February this year, Milo seemed perfectly healthy, going on to develop a cough when he was around two months old.
Doctors initially thought was just a bug, leaving it to clear up on its own.
"The following month, we were meant to be going on a family holiday to Cyprus," said James. "We took Milo back to the doctor to check he was well enough to go, as the cough was lingering."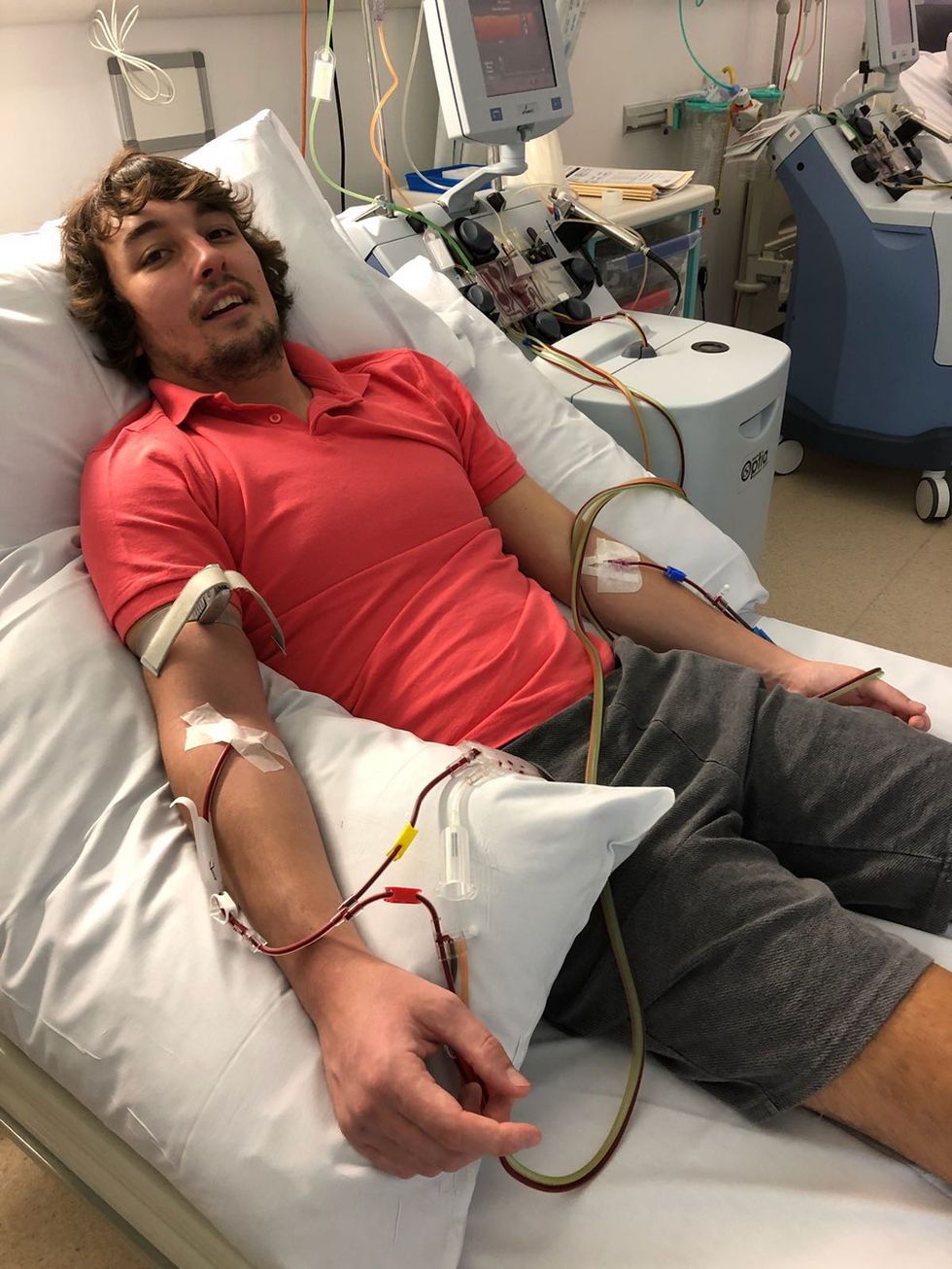 James having his stem cells harvested (PA Real Life/Collect)
He added: "They said he'd be okay, and that it was probably just taking a little more time than usual to get over his bug."
Once home from their trip, though, Tazmin and James took Milo for his three-month check-up – and health visitors noticed his weight gain had slowed.
Shortly afterwards, he suddenly stopped taking his bottle, having previously been a good feeder.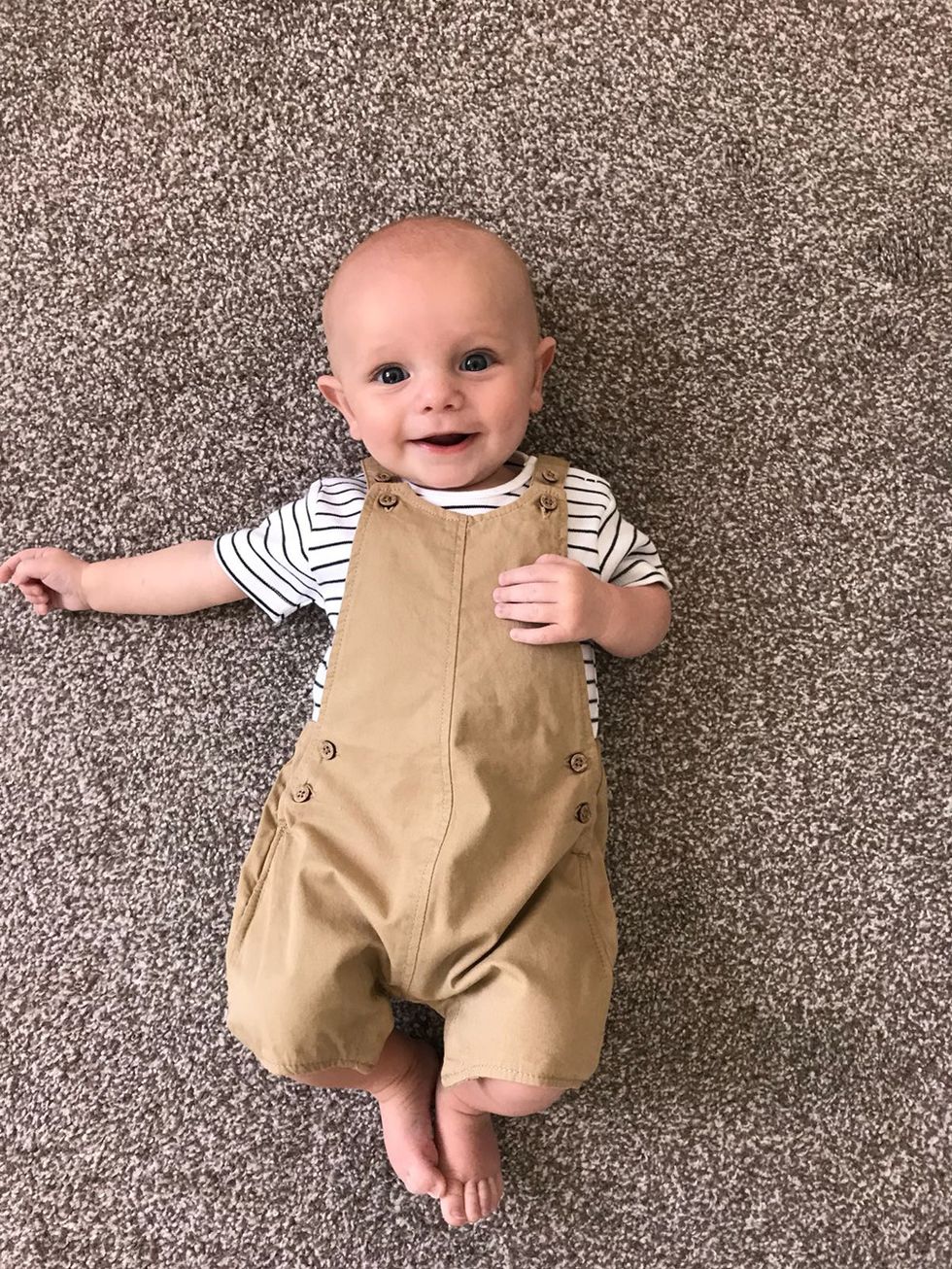 Milo's parents hope he is home in time for Christmas
(PA Real Life/Collect)
Anxious, his parents rang NHS 111, the non-emergency number, and were advised to take him straight to A&E.
At Hull Royal Infirmary, medics began running urgent tests, thinking he could have anything from a chest infection to reflux, where a baby spits up shortly after feeding.
James continued: "After three days, we were called into a side room, which is never a good sign."
Milo has severe combined immunodeficiency (SCID) and has been placed inside a protective bubble
His family want to help support @TheBubbleUK so they can continue helping Milo and other babies like him 👶https://t.co/pbsk1kD6fVpic.twitter.com/q7WZlE0f9w
— JustGiving (@JustGiving) July 23, 2018

He continued: "They told us Milo had SCID, which neither of us had ever heard of. They explained it was very rare, and very severe.
"The only two hospitals in the UK that could treat us were London's Great Ormond Street, or Great North Children's Hospital in Newcastle-Upon-Tyne.
"We were told not to Google the condition – but we had to. We wanted to know what was happening."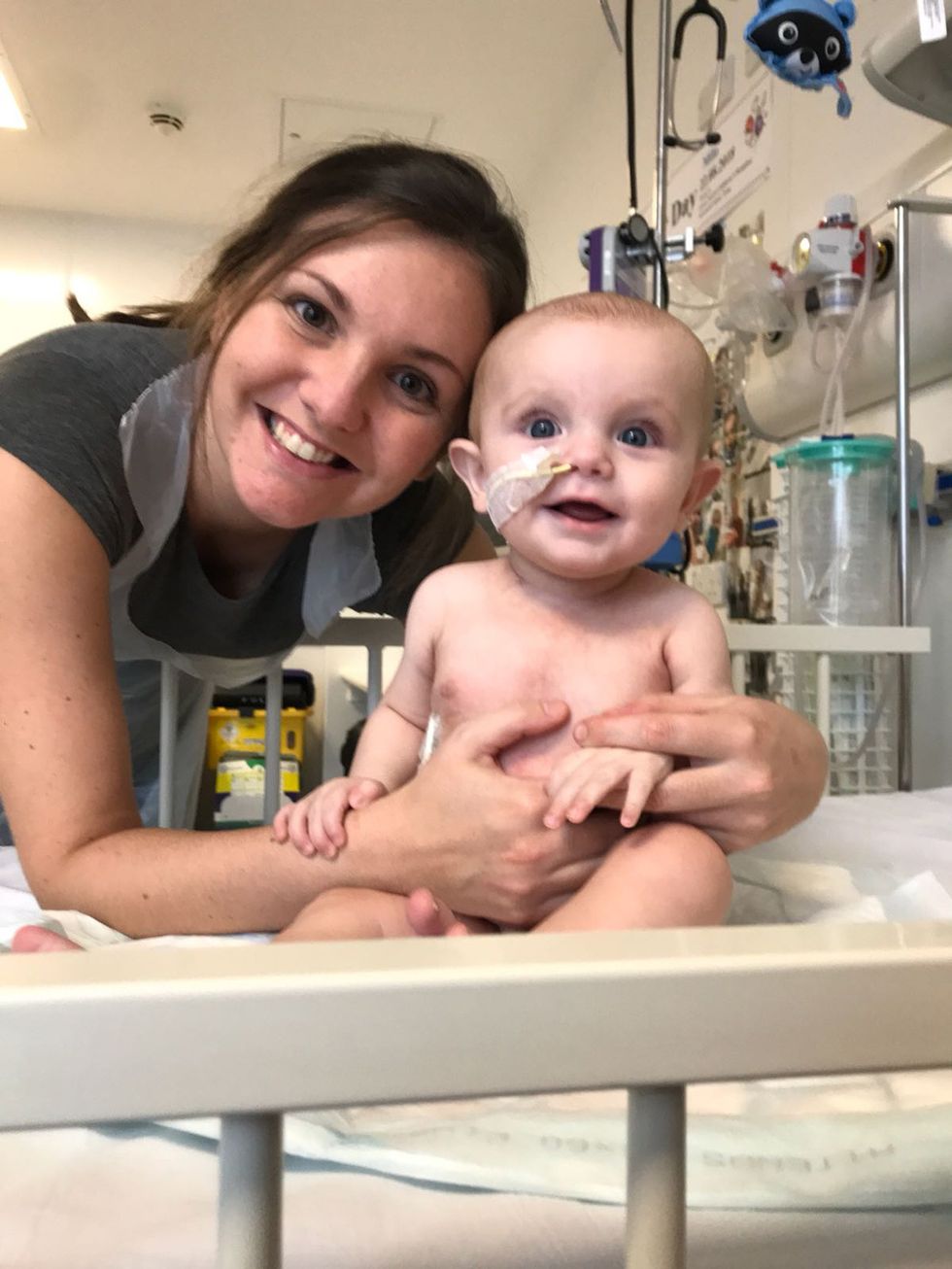 Tazmin with Milo on the ward (PA Real Life/Collect)
According to the NHS, SCID is caused by a genetic mutation and means that specialized white blood cells, which usually form the immune system, are either missing or not functioning properly.
At one time, most affected babies would not survive beyond a year, but modern treatments are now available to either reduce the risk of infection or cure it completely.
After the diagnosis, James, Tazmin and Milo were sent to Great North Children's Hospital almost 150 miles from home, with no idea how long they would need to stay there.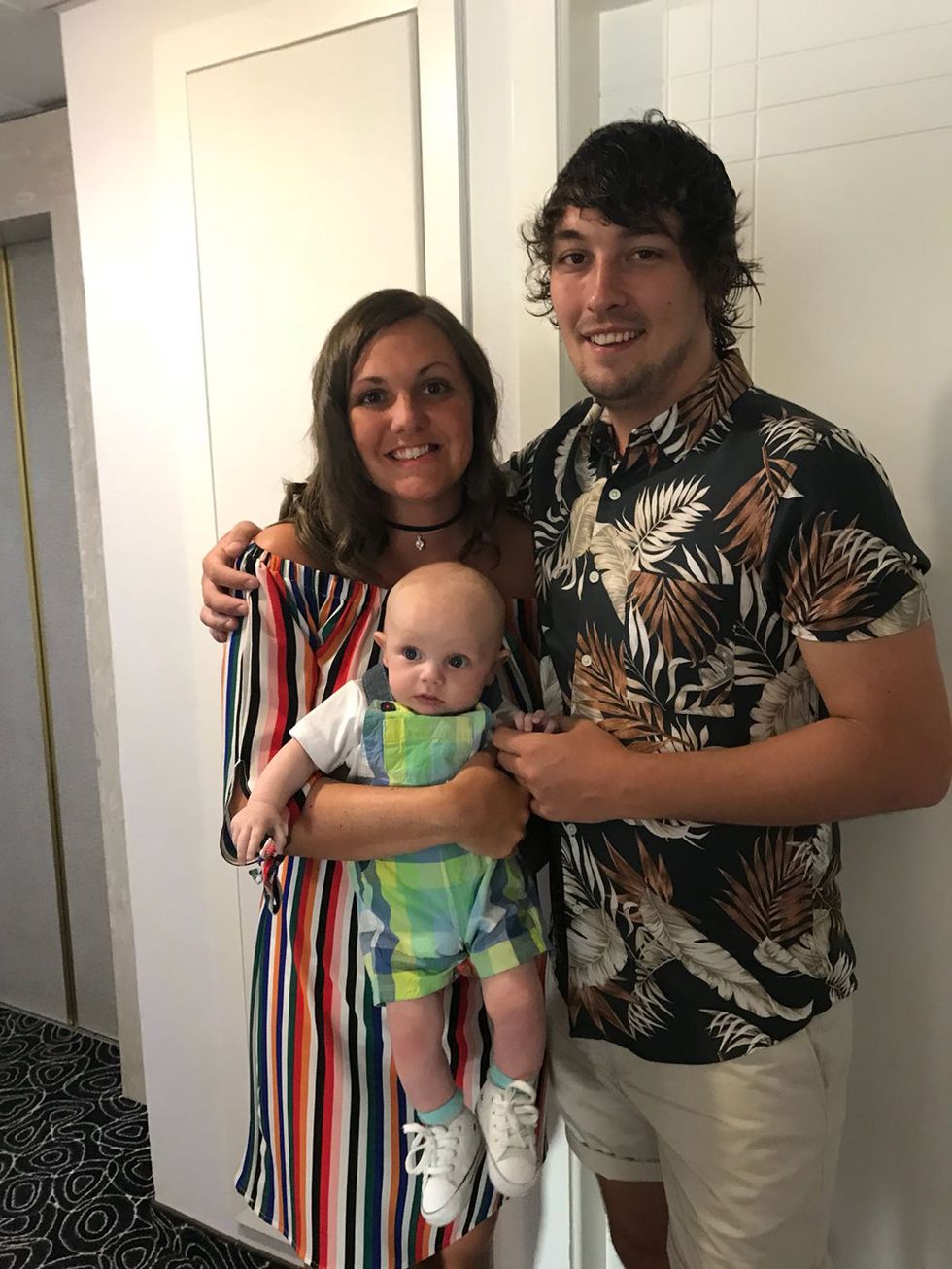 Tazmin, Milo and James in Cyprus just before he was diagnosed
(PA Real Life/Collect)
Right away, Milo was admitted to a specialist ward known as the 'bubble ward,' because of its individual high-tech sterile rooms, designed to protect patients from infection.
"Before going in, the nurse told us to kiss Milo, as it'd be the last time we'd be able to do so for a while," said James. "Tazmin found that especially hard. She just broke down."
Doctors soon managed to determine that Milo would require a stem cell transplant – but no match was found on the official database.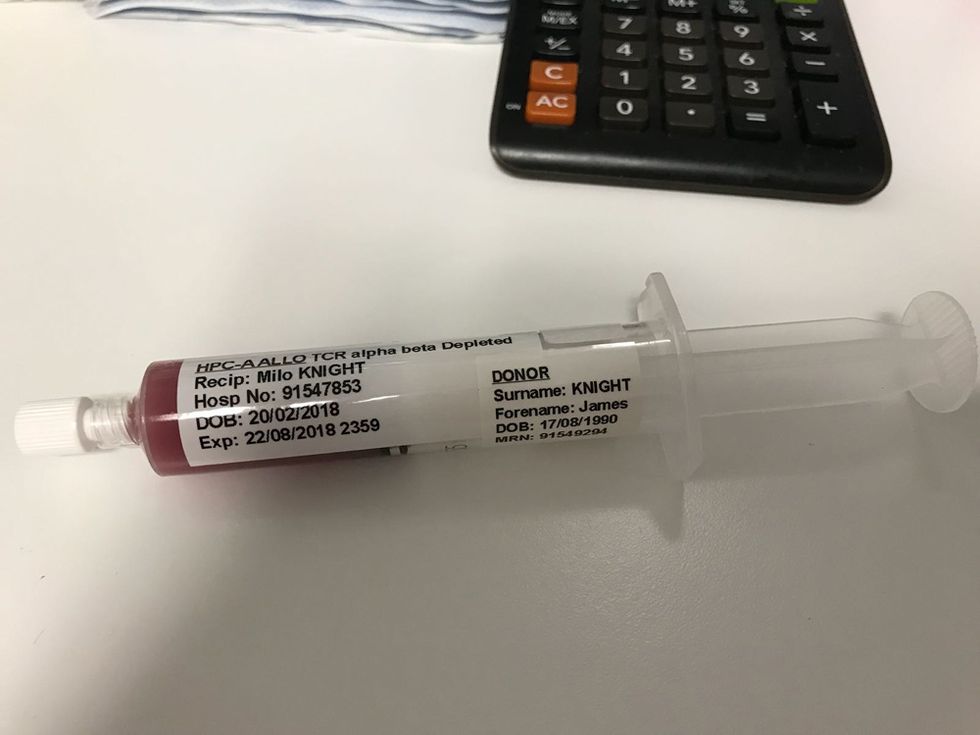 The stem cells James donated (PA Real Life/Collect)
Thankfully, James was a close enough match and medics were even able to remove any potentially harmful cells from his bone marrow before transplanting it.
But Milo still had to spend three months in the isolation unit to ensure he was strong enough, and to keep him away from any infections, before having the procedure.
Tazmin explained: "You're only allowed a set number of carers who can enter the room itself, so a lot of our family couldn't physically touch Milo for months."
She continued: "There was a park outside and, one day, James' cousin's little girls, who we're really close to, came there to visit. They could only look through the window, but seeing them was so emotional.
"We had to wash all Milo's clothes and toys every night, and disinfect everything. We washed our hands about three of four times, all the way up to the elbows, before being allowed in.
"We could touch him, but had to make sure he didn't touch our faces. Worst of all, we couldn't kiss him."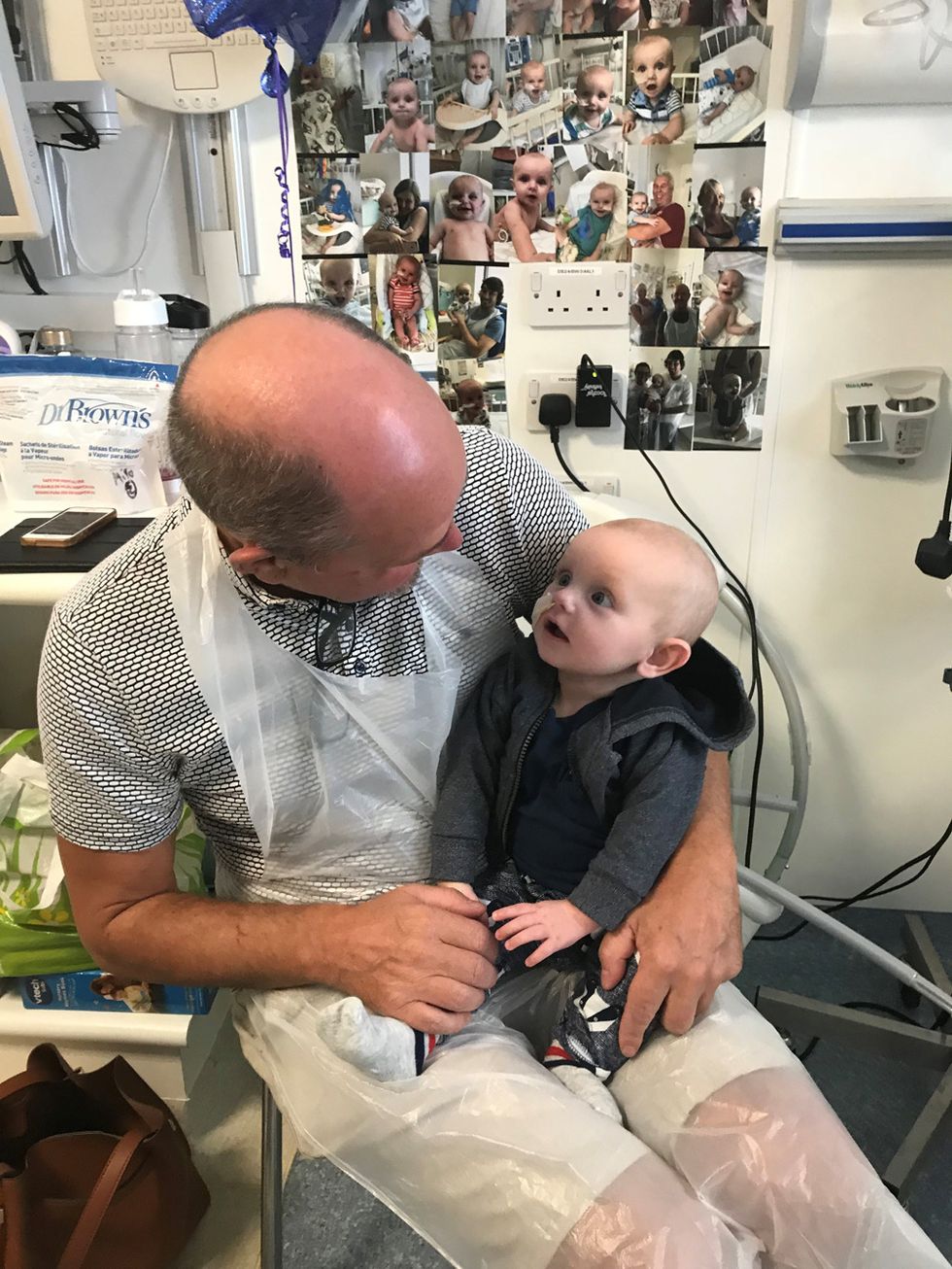 Milo being cuddled by his granddad for the first time in months
(PA Real Life/Collect)
Eventually, following a week of chemotherapy to wipe out his own immune system, Milo had the transplant in August 2018.
Then, the following month, he was finally allowed outside for the first time in weeks.
James recalled: "He was just looking around, taking everything in. I think he'd forgotten what the outside world was like, so it was as if he was experiencing it all for the first time again."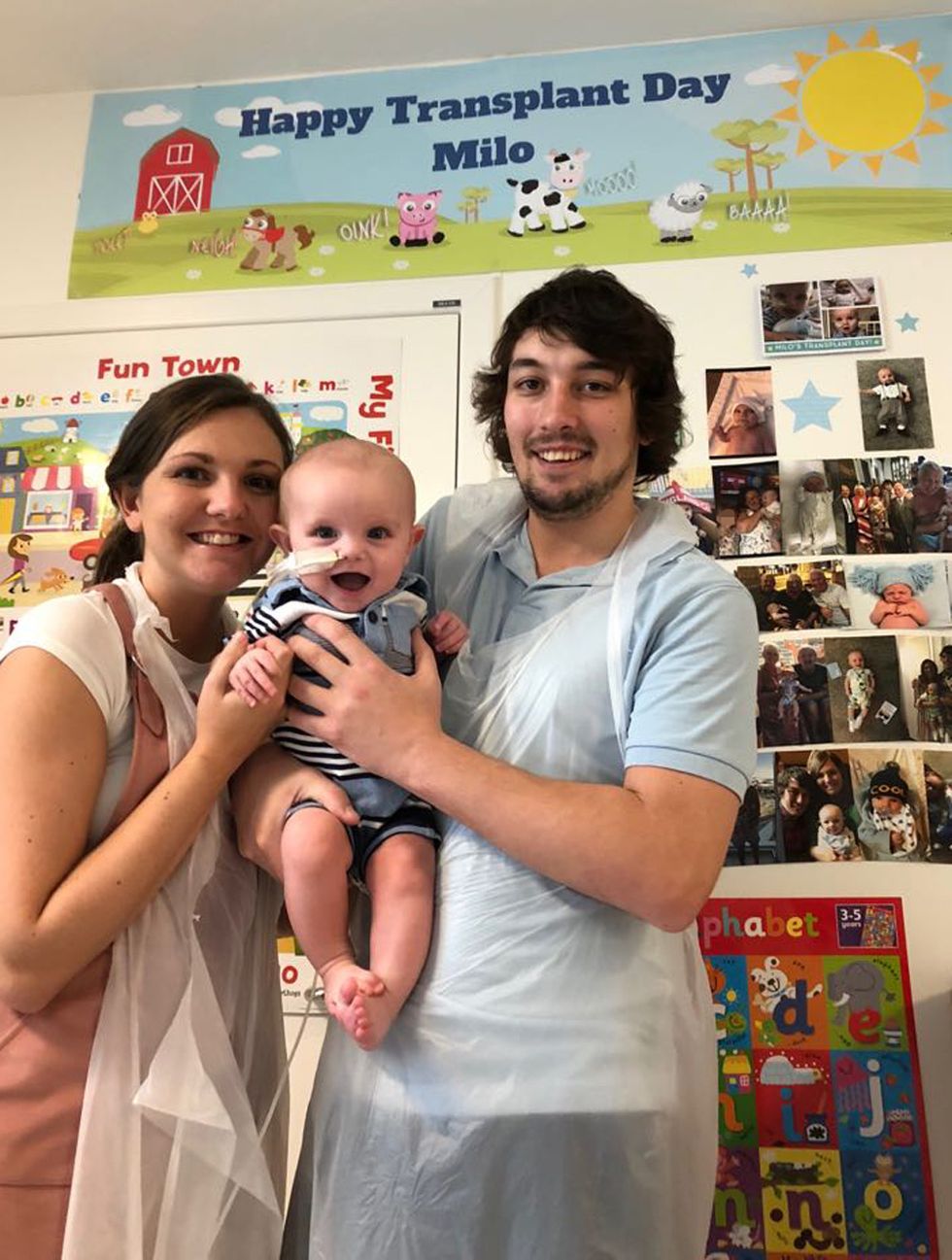 The family on transplant day (PA Real Life/Collect)
On 10 September, the family were discharged from the ward and moved into a nearby 'halfway house,' so Milo could still be closely monitored.
Now, the remarkable toddler is recovering well – and James and Tazmin hope he will be home for his first Christmas.
The proud parents have also set up a JustGiving page to raise money for The Bubble Foundation, who provide equipment and fund vital research.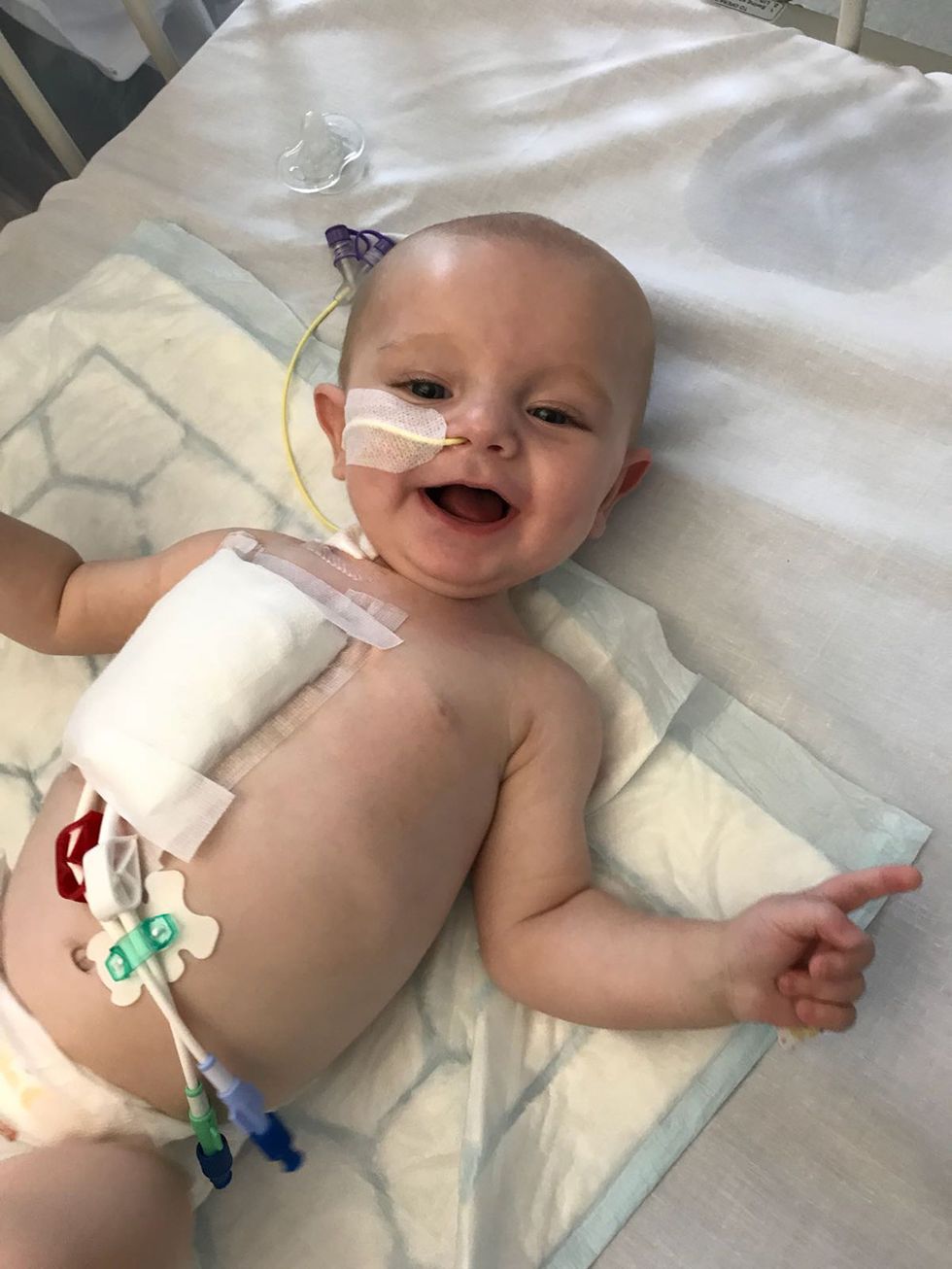 Milo in his 'bubble' room (PA Real Life/Collect)
Touchingly, their loved ones have formed a group called Milo's Knights, putting on all sorts of fundraising events – and England cricketer Ben Stokes has even donated to the cause.
"The Bubble Foundation is incredible. They helped us so much, and we want to give something back," said Tazmin.
"It was hard to see the light at the end of the tunnel, but Milo was so brave throughout. He's made of strong stuff."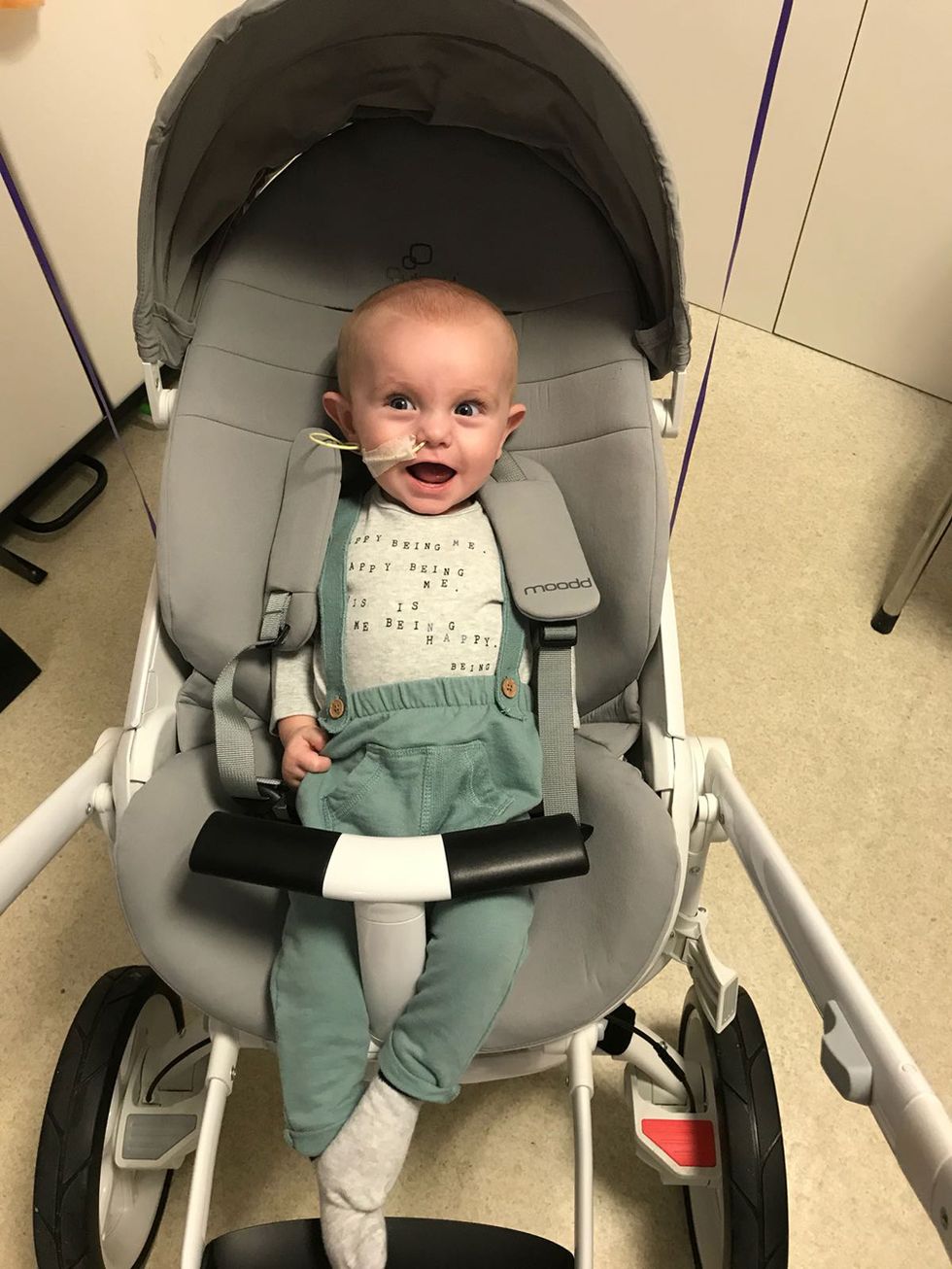 Milo about to head out on his first trip outside after his transplant
(PA Real Life/Collect)
She added: "You take for granted all these little things that we're only now able to do again, like kiss our baby and take him to the park. We're so proud of Milo and it means so much that James could save him."
To donate, visit www.justgiving.com/crowdfunding/milos-knights

A version of this article originally appeared on Press Association.