Man, sometimes technology really brings out the best in us!
---
19-year-old Leela Ali of Canada never saves people's phone numbers, so when an unknown person texted her, she thought nothing of it. This person asked if Leela was "Quentin," and, thinking it'd be funny to go along with it, she replied, "Yea, who's this?" But when it turned out to be someone calling herself "Auntie Dawn" notifying her nephew about a memorial service, Ali thought she should come clean.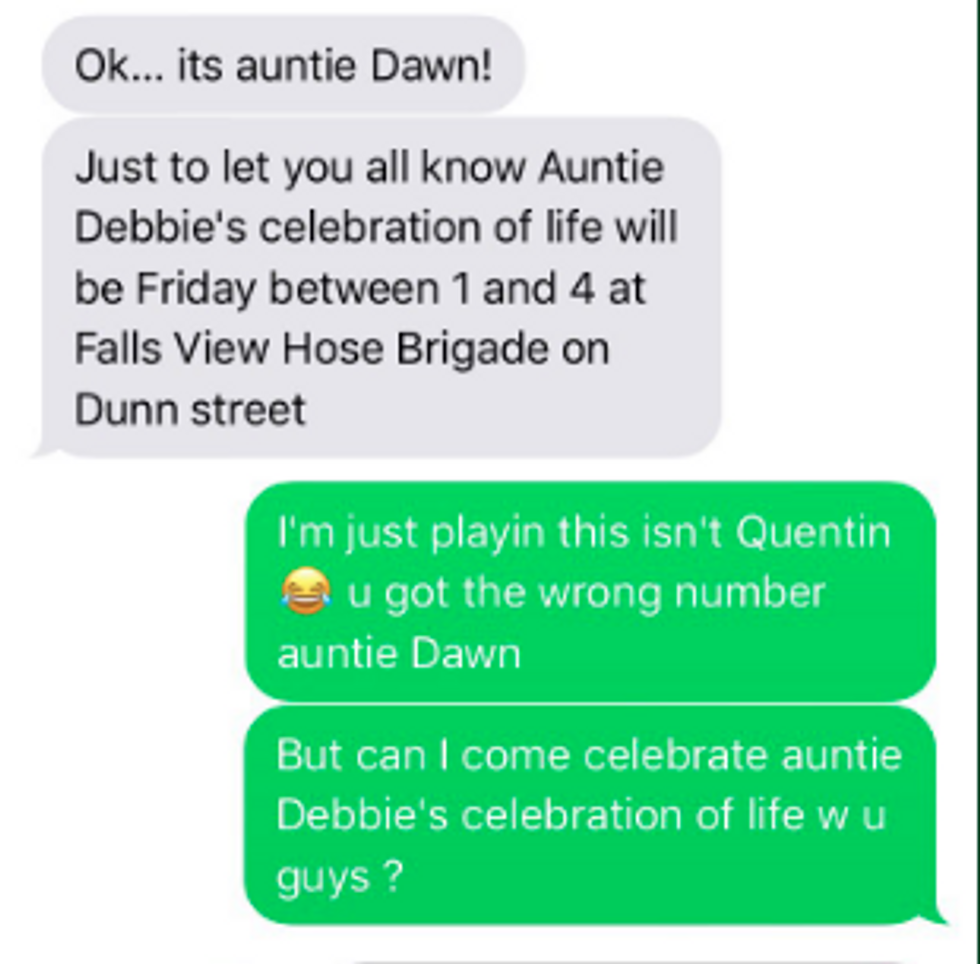 @leenaa_alii
"Once they sent the text inviting me to 'Auntie Debbie's Celebration of Life', I let them know I wasn't Quentin," she told Buzzfeed.
But, thinking it would lighten the mood, she jokingly asked if she could come anyway. And to her surprise, Auntie Dawn said yes!
Continuing the joke, Ali asked if she should bring anything, and settled on a fruit bowl.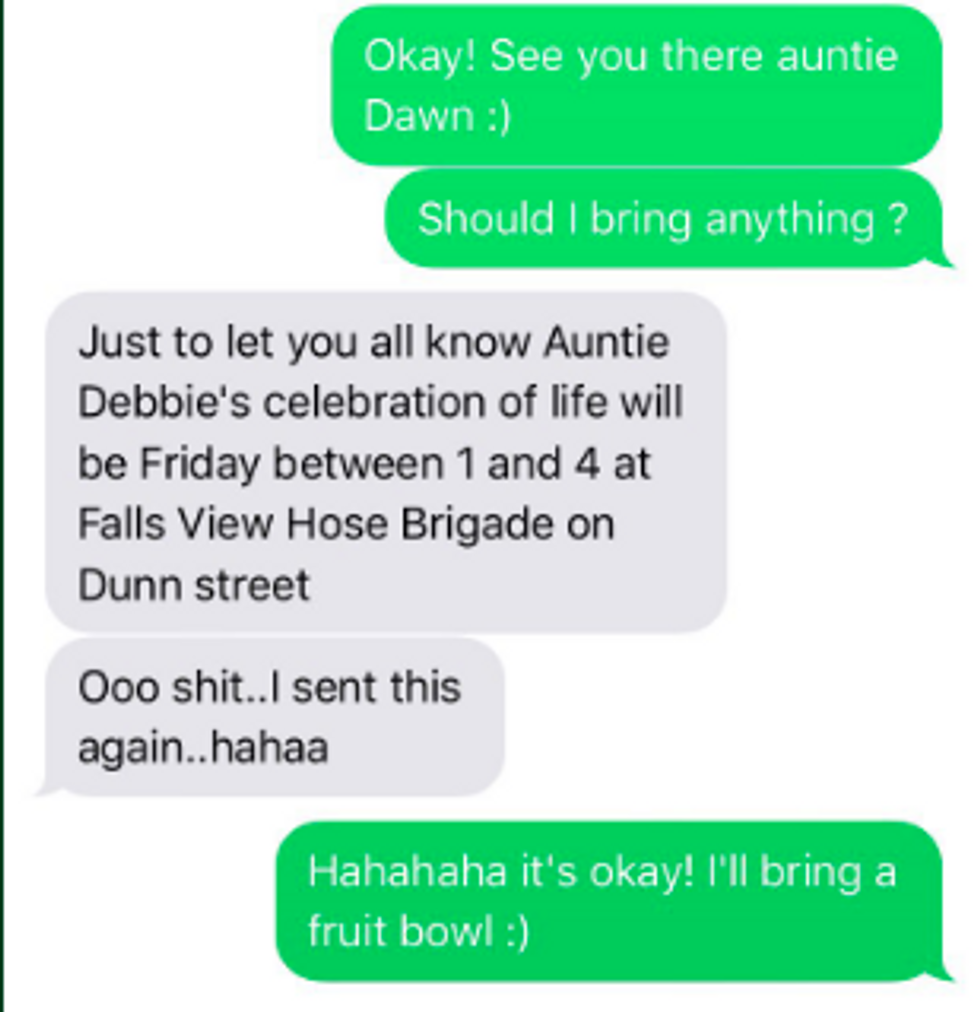 @leenaa_alii
"When Auntie Dawn actually said I could come, I decided I needed to commit," Ali continued. "I let my close friends know that I was going to a random lady's event, but since they already know my personality and how outgoing I am, they weren't really shocked that I actually went."
It turned out the service was to honor Deborah Celar, who passed away on September 16. Ali arrived, and "started asking around for Auntie Dawn, and when I first saw her I could tell that she was confused."
Luckily, Ali had made good on her promise to not show up empty-handed. "But when I showed her the fruit bowl, she realized I was the girl from the texts and started laughing," she told Buzzfeed.

I pulled thru for auntie Debbie https://t.co/gPoUmvbJnU

— ŁĀ (@ŁĀ) 1537752460.0
Auntie Dawn--that is, Dawn Burke, an aesthetician from Niagara Falls--was elated.
"When I saw this person holding the fruit bowl I was very excited. It completed the story," she said, adding that it brought "a rainbow to a cloudy day." Especially since Burke says her Aunt Deb would have loved the joke: "My Aunt Deb would have done the same thing. She had a way to find the good in things and enjoy a good joke."
@leenaa_alii Omg I loved it! I'm so glad you showed up :) and with a fruit bowl, to boot! My family hasn't stopped… https://t.co/Jte5IuF0Bl

— Dawn (@Dawn) 1537788482.0
On Twitter, people were delighted and moved by this lovely random encounter!
This is some cute shit wow https://t.co/UVxpoLJE5a

— TIM. (@TIM.) 1537810426.0
This is like the cutest thing ever 😂😂😭💓 https://t.co/4jy7XKjn1C

— Regina Phalange (@Regina Phalange) 1537798926.0
You out here showing up for complete strangers while my friends flake on me https://t.co/7MK4JUk1Q2

— Mohamed Chowder (@Mohamed Chowder) 1537909610.0
#goodnews is always better news. Way to be an example to the world @leenaa_alii ! https://t.co/LzVgDaRRVT

— Moxie Majik (@Moxie Majik) 1538581251.0
Beautiful https://t.co/L80xi0Qu2T

— Twiggy McNeil (@Twiggy McNeil) 1538283335.0
@leenaa_alii @Dawn88860531 this is amazing, truly iconic.

— sam (@sam) 1538683535.0
@Dawn88860531 @leenaa_alii crying over here so lovely

— RAYMI THE MINX (@RAYMI THE MINX) 1538669594.0
@Dawn88860531 @leenaa_alii AUNTIE DAWN........RIGHT ON...... YOU ARE TRULY PURE AWESOMENESS, AND SUCH A BEAUTIFULLY… https://t.co/FEv1rbHIH3

— 💖Shawna_I_am👑 (@💖Shawna_I_am👑) 1538673905.0
Awww bless!! https://t.co/8afLnDGTXO

— Davina (@Davina) 1538955881.0
Ali and Burke were both shocked that their chance encounter got so much attention on Twitter. But as Burke put it, "In the current world we live in, it was nice to be part of something that was built out of an innocent mistake."
Thanks for the uplift, ladies!
H/T The Independent, Buzzfeed