*The following article contains discussion of sexual assault.

Ashton Kutcher and Mila Kunis apologized after facing backlash for penning letters in support of That 70sShow costar Danny Masterson to the court judge overseeing his sexual assault case.
Masterson, who played Steven Hyde on That 70s Show, was convicted in May of raping two women at his Hollywood home over two decades ago.
The victims were former members of the Church of Scientology. There was no verdict on a third charge of forcible rape, which resulted in a hung jury.
On September 7, Masterson was sentenced to 30 years to life in prison, the maximum penalty allowed by law. The 47-year-old will be eligible for parole in 25 and a half years.

Kutcher and Kunis, who married in July 2015, explained in a video that Masterson's family had asked them to write letters to the judge asking for leniency on Masterson's sentencing.
"We are aware of the pain that has been caused by the character letters that we wrote on behalf of Danny Masterson," said Kutcher before explaining that he and Kunis were asked a couple of months ago to write:
"Character letters to represent the person that we knew for 25 years so the judge could take that into consideration for the sentencing."
You can see the video here.

Kunis said they "support victims" and added:
"We have done this historically through our work and will continue to do so in the future."
She was presumably referencing the Thorn foundation Kutcher co-founded in 2012 with his ex-wife Demi Moore in an effort to protect children from abuse and sex trafficking.
Kunis said of the character letters written after Masterson's guilty verdict and in the months leading up to the judge's sentencing decision:

"The letters were not written to question the legitimacy of the judicial system or the validity of the jury's ruling."
Kutcher added:
"They were intended for the judge to read and not to undermine the testimony of the victims or retraumatize them in any way."
"We would never want to do that. And we're sorry if that has taken place."
Kunis concluded the video statement with:
"Our heart goes out to every single victim who's ever been a victim or sexual assault, sexual abuse, or rape."
Their apology didn't go over so well online.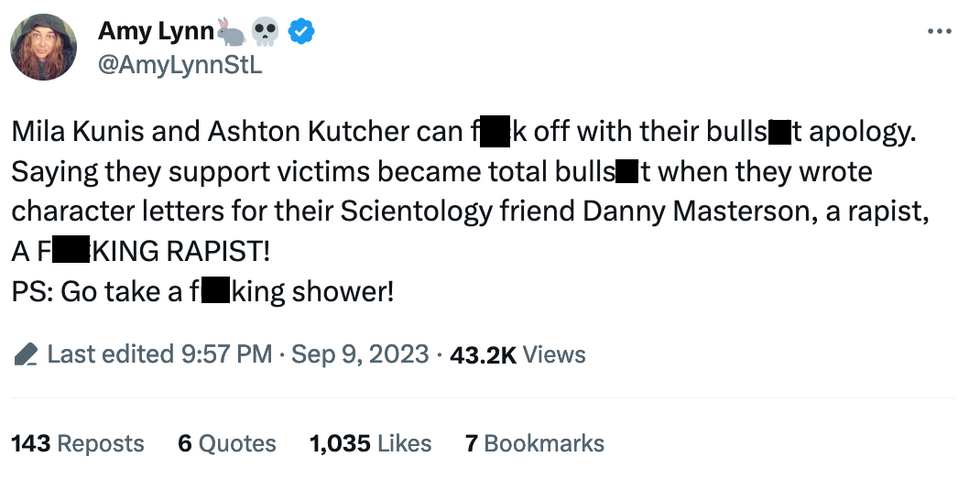 @AmyLynnStl/X
One of Masterson's victims informed social media about the letters, which were later published by reporter Meghann Cuniff.

In the character letter, Kutcher described Masterson as a "role model" and someone who has had "nothing but a positive influence" on him.
"Danny is a person who is consistently there for you when you need him," he wrote in part, adding:
"Not only is he a good friend to me I've witnessed him be a good friend to others and the kind of brother others would be lucky to have."

"While I'm aware that the judgement [sic] has been cast as guilty on two counts of rape by force and the victims have a great desire for justice."
"I hope that my testament to his character is taken into consideration in sentencing."
"I do not believe he is an ongoing harm to society and having his daughter raised without a present father would [be] a tertiary injustice in and of itself."
In her letter, Kunis similarly supported Masteron and described him as "an amazing friend, confidant, and, above all, an outstanding older brother figure to me."
She added:
"Danny Masterson's warmth, humor, and positive outlook on life have been a driving force in shaping my character and the way I approach life's challenges."
"His unwavering commitment to being an exceptional older brother figure to me has had a transformative impact on my life, instilling in me a sense of self-belief and encouraging me to aim for greatness, but all while maintaining a sense of humility."
Many of the comments on X (formerly Twitter) expressed that being an upstanding citizen or an admired colleague doesn't necessarily make someone incapable of causing harm to others.
Masterson's wife, fellow actress Bijou Philips, who is also the mother to their daughter, was at the sentencing held at the Los Angeles Superior Court last Thursday and said she was "heartbroken" over the judge's decision.
But she maintained that he was an "extraordinary husband," and added:
"I can say that Danny has literally been a life-saving partner to me."
Masterson's legal team noted that the actor is planning to appeal the court's decision due to "substantial" errors found during the trial."
If you or someone you know experienced sexual assault, help is out there.
You can reach the RAINN National Sexual Assault Hotline by calling 1-800-656-4673, use their Live Chat tool: https://www.rainn.org/get-help, or visit the National Sexual Violence Resource Center's website.
In Canada, help is available through the Ending Violence Association of Canada website.
International resources can be found through the Rape Crisis Network Europe
website
.