With votes in the crucial swing state of Pennsylvania still being counted, Democratic nominee and former Vice President Joe Biden's lead over President Donald Trump is growing, making Trump's defeat increasingly imminent.
On Thursday night—as his lead in the state was shrinking—held a press briefing where he once again falsely claimed victory. Trump assured that if only the "legal" votes were counted, he "easily" won, erroneously suggesting that the millions of mail ballots cast in Pennsylvania and across the nation for Biden are illegal.
People were highly disturbed at the level of delusion displayed by Trump's denial.
One of those people was CNN anchor Anderson Cooper, who delivered a vivid metaphor in response to the briefing.
Watch below.

Cooper said:

"That is the President of the United States. That is the most powerful person in the world and we see him like an obese turtle on his back flailing in the hot sun realizing his time is over, but he just hasn't accepted it and he wants to take everybody down with him, including this country."
In the wild, some species of turtles struggle to right themselves when they capsize. Sometimes, it's physically impossible and the turtle dies from heat or starvation. Cooper likened this to Trump's denial of the reality that he is currently losing to Biden in a fair election in an increasingly futile effort to right his prospects.
Twitter users were stunned to see the normally mild-mannered Cooper take such an illustrative dig.
Others questioned Cooper's emphasis on the President's weight, considering the amount of actually disturbing qualities of Trump's demeanor.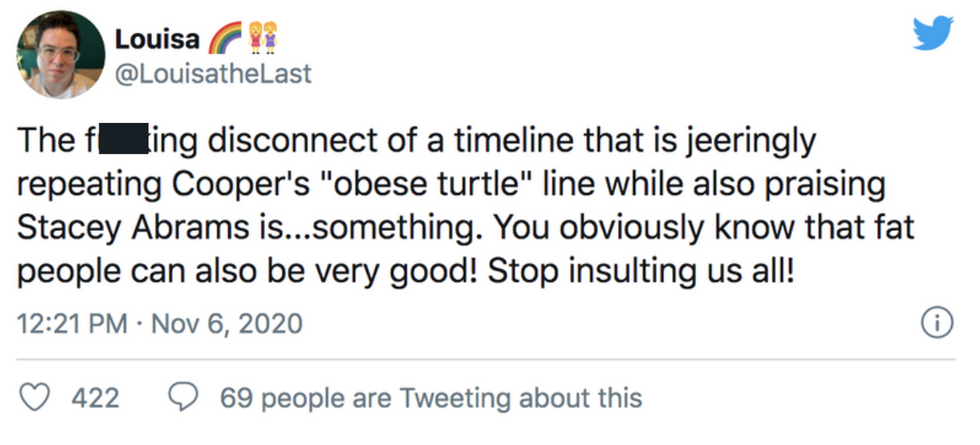 @LouisatheLast/Twitter
Cooper wasn't the only one to push back against Trump's statement.
The votes continue to be counted as Trump's pathways to the White House are receding into their shell.