St. Joseph County resident Timothy Hochstedler is joining the ride-sharing industry with his own version of Uber that has the whole town buzzing.
Unlike the typical four-wheel mode of transportation, Hochstedler's runs on pure horsepower.
---
Those looking for a change of pace and wanting to admire the scenery can flag down what Hochstedler calls his "Amish Uber," and people are loving it. The friendly guide will take you where you need to go within reason and regale you with stories, making the experience more personable and truly one-of-a-kind.
Fox 17 gave him an opportunity to advertise his unique service.

Uber is a cool thing, every single year something new comes in and Uber is hot right now, so we have the Amish Uber. We can deliver people to their front door steps,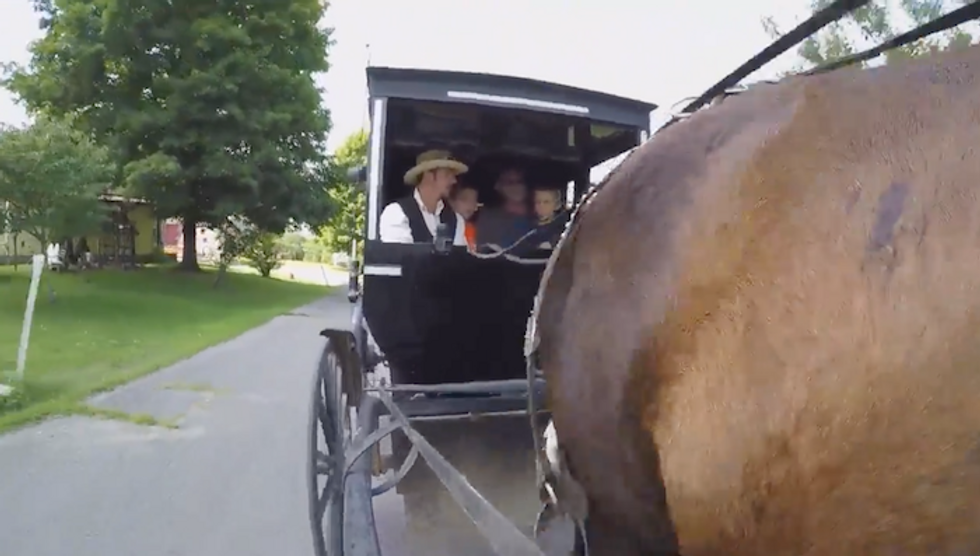 (Sammi Hussein/YouTube)
Steve Phelps, a satisfied passenger, was excited about his first time using a ride-share service with his family.
First time Ubering and we're riding in a buggy.
In addition to taking in the idyllic sights of Colon, Michigan, the $5 fare also provides an opportunity for interacting with people with diametrically opposed lifestyles.
Bruce Jordan and his grandchildren opted for the carriage ride through town after traveling from Grand Rapids and commented on the eye-opening experience.
It was fascinating. It's not an activity you typically associate with the Amish.
Members of the Amish fellowship have origins with the Swiss German Anabaptists and are known to lead very simple and basic lifestyles without relying on modern technology.
Their hard work ethic stems from their belief in that manual labor is godly, which explains why the Amish reject utilizing advanced technology for convenience.
The only drawback to riding Amish Uber is finding Hochstedler and his horse, first.
But an upgrade to the system isn't too far-fetched.
Hochstedler isn't affiliated in any way with the Uber company, but he adopted the name for his service, which operates on weekends during the 81st annual Abbott's Magic Get Together.
He's been enjoying taking out-of-towners around Colon, but even locals track him down for the occasional lift.

Most of them aren't from Colon, but the Colon people have given me a few options like: Would you give me a ride to Curly's? Would you go to my house? and, Yeah I'd do that.
The trend is starting to gain traction in other cities.
With the convenience of using a mobile app for a fast ride compromised, passengers gain more in this unique and relaxing experience. Sometimes, taking it easy is the best route to take.