A woman contracted to work as a security member for the Greater Rochester International Airport was fired for handing out an insulting note.
Neal Strassner was among the assembly line of passengers walking through the metal detector on a relatively slow morning.
---
He was singled out by the woman manning the station who handed him a personalized note scrawled on a torn piece of cardboard from a glove box.
Like most travelers, Strassner was more concerned about getting from point A to B and continued on his way without immediately reading the message.
Wanting to see his reaction, the woman yelled out:
"You gonna open the note?"
When Strassner unfolded the piece of cardboard, he saw the following words:
"You ugly!!!"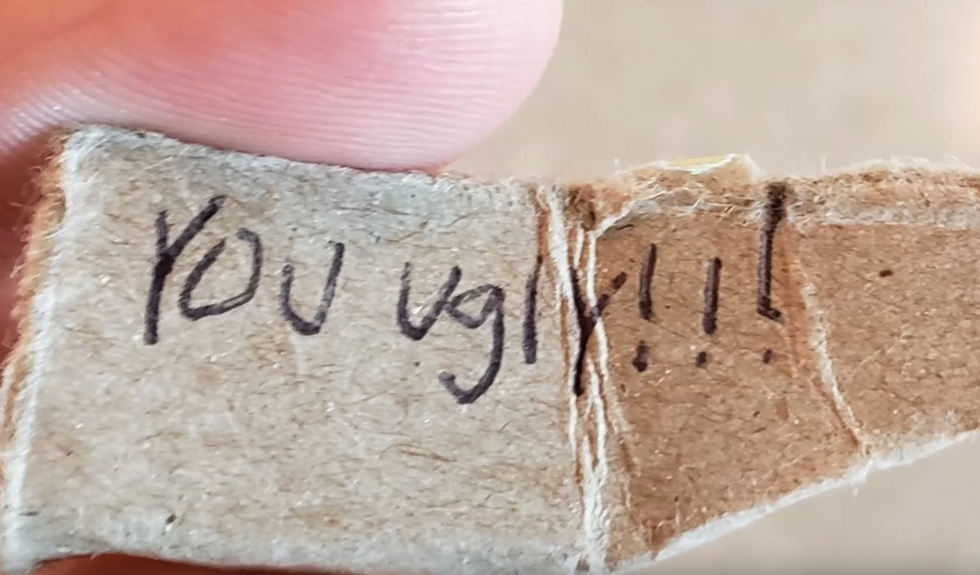 capnskull/YouTube
Strassner obtained the Security footage showing the woman handing him the note through a freedom of information request and posted it on YouTube.
According to NBC News, Strassner said on Friday:

"I called the airport and I tried to get the information and they said I had to talk to the county. I called the county, and they said that was the only way I could get it."
In the video you can see below, he is the third person walking through the metal detector at the 0:48 mark.
Rochester NY Airport Security passing insulting notes to travelers caught on tape youtu.be
After reading the obnoxious chickenscratch, Strassner said the woman burst out laughing over her juvenile prank.

Strassner is a technical coordinator who travels weekly for his job. The incident took place in June while he was en route to Wichita.
He told NBC News he didn't know what to make of the note.

"I was more confused than anything. I kind of just looked at it and thought, 'That was weird.'"

He called the airport that afternoon to file a complaint and was advised to stop in to visit with security after his return trip to Rochester, New York.
But Strassner got the impression that the airport security supervisor didn't believe him. And when he didn't hear back about a followup to the complaint by August 13, he took matters into his own hands and uploaded the obtained footage on Reddit.
Thanks to what Strassner referred to as "the power of the internet," the company finally reached out.
In the video description, Strassner confirmed the woman was not working for the Transportation Security Administration – which states it has "zero tolerance for this type of behavior."

Strassner wrote:

"I have found out this is not actual TSA but a security company the Rochester NY airport uses in place of actual TSA."
The employee worked for VMD Corporation, a security company based in Virginia and contracted through the TSA.
Wendy Wright from Spectrum News in Rochester interviewed the young man, who clearly doesn't fit the mean description of the note.
"You Ugly" - Not the words a Rochester airline passenger expected to read when a security agent slips him a note at… https://t.co/rs2gtiZc9g

— Wendy Wright (@Wendy Wright)1565908004.0
The ugly act backfired, and Twitter complimented Strassner for his looks.
@WendyWrightTV @SPECNewsROC This man is definitely NOT ugly. As he noted in article, she had pen out ready to write… https://t.co/6uZ1qulkMc

— CM (@CM)1565964400.0
@CandeeMillstea2 @WendyWrightTV @SPECNewsROC He looks very handsome.

— Mason Morix (@Mason Morix)1566033633.0
@WendyWrightTV @SPECNewsROC For the record, Neal Strassner looks sweet and adorable.

— blanche butterfield (@blanche butterfield)1566004911.0
@blanchebutter @WendyWrightTV @SPECNewsROC he totally is, handsome guy and incredible personality. What a weird th… https://t.co/vjpvyJbML7

— Private Investigator (@Private Investigator)1566066547.0
@WendyWrightTV @SPECNewsROC He is definitely NOT UGLY! What a psycho thing to do to someone.

— It's the planet, stupid (@It's the planet, stupid)1565970316.0
@WendyWrightTV @SPECNewsROC I think you are very cute! And what an amazing mature attitude! We need more guys like you in this world!

— Womenfortruth (@Womenfortruth)1566170046.0
Others tried to rationalize why the woman would bully a random stranger.

@WendyWrightTV @SPECNewsROC Even if he was, why go to that extent to be hateful and ruin someones day? It's too much work.

— Trent Nguyen (@Trent Nguyen)1565979524.0
@WendyWrightTV @SPECNewsROC Not ugly at all. But...regardless, why would anyone write that on note and hand it to… https://t.co/WNm4GwSmG4

— JC (@JC)1566110801.0
@WendyWrightTV @SPECNewsROC I agree with other viewer...What is wrong with people." I cannot believe lack of integ… https://t.co/YMvgtj3eAt

— CM (@CM)1565964197.0
@WendyWrightTV @SPECNewsROC That lady needed to be fired. Good she was from job and her agency as well. She needs a… https://t.co/PLFhxLKSfj

— CM (@CM)1565964503.0
@WendyWrightTV @SPECNewsROC Imagine having to explain why you were let go from your previous job at your next interview?

— Dean...Big Brother Almightyyyy (@Dean...Big Brother Almightyyyy)1566225850.0
@ABC7NY It took more energy for her to write that note than it would have to simply smile and be nice.

— Rose (@Rose)1566008277.0
The internet's response to news of the woman's termination was swift.
@ABC7NY She Should Have Been Fired For Not Using Proper Grammar...It's "You're Ugly" Hun...

— AAA (@AAA)1566039052.0
@WendyWrightTV @SPECNewsROC https://t.co/8QoYkOLoLv

— J Mick (@J Mick)1565960746.0
VMD issued the following statement:
"TSA holds contractors to the highest ethical standards and has zero tolerance for this type of behavior."
"This instance, which involved a contract employee, was investigated immediately upon receiving the complaint by the traveler. The employee has since been terminated by the contractor."

Despite the unpleasant exchange, it wasn't enough to sully Strassner's appreciation of the Greater Rochester International Airport.
"I fly out of there all of the time. They're actually a pretty good airport. Out of all the airports I go to in the country, it's one of my favorite."
Traveling is stressful enough, and passengers can do without the ground turbulence before boarding their flights.
Let's be kind, folks.

A printed copy of the Freedom of Information Act, latest edition, is available here from the government printing office.