A mom who discovered her IVF baby had Down's Syndrome an hour after her birth – then being told she may never walk or talk – proudly watched her modelling at London Kids Fashion Week.
A runway star at just six-years-old, Roni Littman's big break came at this year's fashion event, run by Mini Mode, when she hit the runway showcasing the brand Plumeti Rain.
Her mom, Shelley Littman, 42, of Potter's Bar, Herts., said: "Sat in the audience, watching her strut her stuff, I was so proud."

Roni walking the catwalk at London Kids Fashion Week (PA Real Life/Emma Wright Photography)
She added: "She absolutely loved it. She felt like a star, and looked like one. She felt a real sense of achievement, and so did I."
After meeting online 10 years ago, Shelley, who runs a dog walking business, and her husband Jon, 45, who works in the Royal Navy, were keen to have children together.
But Shelley needed IVF, as doctors found abnormal cells on her cervix in 2010 and, as she already had a son, Daryl, 25, by a previous partner, they were not able to get it on the NHS.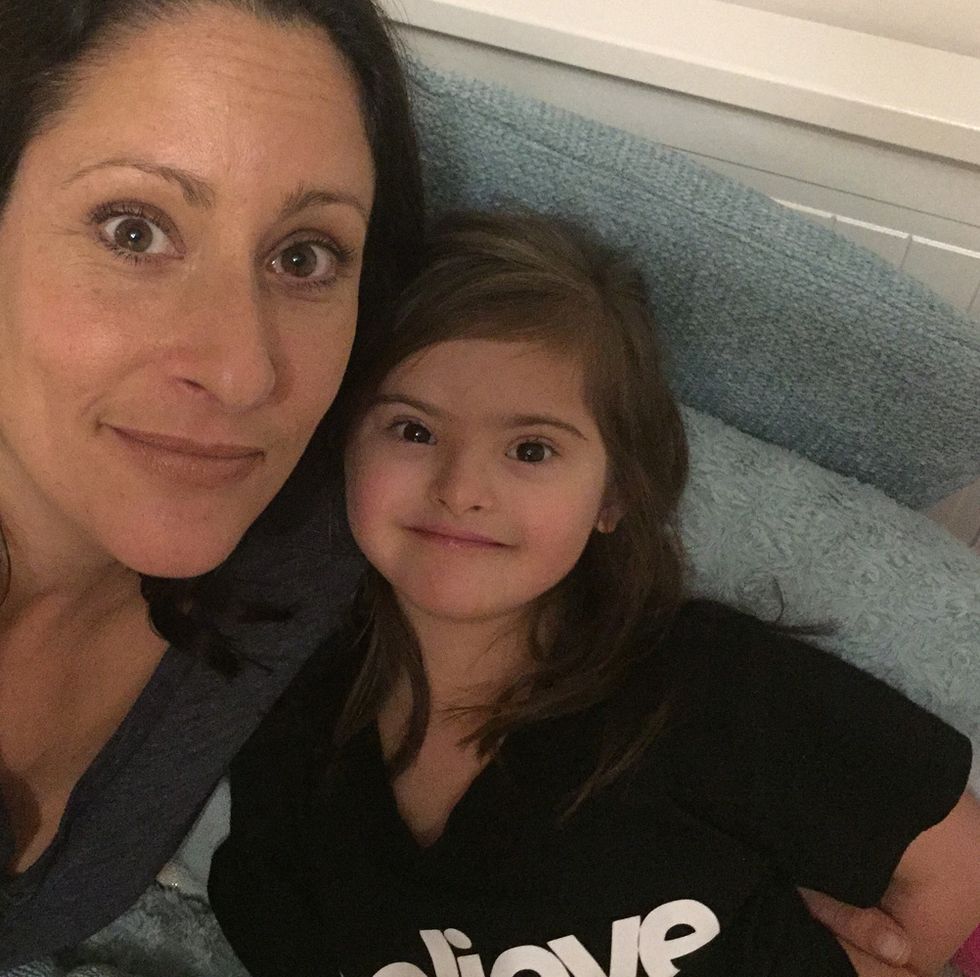 Roni and mum Shelley (Collect/PA Real Life)
Paid for by Jon's parents, the couple, who now also have a son, Jaiden, four, together – another IVF baby – needed only one round of treatment to conceive Roni, named after an EastEnders character.
Overjoyed, they had standard screening tests for Down's Syndrome, which came back as low risk.
Then, due on May 7, 2012, five weeks early, on April 1, Shelley's waters broke during a meal out with friends and she was given an emergency caesarean at Barnet General Hospital, where 4 lb 6oz Roni was delivered at 11.29am.
"They put her on my chest and I couldn't believe how tiny she was," Shelley recalled.
"But they needed to take her away straight away and it wasn't until a few hours later that doctors said they needed to talk to me and Jon privately."
Told, gently, that their newborn had Down's Syndrome, despite being terrified of the implications, the couple vowed immediately to give her every opportunity they could.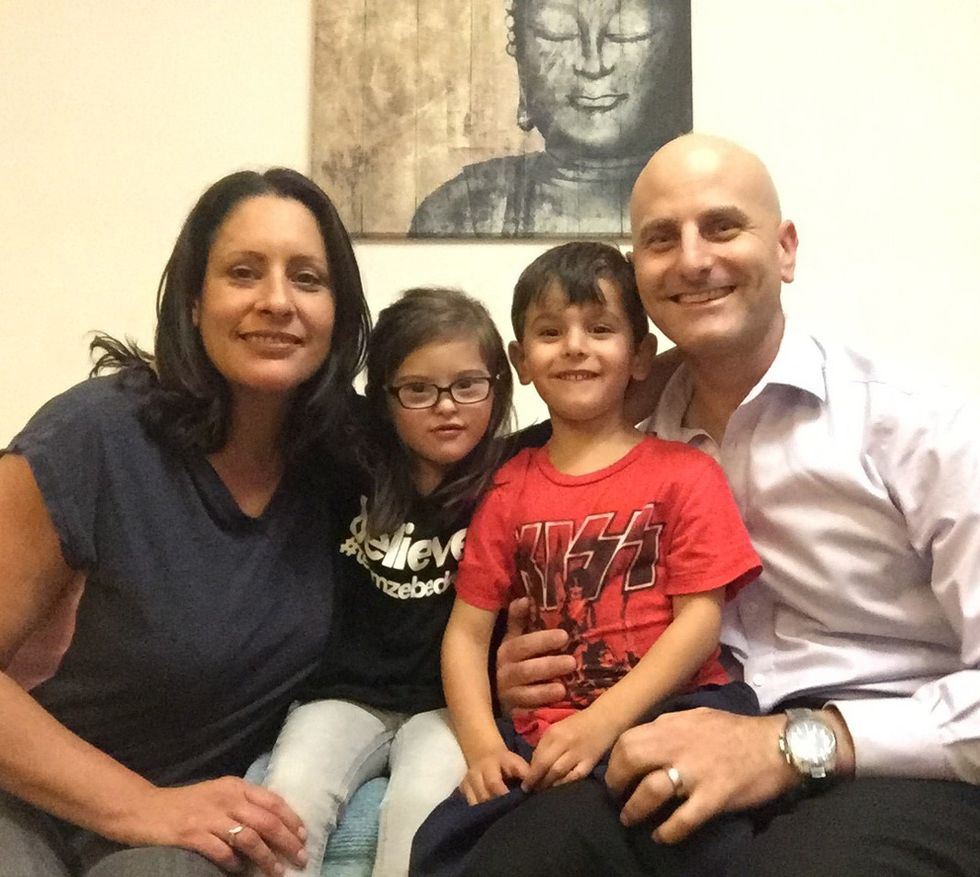 L-R Shelley, Roni, Jaiden and Jon (Collect/PA Real Life)
But they were heartbroken when they were also told her Down's – a genetic condition, which usually causes some level of learning disability and certain physical characteristics – meant she might never walk or talk.
Shelley recalled: "The doctor said: 'I am sorry, but I think your baby girl has Down's Syndrome'. He said the crease in her hand and the shapes of her eyes were tell-tale signs."
"He kept saying 'I'm sorry, I'm sorry' and I just felt devastated, we felt like our whole world was coming crashing down."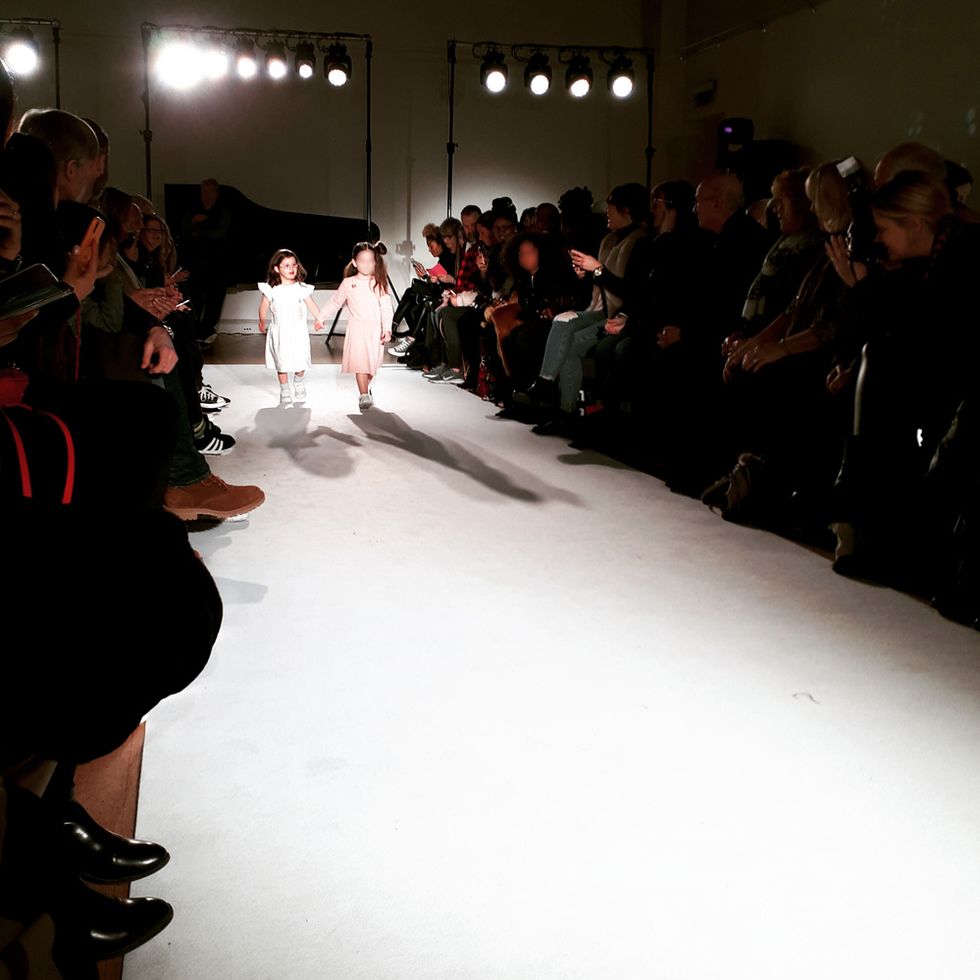 Roni, left, walking the catwalk at London Kids Fashion Week
(Collect/PA Real Life)
She continued: "We were scared of the unknown. We didn't know anything about Down's Syndrome, or anyone with it."
"There are the things you hear and you have ignorant ideas about it. But we didn't know anything about it. Down's Syndrome was completely alien to us."
"We were thinking about the things she wasn't going to be able to do – any disadvantages we feared she would have and challenges she would face. It all terrified me. I was fretting that she might not be able to contribute to society."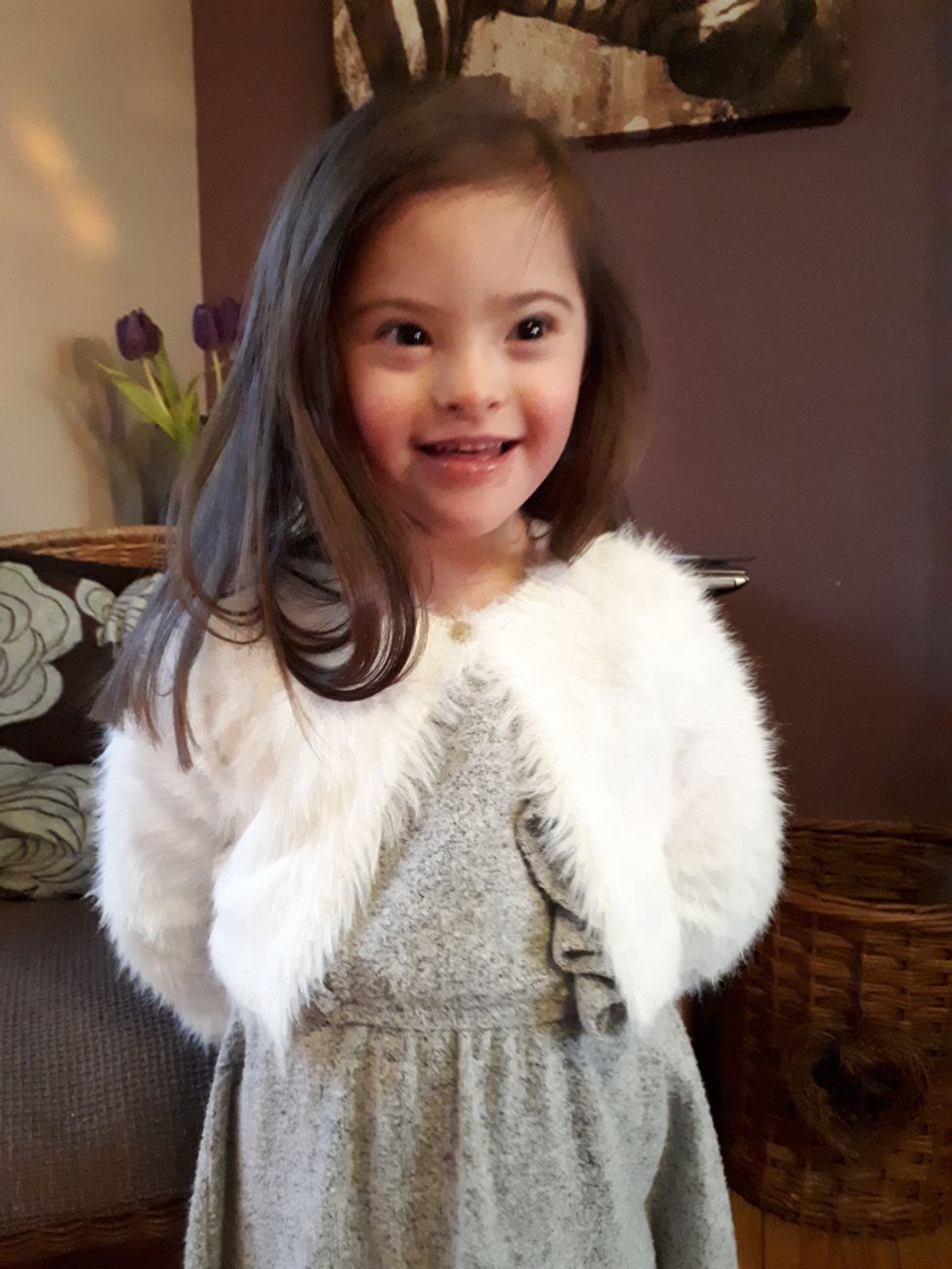 Roni (Collect/PA Real Life)
But, discharged from hospital after five days, little Roni soon went from strength to strength.
Shelley said: "She was just like any other baby and I was going to treat her like that. She was a bit smaller than most and still is, but all the more cute for it."
"She fed beautifully, slept well. Home life was bliss with her. I didn't want to look up Down's Syndrome and get depressed about all the negativity I might read, so, I just stayed in my bubble and got on with it. I simply wanted to enjoy my new baby and that's exactly what I did."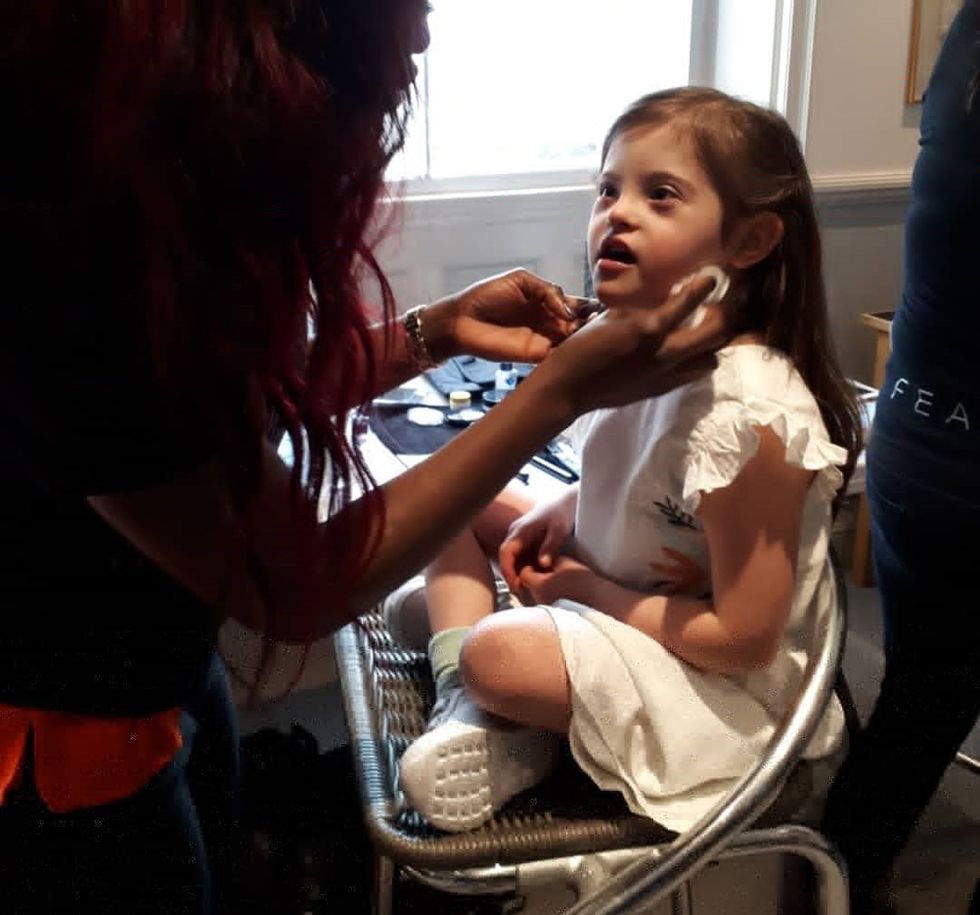 Roni in hair and make-up (Collect/PA Real Life)
And as Roni got into her stride, Shelley noticed she had star quality.
"She goes to a mainstream school and started to get into dancing and even acting," she continued.
"She loves the limelight and thrives in it. We took her to drama school and she started having dance lessons too, it was amazing to see her so confident and happy. Despite her learning delays, she absolutely loves acting and singing."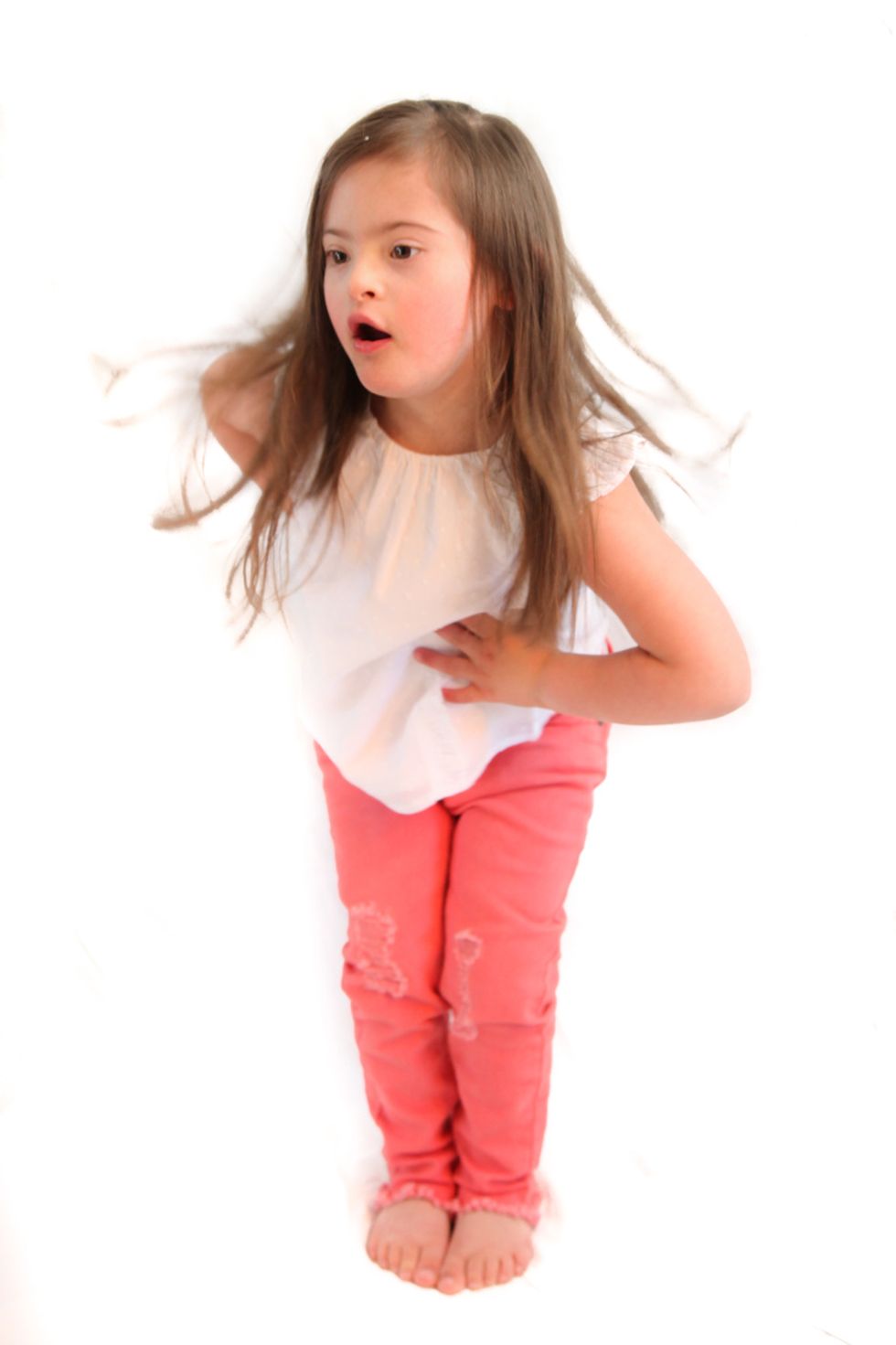 Roni loves loves acting and singing
(PA Real Life/Sarah Newlyn –
www.sapphirephotoart.co.uk
)
Roni's modelling career really started to take off when her mum spotted an advert from Zebedee Management, a casting agency for people with disabilities, last year.
So, seeing they were looking for children with Down's Syndrome, Shelley submitted photos of Roni and was overjoyed when they said she had been accepted.
"This opens so many doors for Roni," she said.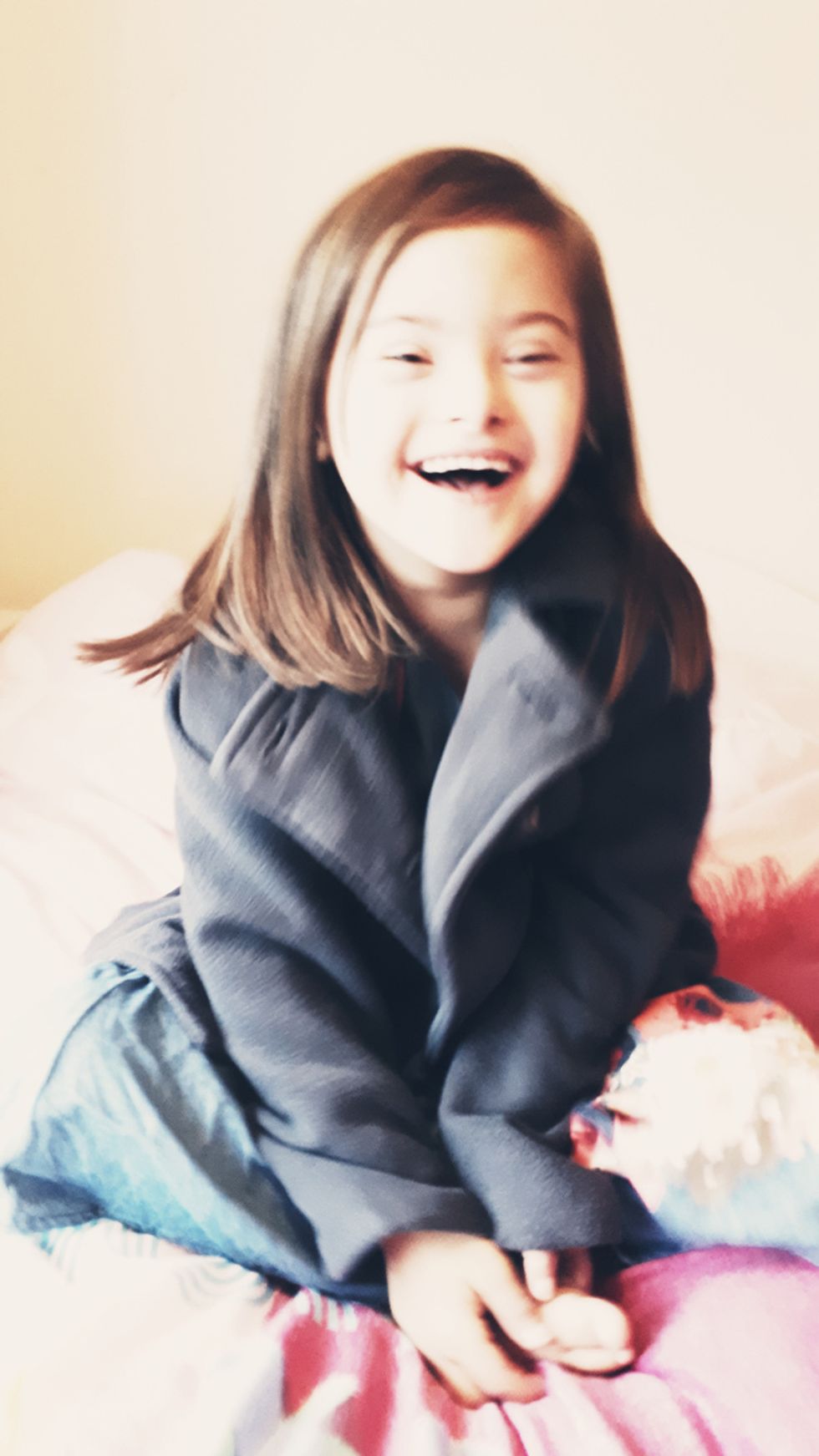 Roni modelled at London Kids Fashion Week (Collect/PA Real Life)
Now, as well as her catwalk work at Mini Mode's London Kids Fashion Week in February this year – a children's version of the famous event – Roni has acted in children's TV shows, airing early next year, as well as being asked to promote retailer River Island by wearing their t-shirts and posting photos on Instagram.
"She loves twirling in a new dress or skirt and she likes to look lots in the mirror too," Shelley laughed.
"Roni just goes to show she can have the same opportunities as everyone else and she should. She now she has her sights on more modelling for clothes brands, to be even more of a star."
A version of this article originally appeared on Press Association.