The arts is one of many industries that have taken a huge hit from the pandemic.
Broadway shows and concert tours have either been cancelled or postponed indefinitely due to the crowd-gathering nature being conducive to spreading the virus.
---
Those factors prompted none other than Canadian rocker Bryan Adams to pitch a fit online over the postponement of his residency at London's Royal Albert Hall.
Adams, 60, is known for penning 80s and 90s hits like "(Everything I Do) I Do It For You," and "Heaven." He recently transitioned to writing for musical theatre with the Broadway show, Pretty Woman, based on the 1990 film.
On Monday—the day of his first in a series of scheduled performances at the British venue—Adams went off on Twitter and Instagram taking aim at China with a rant that was criticized for its racism.
"Tonight was supposed to be the beginning of a tenancy of gigs … but thanks to some f'king bat eating, wet market animal selling, virus making greedy bastards, the whole world is now on hold, not to mention the thousands that have suffered or died from this virus."
On Instagram the caption accompanied a video of an acoustic rendition of his song, "Cuts Like a Knife."

Below is a screenshot of his post.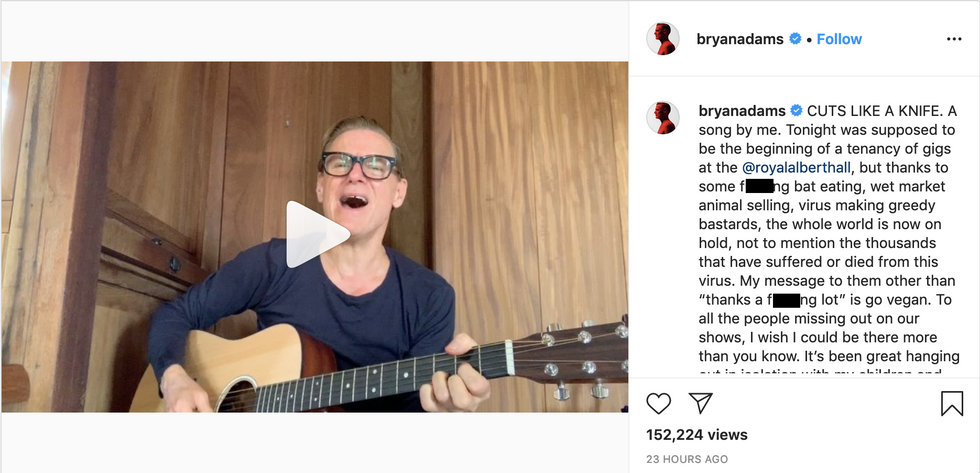 @bryanadams/Instagram
He continued in the caption:

"My message to them other than 'thanks a f'king lot' is go vegan."
Adams is also an animal rights activist and self-proclaimed vegan who used his body as a shield to prevent the killing of a whale by local hunters last year.

The CBC reported that PETA supported the musician's fight for vegan advocacy in a tweet.

While PETA's tweet remains active, the link to the singer's original post had been deleted.

PETA wrote:

"Still enjoying this virtual performance. This is why it's crucial for everyone to go vegan now to prevent the next pandemic."
Fans were absolutely gobsmacked over the singer revealing his true colors.
Instagram user @globalcanuck was disappointed and wrote:

"Wow. What racist garbage coming from someone I respected."

Few still had the singer's back.
However, Amy Go—president of the Chinese Canadian National Council for Social Justice—was shocked and angry over Adams' post and said his tirade emboldens racism.

"People look up to public figures. He is seen as an idol by many. It justifies this racist hatred against Chinese.… This is so irresponsible and just so, so, so, so racist."
The viral pathogen—which was first reported as a small outbreak in China—fueled anti-Asian and anti-Chinese racism resulting in many global citizens of Asian descent being violently attacked.
Adams addressed the fans who planned on attending his performances.

"To all the people missing out on our shows, I wish I could be there more than you know. It's been great hanging out in isolation with my children and family, but I miss my other family, my band, my crew and my fans."
"Take care of yourselves and hope we can get the show on the road again soon. I'll be performing a snippet from each album we were supposed to perform for the next few days."
After the backlash, Adams apologized the next day and said he has "love for all people."

The post's caption accompanied a performance of 1987's "Into the Fire."

"Apologies to any and all that took offence to my posting yesterday."

"No excuse, I just wanted to have a rant about the horrible animal cruelty in these wet-markets being the possible source of the virus, and promote veganism."

"I have love for all people and my thoughts are with everyone dealing with this pandemic around the world."
Not everyone bought his apology.

Or excused racism as a means to promote veganism.
The singer has just celebrated the 40th anniversary of his debut record and planned to perform "a snippet from each album we were supposed to perform for the next few days."