High profile bronze medalist Adam Rippon discussed the pitfalls of fame and the consequences of being an openly gay athlete during an interview with iHeartRadio's "Domenick Nati Show" that was posted on Wednesday.
When asked about being an out Olympian, Rippon said reactions have not been entirely supportive.
---
Not one to beat around the bush, Nati kicked off the radio interview by asking Rippon about the death threats. "How bad was the backlash you received from being an openly gay Olympic athlete? Did you ever receive any death threats?" Nati asked.
The athlete admitted:

I mean yeah, I did. I received all sorts of threats. I received all sorts of negative comments and emails.
Rippon went on to say how all the negative comments he's received "don't matter" and was frankly surprised at the amount of time trolls had on their hands to track down celebrities just to craft messages of hate.

I can't tell you, I wish I had that much time to [just like] waste but I don't.
Nati didn't waste any time to extract details on said threats and quickly moved on to lighter topics.

Nati asked if Rippon would have time for other things, like reality TV. Dancing With the Stars, perhaps?
Rippon didn't respond to the question straightaway, but he did express interest in having his own show.
I don't know exactly what that would be yet. And in regard to reality television, if the opportunity for "Dancing With the Stars" did arise I would definitely consider it.
He did have misgivings about participating in the ABC reality competition.

I do have to say that I would be nervous because I never, you know, performed with a partner before. And it would be something that would really push me out of my comfort zone but, I mean, I'm always up for a good challenge.
Nati shifted the conversation to the figure skater's love life, mentioning how he recently met Sally Field's son, Sam Greisman. When asked how that came about, Rippon said that he had the opportunity to meet the scion at a Human Rights Campaign dinner in Los Angeles and said, "We chatted for a little bit and yeah, I think we are definitely friends and it was nice to finally meet him after all of the press."
Would there be a chance of them dating in the future? Probably not. But Rippon did mention he invited both Field and her son to his next performance in Anaheim, California, and hoped they would both attend.
Besides, Rippon is currently off the market as he is dating Jussi-Pekka Kajaala whom he met on Tinder.
Lastly, Nati closed the interview by touching on politics. He asked if the Olympian voted for Donald Trump and what he thought of him as president.
What the hell do you think? There's no way I voted for Donald Trump. Not even on my darkest of days and deepest of blackout. And what do I think? I am not a fan.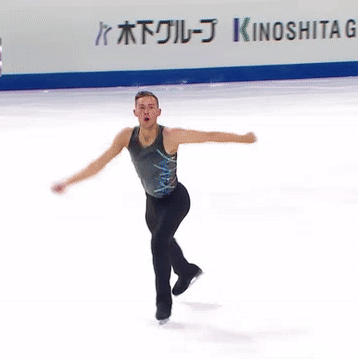 Not a fan of Donald Trump.
H/T - Inquisitr, Twitter, YouTube, HuffingtonPost