Paralyzed from the waist down in her teens by an ultra rare congenital malformation, a children's social worker has taken her first steps in 14 years, thanks to a futuristic $92,512 robotic suit.
Caught on film in a moving video, Lucy Dodd, 34, can be seen striding out, wearing the revolutionary Exoskeleton, a bionic contraption which allows paraplegics to stand and move like an able-bodied person.
Inspired by Claire Lomas, a paraplegic who completed the London Marathon in 17 days in 2012 using the suit, Lucy, of Aldershot, Hampshire, who has been wheelchair-bound since she was 19, was determined to try it and have her own taste of freedom.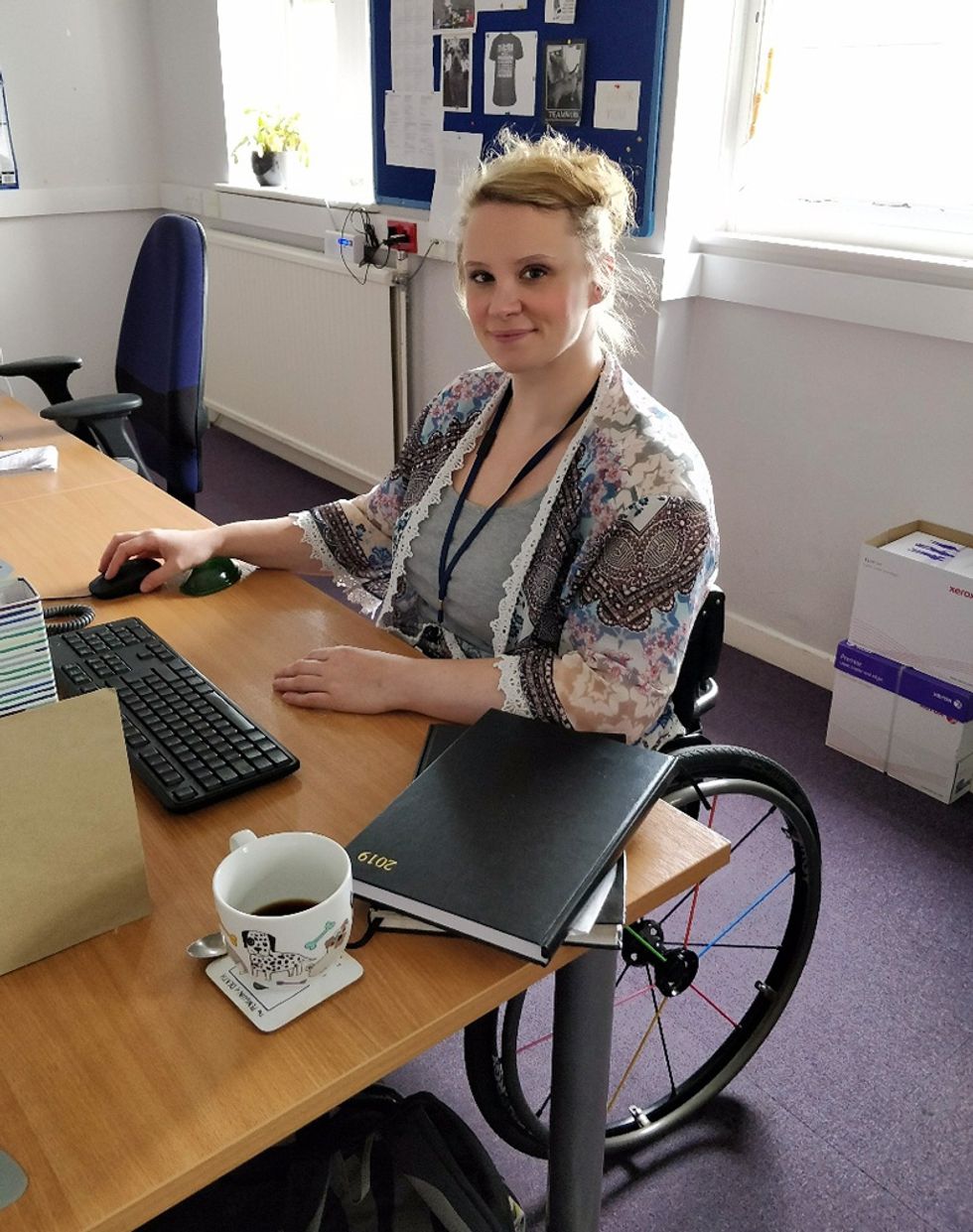 Lucy at work (Collect/PA Real Life)
Recalling her experience with the suit, which allows users to sit, stand and go upstairs, she said: "It was a completely surreal day."
"It was so amazing, just being able to do the things that most people take entirely for granted."
"Looking other people in the eye, being able to hug people properly and them not having to lean down over you all the time."
She added: "The memories of doing those simple things from before I was in a wheelchair all came flooding back and it was very emotional for me."
An enthusiastic tennis player and dancer, Lucy had started an English and Linguistics degree at Lancaster University in the autumn of 2002 when her problems began.
A few weeks into her first term, she mysteriously started losing control of her left leg, causing her to trip over and bump into things.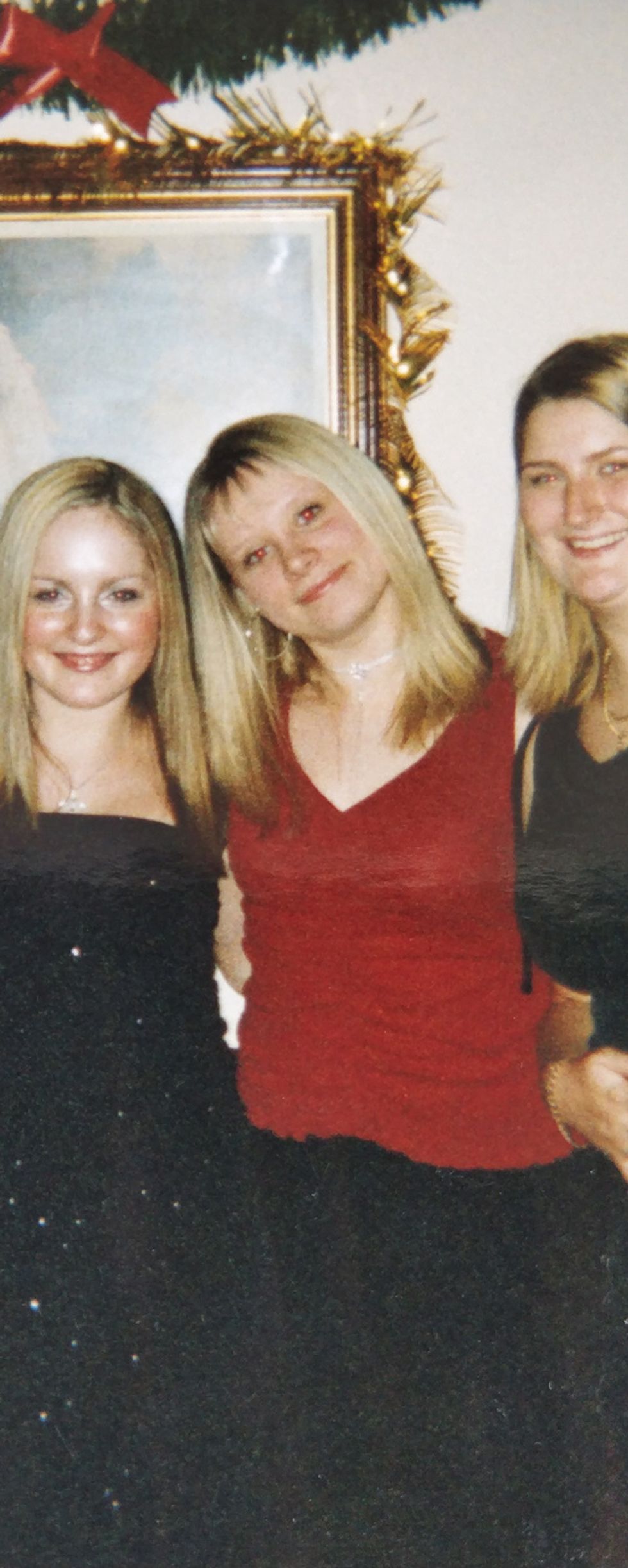 Lucy with friends in her first term of university (Collect/PA Real Life)
"At first it was just a bit unusual, but when it didn't go away after several weeks I knew there wasn't something right," she said.
"But being a regular 18-year-old with all these new friends and new freedoms, I didn't do anything about it."
By the end of term, she was struggling to walk and when she returned to her parents' home in Ash, Surrey for the Christmas holidays, her mum and dad were shocked by her impaired mobility.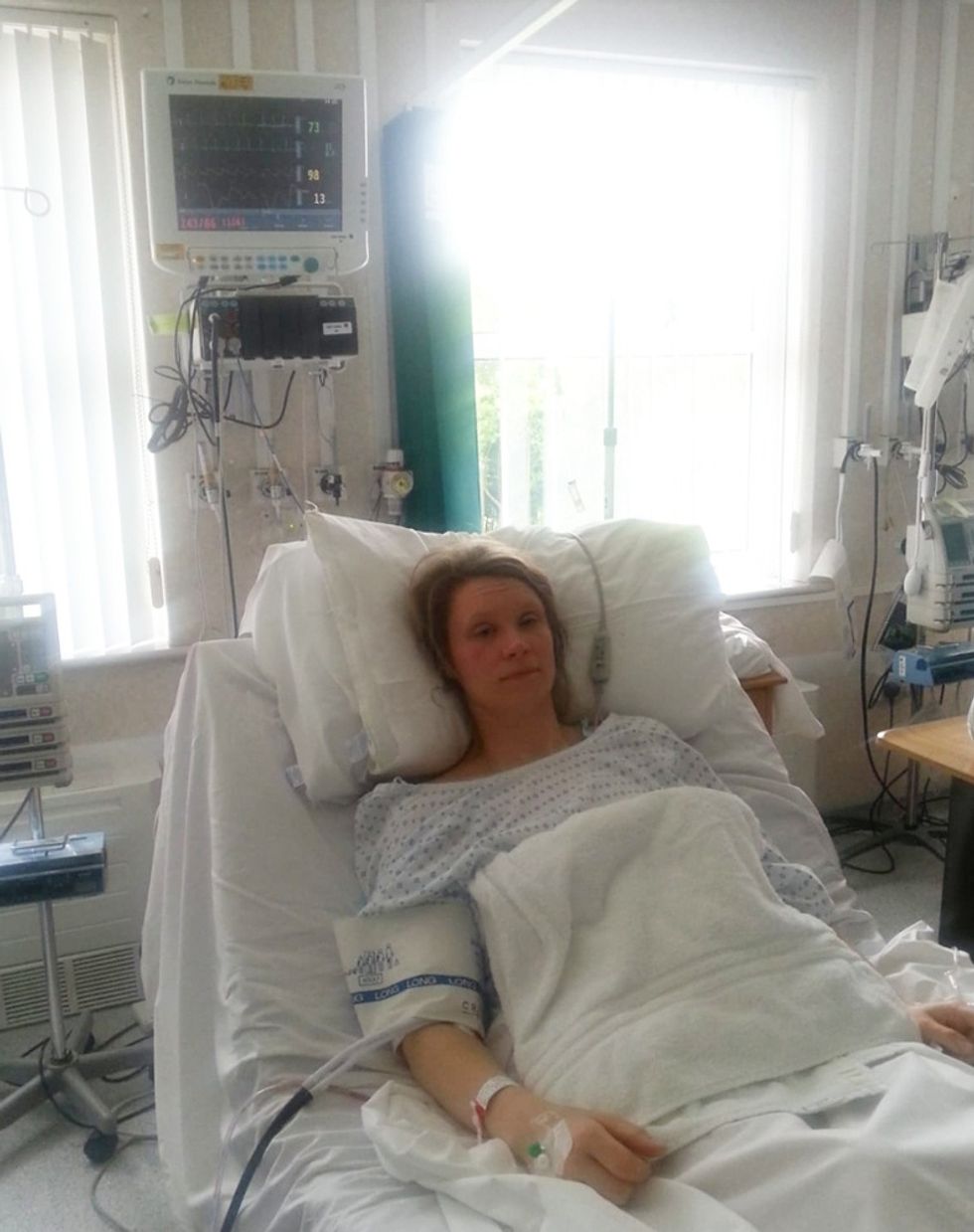 Lucy in hospital around the time of her diagnosis in 2002
(Collect/PA Real Life)
Finally going to the GP for tests and assessments, Lucy and her family were told on Christmas Eve 2002 that she had a rare condition, affecting just one in 100,000 people called arteriovenous malformation (AVM) in her spine.
Told it was an abnormal tangle of blood vessels on the spinal cord, she recalled: "It was devastating. I just burst into tears straight away."
Unsure of how badly her mobility would be affected, she returned to Lancaster for her second term, but was back home by the end of January, clearly getting worse until, by the spring, she was confined to a wheelchair.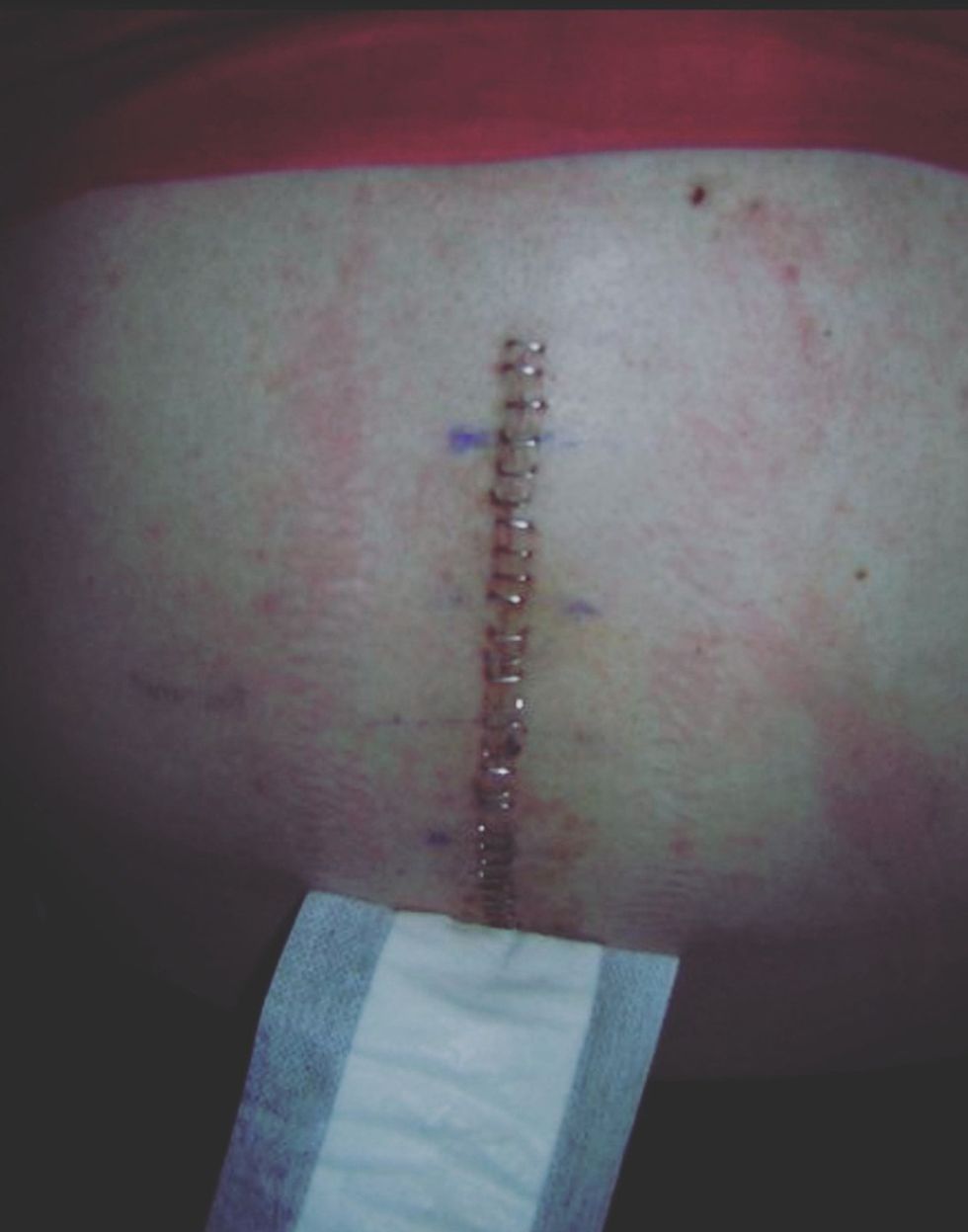 Lucy's back following her unsuccessful spine operation in July 2004
(Collect/PA Real Life)
Lucy, who is single, explained: "Nothing improved. I went all over the country seeing various specialists and at first the doctors thought that there would be a way of curing me."
But, following an unsuccessful operation on her spine, Lucy had to accept she might never walk again.
"I dropped out of university that year and was basically confined to the house," she said.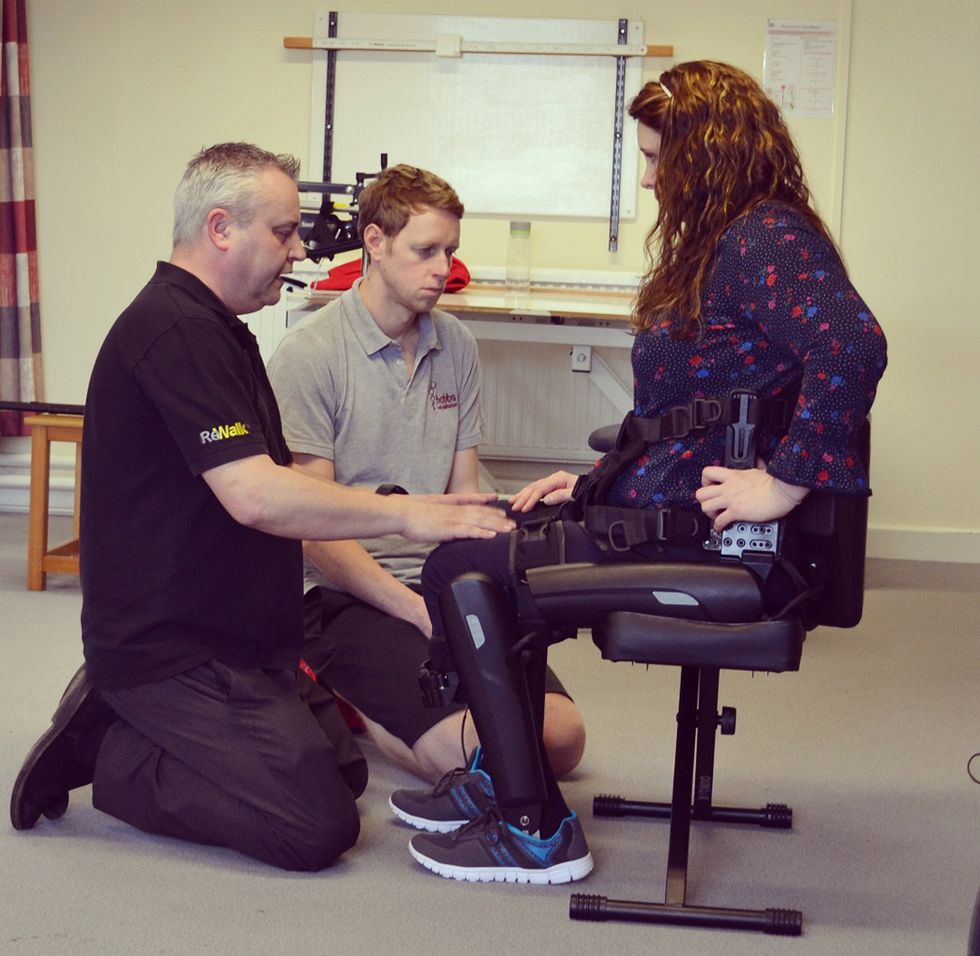 Lucy having her Exoskeleton fitted (Collect/PA Real Life)
"Having just made all these great friends, it was so isolating to then not be able to be back with them."
"Suddenly, you have to get used to a life where you are dependent on other people for the simplest things. At 18 years old, that's pretty tough."
Eventually, in January 2004 Lucy returned to university, afterwards landing a good job working with children.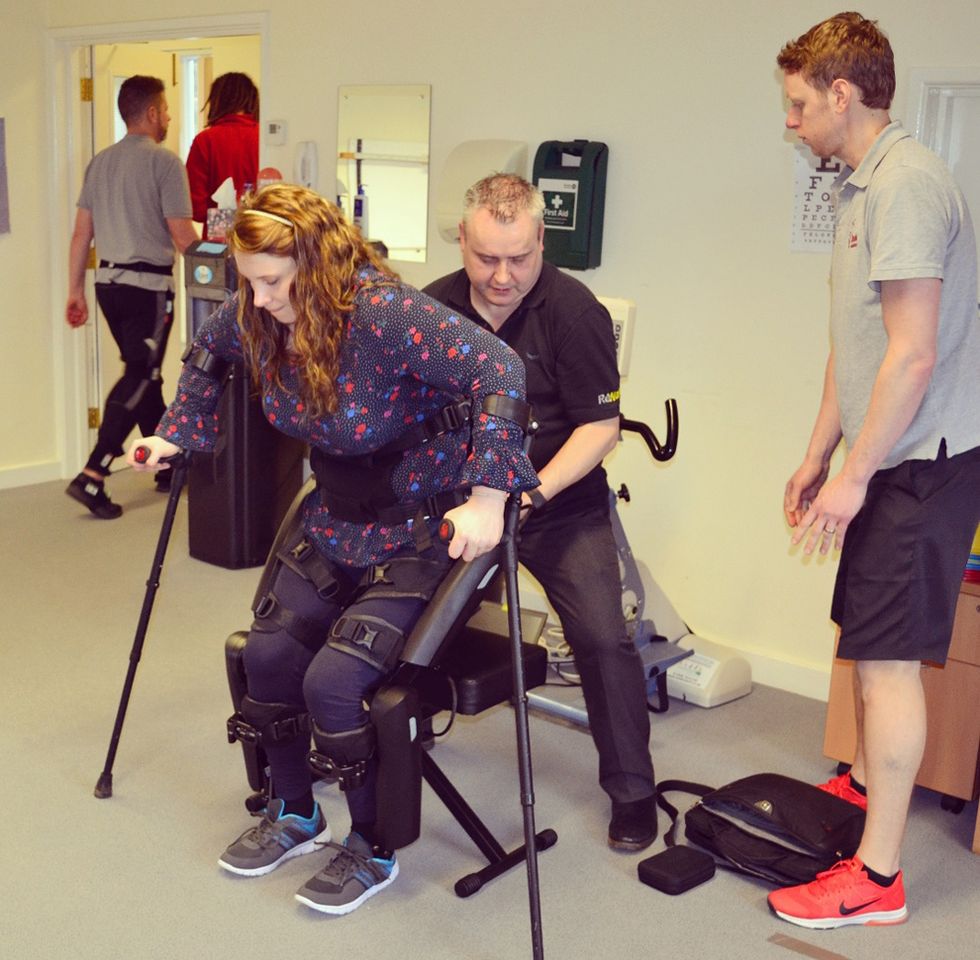 Lucy standing up for the first time in 15 years (Collect/PA Real Life)
Then, when she saw news stories about Claire Lomas wearing the Exoskeleton, she became determined to try it – getting her chance in December 2017, when she tested it at a rehabilitation center in Winchester.
She said: "At first, I thought it wasn't for public use. But I started to see things about it on social media and elsewhere and managed to get on a trial for one."
"Even though you have to use crutches to help support yourself, it felt completely natural, as though I was 18 again and none of this had ever happened."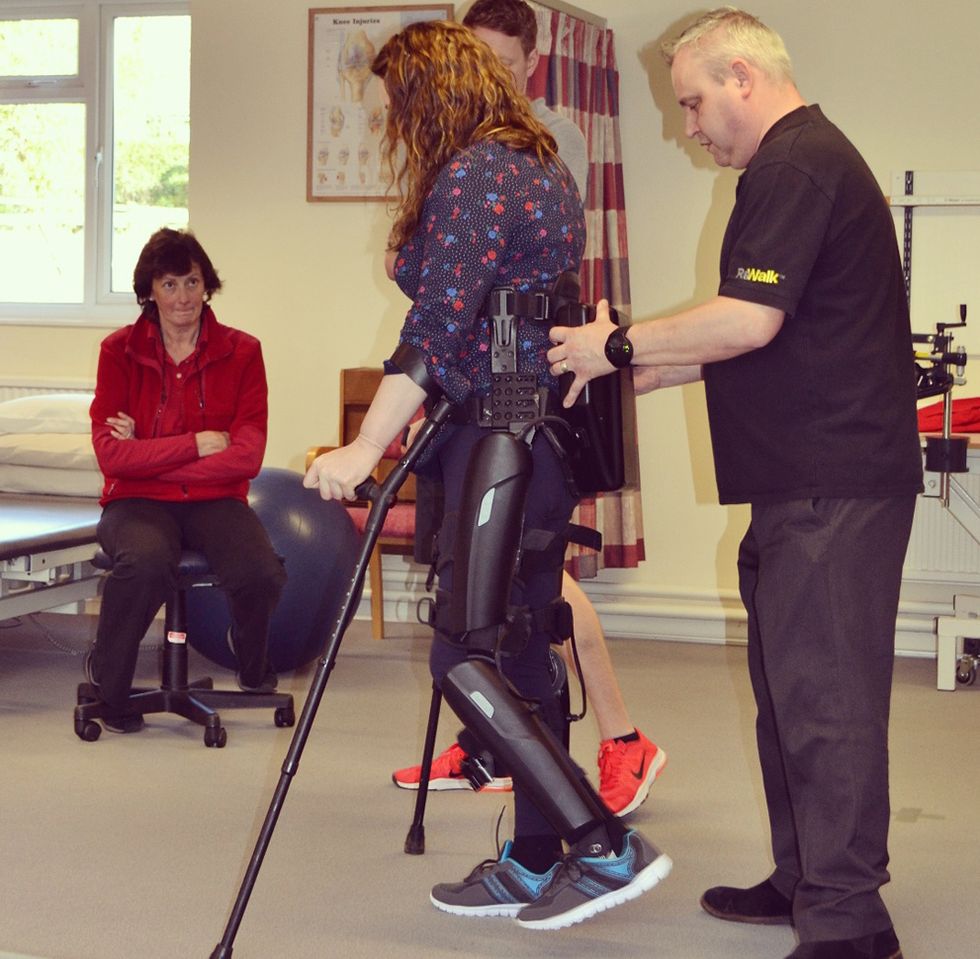 Lucy trialing the Exoskeleton (Collect/PA Real Life)
Given a new lust for life by her experience, Lucy launched a GoFundMe page and has already raised a quarter of the $92,512 she needs to buy her own bionic suit.
And she has a host of fundraising challenges arranged, including entering the 10-mile Great South Run on October 21 and a 185-yard abseil down the Portsmouth's Spinnaker Tower in March 2019 – despite being petrified by heights.
She said: "I'm in this for the long run and am prepared to do whatever it takes to have my mobility back again."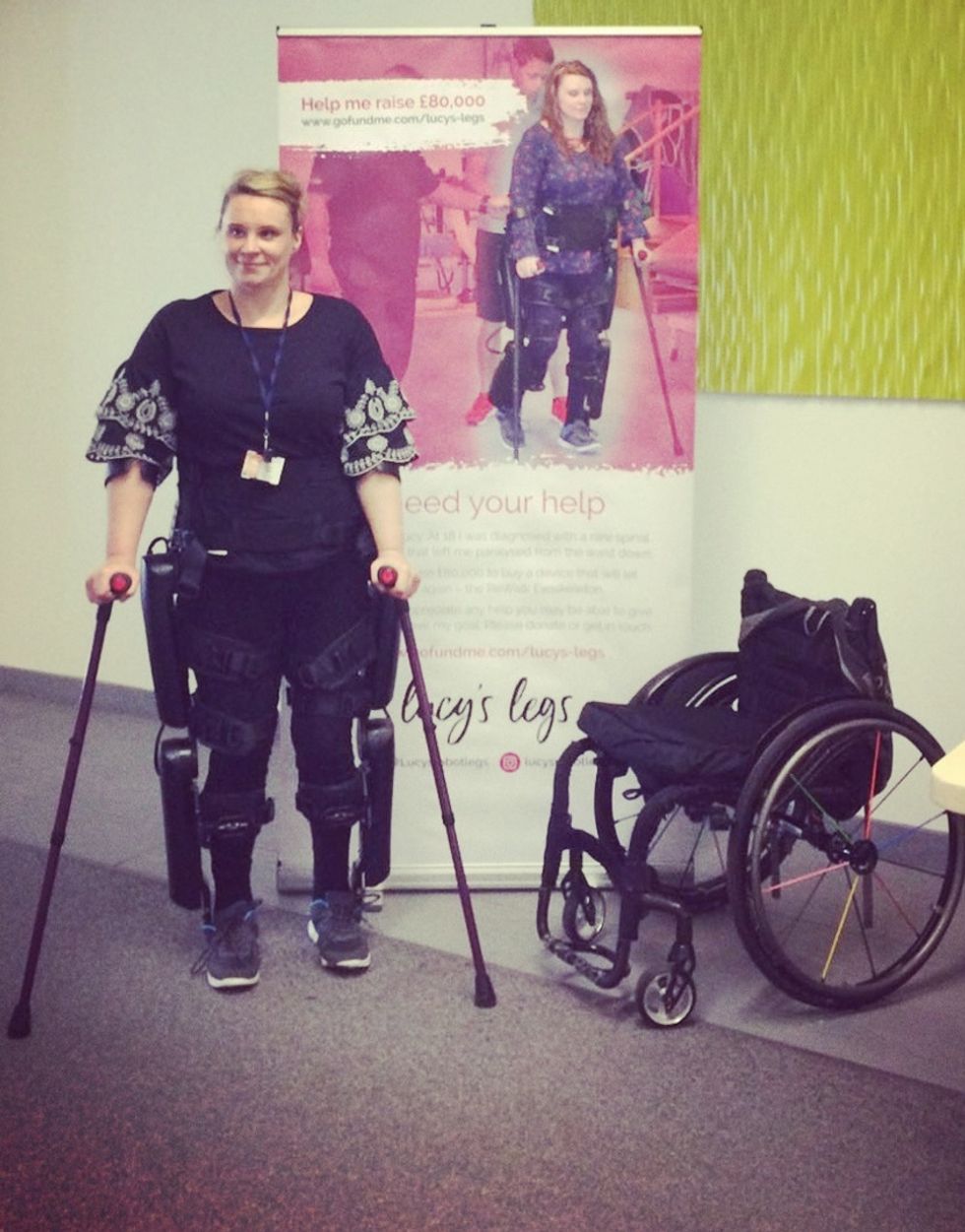 Lucy trialing the Exoskeleton (Collect/PA Real Life)
She continued: "The abseil is pretty terrifying though for someone like me, who is petrified of heights and can't move the bottom half of her body.
"But $92,512 is a lot of money – so I'm perfectly willing to terrify myself a bit now if it means being able to walk for the rest of my life."
To help Lucy, see www.gofundme.com/lucys-legs

A version of this article originally appeared on Press Association.