Not long ago, a TikTok user faked a video that sent the internet into a frenzy.
Through the magic of digital editing, they took a fake ultrasound image and made it look as though actress/singer/dancer/model/activist Zendaya posted the image to her Instagram account as a pregnancy announcement.
A few moments after the pregnancy announcement, the screen flips to a dancing Kris Jenner to indicate it's a joke in a trend similar to RickRolling called "Krissing" or "getting Krissed."
You can see the TikTok here:
The problem is people love Zendaya and somehow the "Krissed" aspect of the video was forgotten and the prank evolved into a rumor.
The first part of the clip was, apparently, done pretty well because tons of people fell for it.
Zendaya shut that down pretty quickly by actually hopping on her Instagram to post a story about it.
She didn't say much. She didn't even specify what she was talking about.
But the simple white text on a black screen said everything the world needed to know.
It read:
"See, now this is why I stay off Twitter. Just making stuff up for no reason ... weekly."
And this is how we imagine she looked while typing it.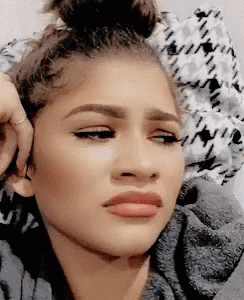 Giphy
That simple Instagram story response has blown up on Twitter.

People absolutely get why Zendaya is over it. Conversations about her body and her personal life have been non-stop for her since childhood.
And that is, of course, to say nothing of the way the public feels entitled to know every little detail about the lives of celebrities in general.
Twitter is totally Team Zendaya here.
We'd like to send our best wishes and congratulations to Zendaya for the projects she has coming up in the months and years to come - even/especially if none of those projects involve growing another human being.