21-year-old Tanner Cook was filming a prank video on Sunday, April 2 in the Dulles Town Center shopping mall in Sterling, Virginia when he was allegedly shot in the abdomen by Alan Colie.
The bullet caused damage to Cook's stomach and liver and he is currently in intensive care, but he is expected to make a full recovery.
Cook posts his videos to his YouTube channel, Classified Goons, which focuses on Jackass-style practical jokes. But unlike Jackass where the cast pranked each other, Cook played his jokes on random people in public without their consent.
The nature of the prank Cook and his friends were trying to film has not been disclosed, but past pranks have included things such as pretending to urinate in public, pretending to be a Target employee in a store he doesn't work in, pretending to vomit in a rideshare vehicle and asking strangers to play "naked twister."
Cook and his friends film bystanders' reactions to these pranks and upload the resulting videos.
It is not uncommon for the people filmed to be obviously and visibly upset by the pranks or the fact they're being filmed.
Cook said of the incident:
"I was playing a prank, a simple practical joke, and this guy didn't take it very well and shot me."
Cook's father, Jeremy Cook, described what he knew of the incident.
"They were making a video at the mall and trying to have fun with people and this guy wasn't having fun. There was a phone that was around him and they were interviewing or talking to him, and he didn't like it and he pulled out his gun and shot my son.
The Loudon County Sheriff's Office said that Cook and Colie did not know each other prior to the shooting in a statement, and said that they are still investigating exactly what led up to the shooting.
Colie was found after the shooting sitting in the food court with what is most likely the gun used to shoot Cook.
The shooting reportedly caused quite a panic at the mall, which was closed for the remainder of the weekend and reopened Monday morning.
You can view WUSA9's coverage of the incident and interviews with Cook and his family below:
However after reviewing Cook's previous videos, people were less than sympathetic.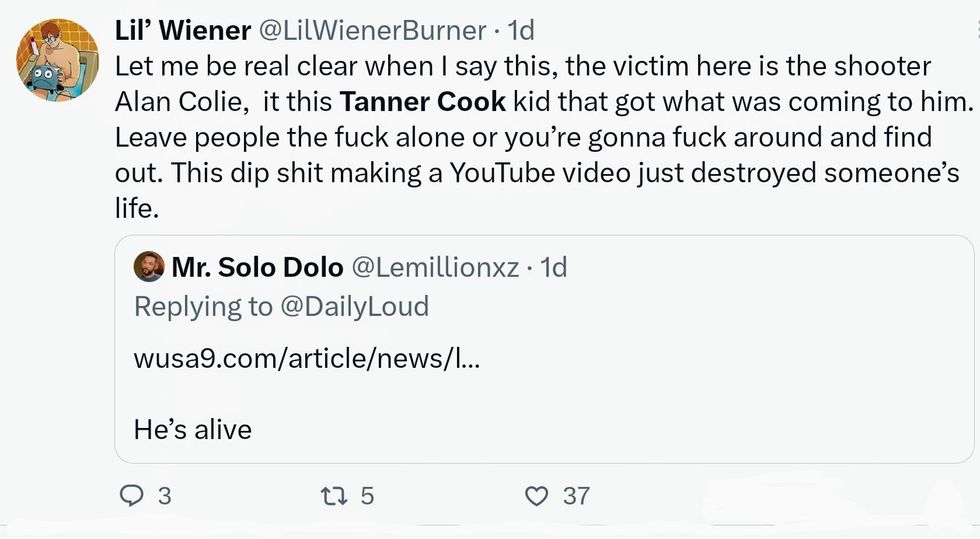 @LilWienerBurner/Twitter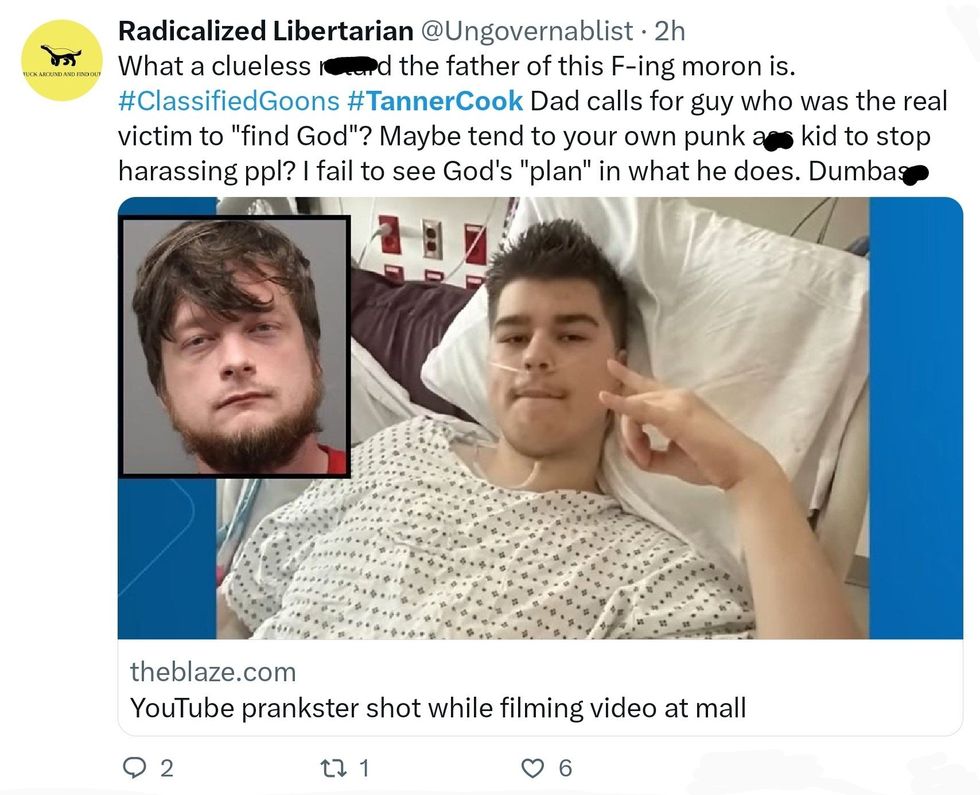 @Ungovernablist/Twitter
Colie has been charged with aggravated malicious wounding, shooting in commission of a felony, and discharging firearms within an occupied building in relation to the shooting.

He appeared in court on April 3 for arraignment via video call and is due back in court on May 3 for his preliminary hearing. He is being held without bond at the Loudon County Adult Detention Center until that hearing.
Cook told WUSA9 he plans to return to filming prank videos once he is recovered because it is his "passion."