From dismissing the threat it poses to appointing the woefully unequipped Vice President Pence to lead its response, President Donald Trump's preparations for the coronavirus outbreak in the United States has sparked concerns from Americans across the country.
Now, a photo from the White House of the "Coronavirus Taskforce" is exacerbating those concerns.
---
See if you can spot why.
Today we had a very productive meeting of the White House Coronavirus Taskforce in the Situation Room. We placed ad… https://t.co/qs0tfvR33b

— Mike Pence (@Mike Pence)1583015225.0
In case you didn't notice...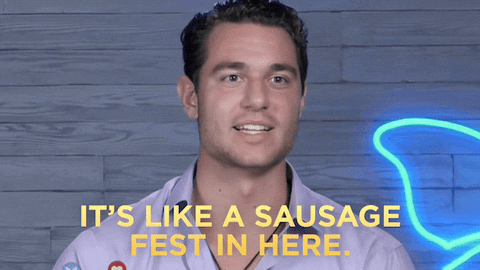 Giphy
Many had one simple question: where are the women?

We're facing both a public health crisis and a potential economic crisis. We urgently need top experts at the table… https://t.co/a2TEmnvURP

— Elizabeth Warren (@Elizabeth Warren)1583093192.0
I work in public health. Our field is disproportionately women. https://t.co/kixRzsNlxK

— Deborah Roseman (@Deborah Roseman)1583027853.0
Not one woman. Why I'm still surprised by this is beyond me. https://t.co/B2iYv8V11O

— Mary Ellen Landolfi (@Mary Ellen Landolfi)1583171833.0
Unless men are privately deliberating sacrificing themselves to Mars to lessen the risk to humanity, there should b… https://t.co/wZOvTrRR2F

— The Betches Sup (@The Betches Sup)1583081855.0
If you're thinking the glaring omission is because the men in the room were the most equipped to handle the response, think again.
Among the so-called experts on the taskforce are Treasury Secretary Steve Mnuchin and National Economic Council Director Larry Kudlow, who have no experience in medicine or viral outbreaks.
Dr. Ben Carson—the innovative neurosurgeon inexplicably appointed as Housing and Urban Development Secretary—has longtime experience in the medical field, but not with pandemics and their containment.
There are tons of qualified women equipped to deal with this, as others pointed out.
Inexplicably there are no women in this room. Where are Dr. Anne Schuchat, principal deputy dir of CDC, Dr. Robin I… https://t.co/KpYe19ccnj

— Victoria Brownworth (@Victoria Brownworth)1583068000.0
This is the opposite of what every hospital in America looks like. Women are overwhelmingly the front line of healt… https://t.co/vUJdqkivfL

— Ramzy Nasrallah (@Ramzy Nasrallah)1583082843.0
Not 👏a 👏single👏woman👏in👏the 👏room. Have you ever been to @APHAAnnualMtg? The field of public health is majority f… https://t.co/EIl6S9EAtT

— Alison Buttenheim (@Alison Buttenheim)1583044423.0
Lmao a public health issue being discussed by a task force of only men... when more women work in public health tha… https://t.co/zUwVrNVj6y

— Mpho Brown (@Mpho Brown)1583173405.0
I know of several brilliant women who would have had a lot to contribute to this conversation than, say, Steve Mnuc… https://t.co/bBaUTY2Emc

— Meghan May (@Meghan May)1583041550.0
Perhaps it's because Vice President Mike Pence is overly cautious to meet with women out of bizarre devotion to his wife, whom he affectionately calls "mother."

Can't have any women in the room. Wouldn't want Mother to get upset. https://t.co/B4ECur71IO

— Alexandra Bell (@Alexandra Bell)1583033897.0
I see that Mike Pence is still keeping female temptation at bay, even in the situation room. You can never be too c… https://t.co/hpZEfrgHg8

— Shashank Joshi (@Shashank Joshi)1583018048.0
Mother wouldn't allow any women on the Task Force lest Mike be tempted. https://t.co/9WaZuishSv

— Patrick Petrelli (@Patrick Petrelli)1583031129.0
Whatever the reason, these appointments aren't leaving many reassured that the United States is prepared.