A beauty parlor in Olympia, Washington, was vandalized after refusing a warning to remove its Pride flag from the store front for violating "natural laws of decency."
---
On September 30, owners of the Gatsby Parlour de Beauté found a flyer taped to the store front window with the typed message:
"Attention: You are in violation of natural laws of decency. Please remove the gay flag from your business facade."
The parlor was one of several businesses sporting the LGBTQ Pride flag year-round that was slapped with the flyer.
Co-owner Jesse Floch refused to be intimidated by the threat and removed the hateful notice instead of the flag.
His response?

"No, oh no. We're getting bigger ones."
Four days later on October 3, the parlor's windows were smashed. Some feel it is as a result of ignoring the demand to remove the Pride flag.
Beauty salon has the best response after being told Pride flag is 'in violation of natural laws of decency'… https://t.co/YymUJsw3GI

— Loud & Proud (@Loud & Proud) 1570464783.0
Gatsby Parlour de Beauté one of several places in #Olympia that have a rainbow flag up. Police say someone posted f… https://t.co/6ZBGj9K6p7

— Suzanne Phan (@Suzanne Phan) 1570310494.0
Floch knows the incident was not coincidental and told The Olympian that the window-breaking was a "hate crime."
"This is Olympia. Like, this is a safe place, this is supposed to be our safe town where a lot of people that I consider refugees from other states [move to]. It broke my heart to see something like that."

Capital City Pride/Facebook
LGBTQ group Capital City Pride launched a fundraiser for "fixing the downtown windows busted by homophobes."

They asked other businesses in the area to stay alert and wrote on their Facebook page.

"Several downtown Olywa businesses with high viz rainbow flags are being threatened, one had their window broken as an apparent escalation of the threat."
"The signs below have been taped up to a number of windows of businesses that Pride asked to display rainbow flags during Pride, a number of them have decided to keep their flags up all year round."
"PLEASE - be safe, and PLEASE support all the businesses who proudly display the rainbow flag - let them know they are not alone."
"Let's send a strong message: We stand together in support of LGBTQ rights! UPDATE: the police are investigating this."
According to Lt. Paul Lower, the other businesses—including Dillinger's Cocktails and Kitchen next door that were similarly threatened—did not suffer any property damages yet.

Capital City Pride/Facebook
Lower said a police investigation is underway and said the incident could amount to a hate crime.

"A lot depends on the victim and the intent of the suspect."

Capital City Pride/Facebook

Capital City Pride/Facebook
Capital City Pride provided an update saying they raised enough money to replace Gatsby's damaged window.

The salon posted a photo of the new store front on their Instagram page.

Capital City Pride also expressed their gratitude for the amount of support given to the salon and the LGBTQ community of Olympia.

"More than money, it has been powerful to see that thousands of people stand against hate & stand up for the LGBTQ community! Please help us get over the top of our $1,600 funding goal to replace the window - we now added a funding button for Rainbow Center (our fiscal sponsor) to this post. Stronger together!"

Commenters suggested additional ways they could combat hate.


Capital City Pride/Facebook

Capital City Pride/Facebook

Capital City Pride/Facebook

Capital City Pride/Facebook

Capital City Pride/Facebook
The Seattle Times asked anyone from the community with information to contact the Olympia Police Department at 360-753-8300.

Do you know what the colors on the LGBTQ Pride flag mean—or that it originally had 8 stripes instead of 6? This shirt available here gives the meaning the flag's creator, Gilbert Baker, intended for each color.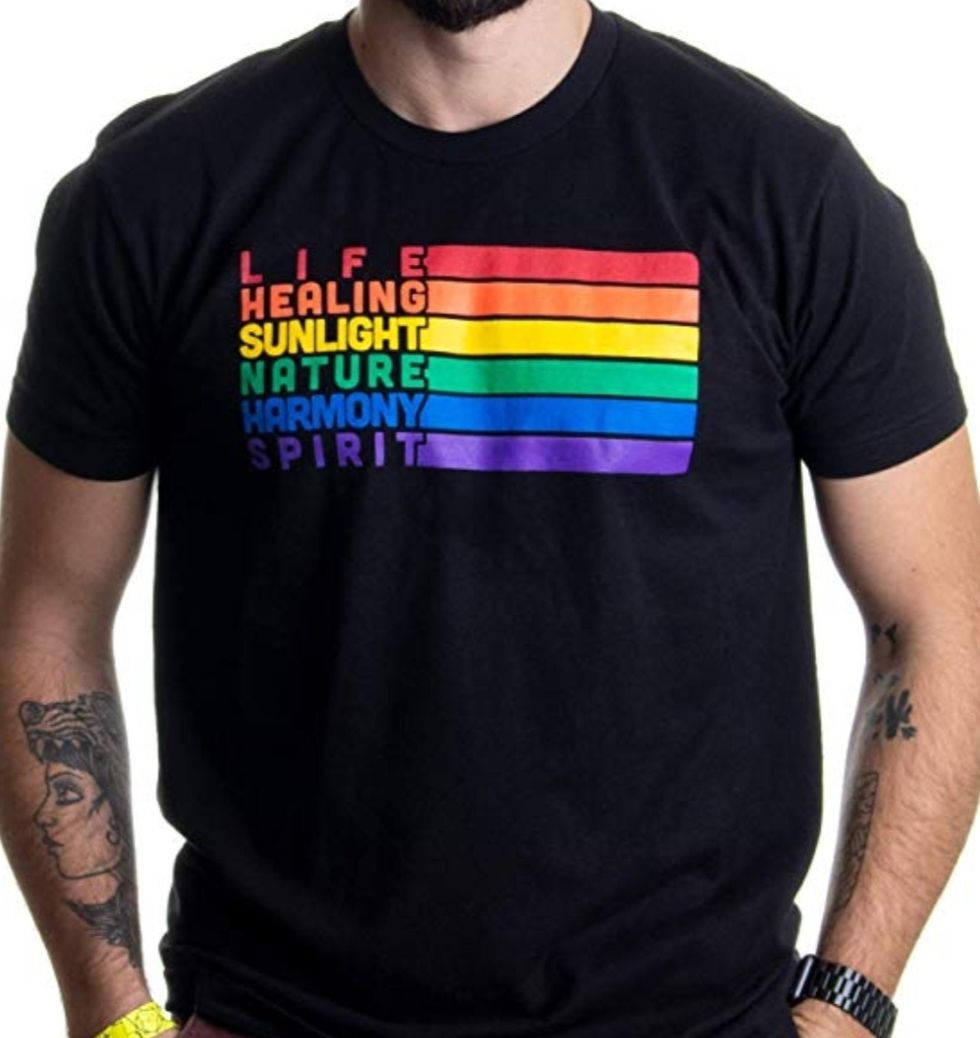 ******

Have you listened to the first season of George Takei's podcast, 'Oh Myyy Pod!'?
In season one we explored the racially charged videos that have taken the internet by storm.
We're hard at work on season two so be sure to subscribe here so you don't miss it when it goes live.
Here's one of our favorite episodes from season one. Enjoy!