@TheNotoriousMMA jumps the cage for his teammate Charlie Ward and its all chaos. #MMA#ConorMcGregor#Bellator187pic.twitter.com/gu9LZL8ORf

---

— Dutch Fight Network (@DutchFightNet) November 10, 2017
MMA fighter Conor McGregor, 29, instigated another fight with a referee when he jumped into the ring to celebrate SBG Ireland teammate Charlie Ward's victory.
Ward defeating John Redmond in the Bellator 187 event was supposed to be a celebration, but it quickly turned into a chaotic rumble when the notoriously wild McGregor got into a heated exchange with referee Marc Goddard after bursting into the cage.
The fighter was in violation of entering the cage, not as a licensed cornerman, and Goddard tried to keep things civilized. His efforts proved futile when McGregor shoved him.
He was escorted out of the cage, but McGregor was not finished with his tantrum. As he tried to get back into the cage, he slapped a Bellator staff member, Mike Johnson, in the face.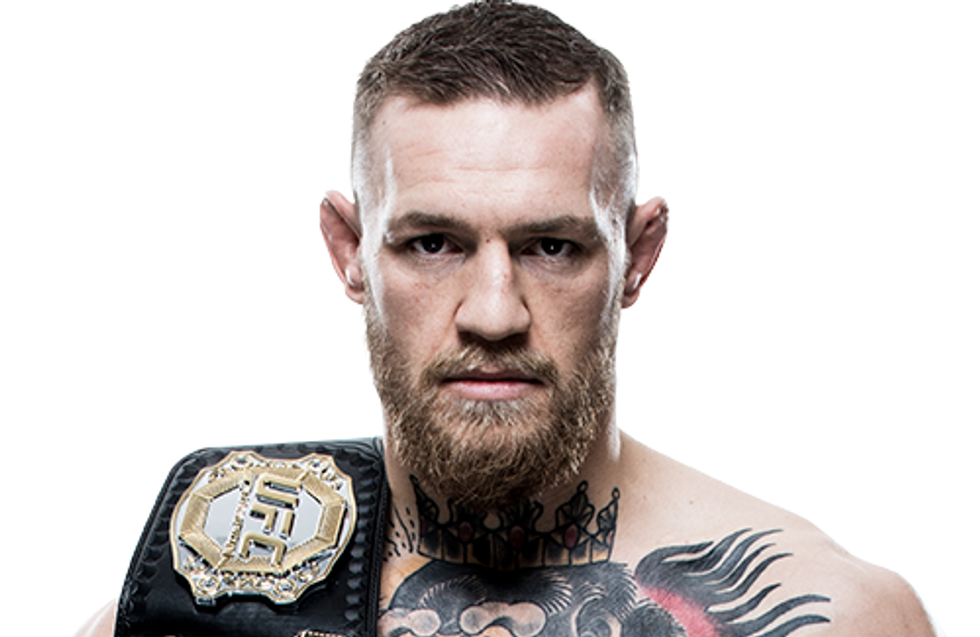 Mike Mazzulli, the president of the Association of Boxing Commissions and Combative Sports, issued a statement on Saturday confirming he was in contact with UFC, and ABC member commissions that license McGregor, regarding his violent conduct.
Mr. Conor McGregor who was a spectator at the time, disrupted the event by scaling the cage prior to the conclusion of the bout. Mr. McGregor's conduct jeopardized the health and safety of the bout participants by delaying necessary medical attention to the fighters that were injured during the round.

In addition, Mr. McGregor assaulted Referee Mark [sic] Goddard and a Bellator staff.

The MTDAR has been in consultation with the upper management of the UFC regarding Mr. McGregor's inappropriate and unacceptable behavior.
The clip was posted on Twitter, and it sparked debate among users as well.
The more you look at it the worse it gets. Redmond's down being treated by medical staff when McGregor jumps in and… https://t.co/RIllw5Hjfu

— Rob Wright (@Rob Wright) 1510353934.0
@wright_rob Actually Conor doesnt push anybody after he pushed the ref. and he saw the fighter on the ground so he… https://t.co/8djCqBLe64

— HarbirSinghBrar (@HarbirSinghBrar) 1510375886.0
@The_BTurbanator @wright_rob Actually Mcgregor caused all of that from entering the ring like a idiot, needs to be… https://t.co/teJTba5zaR

— Micheal Swagger (@Micheal Swagger) 1510404001.0
@CStyker @wright_rob First of all if he ever gets suspended he would have to give up his belt. But who is going to… https://t.co/NUlYEnpIVt

— HarbirSinghBrar (@HarbirSinghBrar) 1510414083.0
McGregor shouted "that was a fucking stoppage" and ran back towards the cage. Goddard then ejected him https://t.co/OImxiwq7f7

— Peter Carroll (@Peter Carroll) 1510339970.0
McGregor's behavior was no shocker as his reputation precedes him.
@PetesyCarroll Mcg on the rocket fuel again ??

— Anthony W (@Anthony W) 1510340274.0
@PetesyCarroll @guicruzzz This guy is delusional joke.

— Leila (@Leila) 1510340594.0
@PetesyCarroll Embarrassing.. no stopping that ego now

— Conor Kearney (@Conor Kearney) 1510342722.0
McGregor, who is also a mixed martial artist, is no stranger to controversy.
He had a scuffle with Goddard last month when McGregor approached the cage and tried to coach teammate Artem Lobov on his match with Andre Fili.
When Lobov lost the decision, McGregor launched into a rant, using homophobic invectives against Fili in a conversation with Lobov backstage that was caught on camera. Those posts with the clip were deleted. But McGregor's fiery reputation remains.
@PetesyCarroll 1st the Gay Slur & now this hooligans behaviour #DisenchantedFan #LoosingMeConor

— DADDi Dublin (@DADDi Dublin) 1510418397.0
I just spoke to one of the #Bellator187 media members who was cageside (and wanted to remain anonymous). He told me… https://t.co/FX5v7RtS6e

— Chamatkar Sandhu (@Chamatkar Sandhu) 1510350795.0
@SandhuMMA Conor McGregor is a stupid motherfucker who thinks this business allows him to do what he wants. I hope… https://t.co/aTtivUan3B

— Richard Di Biase (@Richard Di Biase) 1510352672.0
Please SHARE this with your friends and family.
H/T - leinsterexpress, twitter, mmafighting, youtube