Jon Voight won an Academy Award in 1979 for the film Coming Home.
At one time, he was a respected actor best known for his film roles.
---
In recent years however he has become more associated with his adoration for President Donald Trump than his acting career. Voight has made several odd videos that he has gone on to share on social media.
Now in Voight's latest social media film foray, he touted Trump's "true truths." On the day Trump was impeached, Voight claimed the United States would fall if the impeachment occurred.
Watch Voight's video here.
In God We Trust https://t.co/xbMCTDhgp4

— Jon Voight (@Jon Voight)1576719471.0
Trump spent Thursday and Friday, December 26 and 27, scouring Twitter and retweeting praise for himself.
Which doesn't look at all sad or desperate.
On Thursday he shared Voight's video despite it being about stopping his impeachment which had already occurred 8 days prior.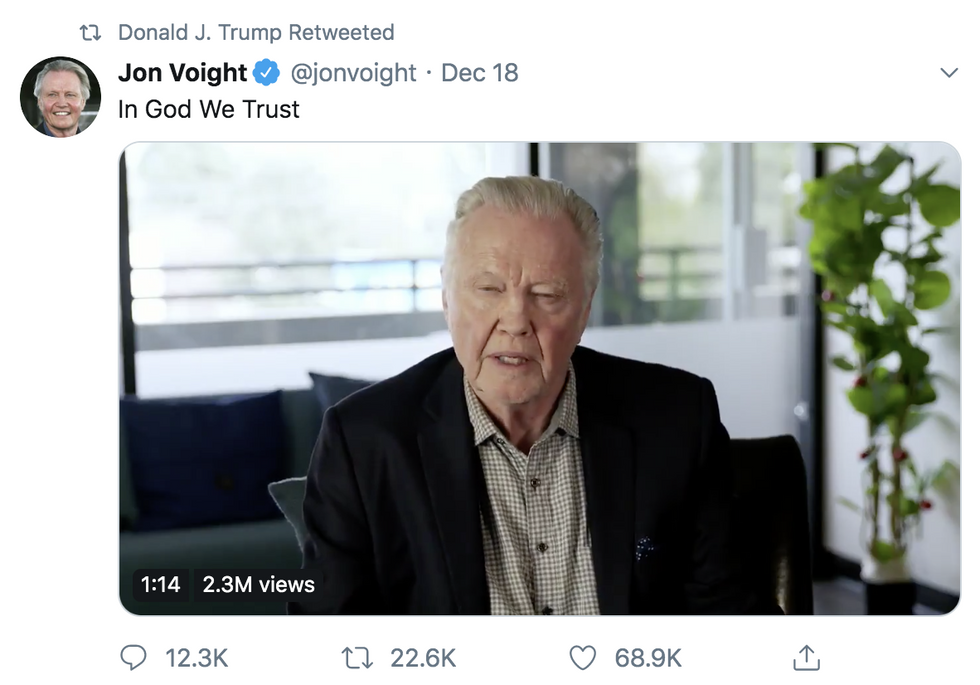 @realDonaldTrump/Twitter
The next morning, Trump tweeted effusive praise for Voight.
The President promoted Voight's current project and other highlights from earlier in his career.

Academy Award winning actor (and great guy!) @jonvoight is fantastic in the role of Mickey Donovan in the big telev… https://t.co/N4tp4oCW7U

— Donald J. Trump (@Donald J. Trump)1577454511.0
The post holiday retweet evoked questions for both Trump and Voight on the President's timeline.
@jonvoight @realDonaldTrump .@jonvoight Sir, If you are a true believer in God, tell me ... Do you think fight… https://t.co/iVdtmc7j9S

— Hispanic Citizen (@Hispanic Citizen)1577417215.0
@IHSBVM @jonvoight @realDonaldTrump @TeamTrump @IvankaTrump @DonaldJTrumpJr @EricTrump @GOPLeader @TMZ @etnow… https://t.co/n6iF3kqOCq

— Hispanic Citizen (@Hispanic Citizen)1577471680.0
Although some who commented on the President's retweet did have praise for Voight's acting.
@jonvoight Wow, never a good actor but this may be your best performance ever. You are actually selling this like i… https://t.co/NwTFxLvvcQ

— David Bowen (@David Bowen)1577496608.0
Others had different reactions to Voight's performance.
Many used the hashtag #ChristiansAgainstTrump.
@BorumWinston @jonvoight @realDonaldTrump It's nice to hear a Republican admit that Trump has true-truths issues. N… https://t.co/AsU4XjRnAU

— Jill Sacsayhuaman (@Jill Sacsayhuaman)1577455149.0
@JSacsayhuaman @jonvoight @realDonaldTrump I'm not really admitting it, bc it was obvious from the outset that Trum… https://t.co/stS7QyXJyU

— WBorum (@WBorum)1577502793.0
Voight's recent amateur film efforts earned him a National Medal of Arts from Trump during a ceremony where Voight's dancing skills drew more attention than the medal presentation.
For those not in the Trump camp, this shirt is available here.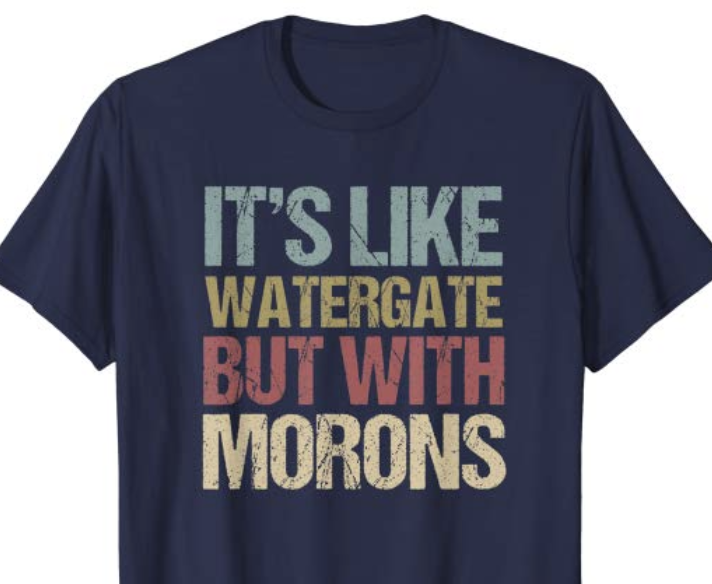 Amazon