House Minority Leader Kevin McCarthy—a California Republican—was trolled on social media after his attempt to criticize Dr. Anthony Fauci backfired following the news that one of the world's leading experts on infectious diseases will retire from government service this winter.
In.a classic move, however, McCarthy's attempted slam of Fauci ended up actually being a criticism of former Republican President Donald Trump, whose habitual undermining of the COVID-19 pandemic response cost lives.
In an interview with Fox News, McCarthy thought he was being funny as he explained his one "rule of thumb' for trusting people.
You can watch the clip below.

McCarthy said:
"I just have one rule of thumb. I really don't trust anyone that keeps a mural of themselves in their office."
"I just think those types of individuals should have to come and answer the questions."
Fauci does indeed have a portrait of himself in his office. It was painted and presented to him by singer and songwriter Joan Baez, who in 2020 decided to commemorate him for having "made meaningful social change without the use of violence."
At the time, Baez said that Fauci is "engaging in nonviolent resistance every time you stand in front of the cameras and attempt to educate the public on how to survive the Covid-19 pandemic."
You can see it below.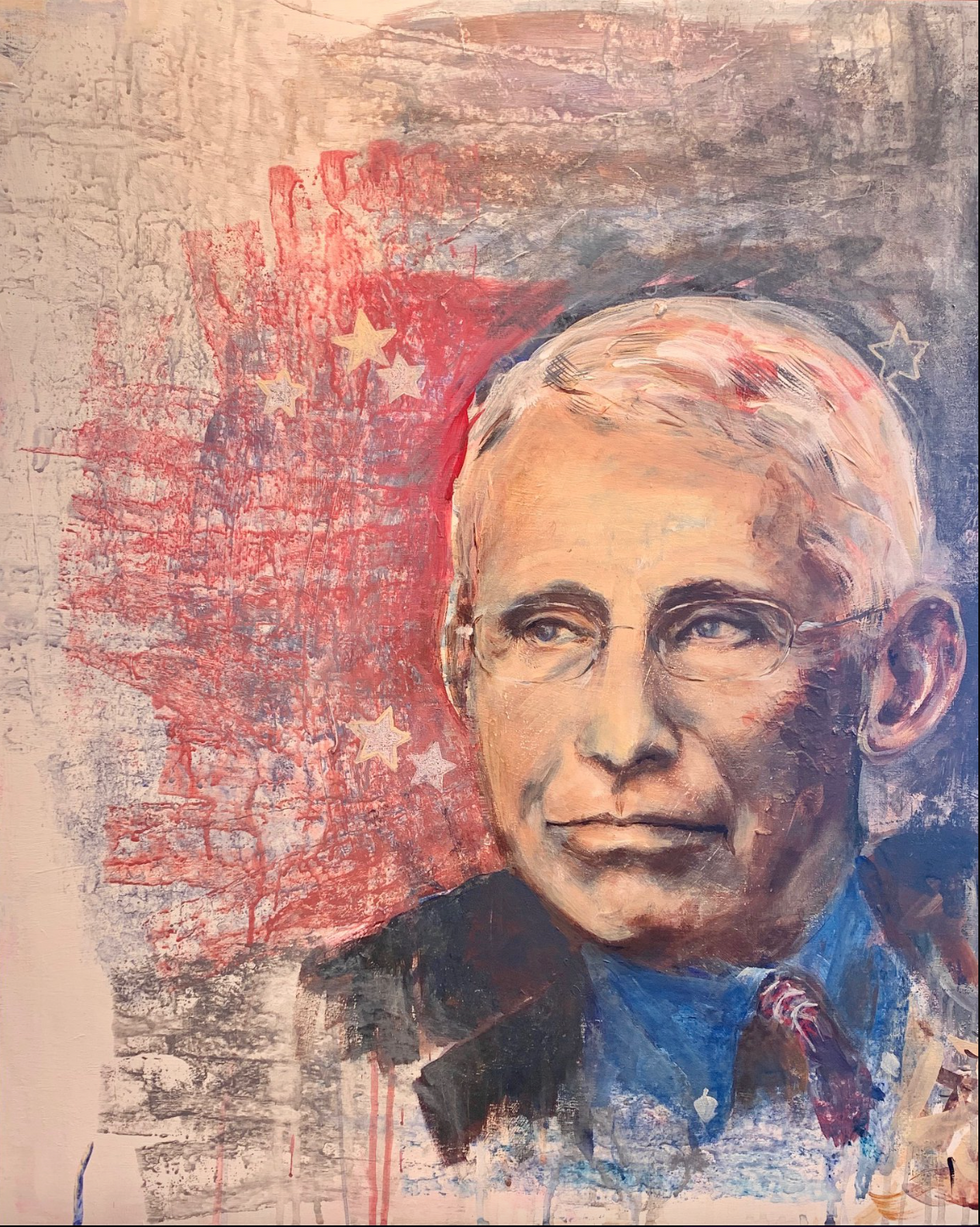 Joan Baez/Facebook
The only problem for McCarthy?
You guessed it: Trump also has a portrait of himself hanging in his Mar-a-Lago estate. The portrait—titled The Visionary—was painted after Trump approved of a sketch that artist Ralph Wolfe Cowan had presented to him.
Cowan intentionally painted Trump in white clothes to differentiate him from his darker, more formal clothes that he wore in New York City.
One critic noted that Cowan paints his subjects "twenty pounds [9 kg] thinner and twenty years younger, often surrounded by heavenly light, riding exotic animals, or framed by mountain ranges", and that Trump's portrait had a "standard Cowan sky shot."
The Visionary, which has been likened to a painting of a "Sun God" by another critic, can be seen below.

Wikimedia Commons
McCarthy was soundly mocked for the flub.

Not that McCarthy will suffer any harm for the diss, since he is no longer really in Trump's good graces anyway.

Though McCarthy has repeatedly backed Trump's falsehoods about the integrity of the 2020 general election—and has been often criticized for downplaying the significance of the January 6 insurrection and subsequent investigations into the matter—Trump has chosen not to endorse him for Speaker should Republicans retake congressional control after this year's midterm elections.
Trump was earlier cross with McCarthy for not putting more Republicans on the House Select Committee tasked with investigating the insurrection, which took place when a mob of Trump's supporters attacked the United States Capitol on the false premise the election had been stolen.
Trump was reportedly incensed after audio surfaced of McCarthy saying Trump was "totally wrong" to incite an insurrection against Congress.
Similarly, a New York Times report from this spring revealed that McCarthy told other lawmakers that he would ask then-President Trump to resign from office in the wake of the attack. McCarthy later called the report "totally false and wrong."