President Donald Trump developed a bit of a reputation early in his 2016 presidential campaign.
To put it simply, Trump lies.
He lies a lot.
---
The President lies about crowd size, his accomplishments, his opponents, what people say to him—many people are saying—and who will pay for his border wall.
He lies so often that several news and watchdog organizations decided at the beginning of his presidency to track his lies, misstatements and exaggerations. By August 2019, the total count was 12,000.
Some of the lies are simply exaggeration like his constant claims to have the "biggest ever" whatever. Others?
Well, those are whoppers that are so absurd that Trump creates fictional characters for his story to give the obvious lie legitimacy.
Many people are saying...
A veteran/firefighter/police officer said to me...
One of his latest whoppers required creating a "top general, maybe the top of them all."
The lie? Prior to Trump taking office, the military had no ammunition.
Watch Trump make the claim here:
President Trump: "When I took over our military, we didn't have ammunition. I was told by a top general, maybe the… https://t.co/jOubfH9vNz

— Breaking911 (@Breaking911)1570482586.0
@atrupar Does anyone actually believe him when he says this? It's hard to imagine

— Frida Ghitis (@Frida Ghitis)1570483241.0
Not that some people don't believe everything Trump says, no matter how outrageous.

Somewhere in Real America, someone believes this really happened https://t.co/pC7rfm2Q37

— Tom Nichols (@Tom Nichols)1570496544.0
Others who remembered President Bush's invasion of Iraq and President Obama eliminating Osama bin Laden weren't so easily fooled.
@Mikel_Jollett @atrupar It doesn't make any SENSE

— Caryn Rose (@Caryn Rose)1570507079.0
@BeaglesResist @atrupar The Fox news-, Breitbart-viewing hermits who make up his cult?

— The Cramps Staysik (@The Cramps Staysik)1570544291.0
@BeaglesResist @atrupar Most of them

— Stephen Kliewer (@Stephen Kliewer)1570563527.0
@_barretme @atrupar Never before seen footage of our military before trump https://t.co/eXqeTKw3VK

— paynbillz (@paynbillz)1570482951.0
Some pointed out ways to spot the lies.
Like this one wasn't easy to suss out?
@JohnMTalmadgeMD @atrupar saying "Sir" is also a way of compensating for feelings of inferiority.

— Julia Robb (@Julia Robb)1570496622.0
@atrupar A Sir Story with generals!

— Charles P. Pierce (@Charles P. Pierce)1570482239.0
@Falconjo @CharlesPPierce @atrupar 'They were big generals, with all the medals I would have won if only I didn't have bone spurs.'

— Julian Shea (@Julian Shea)1570485134.0
But some pointed to the pathological nature of the constant lying.
@atrupar He is incapable of not lying, it's pathological and he's damaging the whole world. 🤥

— Ethan Bearman (@Ethan Bearman)1570486446.0
How would you react if an unhinged crank at the end of the bar you were at claimed that the US military didn't have… https://t.co/0PqtqpQabQ

— Brian Klaas (@Brian Klaas)1570481631.0
Although maybe...

@JMoLawre @RadioFreeTom Perhaps a top general did in fact tell Trump the United States had no ammunition, but did s… https://t.co/7xGxfUr62j

— Gayton Gomez (@Gayton Gomez)1570498600.0
@atrupar Maybe a top general DID tell Trump we were out of ammunition... "Sir, we can't go to war with Canada, we'… https://t.co/YYc6Ymg48S

— Polly Sigh (@Polly Sigh)1570486582.0
Either way, the Trump claim was quickly and easily debunked.
Donald Trump's claim that the military ran out of ammunition is "not true," House Armed Services Committee member s… https://t.co/Zh5pkBaoLU

— Newsweek (@Newsweek)1570528806.0
In the words of Canada's top newspaper The Toronto Star:
"Historians say there has never been such a constant liar in the Oval Office.... And we think the sheer frequency of Trump's inaccuracy is a central story of his presidency."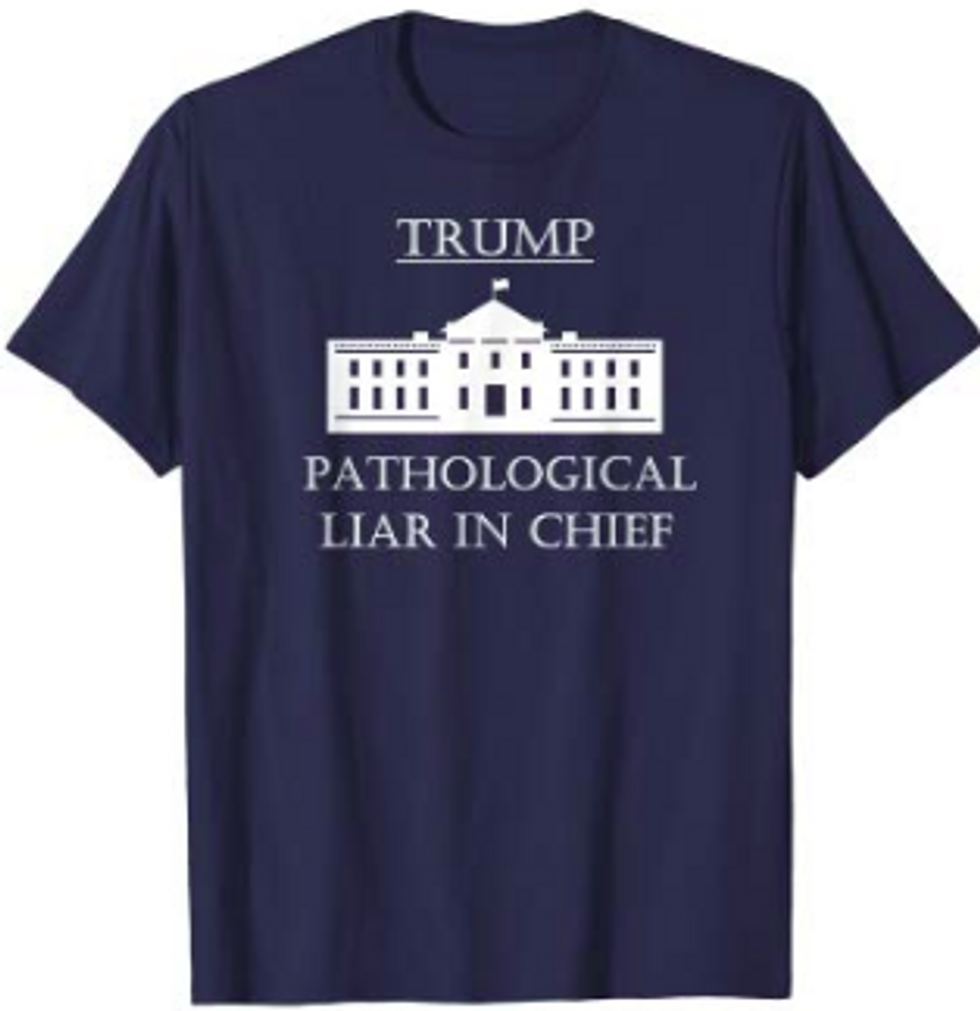 ******
Have you listened to the first season of George Takei's podcast, 'Oh Myyy Pod!'?
In season one we explored the racially charged videos that have taken the internet by storm.
We're hard at work on season two so be sure to subscribe here so you don't miss it when it goes live.
Here's one of our favorite episodes from season one. Enjoy!