Folks, we need to talk about Joe. Seems he's had a bit too many venti sips of the P.S.L. if you know what I mean. October rolls around and suddenly everything on the shelves is derivative of the slightly sweet, slightly nutty orange squash. But for many p-flavored enthusiasts, it might be time for a pumpkin intervention...
Pumpkin season is upon us at Trader Joe's as they roll out their pumpkin-flavored fall lineup - a tradition for years now. In the past they've sold pumpkin tortilla chips and mini pies, so really there is no limited to what they'll cook up and put on the shelves for pumpkin-mad customers. But perhaps... they may have gone a bit too far this year.
---
Take a look.
It all starts off innocent enough. Joe Buettner of Norman, Oklahoma share's his girlfriend's glee upon discovering that pumpkin season had arrived at their local TJ's: "Happiness is the first day of October and my girlfriend walking around the freezer aisle to discover the pumpkin section at Trader Joe's."
Happiness is the first day of October and my girlfriend walking around the freezer aisle to discover the pumpkin se… https://t.co/7B71xu4wH3

— Joe Buettner (@Joe Buettner)1506871435.0
A cart stroll around TJ's store reveals everything pumpkin - pumpkin spice coffee, pumpkin almond milk, pumpkin waffle and pancake mixes, pumpkin ravioli, pumpkin bagels, pumpkin yogurt, pumpkin... wait, PUMPKIN BODY BUTTER?
me: cool its fall trader joes: https://t.co/eDLyi9moAl

— 🐢 (@🐢)1508938528.0
Just when you though it was safe to venture out into the autumn evening air, TJ's creeps up beside you and hits you with orange craziness. Suddenly, shoppers get carried away. They are unable to control themselves, caught up in the seductive thrall of Charlie Brown's great pumpkin.
*enters Trader Joes* "Just grabbing a kombucha" *Grabs pumpkin spice coffee, pumpkin spice lotion, pumpkin spice embalming fluid, a pumpkin*

— Kay Zilch (@Kay Zilch)1508210255.0
This is why I shouldn't be allowed alone in Trader Joe's... #pumpkin #TraderJoes https://t.co/EiqPOh7qn6

— Erin Lagan (@Erin Lagan)1508076984.0
Got a little pumpkin crazy at Trader Joe's 🤷🏼‍♀️ https://t.co/sIevr3YELx

— G (@G)1508039752.0
As the pumpkin-addicted masses rush the aisles of Trader Joe's stores across the country like teenage girls at a One Direction concert, great demand leads to a sudden lack of supply. Favorites quickly become sold out. That is when withdrawal and disappointment bring out the ALL CAPS in people.
TRADER JOE'S IS OUT OF PUMPKIN SPICE GRANOLA BARK. I WANT TO TALK TO JOE. NOW. https://t.co/D2OYbjDdqO

— Marcy Jones Fox 10 (@Marcy Jones Fox 10)1507665267.0
While others point out that perhaps Trader Joe's has created maybe a dozen too many pumpkin-themed products, and that they need to tone it down.
Devastated to learn Trader Joes doesn't sell pumpkin-spiced enemas.

— Ryan McKee (@Ryan McKee)1508638489.0
How is it that Trader Joe's can have 50 billion products flavored like pumpkin and not a single goddamn bottle of honey mustard dressing

— Laura Hudson (@Laura Hudson)1508724577.0
Trader Joe's needs a pumpkin intervention https://t.co/aMaN904kYY https://t.co/DizI07K1r3

— James Cunningham (@James Cunningham)1509116452.0
For recovering pumpkin-olics, survivors of the annual pumpkin craze, they just want TJ's and the rest of world to stop with the obsession and chill.
Trader Joe's: "We have all things pumpkin! Pumpkin ice cream, pumpkin ravioli, even pumpkins!" First of all, stop.

— Jason Hays (@Jason Hays)1509055337.0
P.S. My favorite are the Pumpkin Ginger Mini Ice Cream Cones.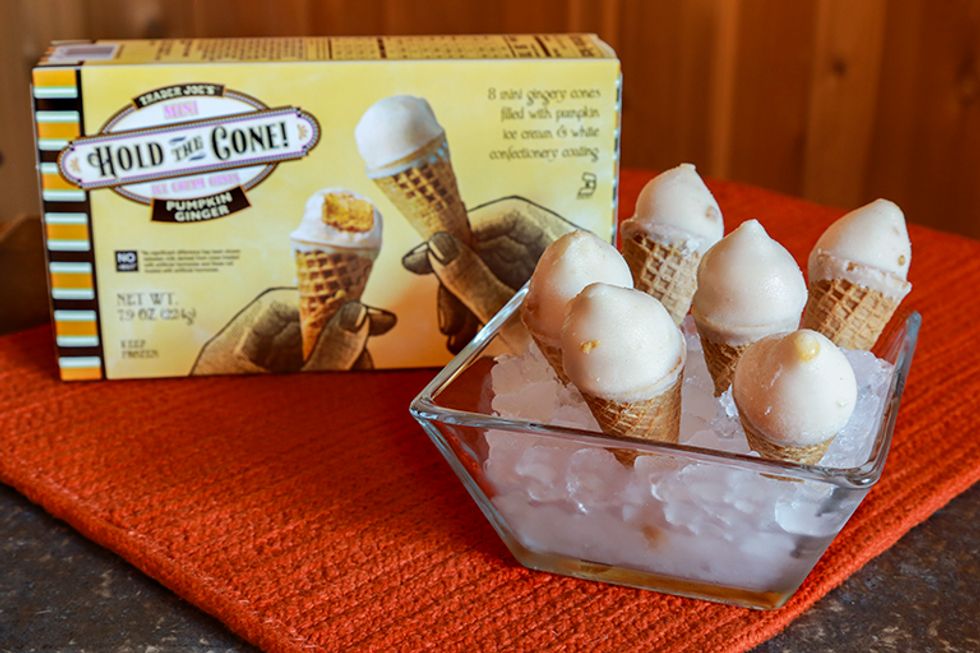 Please SHARE this with your friends and family.