A North Carolina man whose wife is receiving treatment for stage-4 cancer made a TikTok video criticizing those who claimed to believe the pandemic was fake or who don't trust the vaccine, going to the hospital for treatment when they catch the virus.
Jason Arena who runs the account @speakthetruth101 didn't mince words in his video telling vaccine deniers to stay home.
The video has since gone viral, with many on different sides weighing in.
@speakthetruth101

#TeamofTomorrow #covid #vaccine #antivaccine #hypocrisy #foryou #bullshit
Arena's wife is battling stage-4 cancer. They've taken what precautions they can, and everyone eligible for the vaccine has taken it.
His wife was taken to the hospital for some treatments of her disease. Despite the doctor recommending her blood pressure be lowered and ordered a scan, they were discharged from the hospital before that could happen.
What might cause a hospital to rush or skip treatment on a cancer patient?
In the video, Arena shares a troubling statistic.
"Here is my question: Ninety-nine percent of everyone that's in the hospital for [the virus] right now is unvaccinated."
This likely comes from recent data showing that less than 1% of breakthrough cases of the disease comes from people who have been vaccinated in Arena's state. This is particular to serious breakthrough infections, as less serious cases would likely not seek hospitalization.
Arena continued with a curse-laden ultimatum for anti-vaxxers.
"If you really f***ing believe that [the virus] is not real, and you really believe that's not a big deal, and you really believe that you don't need to get the vaccine, that's your f***ing right. I'm not gonna argue with you about that."
"What I am going to argue with you about is you running to the hospital once you get the virus. If you don't trust the medical field to prevent you from getting it, why do you trust them to cure you from it?"
Arena blames the unvaccinated for taking up room in the hospital and forcing out people like his wife.
His idea that people who willingly don't get the vaccine shouldn't seek treatment when they catch the disease.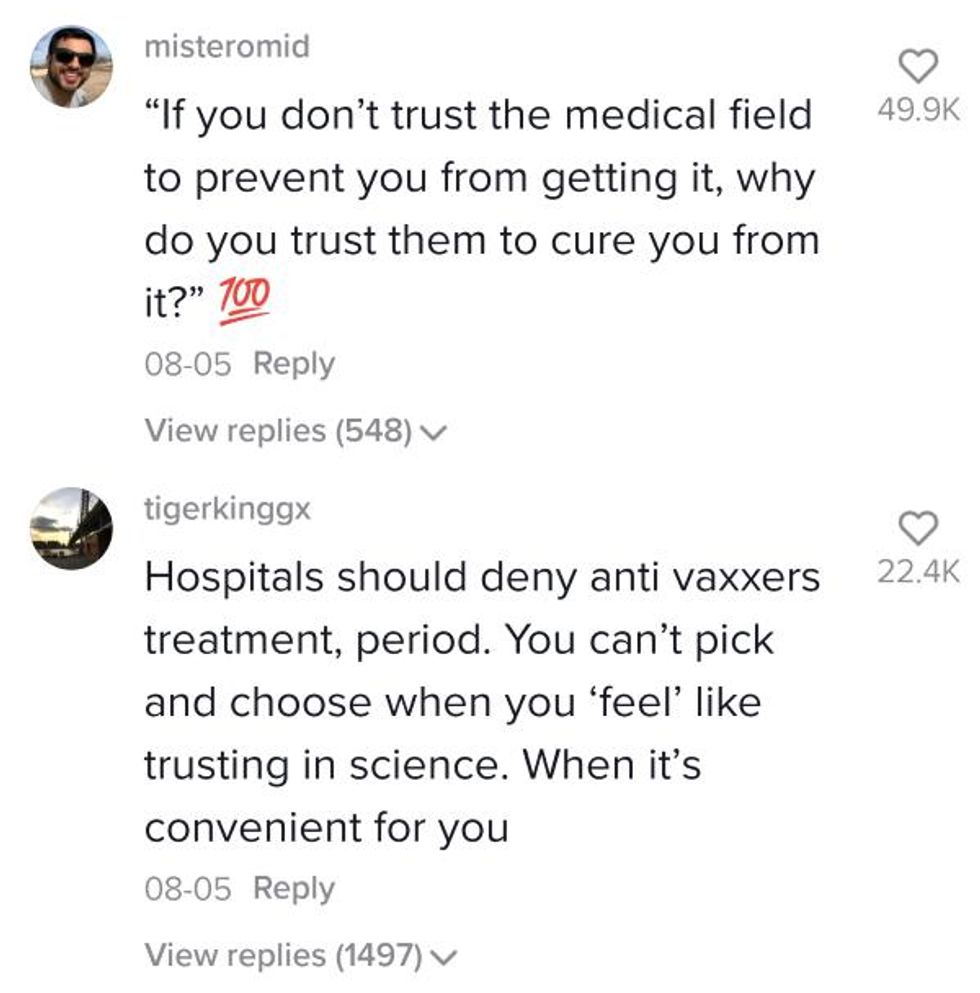 @speakthetruth101 / TikTok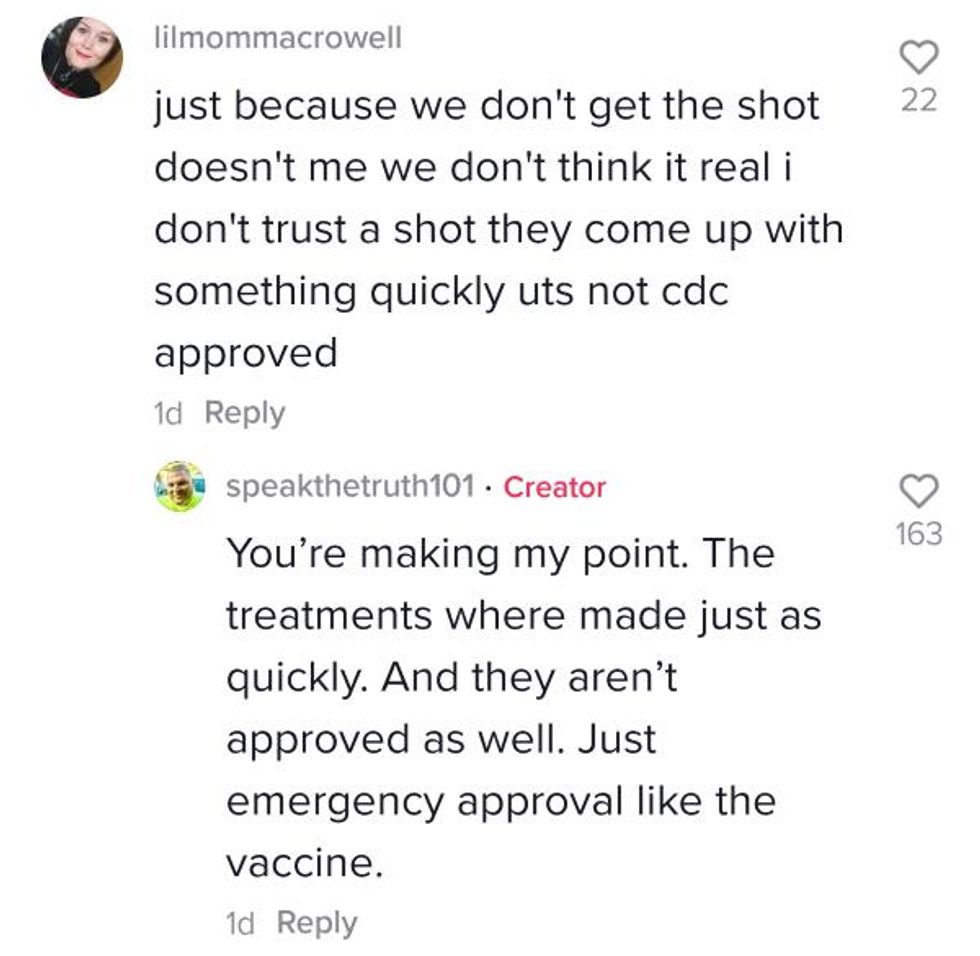 @speakthetruth101 / TikTok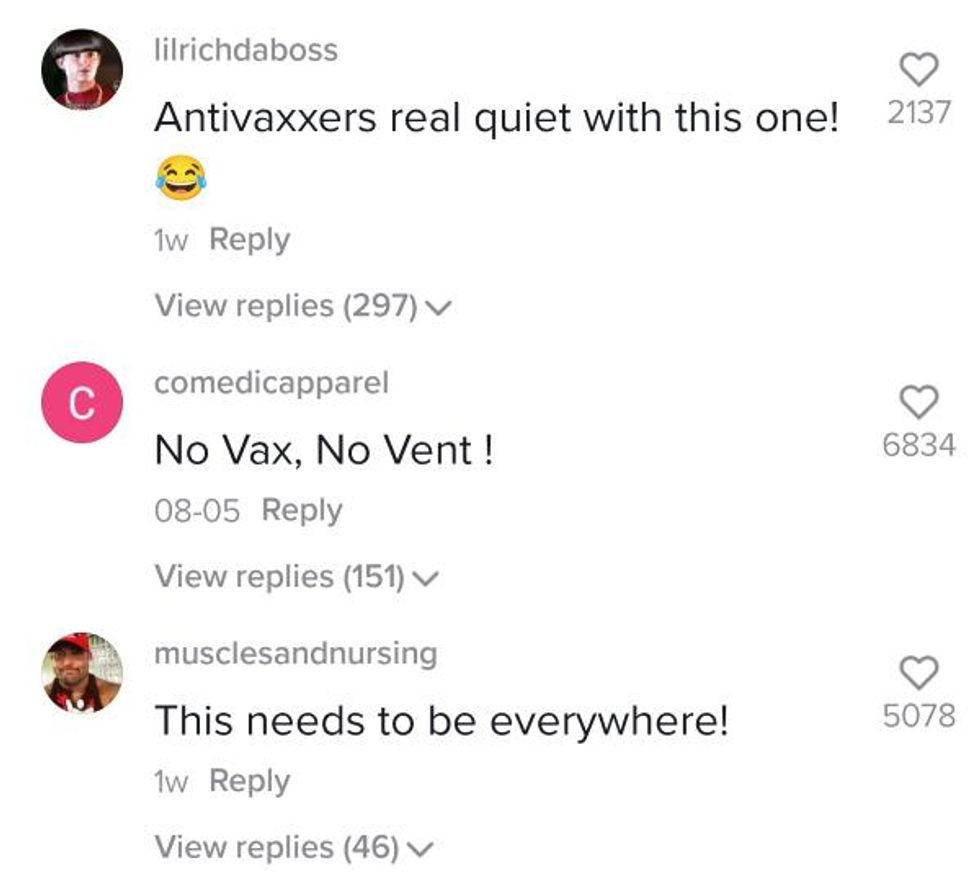 @speakthetruth101 / TikTok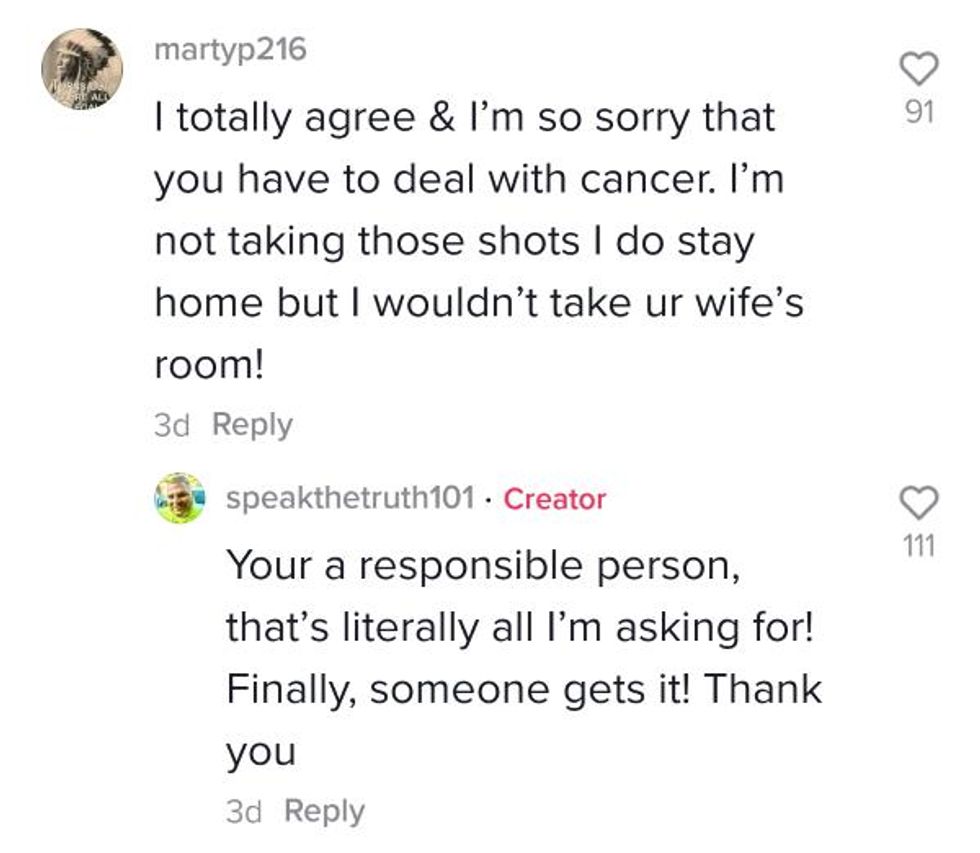 @speakthetruth101 / TikTok
Not everyone was onboard; some tried to defend their choice or argue that it's no different from other types of incidents that might lead to hospitalization.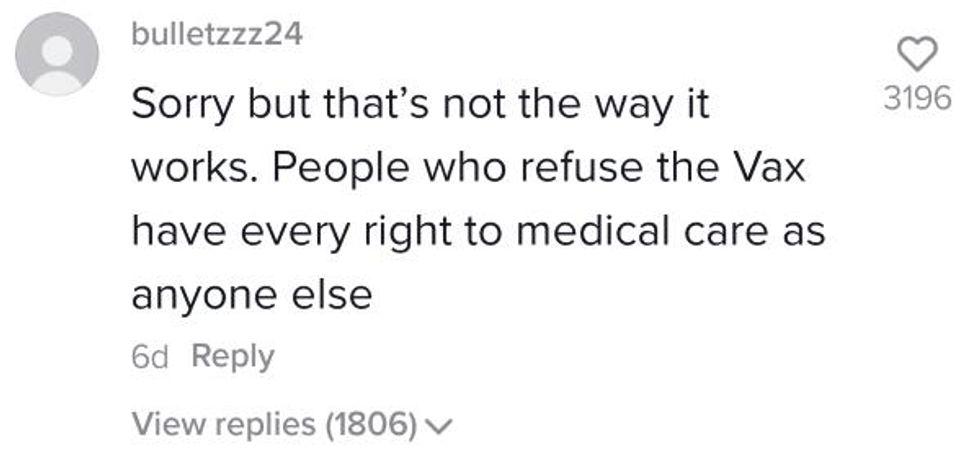 @speakthetruth101 / TikTok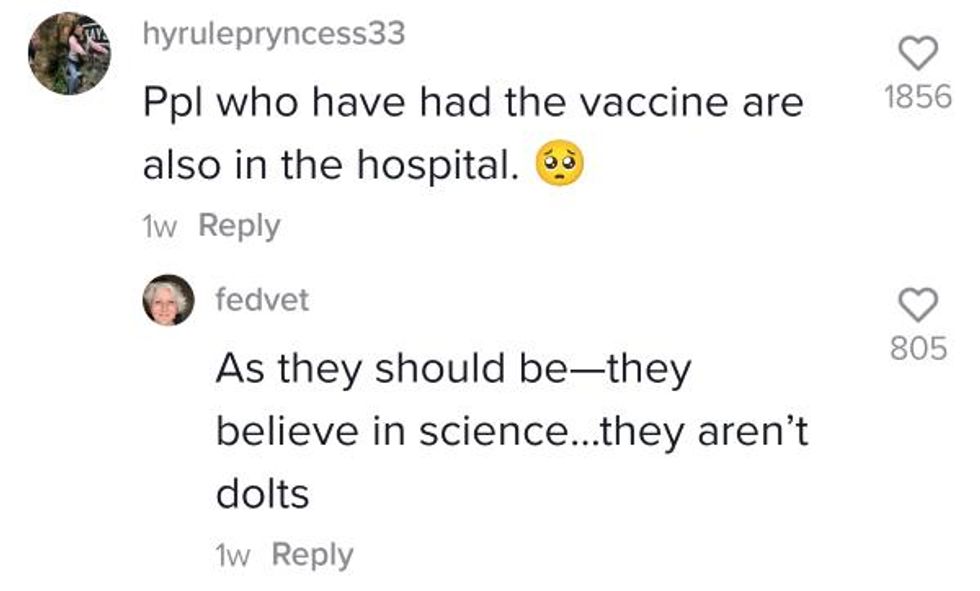 @speakthetruth101 / TikTok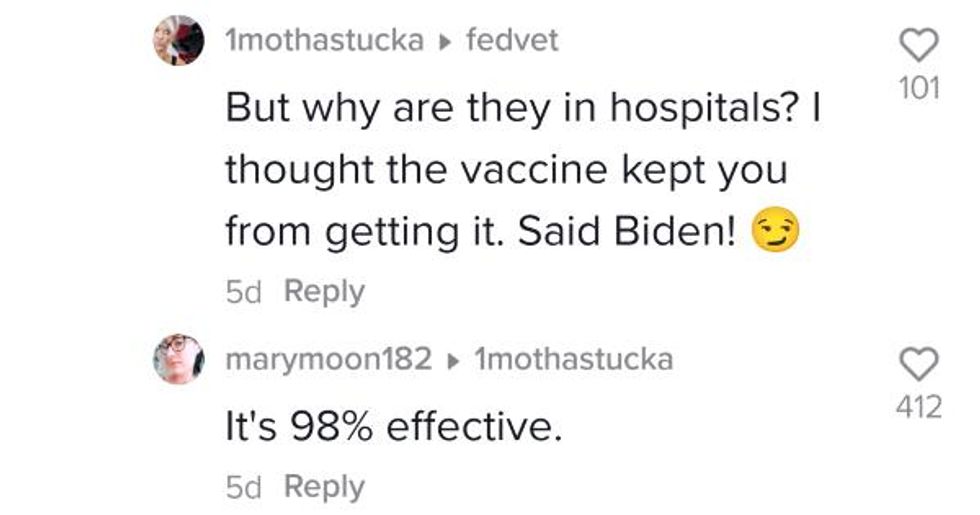 @speakthetruth101 / TikTok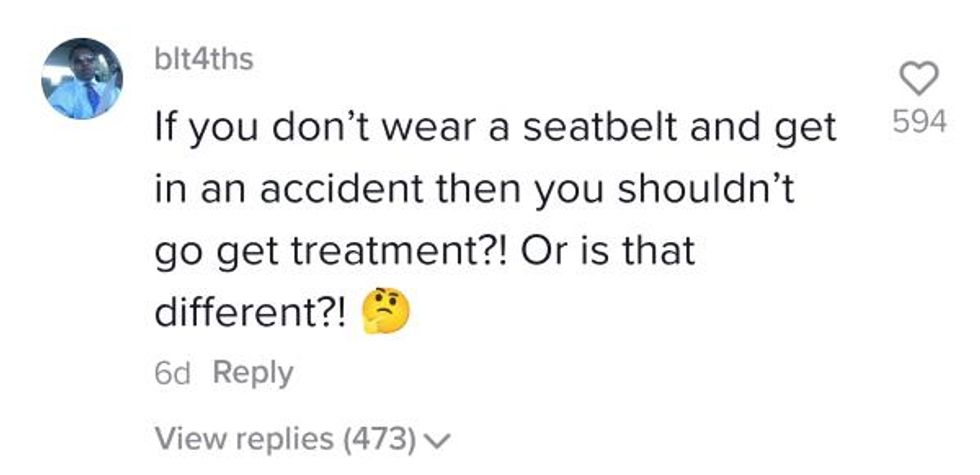 @speakthetruth101 / TikTok
Those with medical experience weighed in, both professionals and patients who have to regularly deal with hospitals.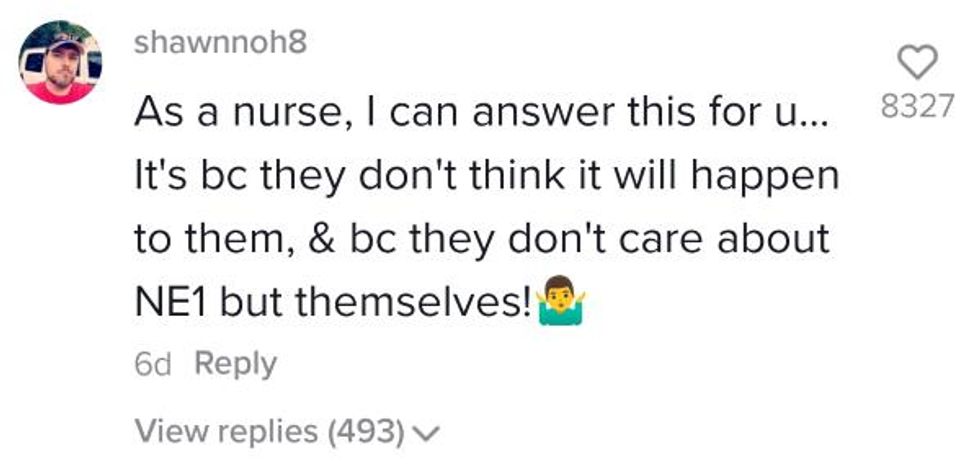 @speakthetruth101 / TikTok

@speakthetruth101 / TikTok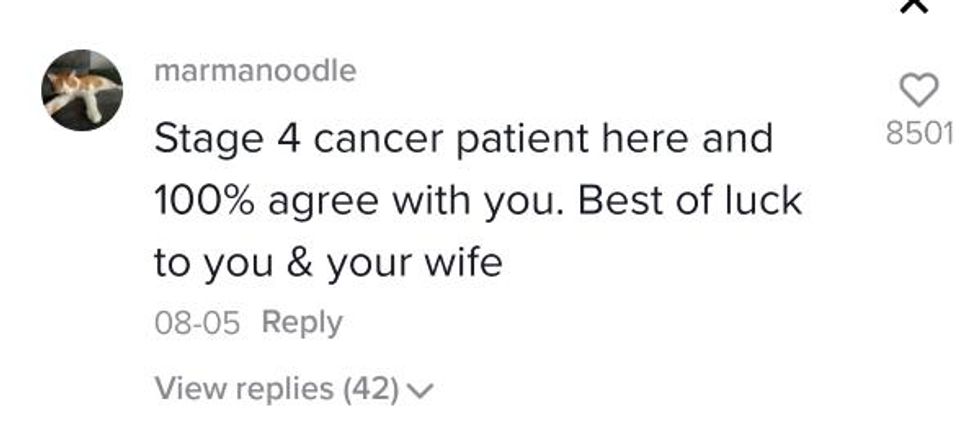 @speakthetruth101 / TikTok
The debate has been ongoing across the internet.
This goes beyond just antivaxxers seeking hospital treatment when they get sick. They also might go for it when they poison themselves with an alternative "cure."
Recently, there was a massive increase in sales of a drug called ivermectin with some believing it could treat the disease. However, the drug is usually sold in doses for horses to fight off parasites, not for humans, making more work for poison control centers.