A father-of-three whose finger was "ripped clean off" when his wedding ring caught on the top of a fence he was climbing over told how the accident was so incredible his wife thought it was an April Fool's joke.
Warning: The content below is extremely graphic.
---
Richard Jones, 33, was scaling the 7ft-high wire mesh surrounding a scrapyard near his home in Banbury, Oxfordshire, on 1 April 2019, when his titanium wedding band snagged on a spike as he dropped down the other side, leaving the ring and the "sleeve" of his finger impaled behind him.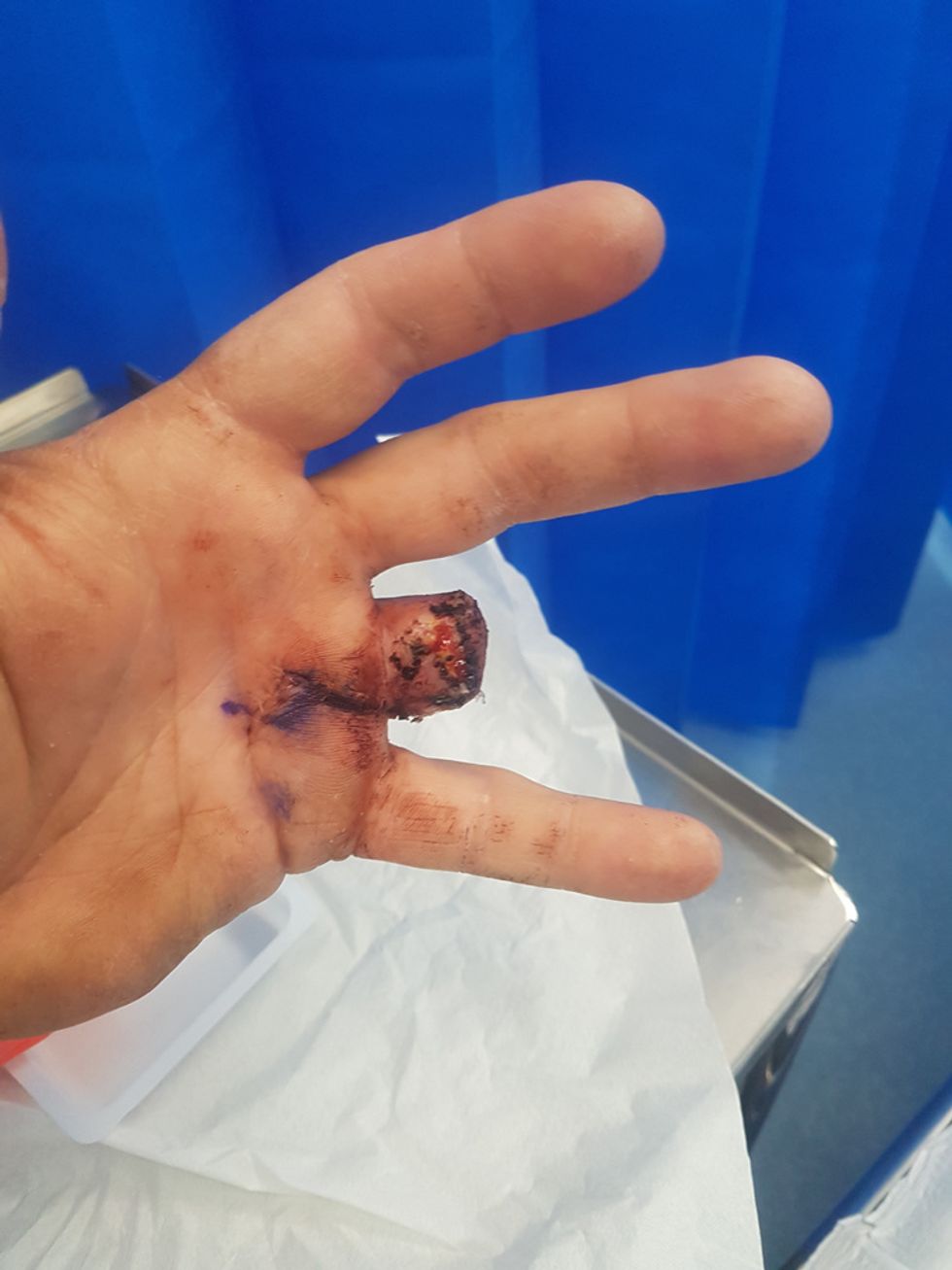 PA Real Life/Collect
Recalling the horrific incident, warehouse worker Richard, who was rushed to the local hospital before being immediately transferred to the specialist hand unit at Oxford's John Radcliffe Hospital, said: "I didn't feel anything at all as I jumped down onto the other side, just a small scratch. "

He continued: "Then I looked down at my wedding finger on my left hand and all I saw was white bone.

"When I looked up at the top of the fence, I saw my ring and the skin from my finger left behind, perfectly intact."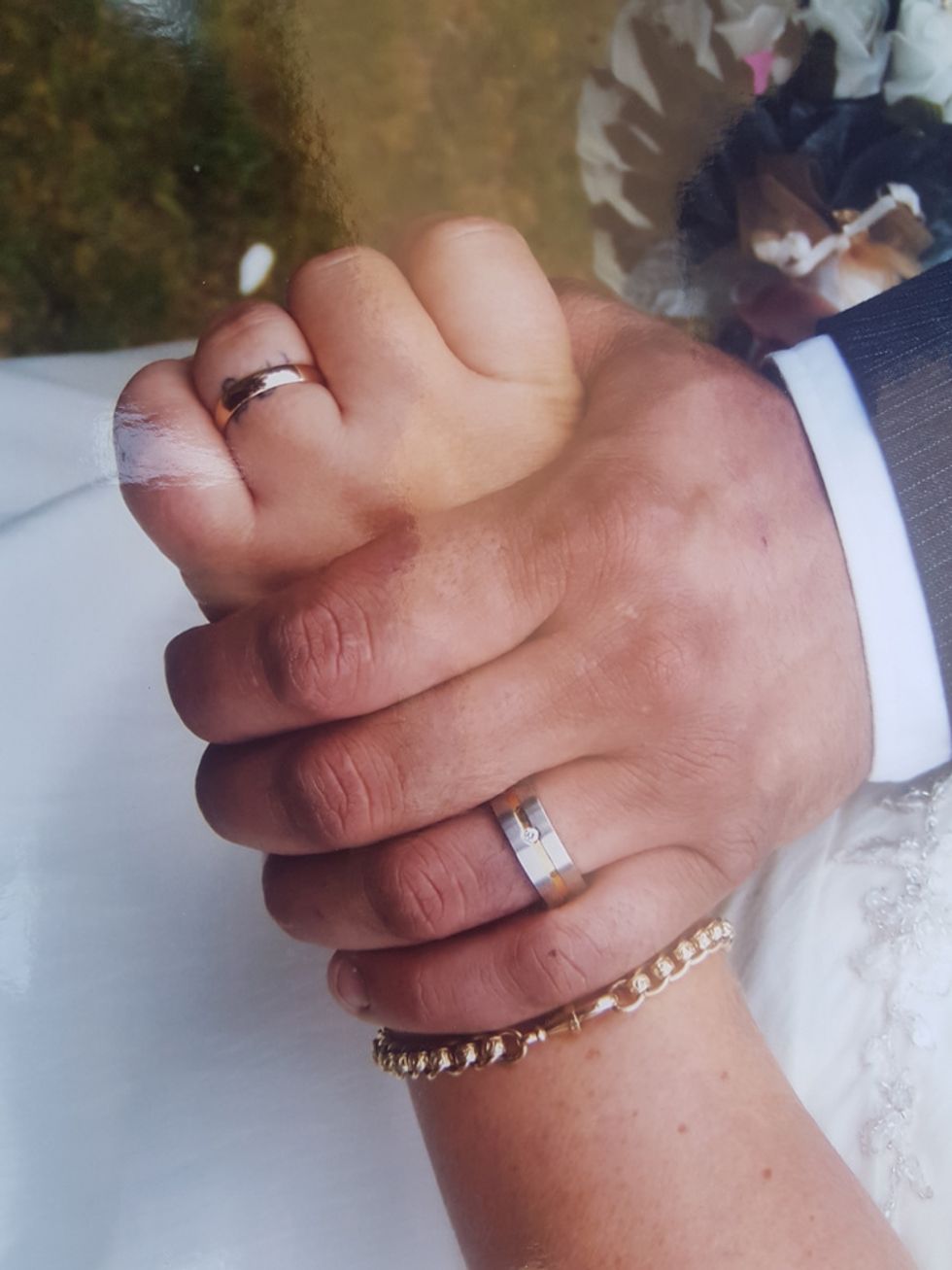 PA Real Life/Collect
Richard, whose wife, Mary, 33, is a stay-at-home mum to their three boys, Tommy, 11, Rylee, nine, and Billy, seven, had suffered a serious case of ring avulsion – the medical description for what happens when a sudden pull on a ring results in the wearer sustaining severe soft tissue injury.
And while surgeons battled for six-and-a-half hours to reattach muscle and skin onto the bone, his finger could not be saved and they were forced to amputate it.

Now recovering, Richard, who says he is concerned by how losing the finger will affect his ability to work when he returns at the end of May, says the amputation has drastically changed his day-to-day life.

"I know it's only a finger, but it has made such a difference," he said.

He continued: "Holding small objects is really difficult. For example I've recently been trying to mend a gate and keeping hold of the screws has been a nightmare.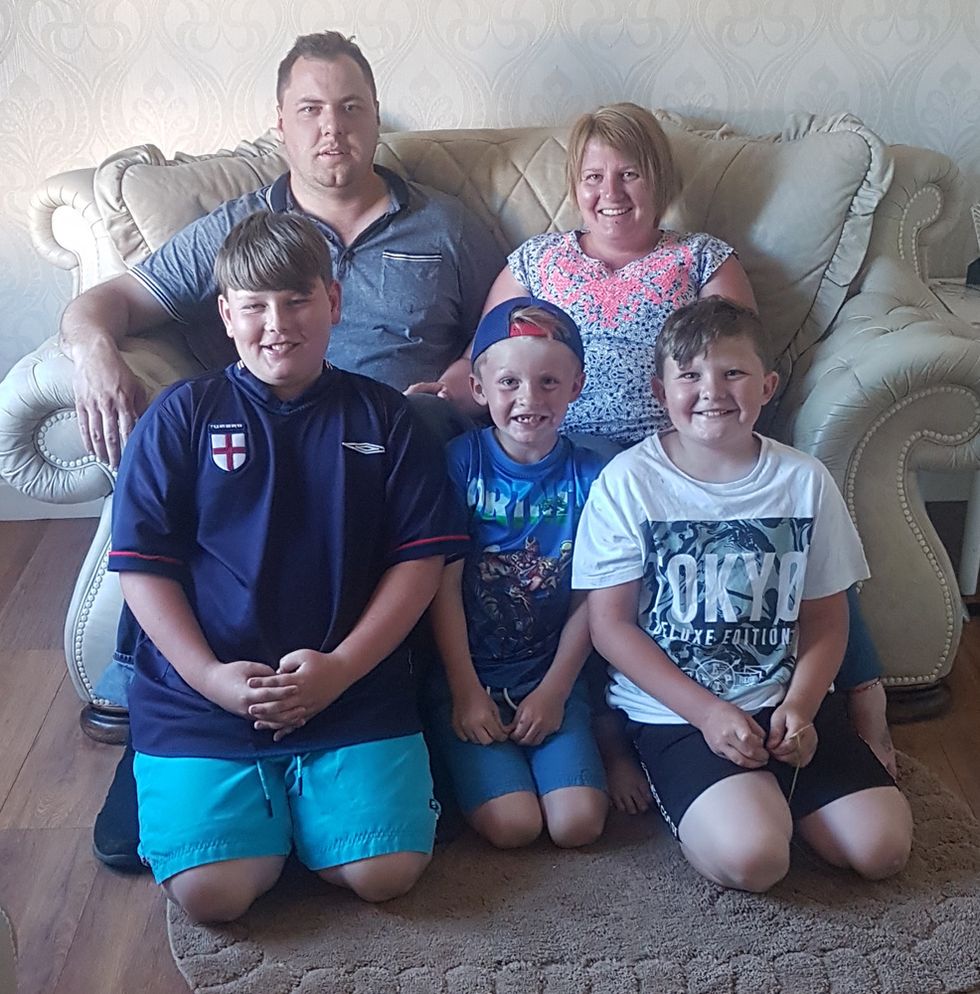 PA Real Life/Collect
"For a long time after the accident, my boys wouldn't come near me because they were so upset by the look of my hand.

"I never in a million years thought that something like this could happen and it sounded so far fetched that when I called Mary from the hospital, she didn't believe me and thought it was an April Fool's joke."

Richard added: "Sadly, though, this is no joke. It's changed our lives forever. "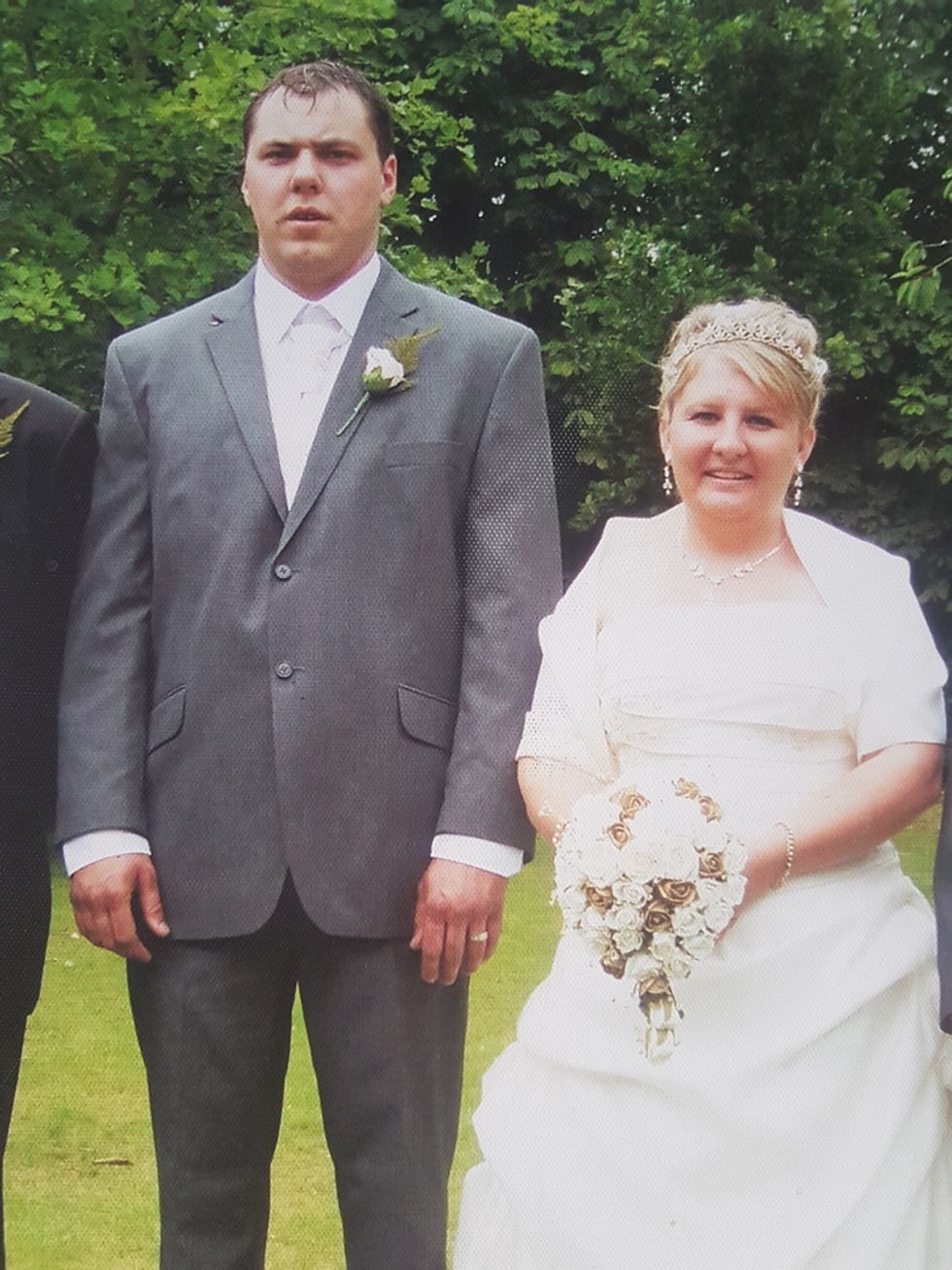 PA Real Life/Collect
Richard's nightmare ordeal all started after realizing that the suspension in his Volkswagen Golf was broken.

Calling into work first thing on Monday April 1, he told his bosses he would be coming in late, before going to the local scrapyard with his father-in-law Joe Smith, 51, a scrap collector, to look for an old shock absorber that he could fit himself.

But, arriving at the site at 9.20am, the gate was locked.

Richard recalled: "I've tinkered around with cars in the past, so I have a bit of mechanical knowledge and thought I'd save a few quid by getting the part I needed from the scrapyard.

"But when we got there it wasn't open, so we had to wait while the man who worked there went to find the key and open the gate."

He continued: "Being in a rush to get to work myself, I thought I might as well just jump over the fence, as it'd take me no time at all."

After scouting out a spot on the perimeter's 7ft fence to climb up, first standing on a small box, he managed to hoist himself over, before jumping down.

But Richard did not realize he had unwittingly caught his titanium wedding band – worn since 2011 when he and Mary tied the knot – on a thin metal spike at the top of the fence.

Surprisingly, dropping down to the ground, he just felt a slight niggle in his left ring finger, but looked down to see bare, exposed bone.
Richard continued: "Once I had looked at it once I didn't want to look again, as I was worried I might faint if I did even though there wasn't much blood, just two splotches on my shoes.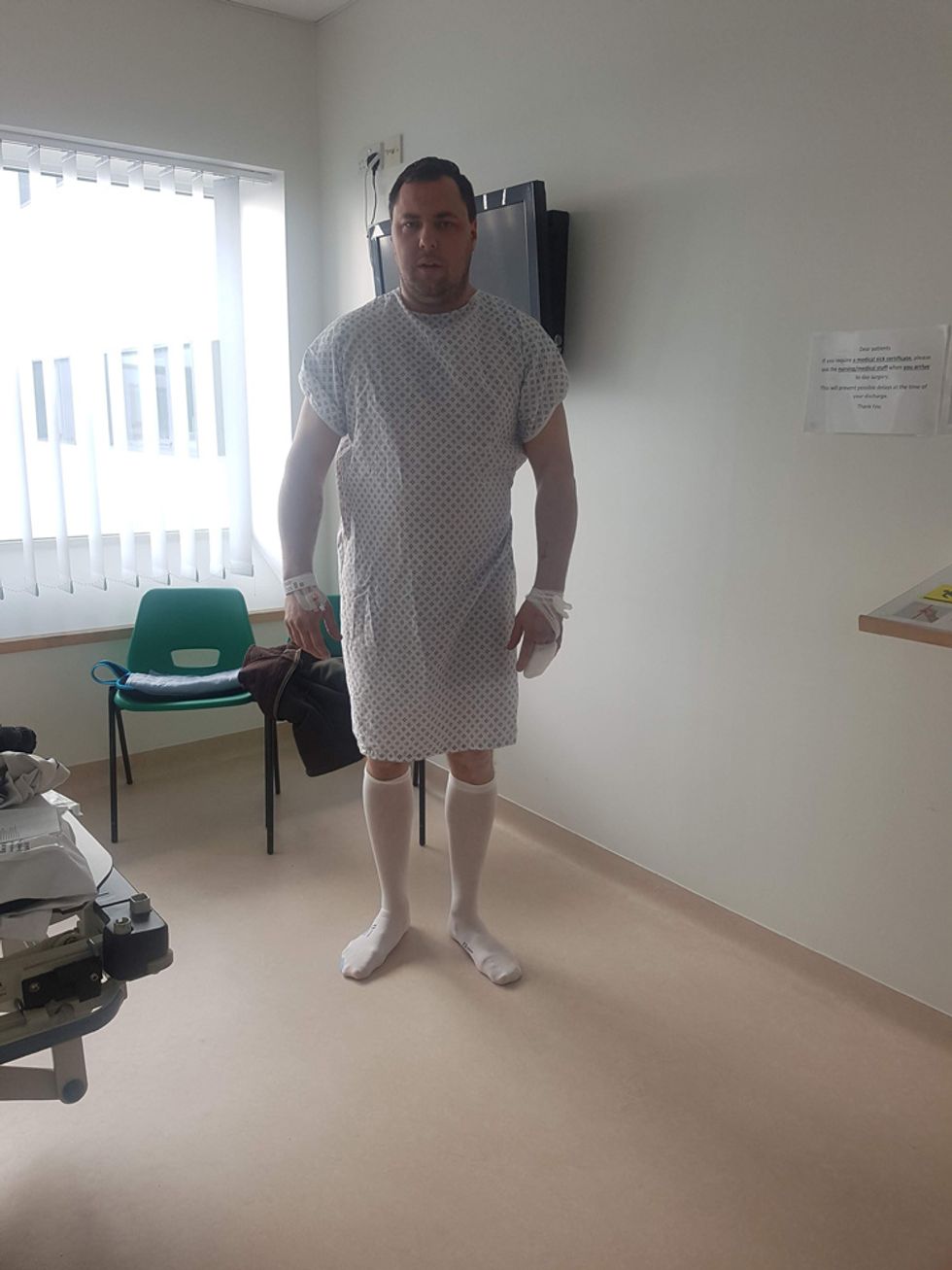 PA Real Life/Collect
"The rest of my finger had been ripped clean off, but I jumped up to take it down, along with my ring, and slid it back onto the bone like a sleeve."

Once back on the road side of the fence, Joe drove Richard to Horton General Hospital in Banbury, Oxon., where he was examined straight away and immediately transferred to the John Radcliffe Hospital, where, once she realised he was telling the truth, Mary joined him.

When she arrived 15 minutes later, Richard was in such a sorry state, she burst into tears.

Surgeons operated that evening, but when his finger remained unresponsive the next day, medics broke the difficult news that it had to be amputated.

"I cried when they told me that," said Richard. "I thought, 'How will I cope from now on when my hands are so important not just for my work but for living too?'

"I just wish I hadn't been in such a hurry – none of this would have happened otherwise."

Following the amputation on 3 April, Richard was allowed to return home with Mary, who had slept at his hospital bedside for the three nights while he was an inpatient, leaving their children with Joe and his wife Mary.

Struggling with menial tasks like writing and holding small objects, he also suffered from phantom pains in his absent digit.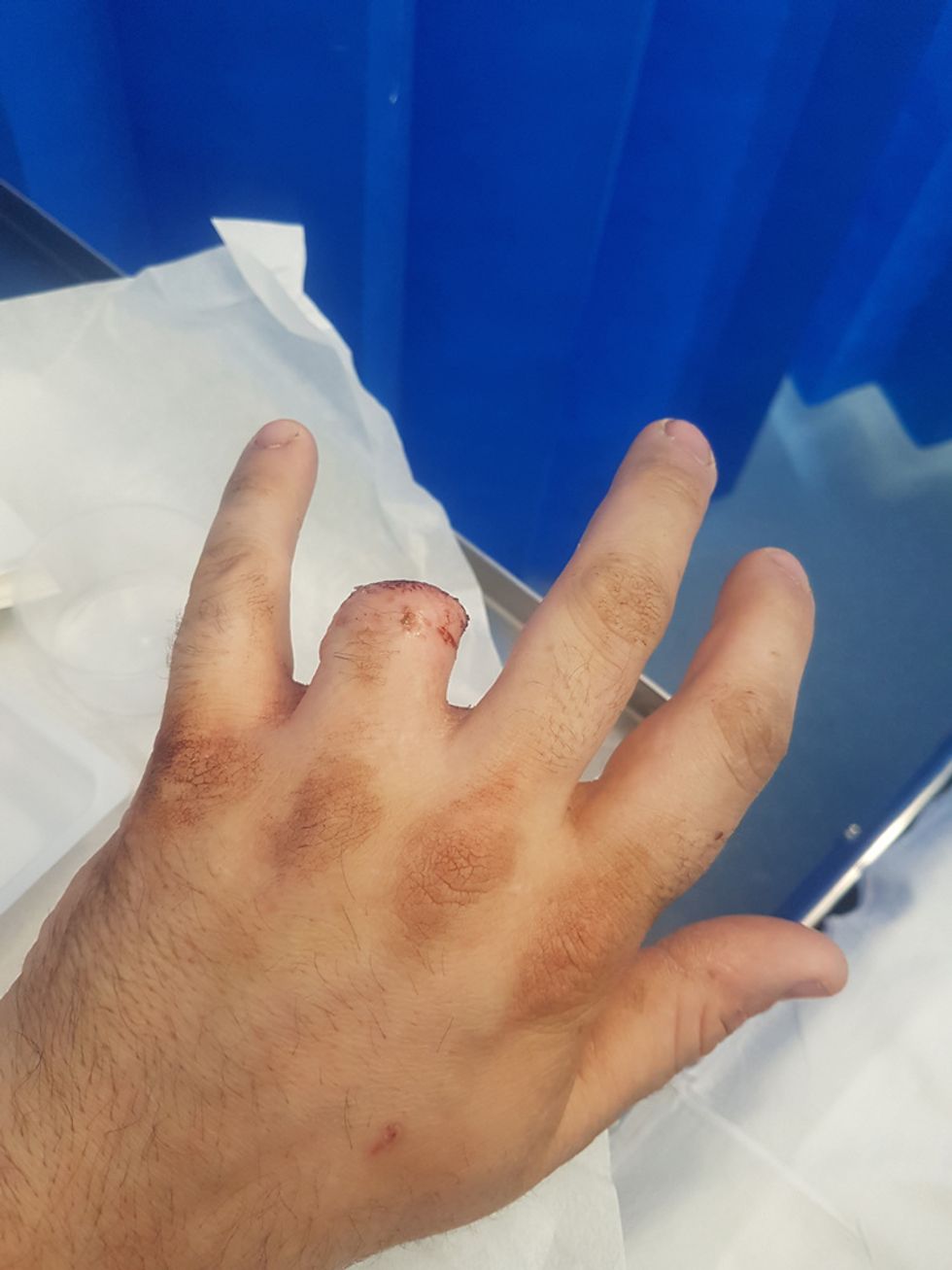 He said: "I sometimes have the feeling of having cut my nails too short, when it can be a bit painful, and go to rub the end of my finger and find that it's not there."
But most upsetting of all was the fact that his three sons, particularly the youngest, Billy, felt uncomfortable coming close to their father and avoided his touch.

Richard, who has been prescribed ongoing physiotherapy exercises, said: "That was really hard. Even Mary, who has been such a strong support for me and such a great comfort, can be a little unnerved by my missing finger and will shy away sometimes if I touch her with that hand."

No longer wearing his wedding ring, for fear of the same thing happening again, Richard's band now hangs on a chain around his neck.

Worried about how his amputation will impact on his work, he is now keen to warn other people against taking risks by doing things on the spur of the moment.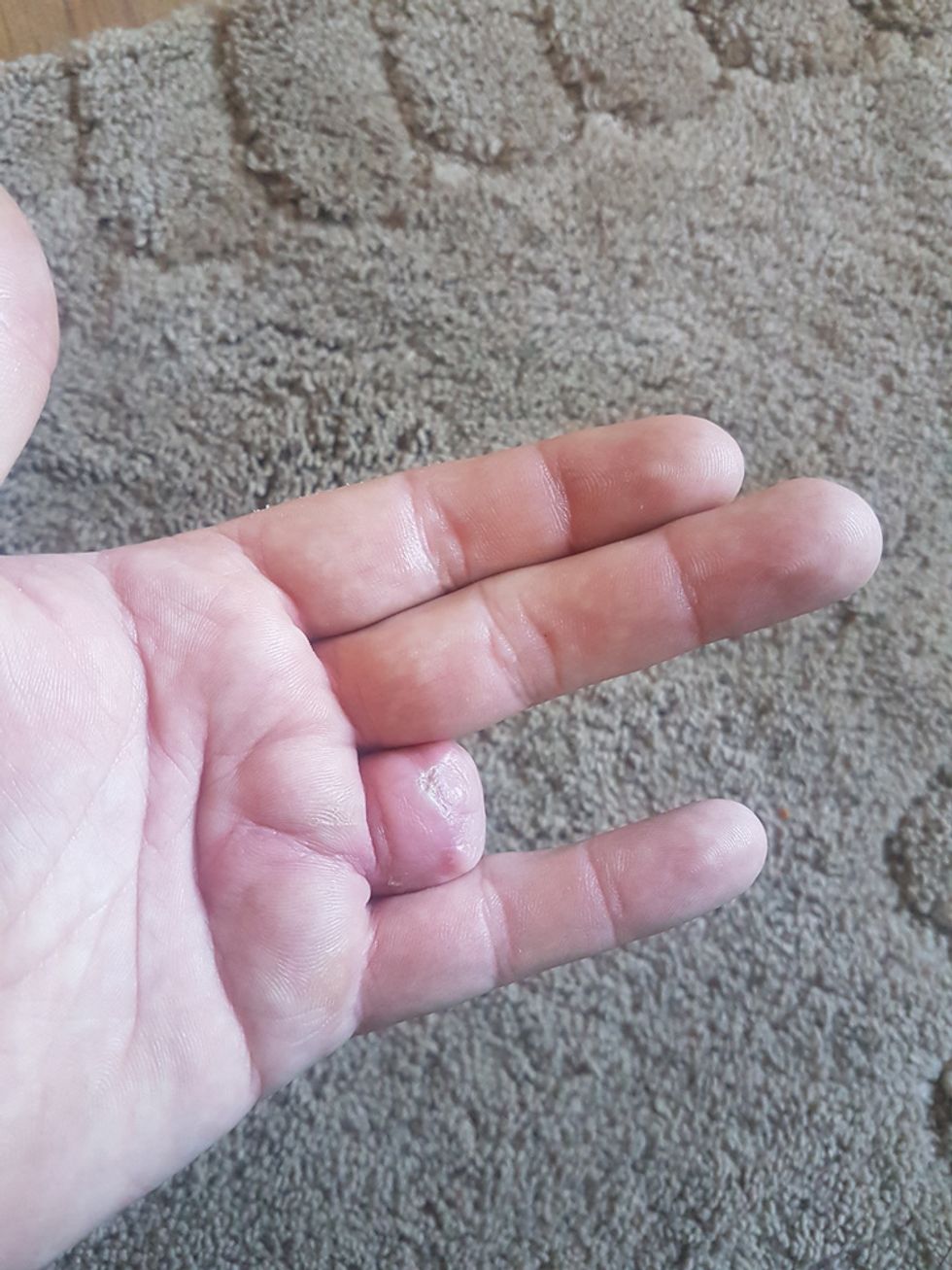 "When I jumped over that wall, it never even entered my mind that something like this was possible," he said.

"I want to warn people against putting their hands at risk."

Mary, who met Richard in 2006 when they lived on the same street, is still recovering from the shock of what has happened.
She said : "When I arrived at the hospital and saw how bad it was I burst into tears.

"I had thought it was all a joke and that he'd be fine, but it was awful and so horrible to see my husband and my best friend so hurt.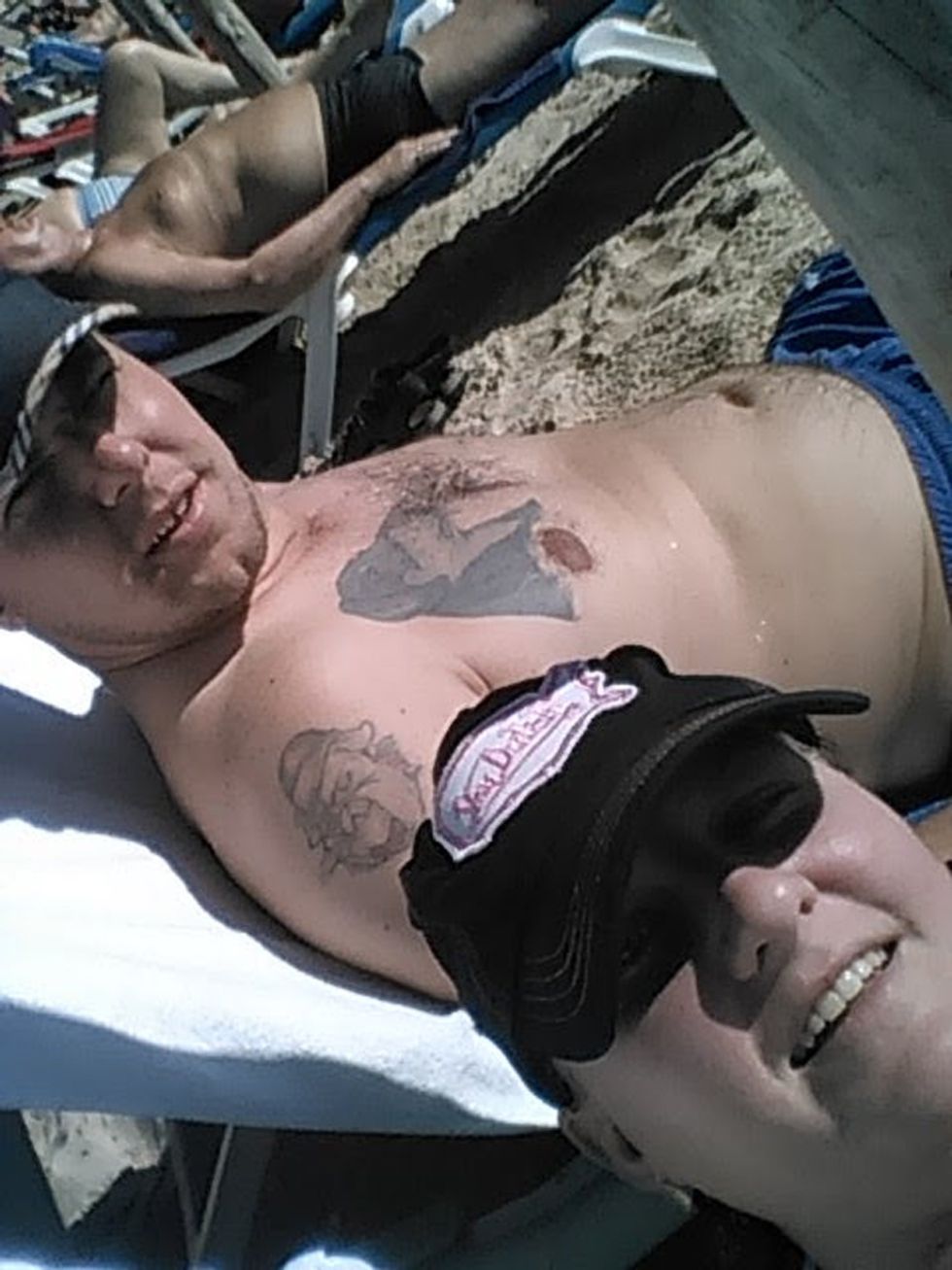 PA Real Life/Collect
"The last few weeks have been hard and Richard hasn't been his normal self at all. It really isn't the sort of thing that you think will happen to you or your family."

Richard's surgeon, Sarah Tucker, a member of the British Society for Surgery of the Hand and hand specialist at Oxford University Hospitals, explained that this is not an unusual injury.

She said: "This type of injury is more common than you might think – and it can be avoided by removing your rings before doing something where your hands are more likely to be caught – for example sports, or DIY tasks.

"You can also buy a ring that isn't fully spherical – like one with a gap in the join, which means it comes off automatically when it becomes caught."

She continued: "Hand injuries like these predominantly affect the young working population and are a major source of disability.
"They can cause significant cost to the individual and society especially through time off work, as Mr Jones has had to take."