Genea Sky is a name you may not know, but if you enjoy viral videos then there's a good chance you've seen one of the worst moments of her life.
---
Genea was dancing at a club in Texas when she worked her way up an exceptionally high pole.
Now, if you've never attempted pole dancing it might be easy to discount just how much strength it takes to hold yourself on one of those things—much less do anything that looks sensual or graceful.
Professional pole dancers end up with some serious muscle tone, but even the strongest muscles will give out from time to time. People slip, falls happen.
It's not easy ...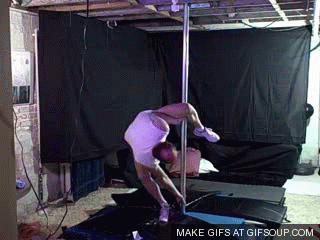 Giphy
Normally, those falls happen from just a few feet off the ground. They're still enough to injure a dancer, but they're nothing like the fall that made Genea Sky internet famous.

She fell nearly two stories.
Onto her face.
And kept dancing!
People initially hailed Genea as a champ (this article calls her "the bounce-back stripper" and 50 Cent even joked about her) for the way she just kept doing her thing.
But it turns out she was seriously injured.
Genea broke her jaw, had a laceration that needed stitches, cracked a few teeth and damaged her ankle.

She's okay, but not okay.
Those of you who are not from the United States may be surprised to learn that many hospitals have a liaison on staff to talk to you and/or your loved ones about possible fundraising methods when major medical bills are incurred. Maybe that's where her friends got the idea to start a GoFundMe to help pay for the surgery Genea would need.

Yes.
Surgery.
It was that serious.
Genea lives on her own and pays all of her bills plus her school's tuition and book costs with the money she earns pole dancing. Most "gentleman's clubs" don't offer medical insurance, so Genea is going to have to take on this added expense on her own.
Unfortunately, opportunistic creeps are who they are and some people have created fake pages and fake fundraisers to try and scam kindhearted people out of money.
Genea addressed the issue on her Instagram.
She can't focus on hunting down the fakes too much right now, though, as she is in recovery from facial surgery. Her jaw was mended and wired shut, so she can't speak much.

Still, she's giving her friends, fans and followers as many updates as she can in whatever way she can.
Doctors don't know when (or if) Genea will be okay to return to work, if there will be any long term damage to her neck or back from the impact, or how her jaw or ankle will heal. All of that means there's a very real chance that Genea may not be able to continue her education right now, may face housing issues, etc.

If you'd like to donate to her GoFundMe, please use the link above, provided by Genea herself.
We wish her a speedy recovery.