Texas Republican Governor Greg Abbott ignited the fury of countless Texans when he appeared to demonstrate a lack of attention and inept leadership during the deadly winter storm that struck the Lone Star state last week.
As the Washington Post reported at the time, Abbott was nowhere to be found the entire first day of the storm, when millions of Texans lost power and sat freezing in the dark, in their own homes.
When he finally did surface, he gave a couple terse interviews blaming the state's legislature, a Fox News appearance where he blamed the Green New Deal for the whole thing.
Later on, during a powerless, freezing week that eventually left nearly 50 Texas residents dead, Abbott even falsely blamed the storm on wind turbines, theTexas Tribune reported.
So it wasn't totally surprising that people on the internet made some very diabolical conclusions when video surfaced that showed Abbott completing a mic check ahead of a recent briefing to address the state's plans to investigate and improve the state's power grid infrastructure, the actual cause of catastrophe throughout the storm.
During the sound check, Abbott was seen practicing deliberate statements and tones of voice.

People couldn't help but feel like they were watching a ruthless leader practicing his impression of sincerity.
But several people on Twitter took a moment to debunk those interpretations of Abbott's sound check.
They drew from experience to talk about what really seemed to be going on in the clip.
Of course, even those skeptical viewers didn't hold back showing their general anger toward Abbott anyway.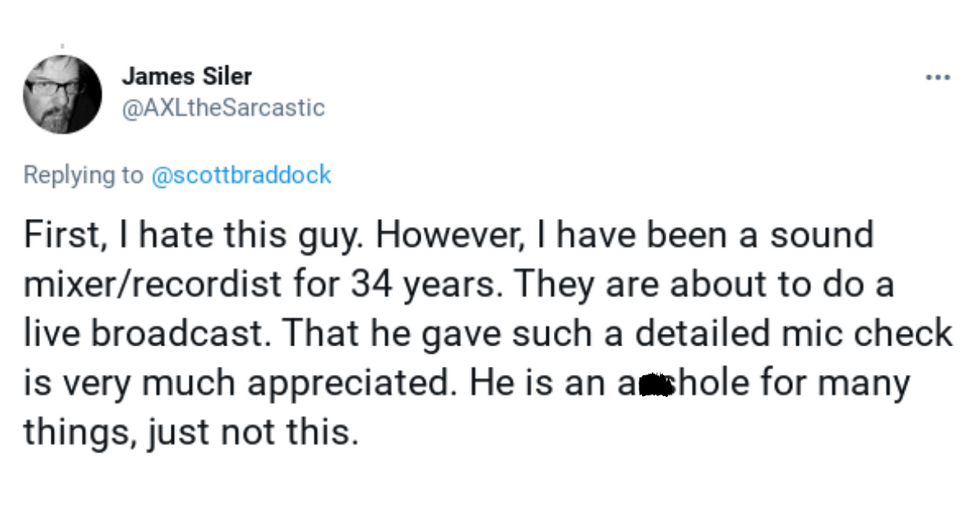 @AXLtheSarcastic/Twitter
As Texas continues forward and tries to rebuild after the historic weather catastrophe, Abbott will undoubtedly find himself behind the microphone plenty of times in the near future.