An anti-LGBTQ+ group called for Texans to join their crusade to ban drag shows in the state.
Defend Our Kids Texas (DOKT), the hate group launched by right-wing commentator Sara Gonzalez in October, called for people in the Lone Star State to:
"join us in the fight to get drag shows for kids shut down for good."
DOKT and other similar hate groups provide forms on their respective websites meant for reporting various locations with activities they are strongly against, including one opposed to critical race theory.
What the group wasn't prepared for was the brilliant trolling by an ally of the LGBTQ+ community who submitted the form filled out with information not pertaining to reporting a drag show.
Instead, the form was filled out with the script from a popular 2007 animated Dreamworks film.
Twitter user @mycheesemonster mocked the campaign to stop drag and suggested:

"You can paste the entire bee movie script into the texas anti-LGBTQ drag show reporting website."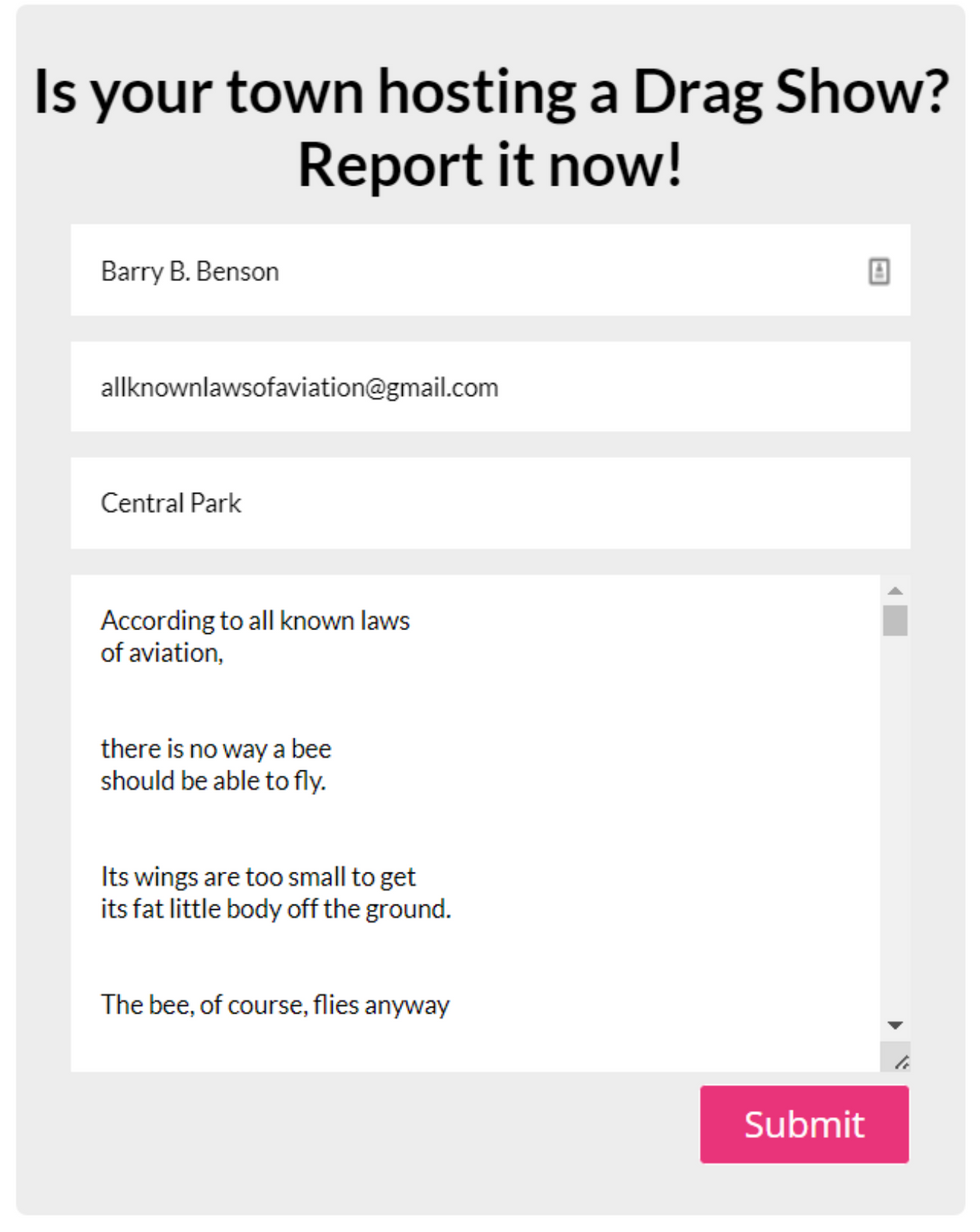 @mycheesemonster/Twitter
Bee money is about a honey bee who tries to sue the human race upon discovering that honey is an exploited commodity for sale and consumption by humans.

It features the voice talents of Jerry Seinfeld, Renée Zellweger, Matthew Broderick, John Goodman, Patrick Warburton, and Chris Rock.
The user added a follow-up slyly encouraging others to join in the fun.
"it would be a shame if this website was filled with dumb nonsense."
The hilarious suggestions came pouring in.

Some users reported the Defend Our Kids Texas site either banned people from the group or eventually crashed.
It appeared the site was eventually back up and running, which meant it was once again time for open season.
According to its website, DOKT's mission is:
"To expose attacks on our children's innocence by uncovering and highlighting the left's public displays of sexual degeneracy."
Gonzales, a mother and "long-time fighter for conservative values," teamed up with Texas Family Project to launch DOKT:
"To expose the depravity of the left and fight for sound public policy to Defend Texas Kids."
When launching the group, Gonzales appeared on the Fox News show Tucker Carlson Tonight and denounced drag for being "clear child abuse" and said that not speaking out about it was "inexcusable."

Pink News indicated drag performers have become a frequent target of right-wing politics in the US.
Examples included a right-wing Christian group in Idaho claiming they were drafting a bill to ban all drag performances in the state, and Tennessee lawmakers introducing anti-LGBTQ+ legislation–including against gender-affirming care and public drag performances–immediately following the general election.
Republican Georgia Congresswoman Marjorie Taylor Greene also claimed that taking kids to see drag performances should be illegal.