owl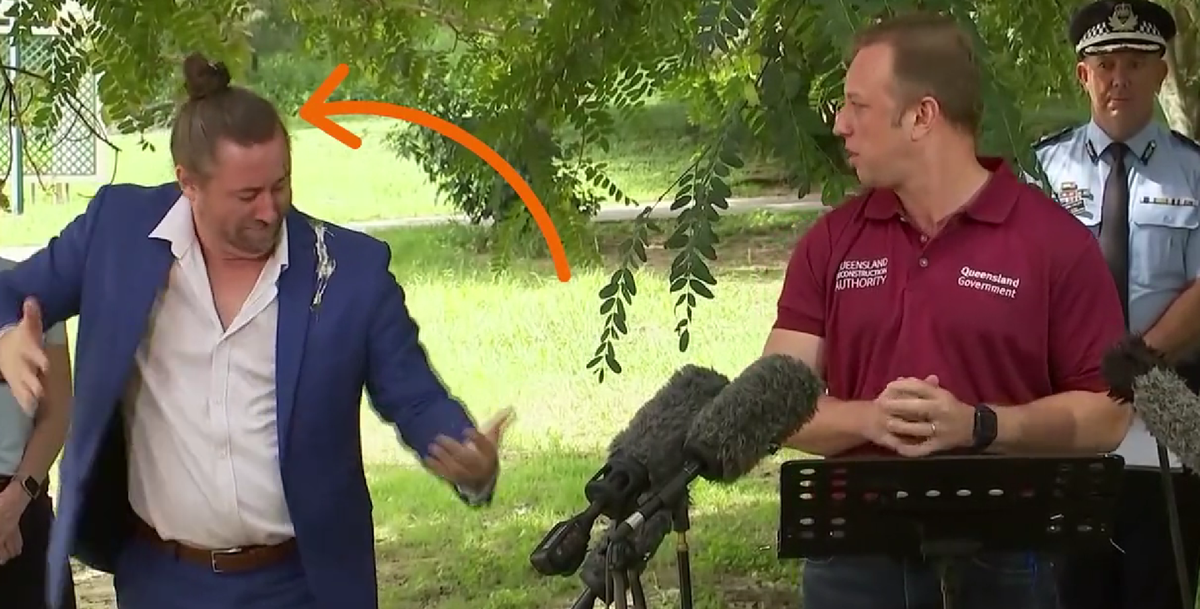 @Reuters/Twitter
In the performing arts world they say working with kids and/or animals invites chaos and should be avoided—particularly when the performance is live.
Unfortunately for sign language interpreter Mike Webb, the animals of Australia didn't seem to get that memo. An owl decided to crash a live news conference he was working by pooping on his face.
Yeah, we said on his face.
Footage of the incident soon hit social media.

Webb was assisting as Queensland premier Annastacia Palaszcuk and deputy premier Steven Miles gave a live news conference and Q&A session. He stood to the side providing interpretation in Australian Sign Language as deputy premier Miles discussed flood subsidies with the media members present.

Mike, who is normally silent given his job is sign language interpretation, let out a swear word in the middle of interpreting, which caught Miles off guard until he turned around.
What deputy premier Miles couldn't see, but the camera captured perfectly, was Mike Webb getting splattered with a not-insubstantial amount of bird poo all over his hair, face and shoulder.
Ever the professional, Webb whipped off his jacket, wiped off his face—but missed the large chunk of owl poo in his hair—then got right back to interpreting.
Premier Annastacia Palaszcuk celebrated Mike Webb's fortitude on Twitter.
Twitter is kind of obsessed with Mike ... and the owl—let's be honest.
Lots of cultures believe it's good luck for a bird to poop on you.
Maybe it's extra good luck if it's an XL splat?
Mike handled the incident like a pro, finishing his task and then going to clean up and keep it moving.
Queensland premier Palaszcuk gave everyone an update the next day.
The new clothes prediction proved true!
We'd like to take a moment to congratulate the owl for having impeccable aim and Mike Webb for having a great sense of humor about it all.
Keep reading...Show less