A psychology graduate has revealed how she is making a splash by transforming from a strait-laced banker by day into her spare time persona – Mermaid Liana Waterfall.
---
Determined to fulfil her childhood fantasy, in April 2017 Caitlin Hardy, 24, of Reading, Berkshire, invested £499 on a four-day long course at a mermaid camp at a private mansion with a pool in Penrith, Cumbria.
Now fully trained and sporting a bespoke £160 tail, which she designed, Caitlin charges £100 an hour to swim like a mermaid at children's parties, saying: "The best thing is seeing kids completely overawed."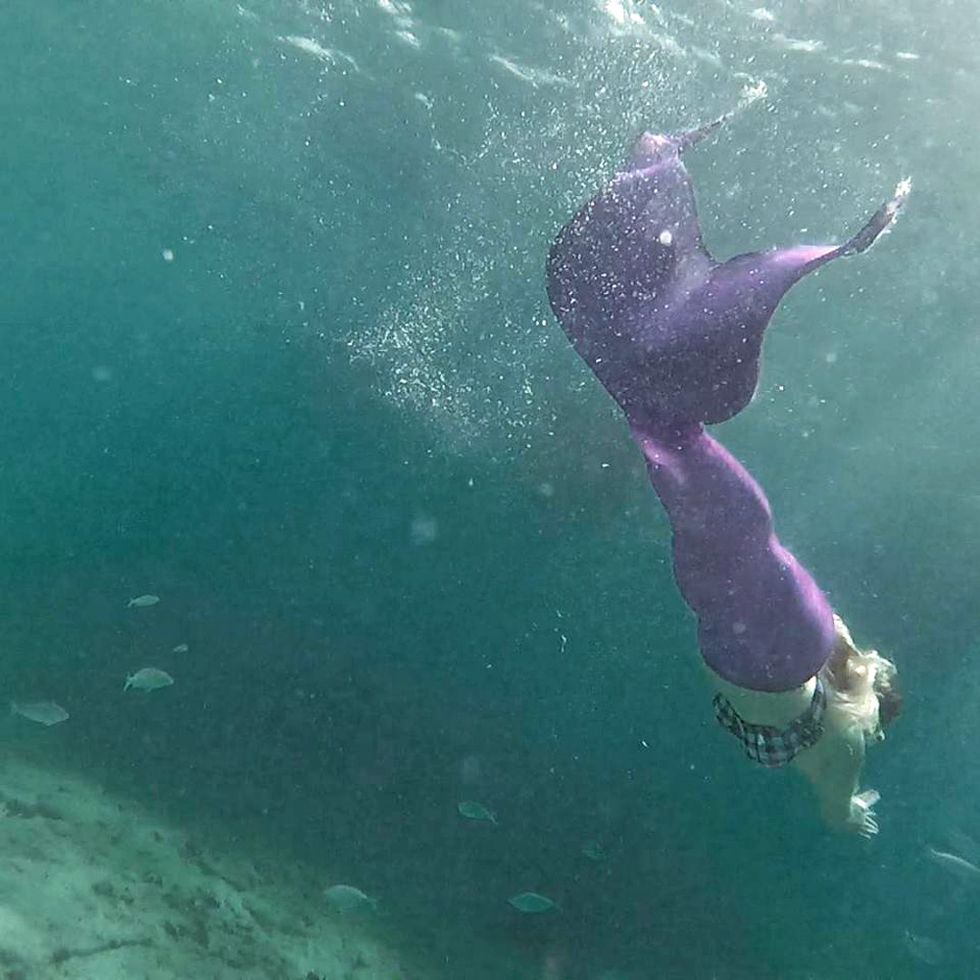 Caitlin swimming (Collect/PA Real Life)
"It melts my heart when I see their reaction to meeting a mermaid. I love when I go to the beach and bring out my tail and kids will run across the beach shouting 'mermaid'. It's so lovely to see the joy it brings them," she said.
A devotee of Disney's The Little Mermaid since childhood, Caitlin, who longed to be just like the main character, Ariel, was instantly hooked when she found 'mermaiding' through a Facebook video.
Now keen to squeeze her legs into a specially created polyamide and Lycra mermaid tail whenever possible, she said: "Being a mermaid is so much fun."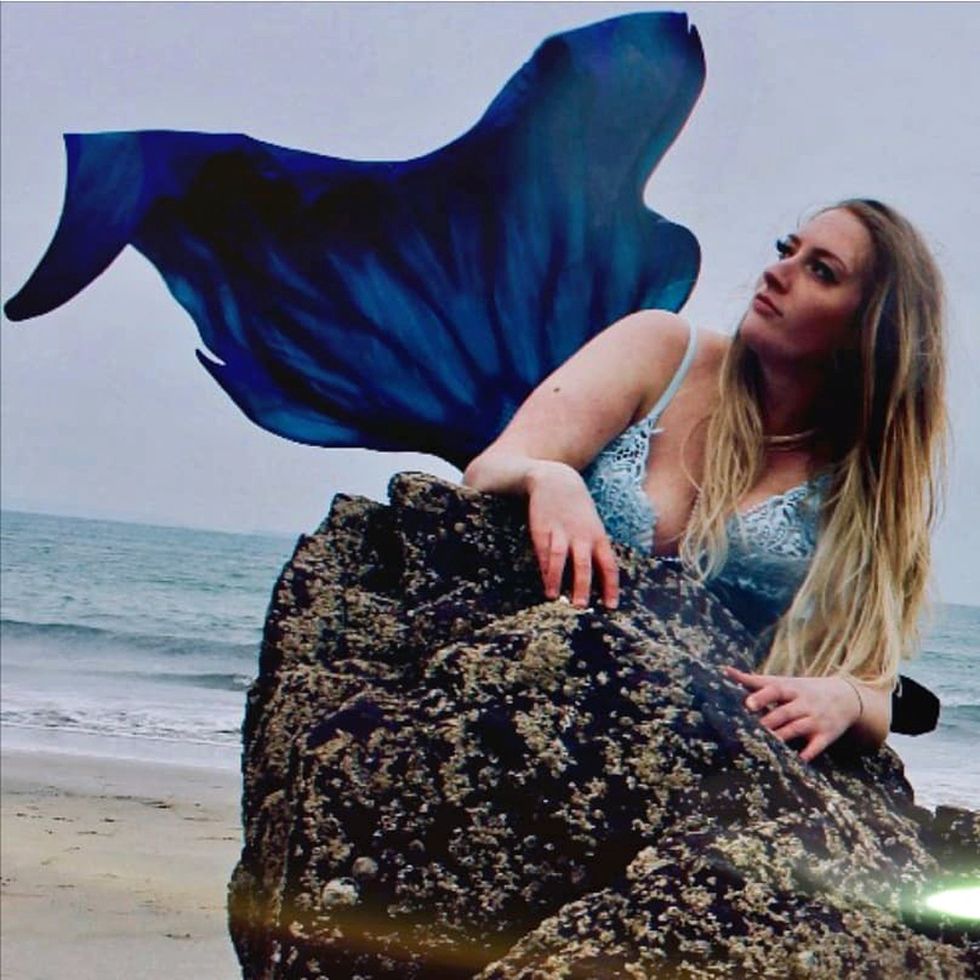 Caitlin on the shore (Collect/PA Real Life)
She added: "I don't think I've ever felt so good about my body – you lose sight of any lumps and bumps when you see how graceful you look with a tail. It's made my confidence soar.
"I've always been a water baby. I loved the little mermaid when I was younger. When I was about three, I told everyone I wanted to be a mermaid but the adults around me just laughed about it. Now my mum loves telling them that I actually am one. I am living my childhood dream."
Caitlin took up her fishy hobby after spotting a Facebook video of Mermaid Grace Page – who won the first Miss Mermaid UK pageant in 2016.
"As part of the package, you get given a tail. There was a tail giving ceremony, where we all got our chosen tail," Caitlin said. "They are made of material like a swimsuit with a hard monofin at the bottom."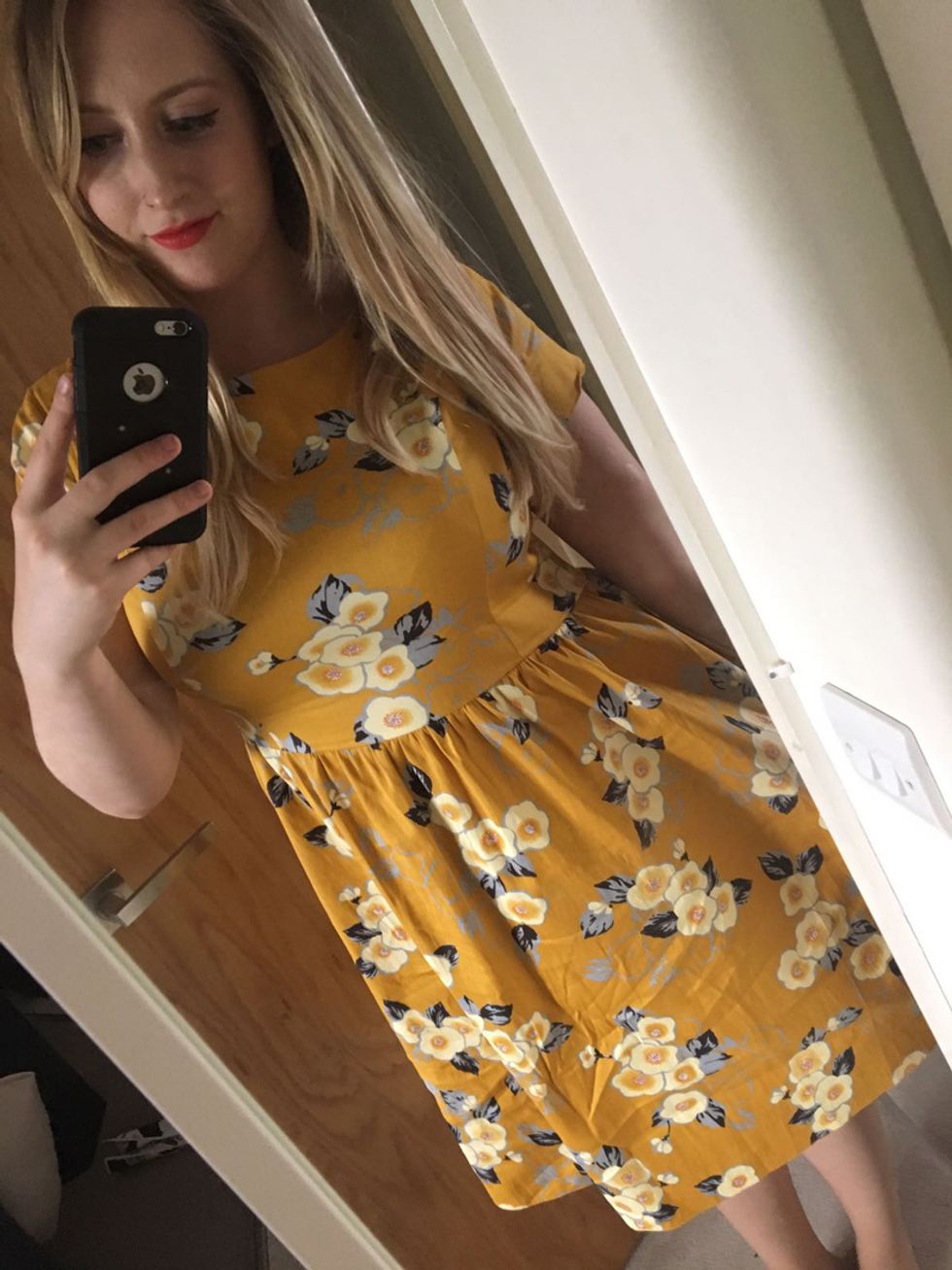 Caitlin works in a bank during the week(Collect/PA Real Life)
She added: "We spent the weekend first swimming with flippers, before moving to monofins.
"The instructors also started to teach us how to breathe for long periods of time underwater. It's actually quite difficult to swim like that and you can't just jump in and start."
At the camp, Caitin passed her AIDA freediving qualification which requires her to be able to breathe underwater for two minutes.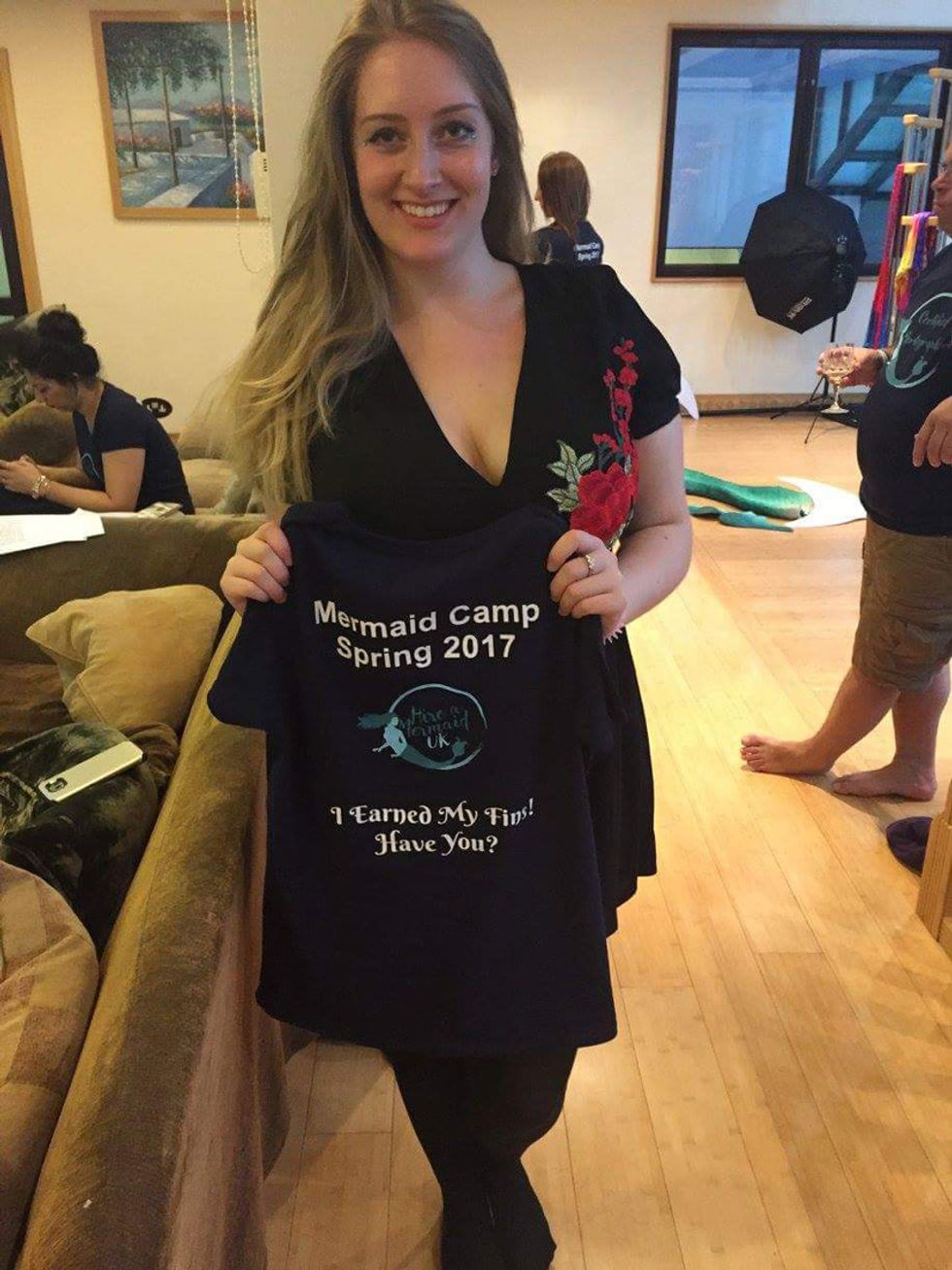 Caitlin attended mermaid camp (Collect/PA Real Life)
Caitlin stayed in touch with Grace and began working with her company, Hire A Mermaid UK, going to children's parties in her spare time.
"I still have a nine to five job that pays the bills," she said. "It's very different, as I work in a bank, which is a very straight, office-style setting.
"I do let little bits of my mermaid side come out sometimes though and people are surprised. I have quite long hair and people will comment on it and I say, 'Thank you, it's a powerful weapon as a mermaid,' which normally starts a conversation."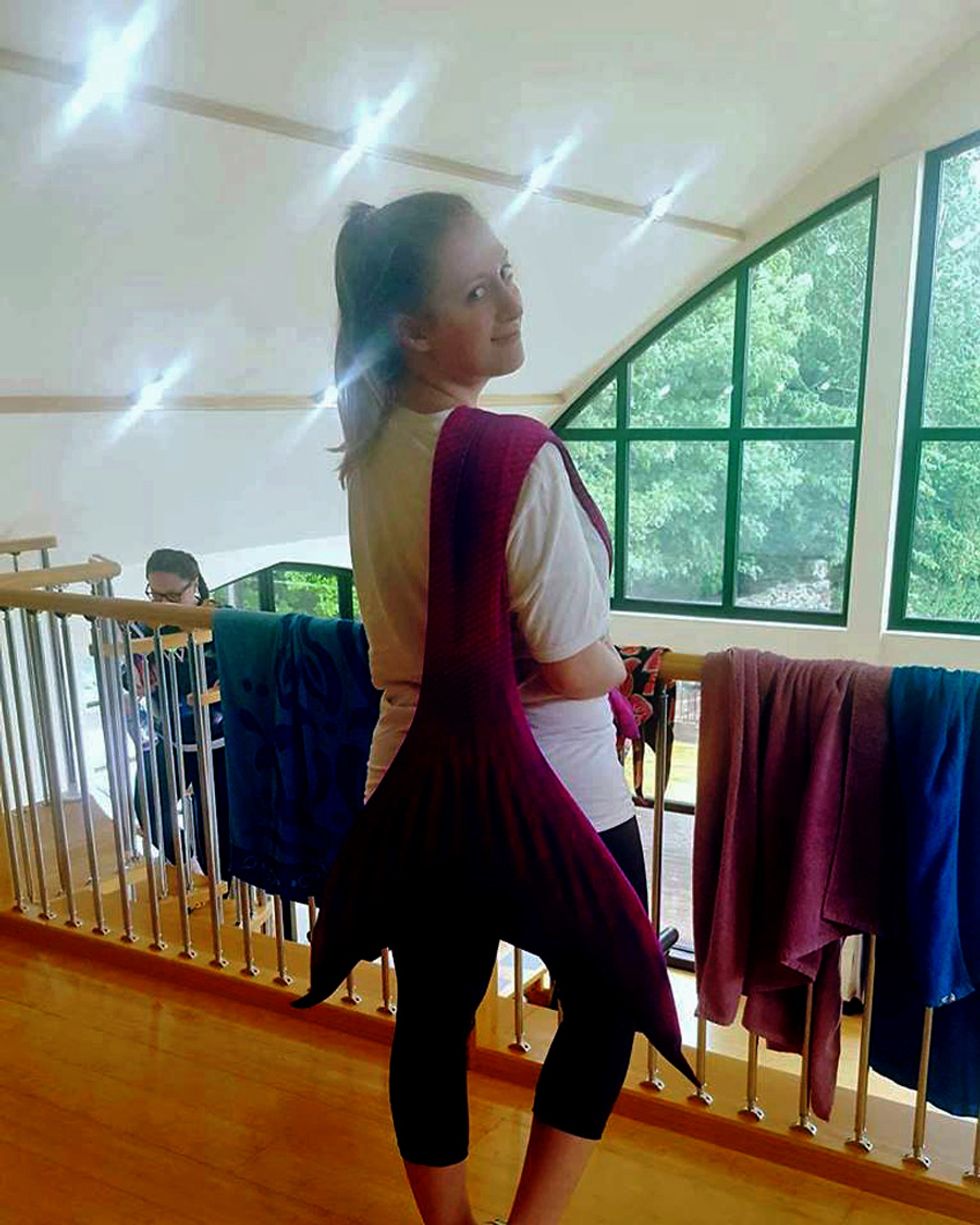 Caitlin with her tail (Collect/PA Real Life)
She continued: "Sometimes, when I'm dealing with a customer, their little girl won't be enjoying being in a bank, so I'll whisper to her about mermaids.
"I've given out a few business cards for birthday parties at work, too."
Working as a mermaid about twice a month, Caitlin also trains every week at a local swmming pool, to make sure she maintains her mermaid skills.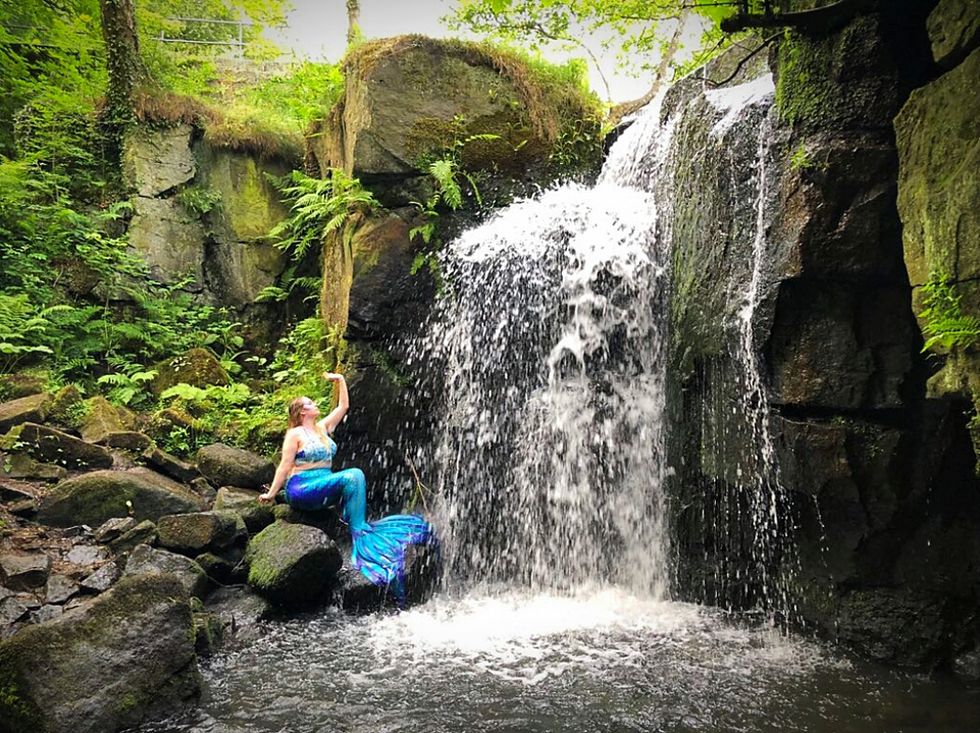 Caitlin as a mermaid at a waterfall (Collect/PA Real Life)
She added: "We get a lot of attention but it's always really positive.
"If you don't practice your swimming and breathing, it becomes much harder. so I train when I can.
"I just love being in my mermaid tail. It's really empowering, and it makes me feel so body confident. My size hasn't changed, but it's hard not to love your body when you are swimming in such a beautiful way."
—Caitlin Kardy

As her hobby became more serious, Caitlin even hand-designed a second tail, in a striking blue color with a German company, which cost £160.
"Opening my tail parcel was so exciting. I couldn't wait to get it on," she laughed.
But, despite loving her mermaid alter-ego, Caitlin does know that the mythical creatures are not real.
She said: "People seem to think everyone who does this as a hobby is a bit eccentric, but of course we know we aren't actual mermaids! Mermaid Liana Waterfall is just another side of me that I love, but most of the time I'm just plain Caitlin, who works in a bank!"
For more information about Mermaid Liana, visit www.hireamermaid.co.uk

A version of this article originally appeared on Press Association.