Horror icon Stephen King needed only one word to call out billionaire Elon Musk over his assertion that "the great wakening from woke has happened."
For the political right, "wokeness" or "wokeism" generally refers to a left-leaning perspective that acknowledges the widespread existence of racism, sexism, and other forms of discrimination in American society.
Advocates of this viewpoint assert that addressing these systemic biases requires ongoing vigilance and policies that consider identity and historical disadvantages. However, conservatives often employ the term "wokeism" to criticize a broader spectrum of liberal ideas that they perceive as detrimental to historically privileged groups, meritocracy, and religious freedom.
Musk observed that this change is ultimately "good for civilization," though he did not elaborate further.
You can see Musk's post below.

Later, King—one of Musk's most prominent critics—responded with a single word to sum up his thoughts on Musk's word salad:
"Bulls**t."
You can see King's response below.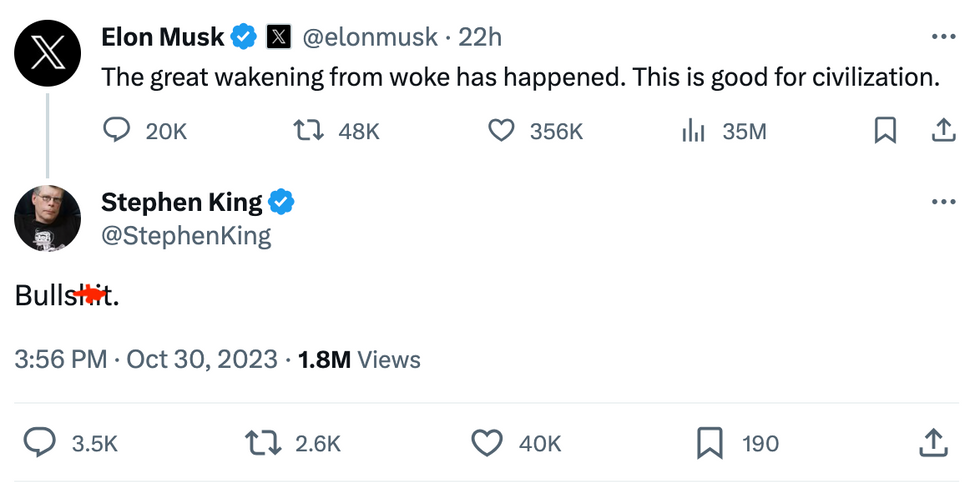 @elonmusk/X; @StephenKing/X
Musk later followed up with a remark alluding to King's prior cocaine habit, which he ultimately kicked in the 1980s. The remark implied that King's opinion should not be taken seriously because of his experiences with addiction.
But many concurred with King's response and proceeded to criticize Musk themselves.
King has been highly critical of Musk and his policies in the past, perhaps most notably around Twitter's blue checkmark verification system.

King retained his blue checkmark without needing to pay a subscription fee and Musk's move was widely interpreted as meant to spite King, who was vocally opposed to sharing his personal and financial information with the platform.
Last year, King also criticized Musk's decision to reinstate former President Donald Trump to the platform, caving to conservative demands to lift a ban Twitter had imposed on Trump in the days following the insurrection of January 6, 2021, the day a mob of Trump's supporters attacked the United States Capitol on the false premise the 2020 election had been stolen.
King called Musk's decision a "bad joke," joining the chorus of critics who warned of the impact the former President's inflammatory rhetoric could have on public discourse.