Good Samaritans from New York housed a group of wayward travelers for a couple of days after their van got stuck in a blizzard.
The ten tourists–nine of whom were from South Korea–were on their way to Niagara Falls from Washington D.C., but the extreme weather conditions prevented them from reaching their destination.
A fierce winter storm slammed the East Coast last week and resulted in 40 inches of snow in some areas.
Dozens of Americans have died from the frigid temperatures–with 27 of those deaths in Erie County, New York, according to CNN.

Alex Campagna, a dentist, may have had a hand in possibly preventing a higher death toll with his gesture of goodwill.
He wrote a Facebook post, explaining he heard a "frantic knock of the door" at 2 p.m. "during the worst blizzard" he's ever experienced.

When he answered the door, he found the knocking was:
"From a Korean tour-group of ten en route from DC to Niagara Falls, whose bus got stuck and remains stuck in front of our house."

"A Festivus surprise for all."
Here is the photo accompanying his post.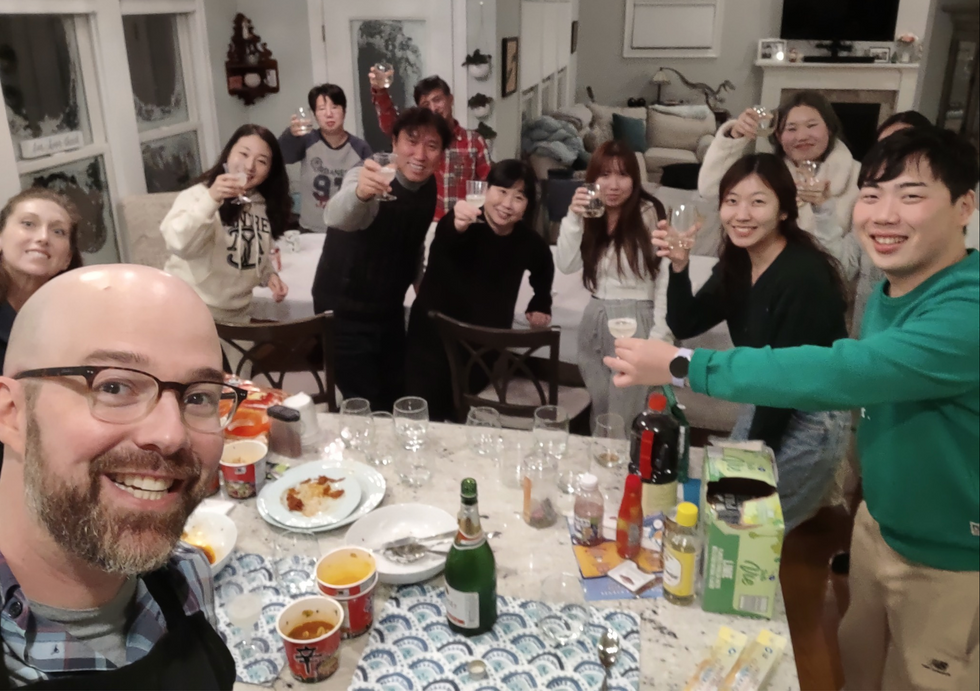 Alexander Campagna/Facebook
Two men from the group had asked the homeowner for shovels to dig their van out of a ditch.
But Campagna went above and beyond and welcomed the entire group inside.
According to The New York Times, Campagna and his wife Andrea took the weary travelers in and offered them couches, sleeping bags, air mattresses and a spare bedroom to sleep in.
He told the newspaper he did not want them back out on the road knowing the blizzard was relentless and life-threatening.
Said Campagna:

"As a Buffalonian, this is on another level, the Darth Vader of storms."
Choi Yoseob, a member of the tour group who was on his honeymoon, told the Times the circumstance of finding refuge in a welcoming home stocked a full pantry was:
"Kind of like fate."
Yoseob described the experience as a "unique blessing," adding:
"We have enjoyed this so much."
He also told NBC News meeting Campagna and his wife that fateful day was like "meeting angels."

You can watch the NBC News report, here.
The cross-cultural event led to some bonding through the sharing of stories and lots of Korean cooking.
On Christmas eve, they all watched the NFL game and cooked authentic Korean dishes, which the homeowners happened to be fans of.
They already had ingredients to "make jeyuk bokkeum, stir-fried pork, and dakdori tang, a spicy chicken stew."
The Times added that had the group extended their stay for Christmas, they would have had bulgogi–which is grilled slices of BBQ meat.
When the roads were cleared by Sunday, drivers picked up the group and drove them back to New York City.
Yoseob said he and his wife planned to stay for New Year's Eve.
The rest of the group is scheduled to head back to South Korea sometime this week.
Campagna told NBC News:
"The real heroes are the ones out on the streets rescuing stranded people."