Sarah Palin is ranting and raving about "censorship" after Instagram removed a questionable meme she posted featuring her son with Down Syndrome.
The image compared liberal protesters to Palin's 10-year-old son Trig, who's seen crying in the apparently homemade meme: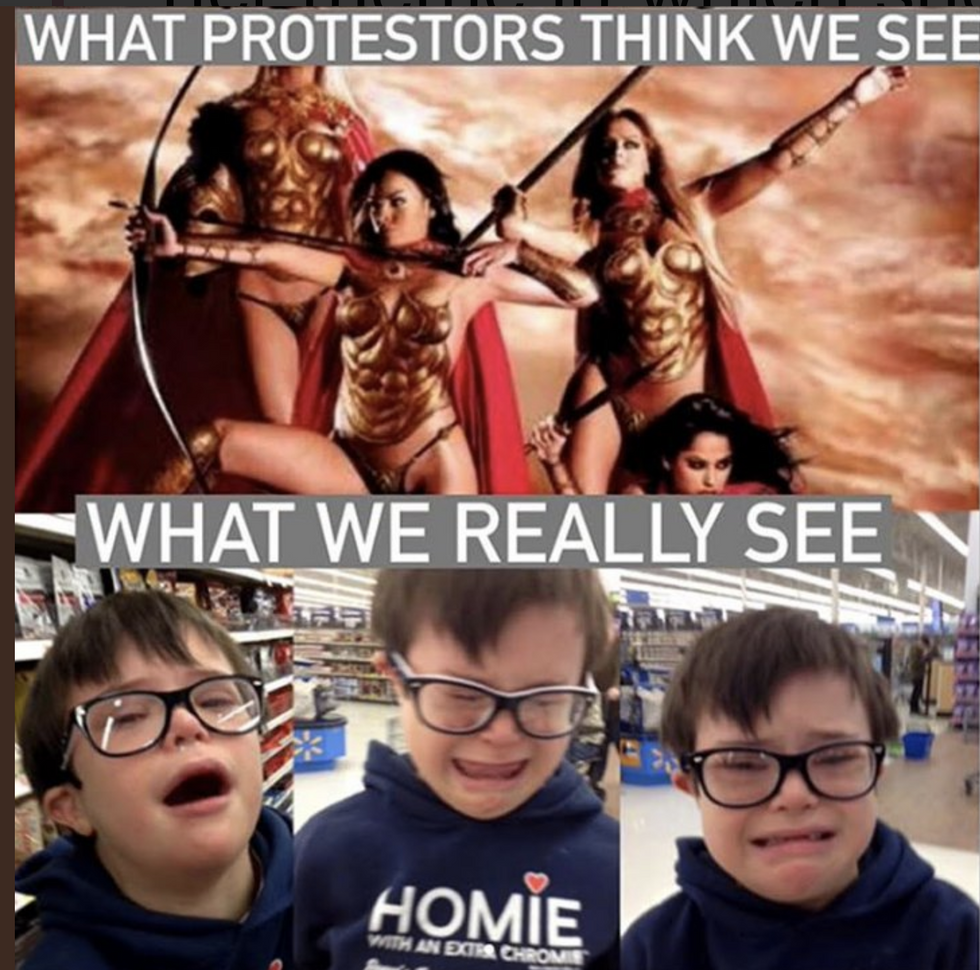 Instagram
The former vice presidential candidate was furious with Instagram's decision, posting this rant once her meme was deleted:

"nauseating", "disgusting", "evil", "a lynching". but is sarah palin really talking about race-motivated murder her… https://t.co/cl8cIxzvmu

— Jack Saint 🥚 (@Jack Saint 🥚) 1539705220.0
Yikes...where to start?
Palin compared Instagram's removal of the meme to "lynching" and called parent company Facebook "nauseating" and "downright evil."
Her furious rant covered lots of political ground, resulting in her randomly bashing Obama for good measure.
But many online thought Palin's meme was in poor taste.
This is what @SarahPalinUSA thinks is "funny". Never mind that she is using a kid w D.S. to show weakness. ITS HER… https://t.co/qTrgLSQmkM

— Victoria Violence (@Victoria Violence) 1539692045.0
@SarahPalinUSA Says the woman with one son in prison and another used as a political prop. Then there's the daughte… https://t.co/YxKPnAGIb5

— Tom Joad (@Tom Joad) 1539666465.0
Palin uses an image from the cover of a porn movie combined with her pictures of her crying son to mock protestors.… https://t.co/yNkEDtKEYV

— InsaneClownPresident (@InsaneClownPresident) 1539661763.0
Dear @SarahPalinUSA You're in the wrong with the meme featuring Trig. It's not about your son, it's about you using… https://t.co/6JVIvCksCq

— Drew Jackson (@Drew Jackson) 1539627216.0
@krassenstein Trig Palin's greatest disability is not his down's, it's his mother @SarahPalinUSA. https://t.co/b8KvSOYGUZ

— * (@*) 1539624132.0
Palin faced a nasty backlash, with critics also attacking her parenting of older son Trap.
@SarahPalinUSA SON ARRESTED FOR THE 3rd TIME. BOY HIT SOMEONE THAT HITS BACK..... https://t.co/48PHEUUocv

— JETS4LIFE (@JETS4LIFE) 1539707182.0
@SarahPalinUSA WOW you are really low rent trash. Using your own son?

— Jeffrey Sorrells (@Jeffrey Sorrells) 1539680931.0
"Not being allowed to emotionally abuse my son on Instagram is censorship" - Sarah Palin

— elcor fucker 69🛡️🚩🏴 (@elcor fucker 69🛡️🚩🏴) 1539706922.0
@RawStory https://t.co/k61y9BrQPy

— Linda2375 (@Linda2375) 1539487455.0
@Newsweek Why on earth is anyone covering her...leave her back under that rock she deserves to be under....out of s… https://t.co/8bjuwpbWIf

— Dufus Rigamaroll (@Dufus Rigamaroll) 1539561989.0
Let's be clear: using your disabled son as a political prop to "own the libs" isn't cool or funny.
Palin can grandstand about censorship all she likes, but her post was deemed offensive by Instagram's moderation team. As a former governor and vice presidential candidate, Palin should conduct herself with dignity, tact and poise.
Instead, she turned the entire internet against her with this ridiculous meme. Big mistake!
H/T:Daily Mail, Newsweek