An investigation has been opened at Salinas High School following several photos and videos of White high school students putting a Black baby doll in a series of inappropriate positions.
As reported by KION Central Coast News, the images were all posted to an Instagram page, known as "shaniqua.shs", which has since been made private, with all the posts apparently deleted.
These posts captured Salinas High students putting the doll, referred to as "Shaniqua", in a series of racist, violent and sexual situations, including stomping on the doll, running it over with a car and holding the doll in sexually suggestive situations, all the while using racial slurs.
While the Instagram account was deleted, a TikTok follower preserved some of the images and videos, and shared them on her own page to hold the school as well as the students in the images accountable.
WARNING: racist images
@kimmberllym

it got taken down but idc i'll REPOST AGAIN AND AGAIN.
Another dedicated Twitter follower not only shared some of the select images, but also went on to emphasize that Salinas High School has a history of this type of behavior, and changes need to be made.
One parent at Salinas high told KION Central Coast News that she wasn't surprised by the Instagram page, and that these photos and videos were merely indicative of an ongoing problem in the school.

"These kids feel comfortable enough to do this on campus at a football game where there's parents, where there's staff members and other children."
"And, you're going to tell me all of the staff being around and even parents, nobody saw this go on, nobody saw that there was something wrong with this."
Sunil Smith of the African American Advisory Committee for the school district was in agreement, saying that these videos are only further evidence of changes needing to be made regarding education in diversity and tolerance, and that this change needs to begin at home.
"It's tough to have these awkward conversations with your babies, I get it, but you have to have these conversations to avoid them putting themselves in situations like this."
"Because if you don't have it, it's going to continue to happen."
Salinas Union High School District released a statement saying they have opened an investigation.
"The SUHSD does not condone this type of behavior and although the District has taken steps to support our African American students and staff, this recent incident demonstrates how much more support is needed."
"We urge families to also take time to talk with their students about the damaging effects of racist behavior."
"Counseling is available at all of our school sites for any students who may need support."
Notably missing from the School District's statement was any mention of disciplinary action against the students in the video, prompting followers on Twitter and TikTok to demand consequences for the offending students.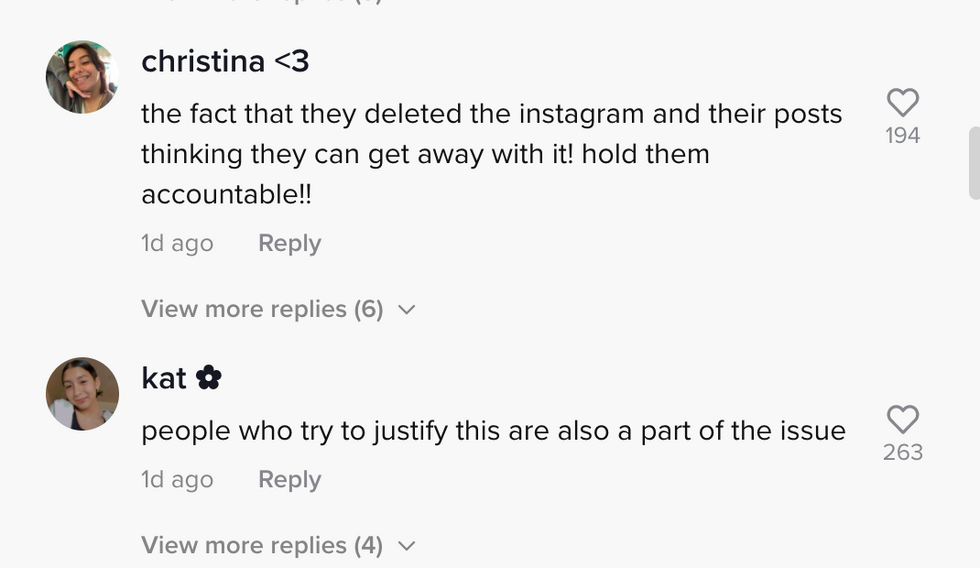 @kimmberllym/TikTok

@kimmberllym/TikTok

@kimmberllym/TikTok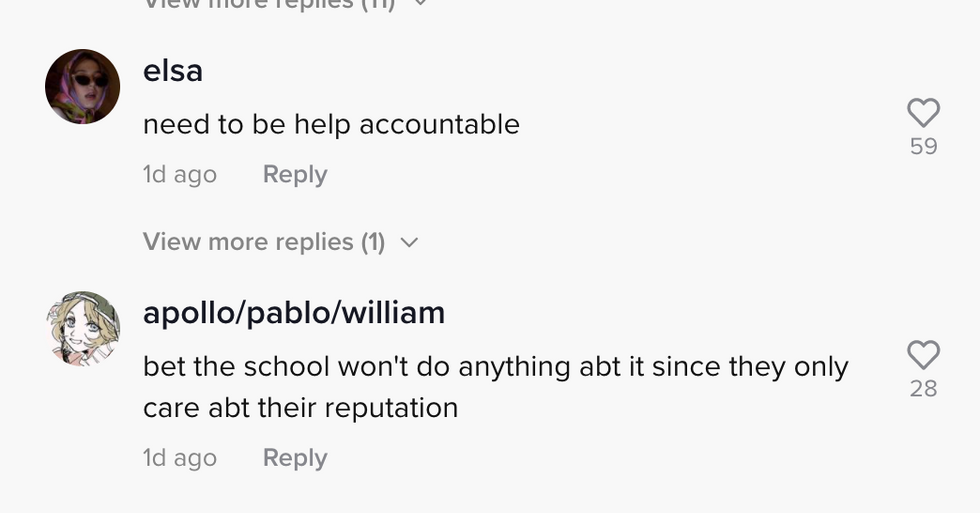 @kimmberllym/TikTok

@kimmberllym/TikTok
Luckily for these followers, it seems that there are plenty of people who are not willing take this systemic problem at Salinas High School sitting down.
Monterrey County Protest, a Black Lives Matter group in the school's county, also re-posted some of the images from the deleted Instagram page, warning the Salinas Union High School District that they "will be emailing you soon".
While Voices of Monterrey Bay posted that a protest is being planned on Tuesday, August 24, when the school's board of trustees is planning to meet.
A petition was also started on Change.org, calling for the students in the photos and videos to be disciplined, which has received over 7,000 signatures.
According to the petition, it isn't just the students who are guilty of this type of behavior.
"A student named Sienna has spoken up about how the principal herself made racist comments when she saw Hispanic students wrapping ribbon around a railing for Alisal students."


The principal said , 'is this the boarder wall separating us.'"
Salinas High School has yet to issue any kind of statement of their own following the district's statement regarding an investigation.