Ryan Reynolds hilariously paid tribute to Sandra Bullock's 59th birthday with a steamy clip from their 2009 rom-com The Proposal.
In the film, Bullock played a Canadian exec facing deportation from the U.S. after her visa renewal application was denied.
In an effort to keep her position as editor-in-chief at a New York book publishing company, she convinces her meek personal assistant, played by Reynolds, into marrying her to obtain a green card.
The ruse, however, gives way to romance.
Despite the hackneyed rom-com trope serving as the basis for its plot, The Proposal managed to land in the hearts of moviegoers and it became a box-office hit.
The clip Reynolds shared was an awkward scene in which their two characters clumsily bump into each other while they're both naked and stumble to the ground, only to recoil in shock and embarrassment.

Reynolds wrote in his Instagram caption:
"Happy Birthday to the inimitable and stunning Sandra Bullock!"

He then joked:

"For your birthday this year, I got us both intimacy coordinators."
"And an HR department. And clothing?"
Fans got nostalgic after revisiting a scene from their favorite movie.

@vancityreynolds/Instagram

@vancityreynolds/Instagram
@vancityreynolds/Instagram

@vancityreynolds/Instagram

@vancityreynolds/Instagram

@vancityreynolds/Instagram
Fans also gave a shout-out to the late screen legend Betty White, who played the grandmother of Reynolds' character in the film.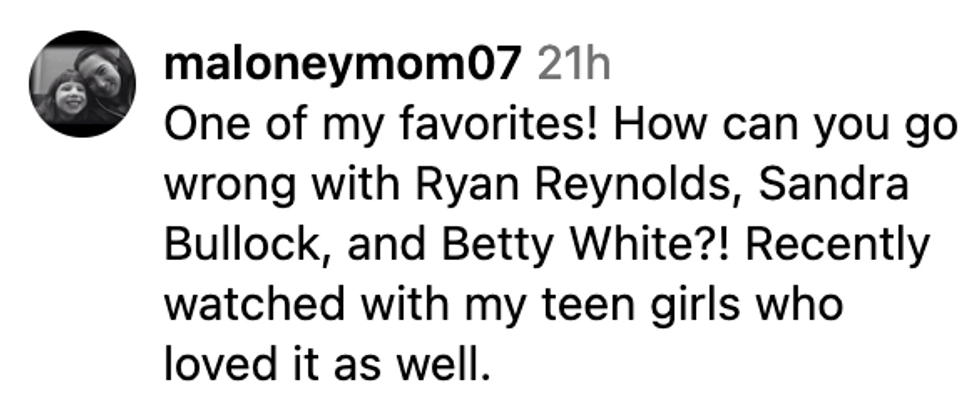 @vancityreynolds/Instagram

@vancityreynolds/Instagram
Bullock talked about her longtime friendship with Reynolds and their hilarious The Proposal nude scene in a December 2021 About Last Night podcast.
"Ryan and I have known each other since we were prepubescent," she said, adding:
"We go way, way, way back."
The Miss Congeniality star said they were on a "closed set" for the scene and she fully trusted Reynolds "comedically and safety-wise."

The naked stumble was choreographed and rehearsed prior to filming the scene.

Bullock recalled while laughing:
"Ryan and I have these flesh-colored things stuck to our privates, my hair is strategically over the nipples, and Ryan's little—not little at all!"
"It's just whatever's there, and I don't know because I didn't see it, didn't look!"
Regardless of how it went down, it looked like a safe landing.
The Proposal grossed $317 million worldwide and became the twentieth highest-grossing film of 2009.

It also won "Favorite Comedy Movie" at the 36th People's Choice Awards.
Happy birthday, Sandra!